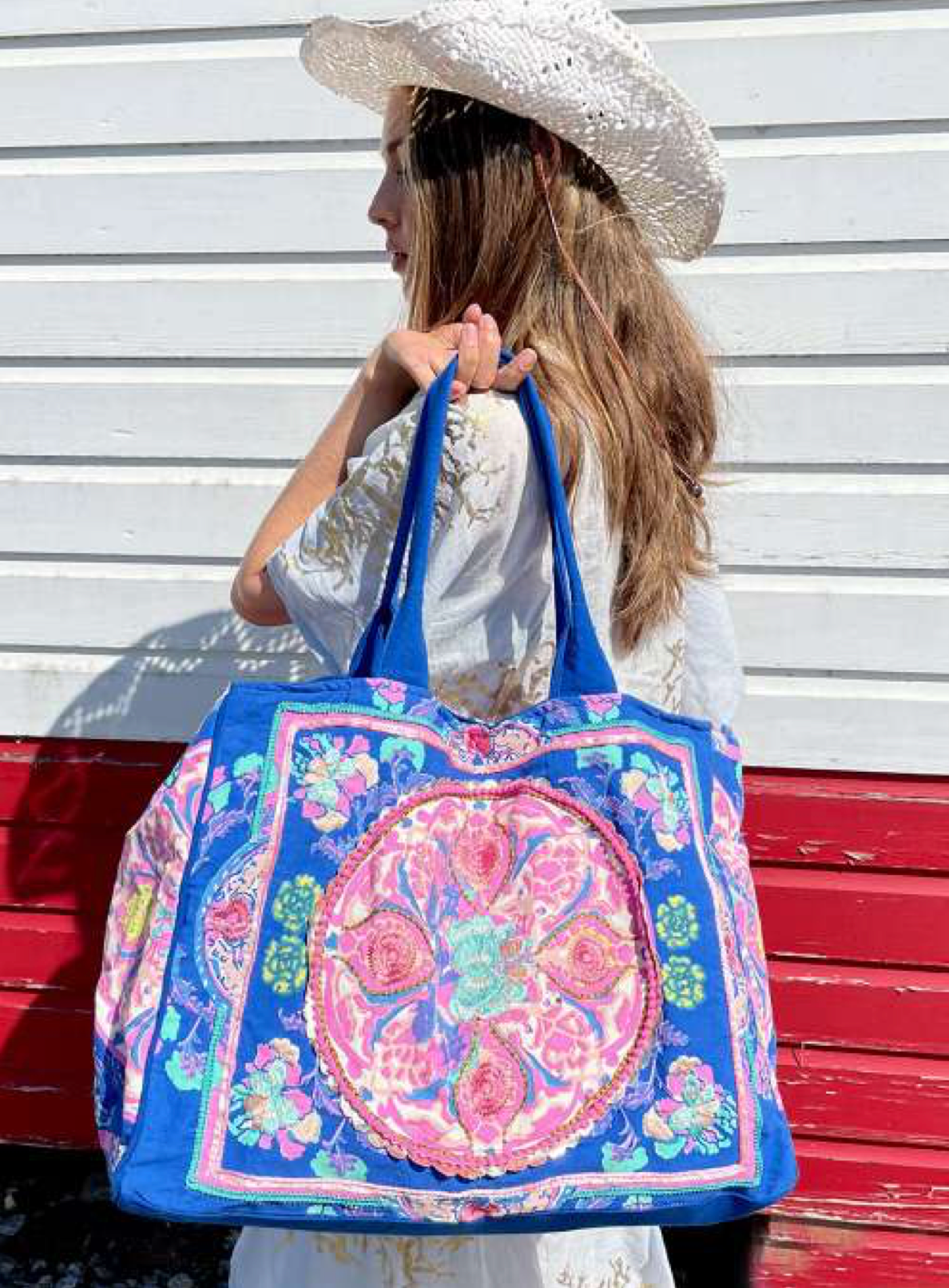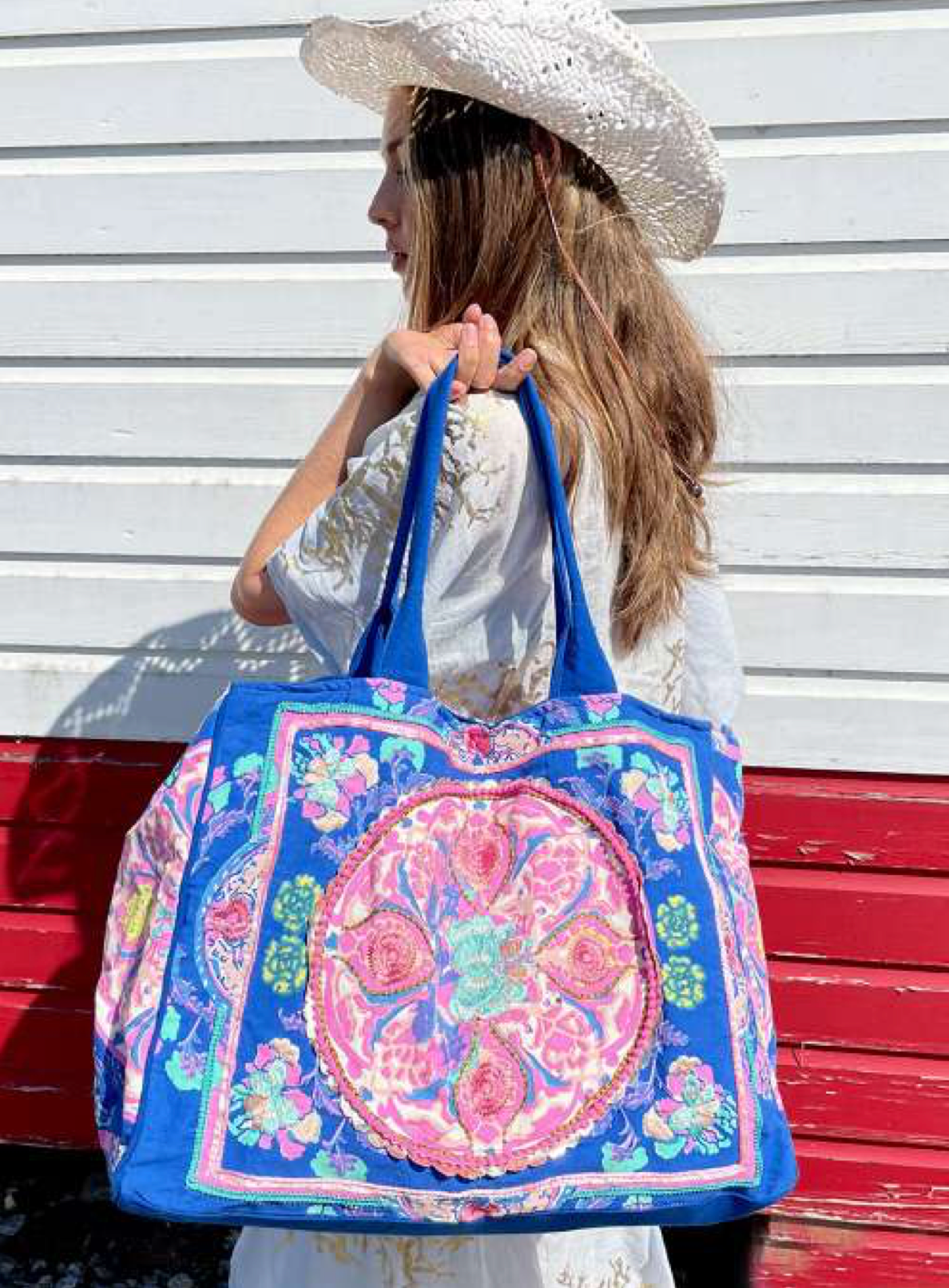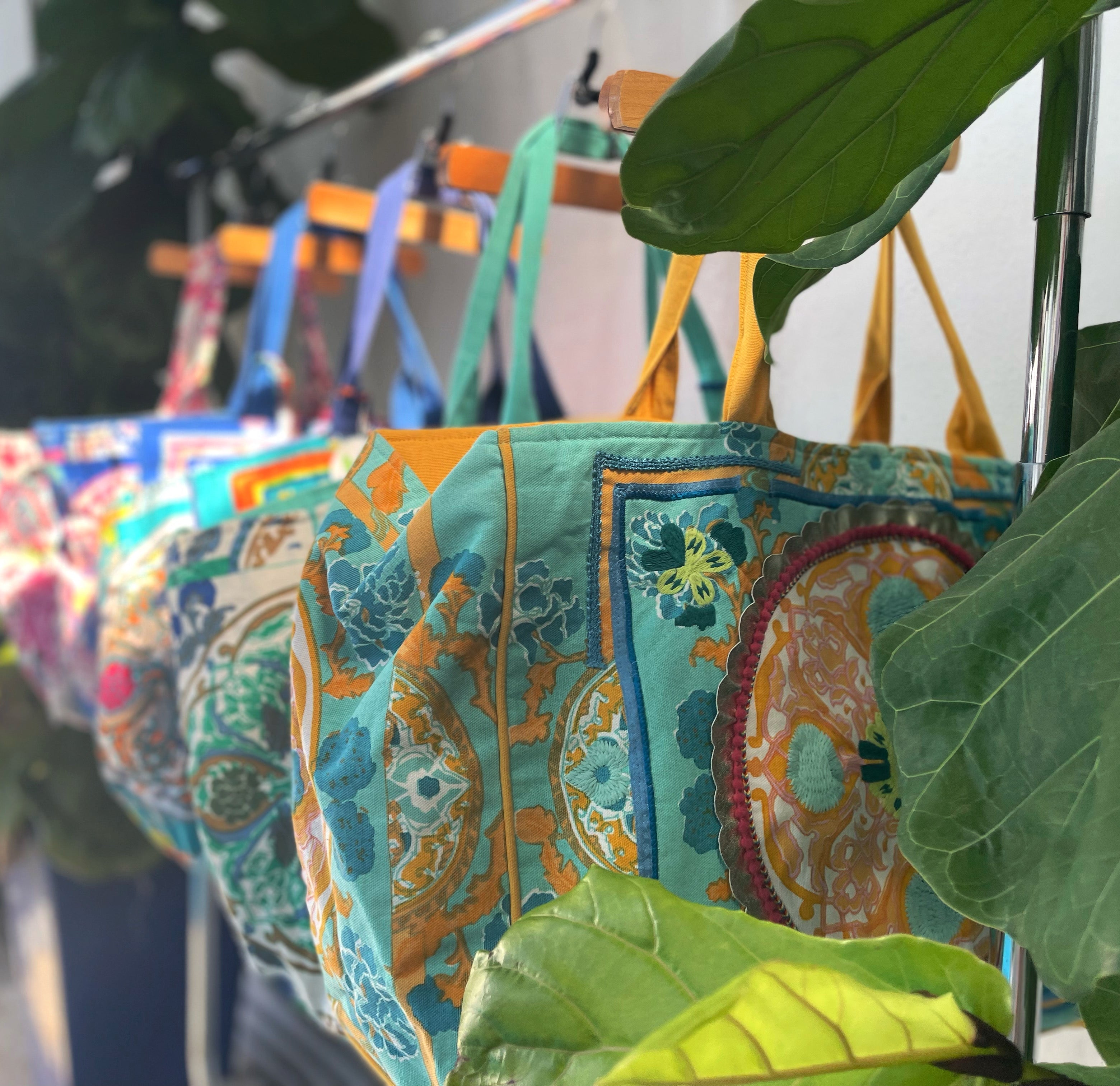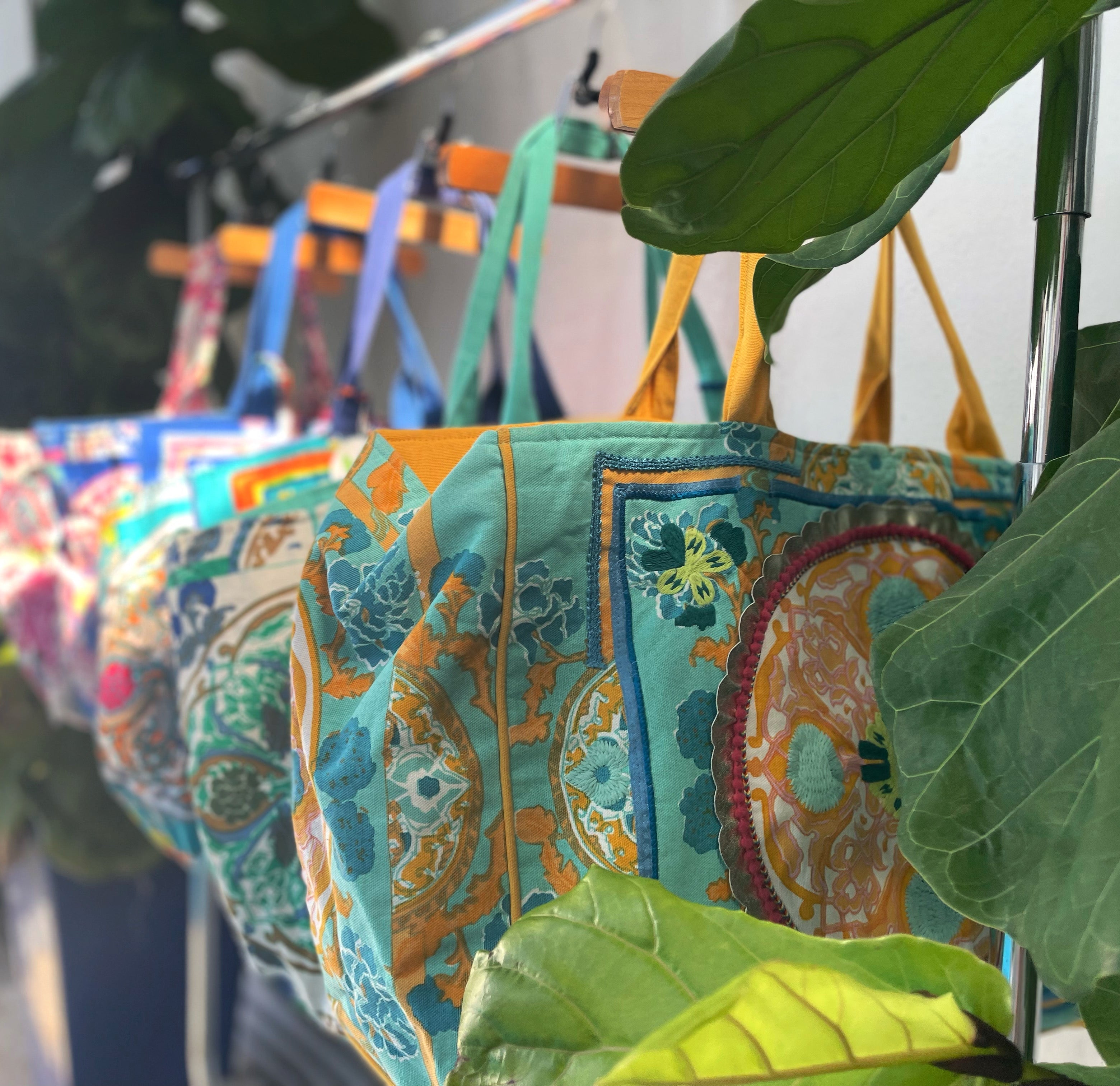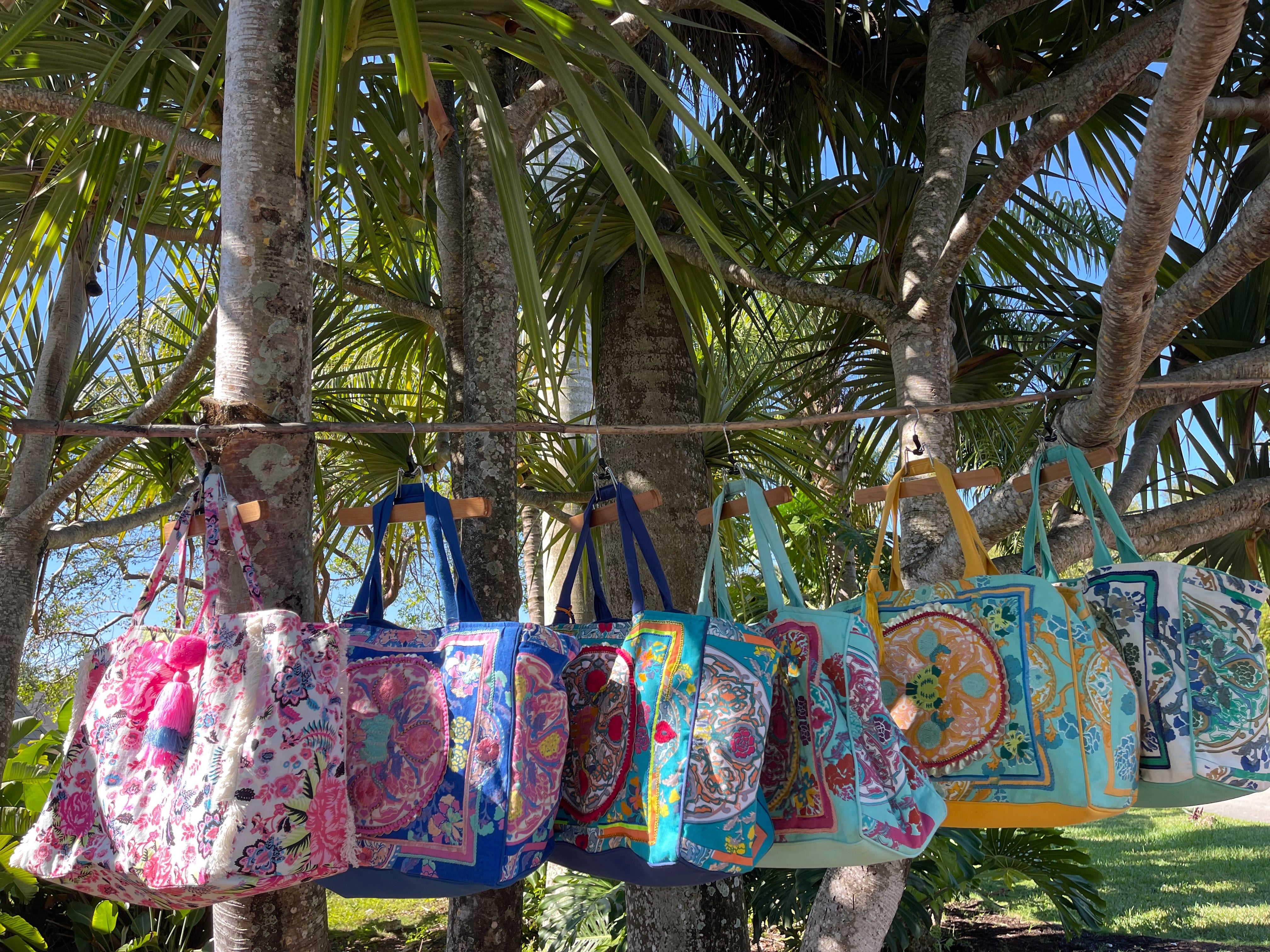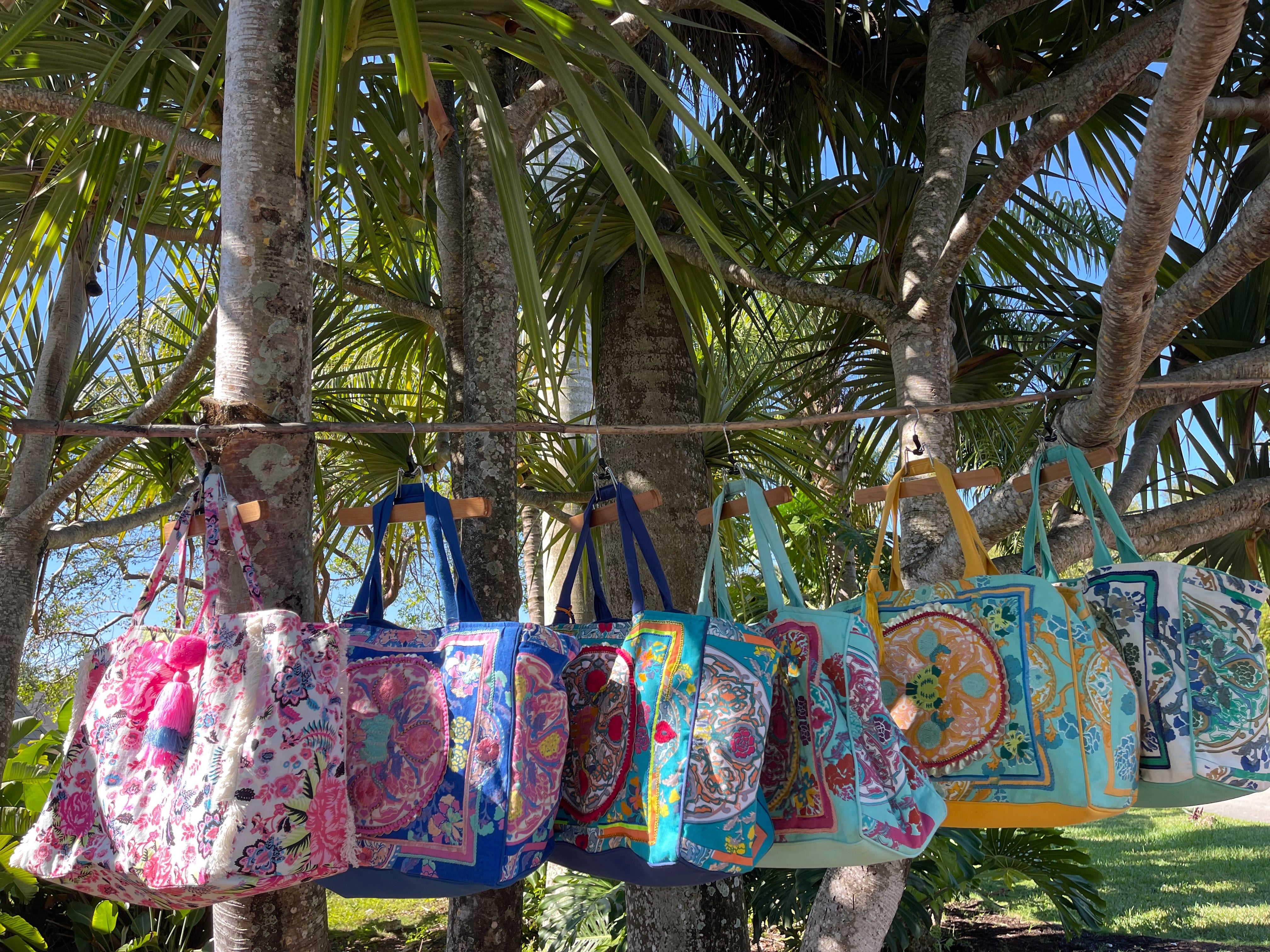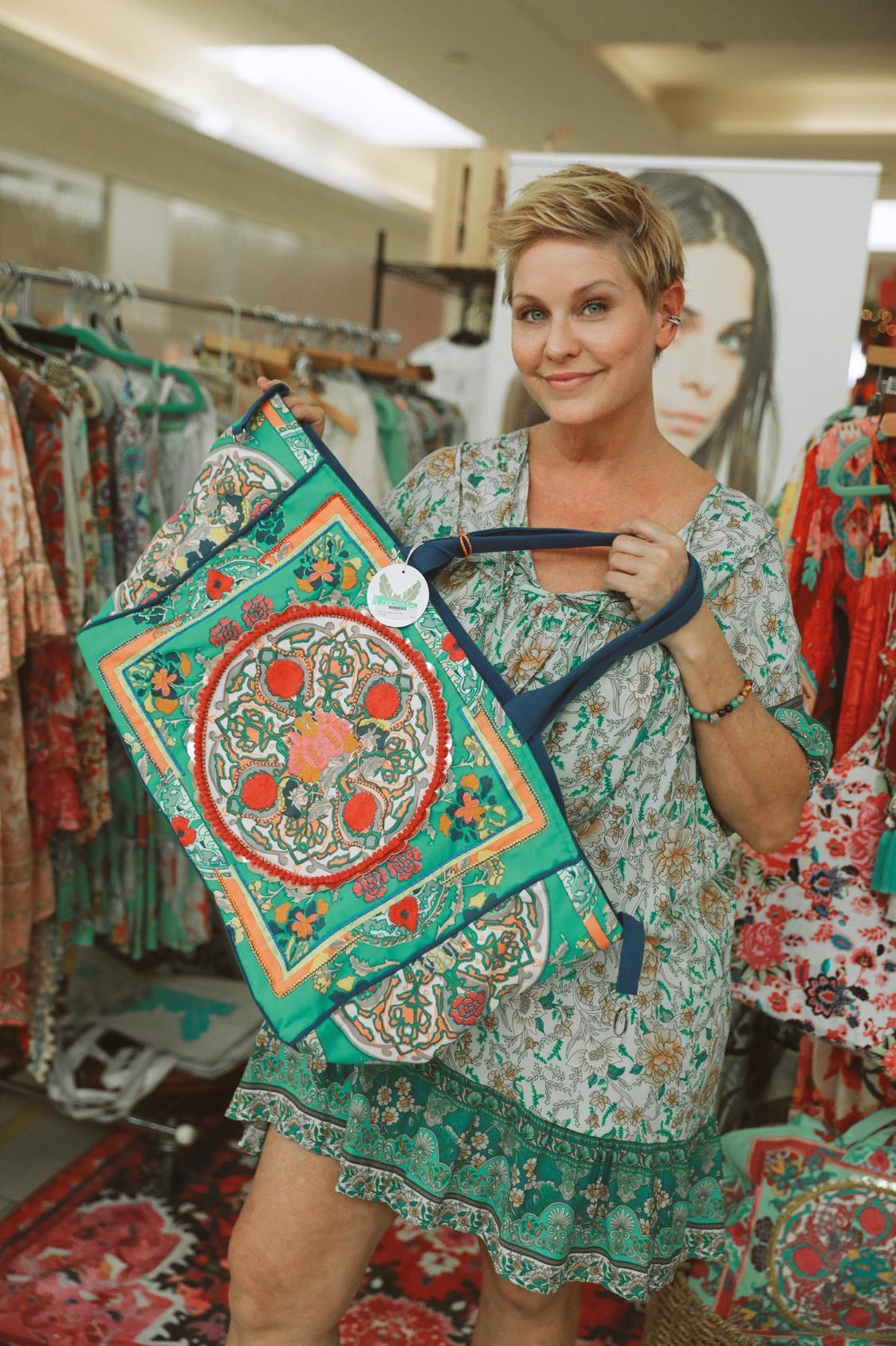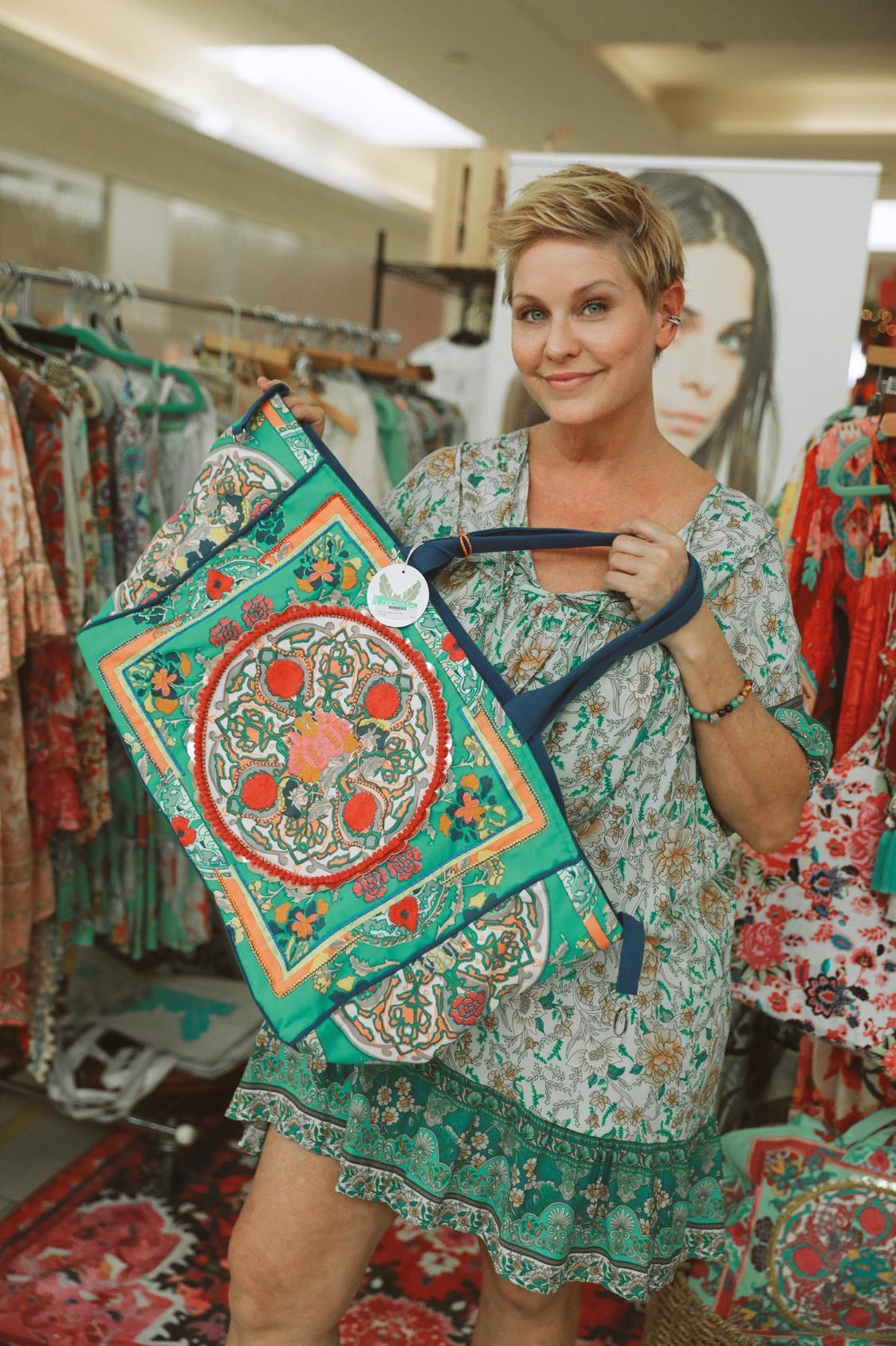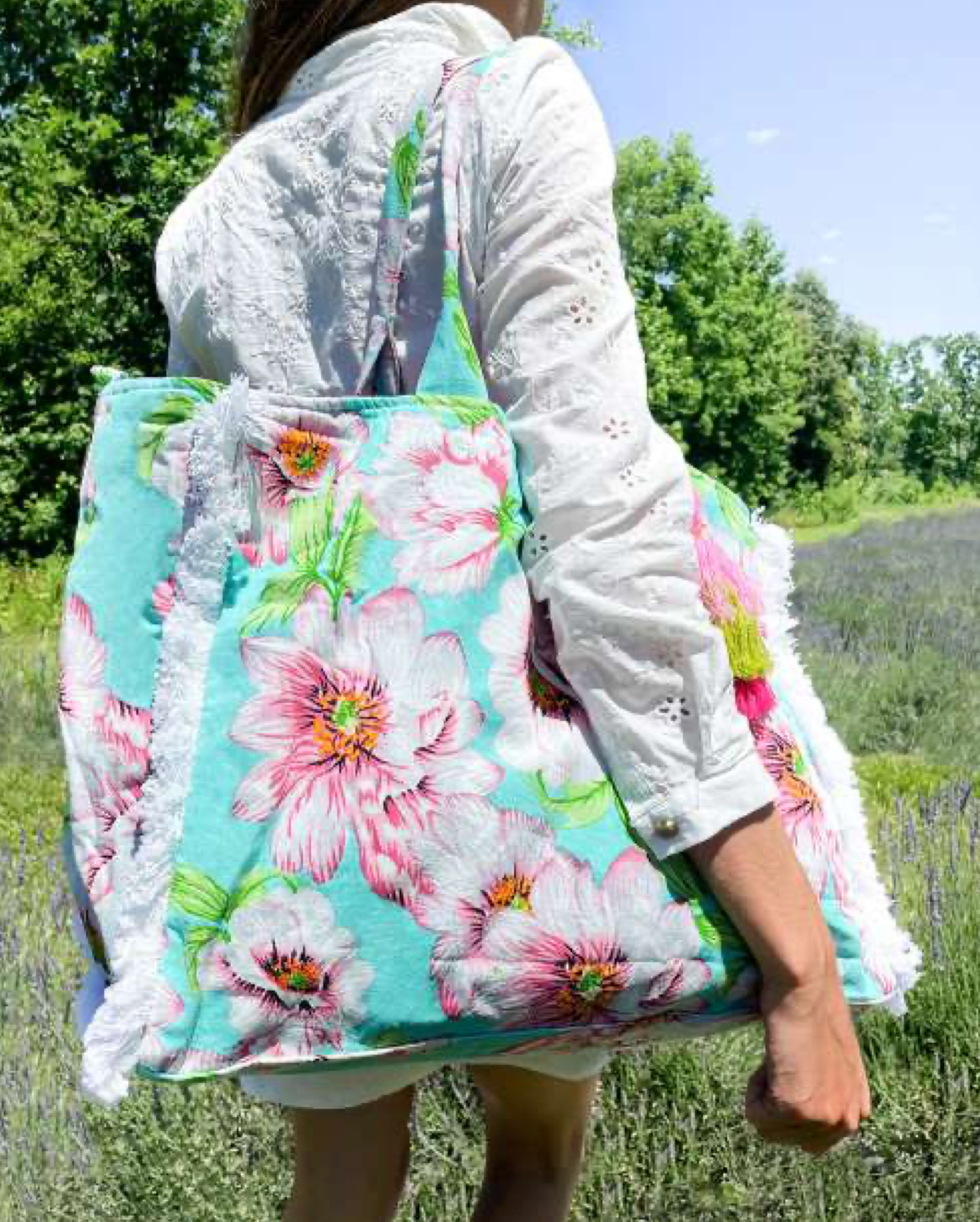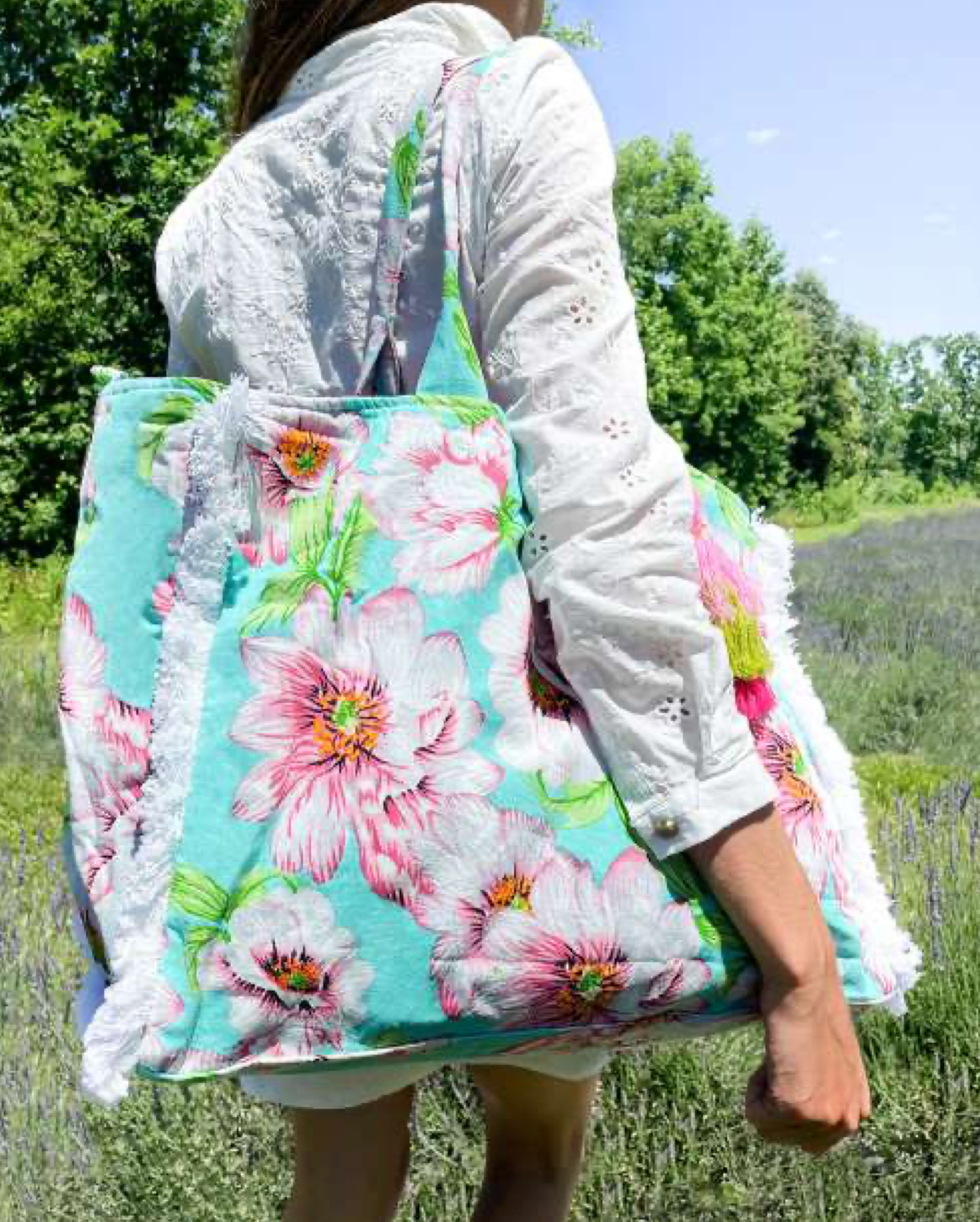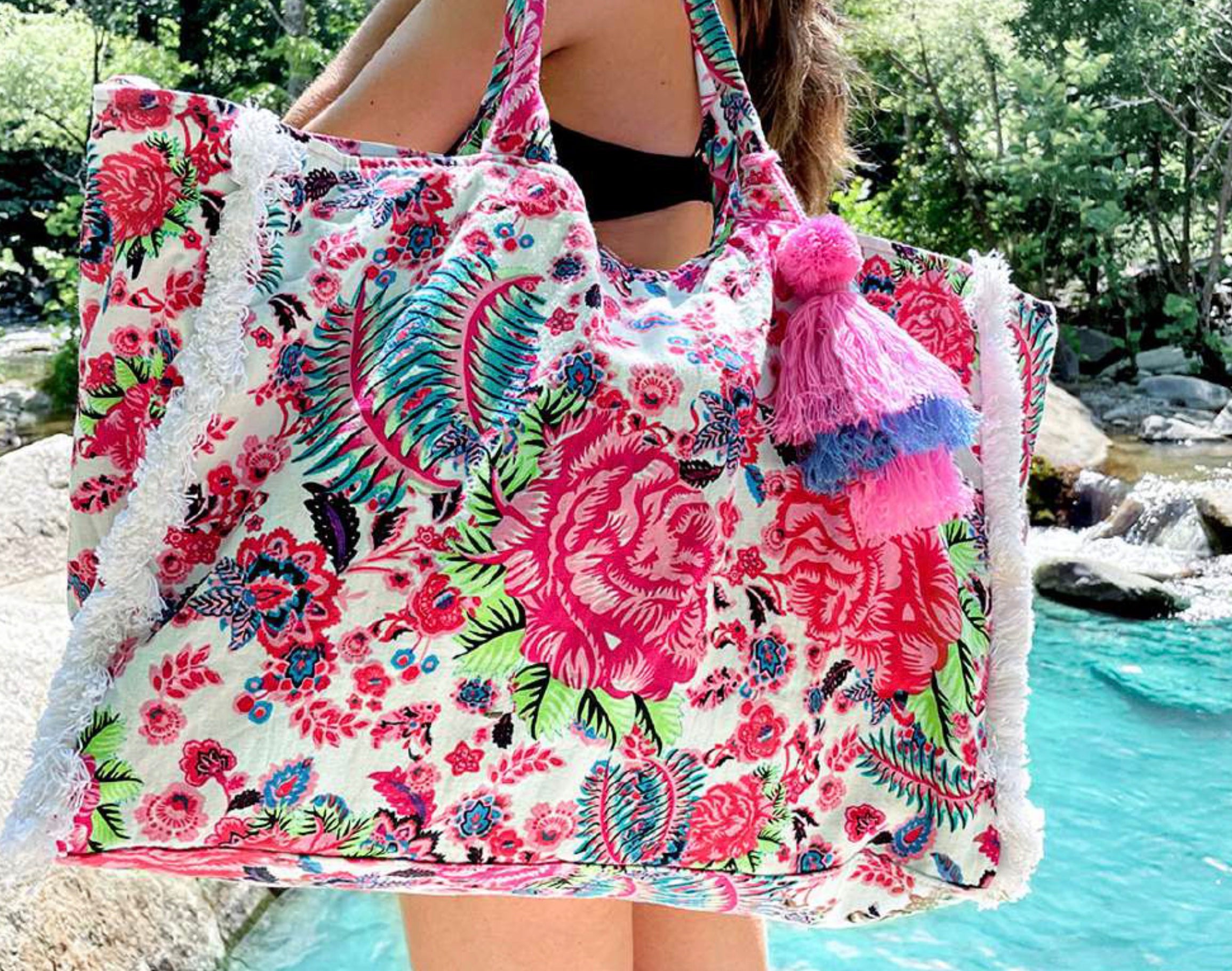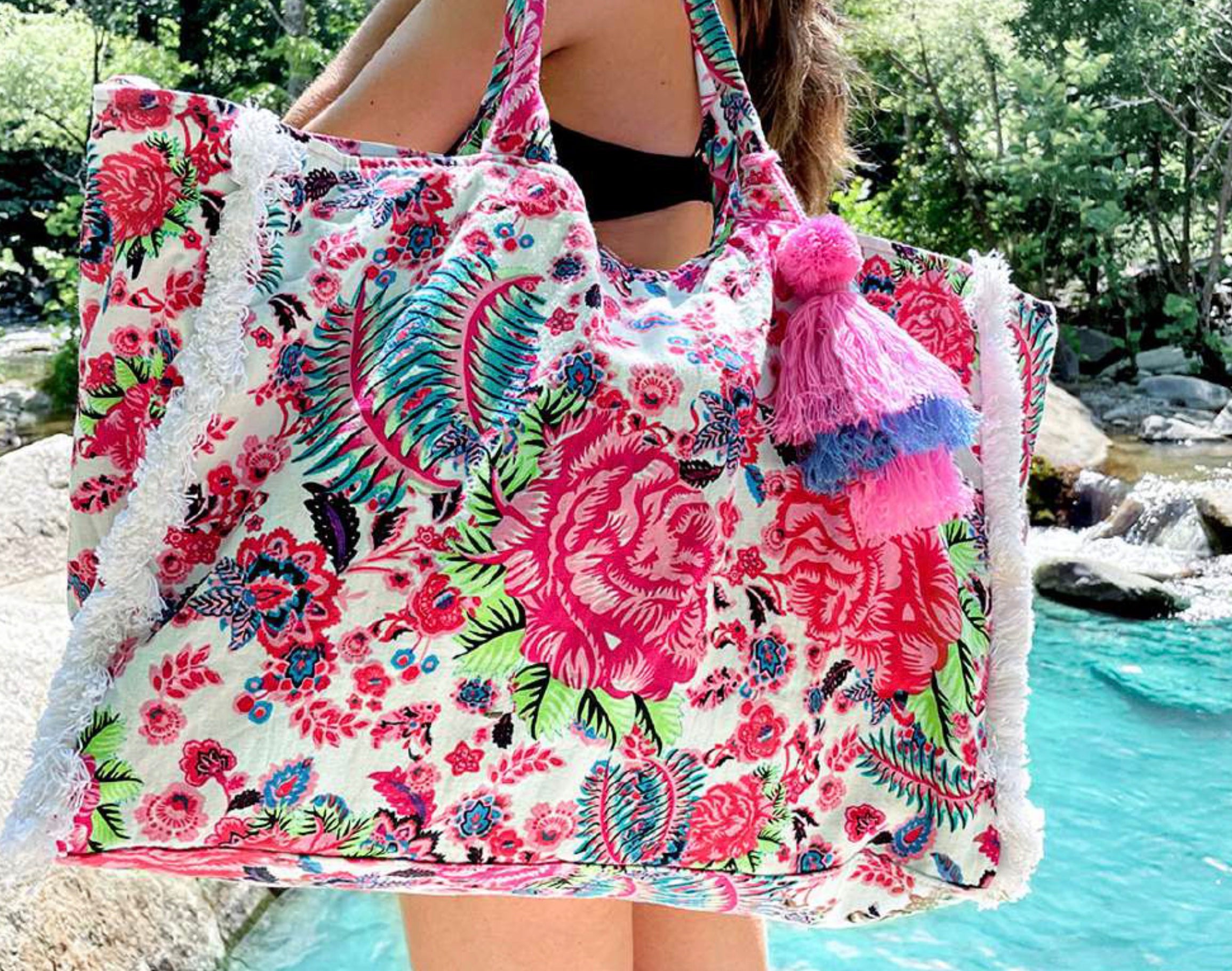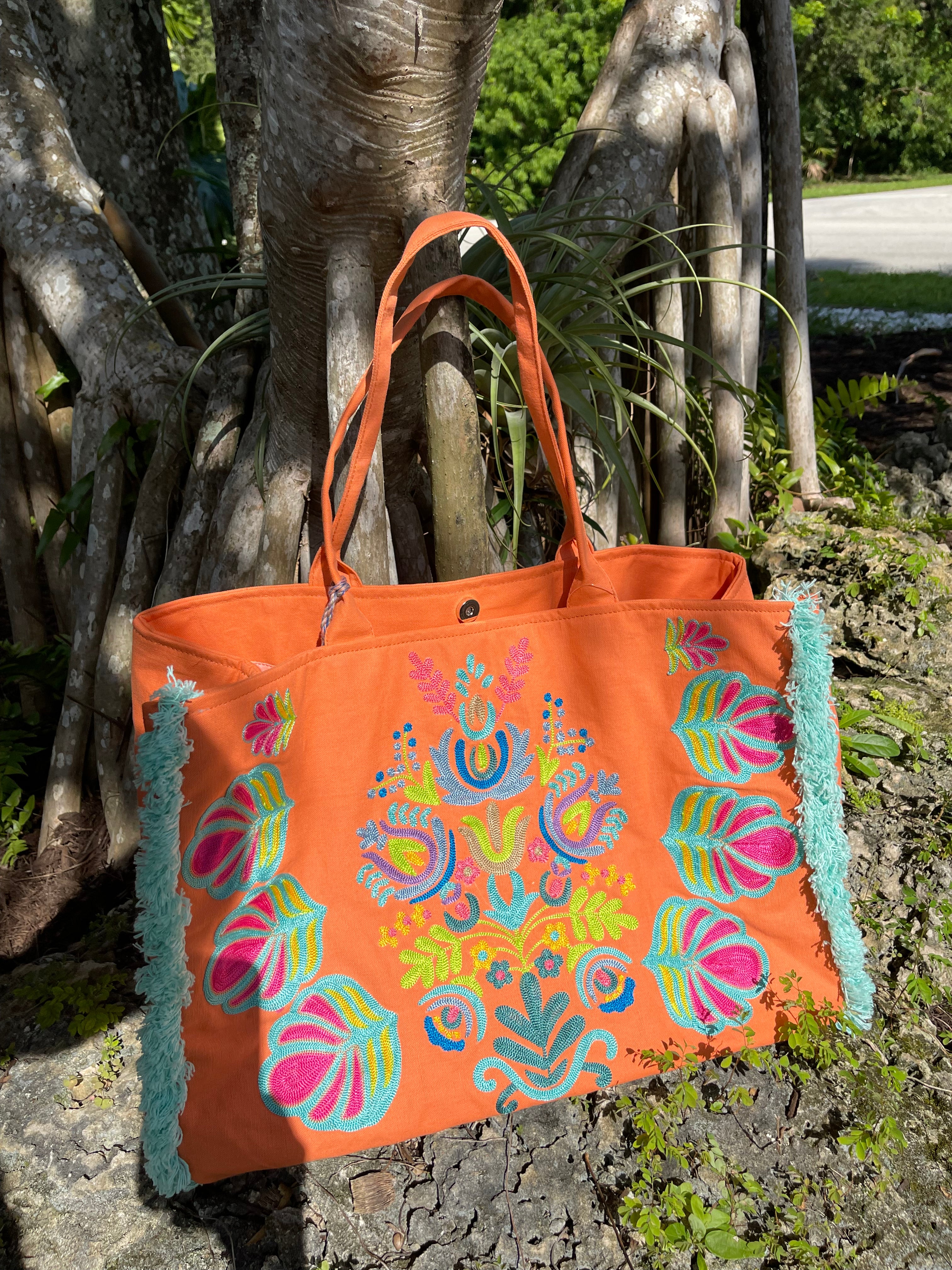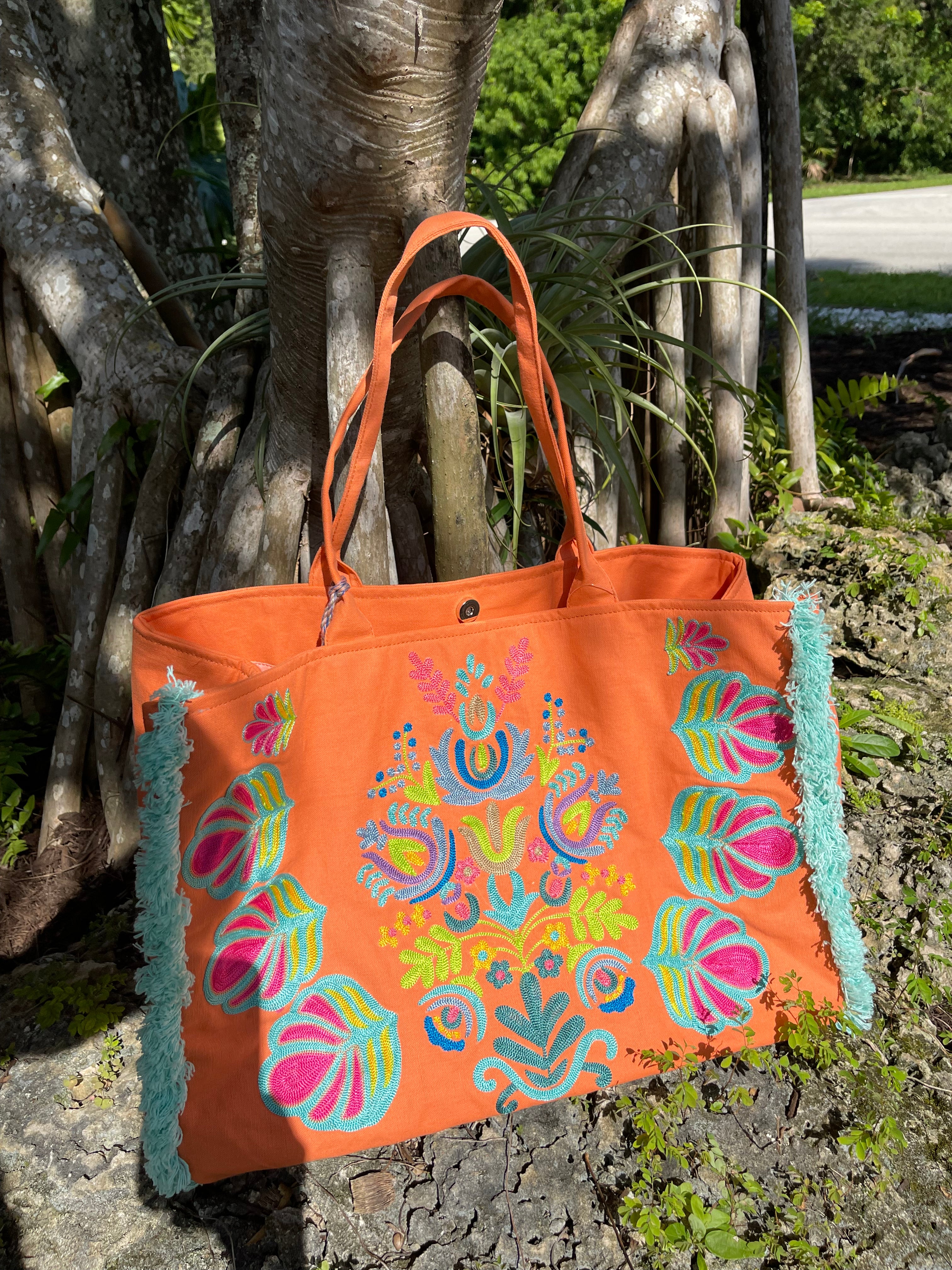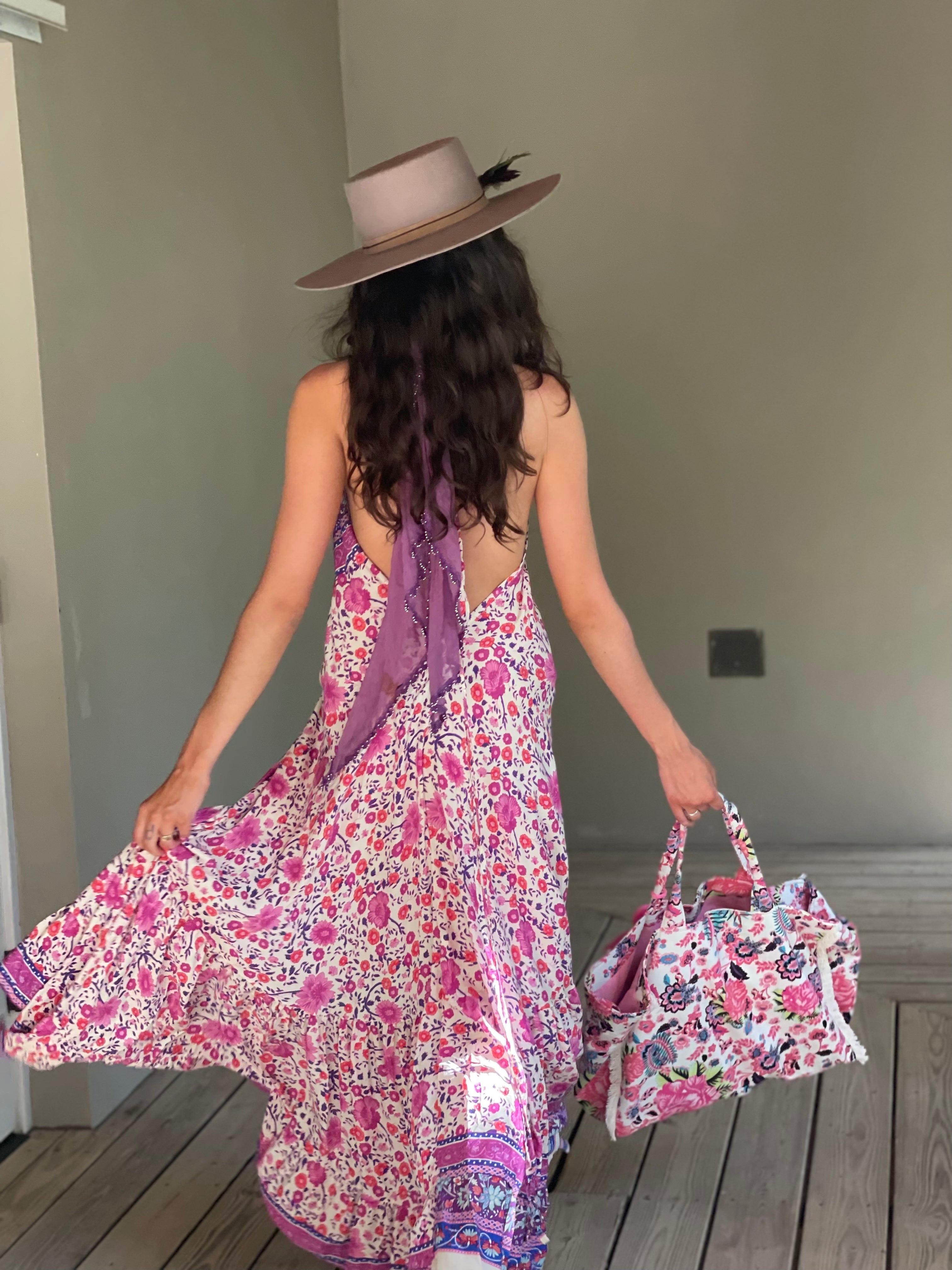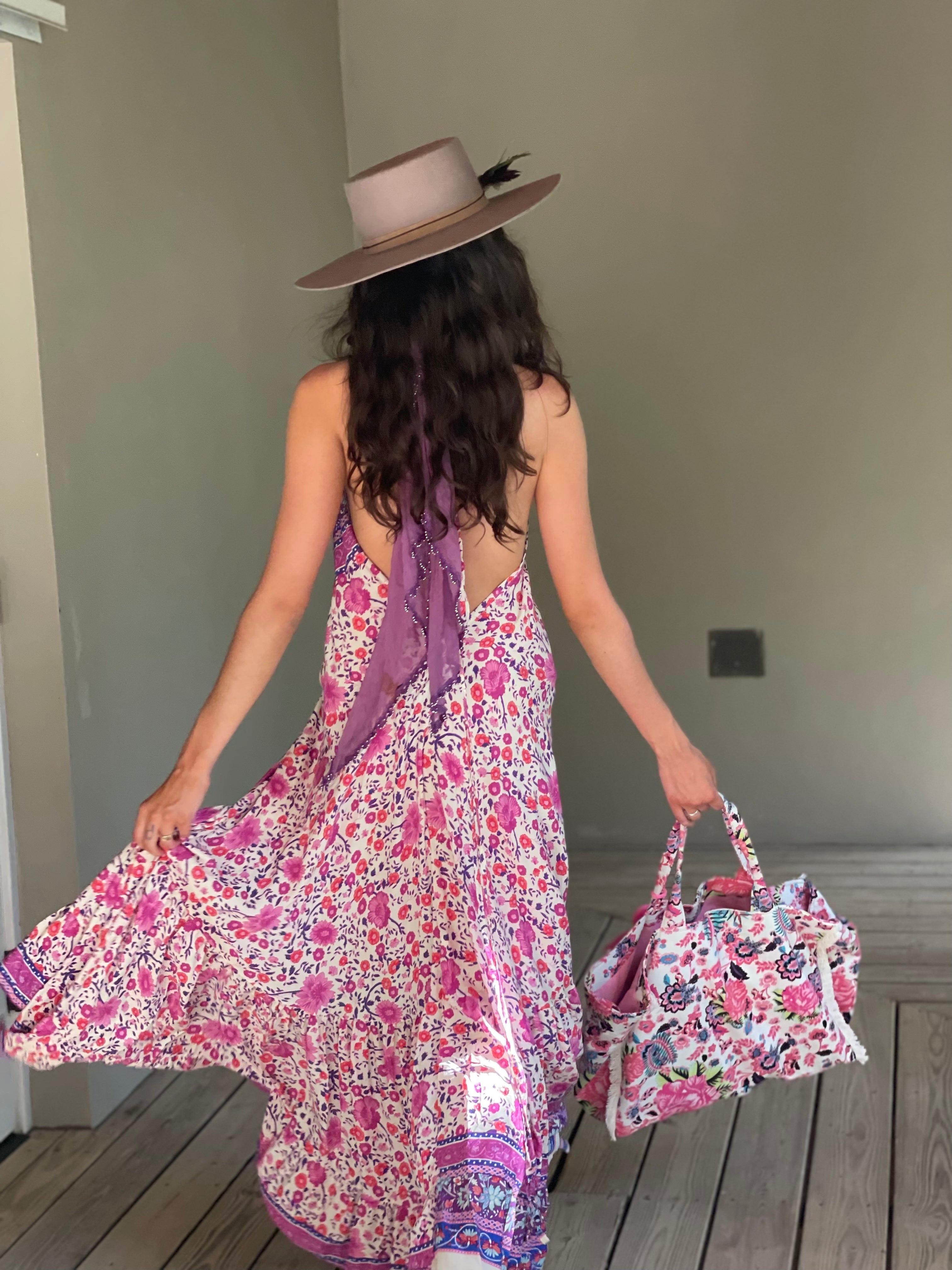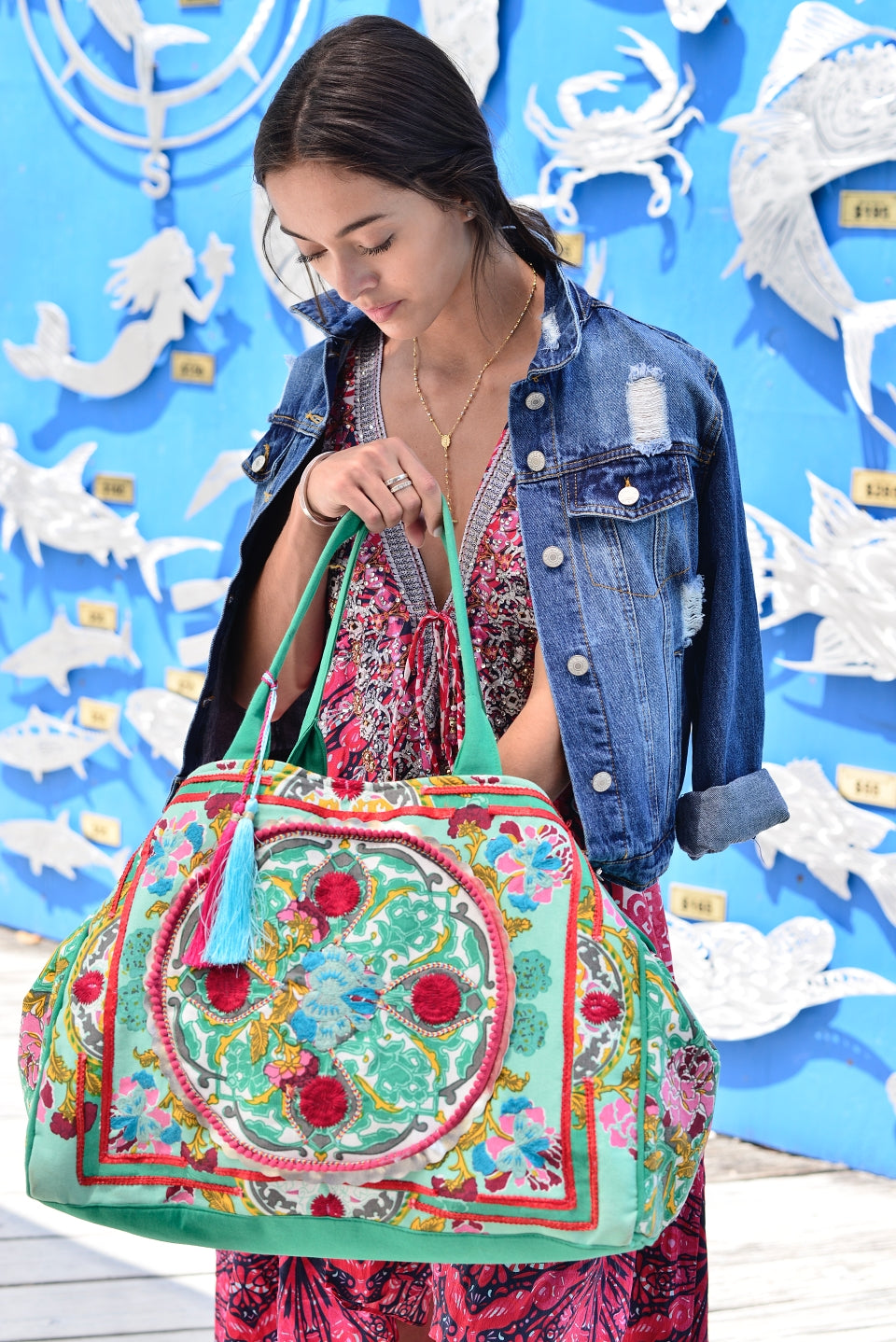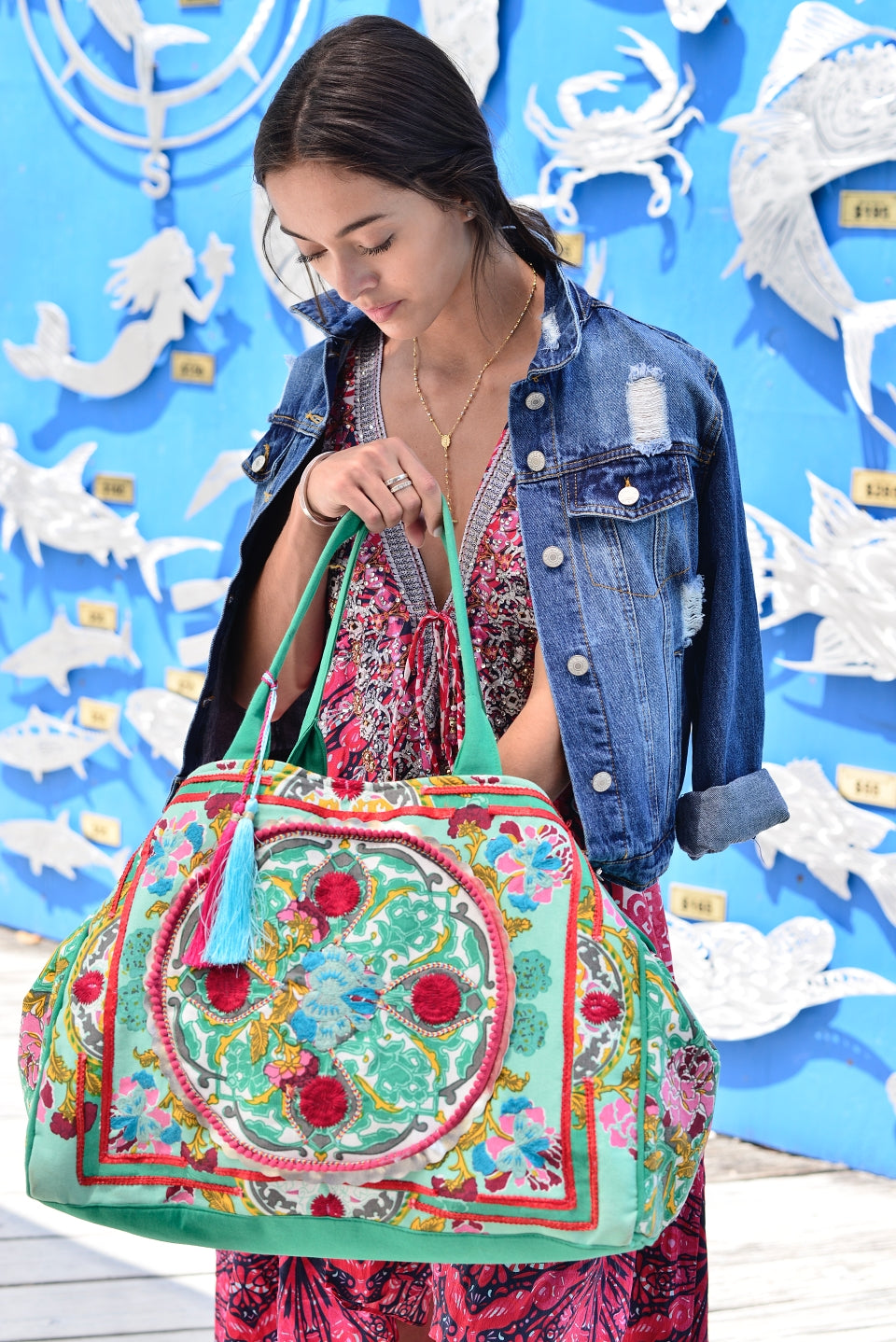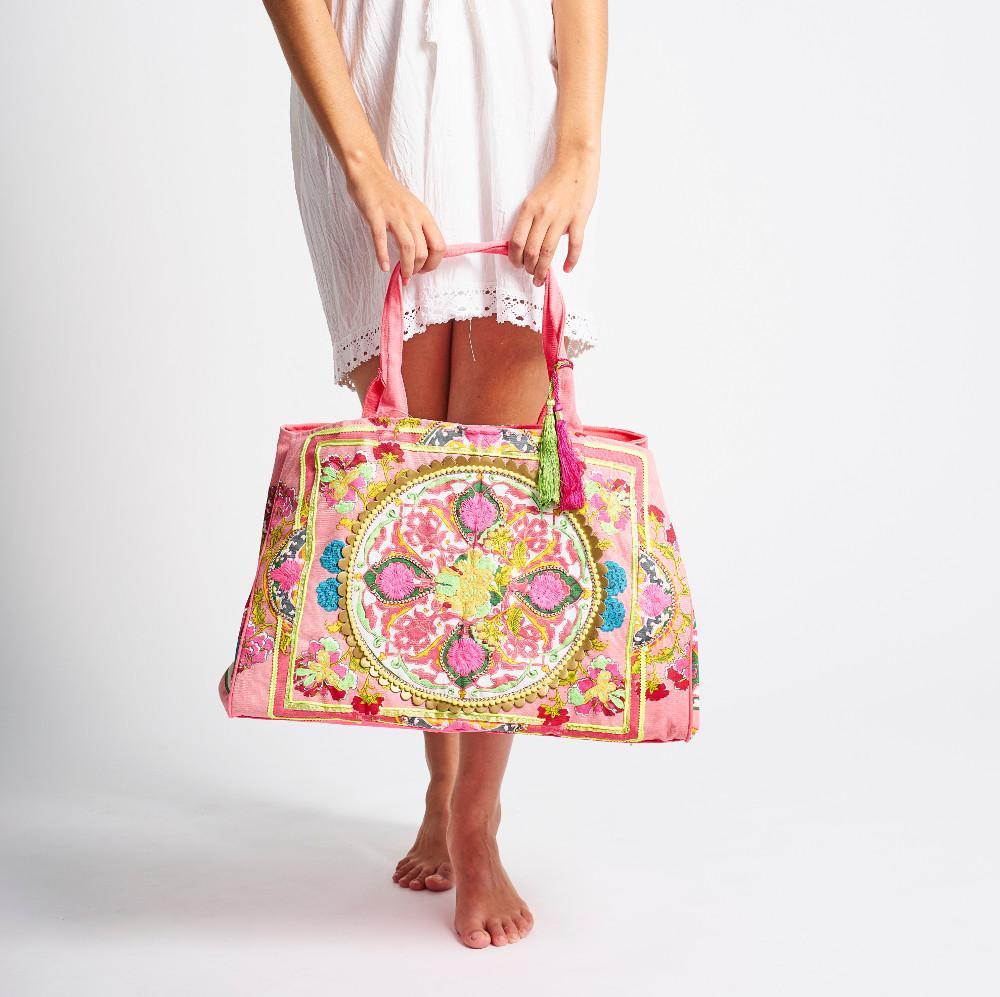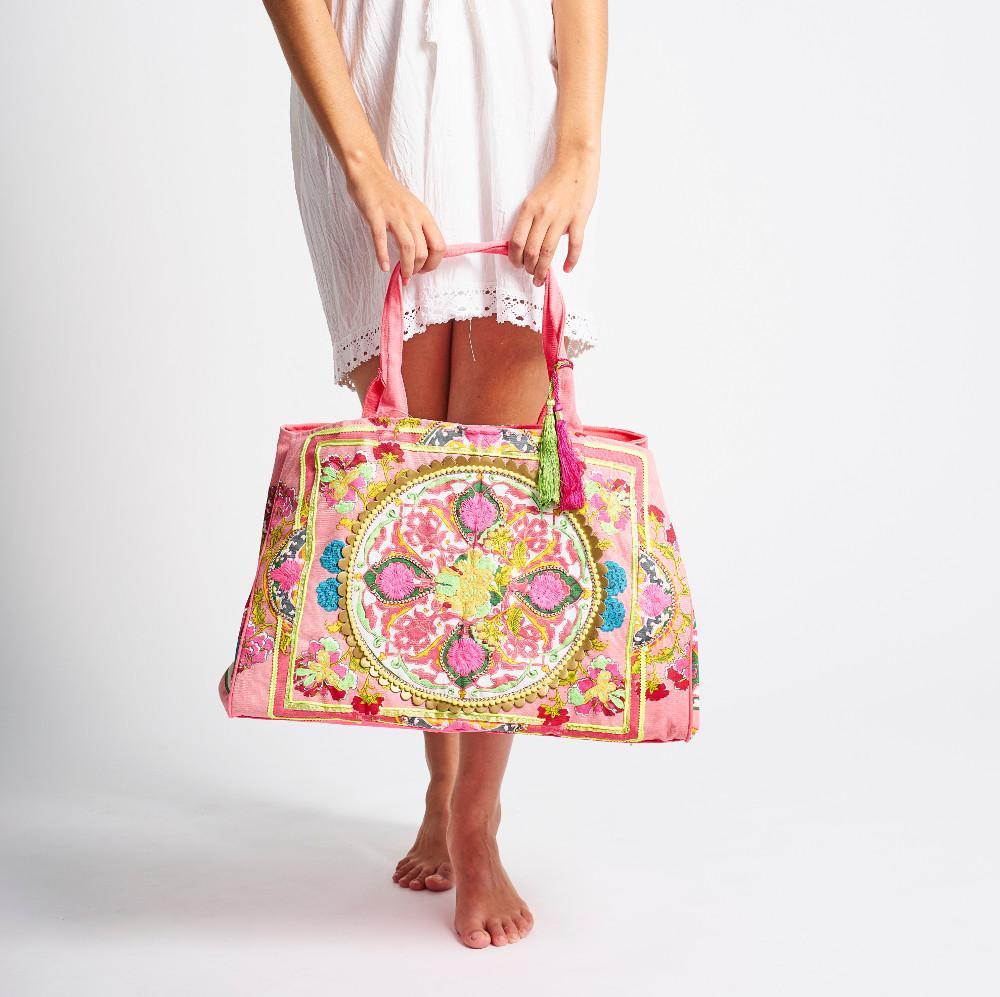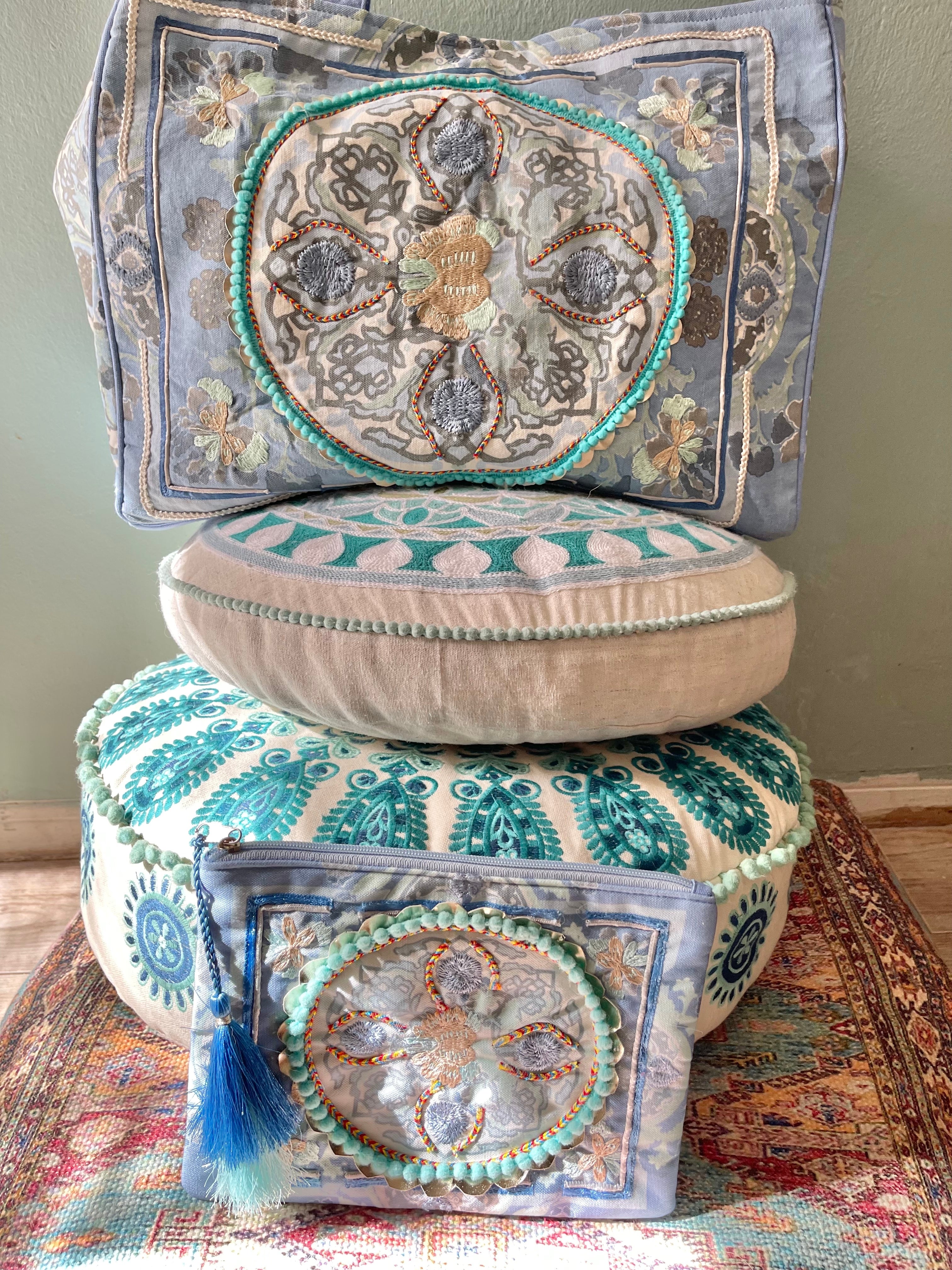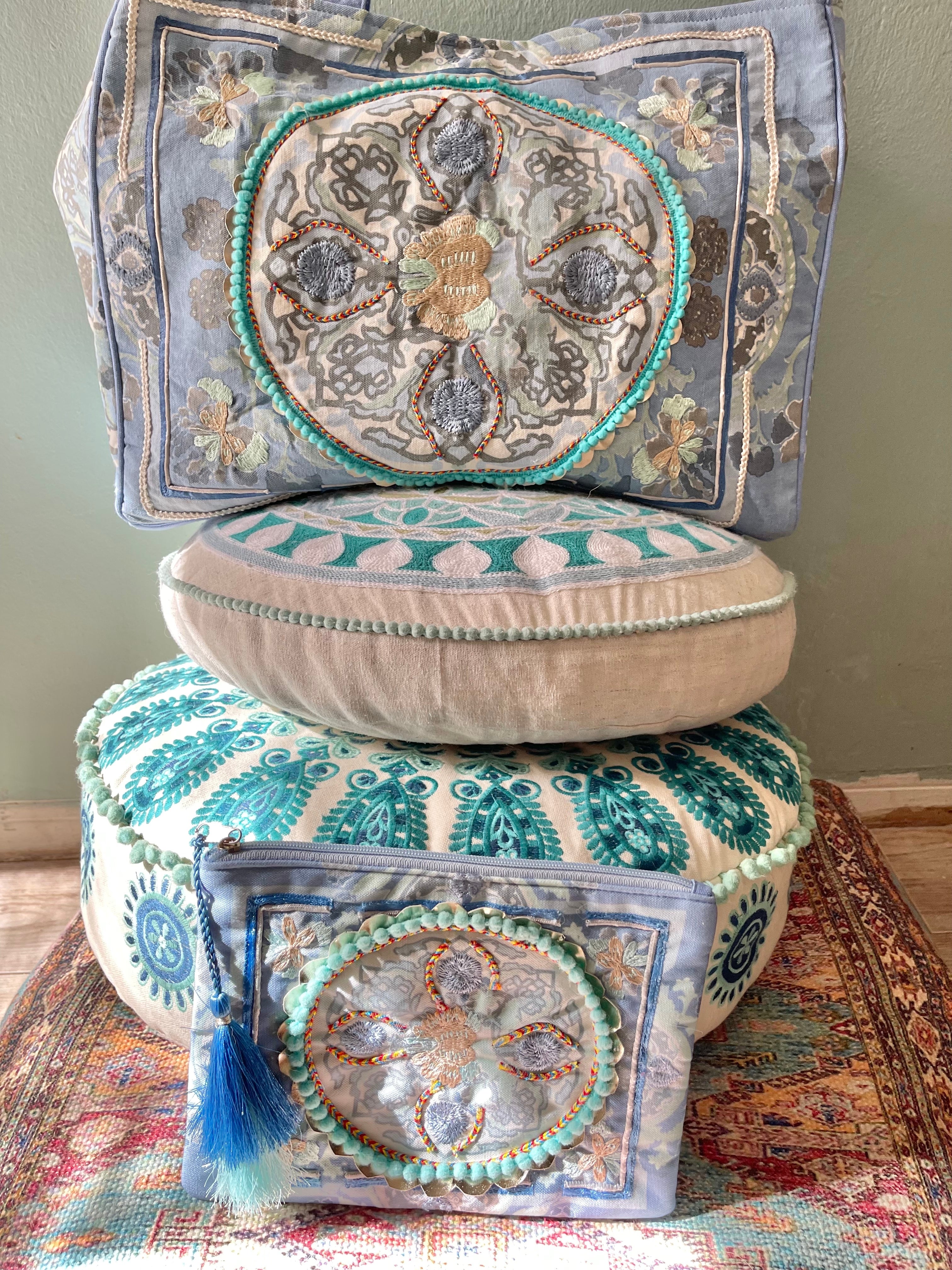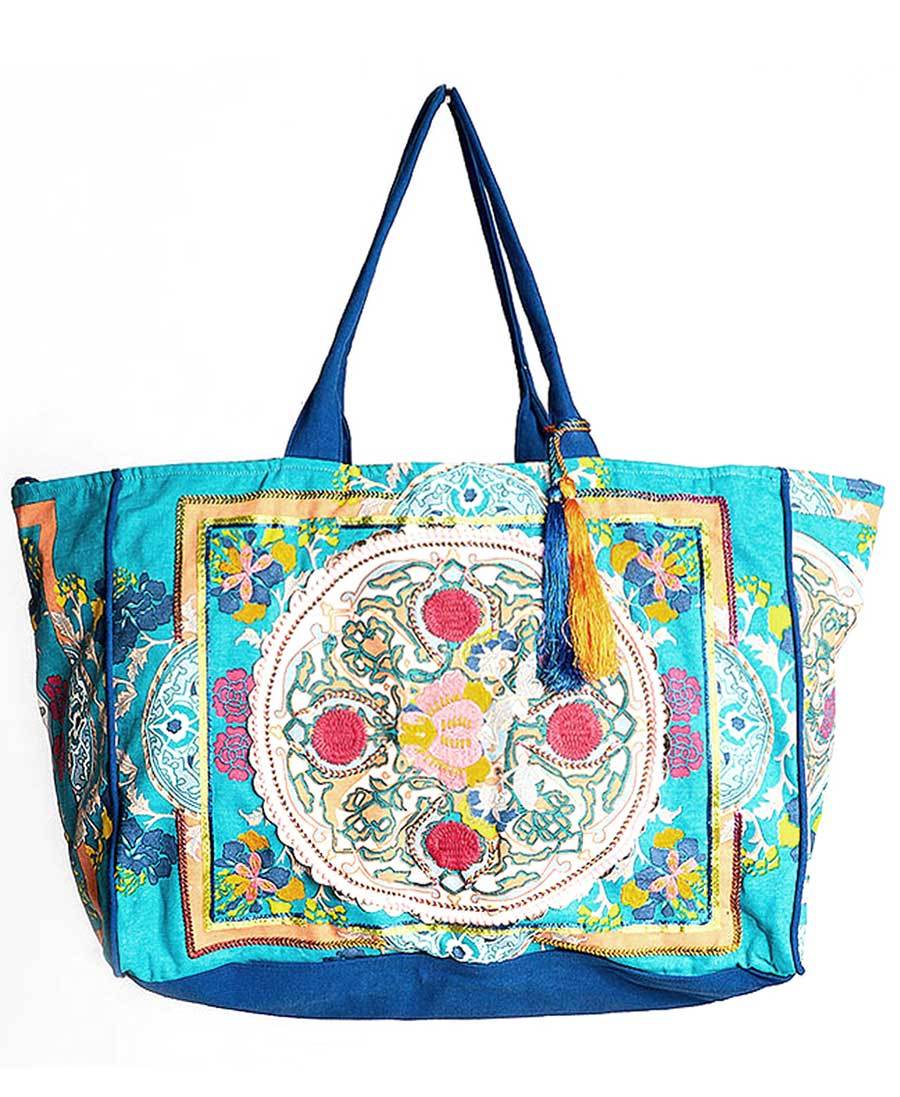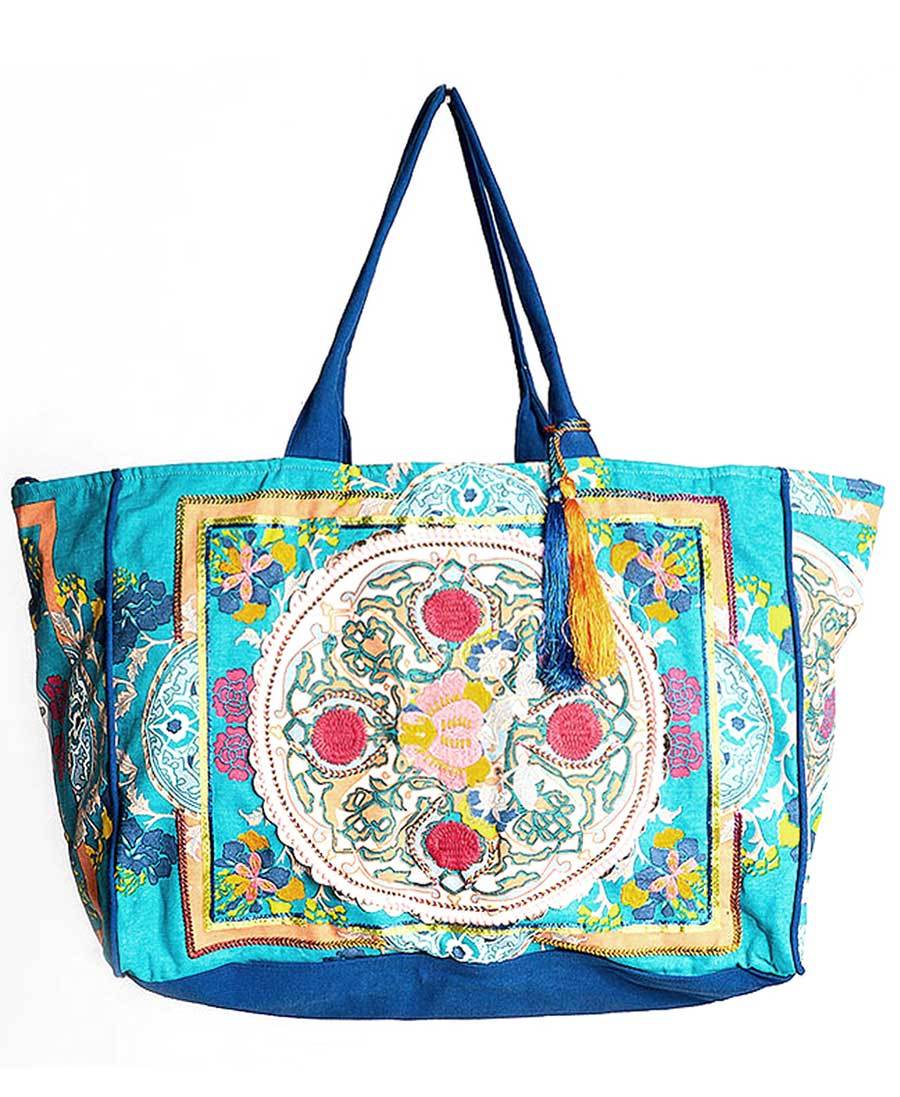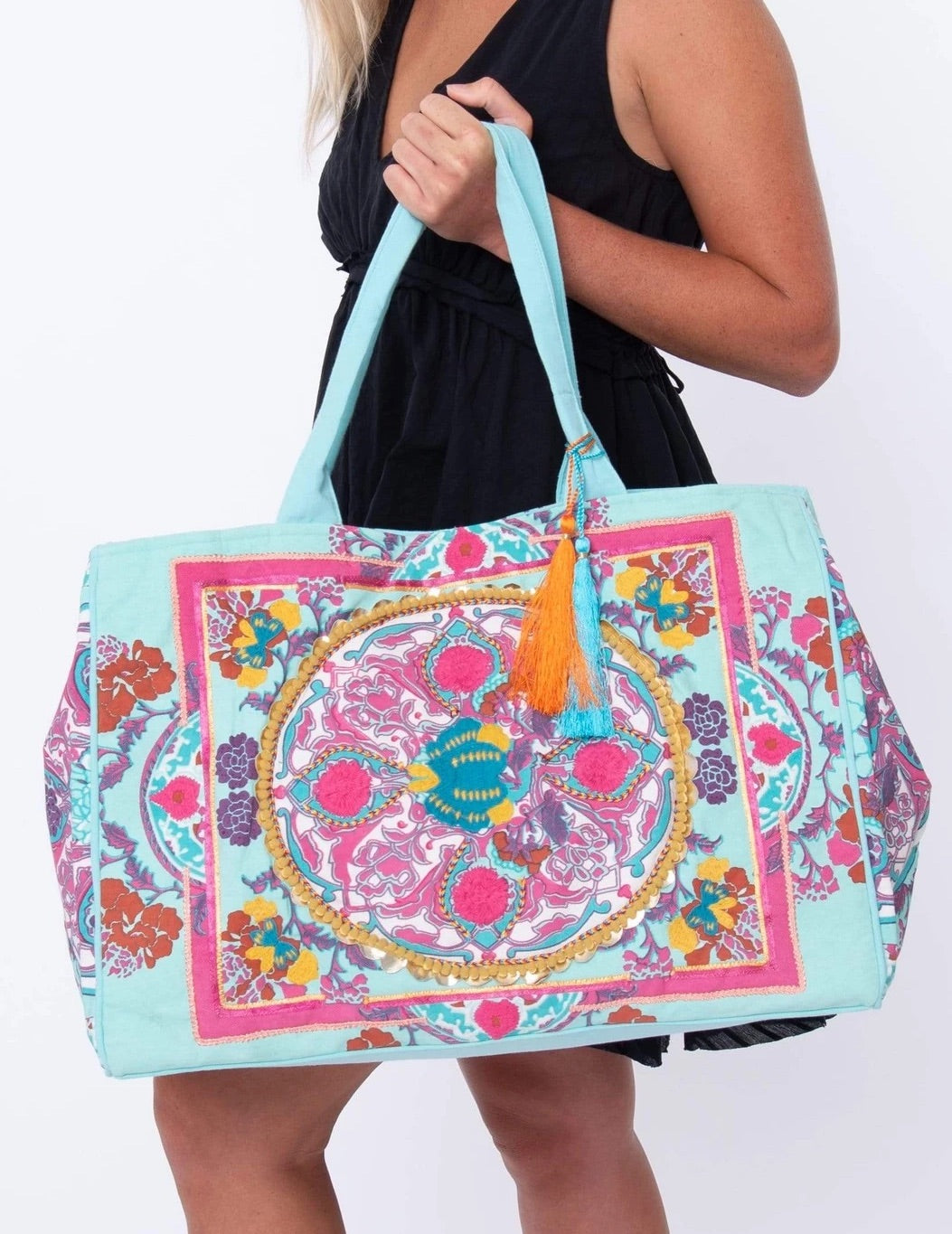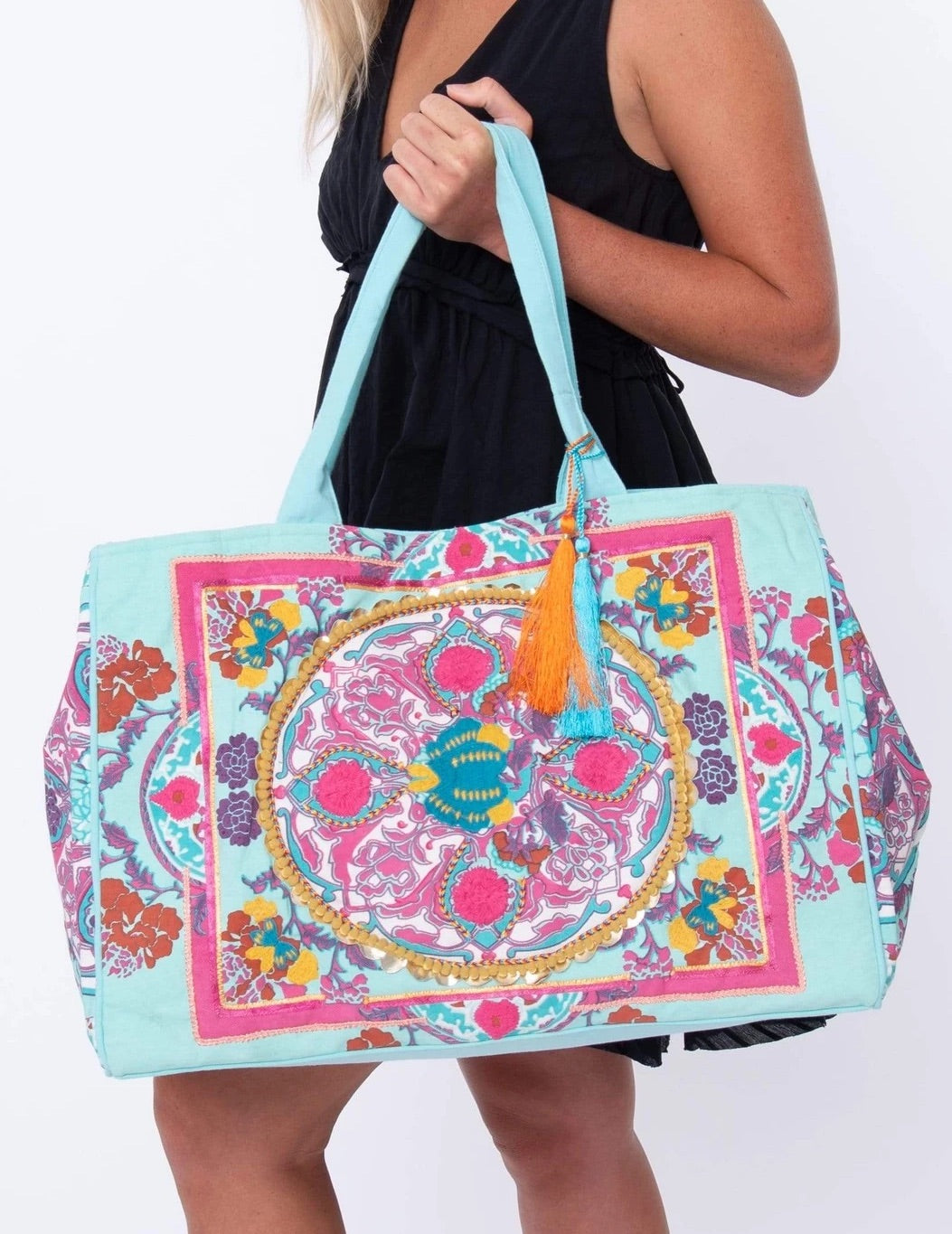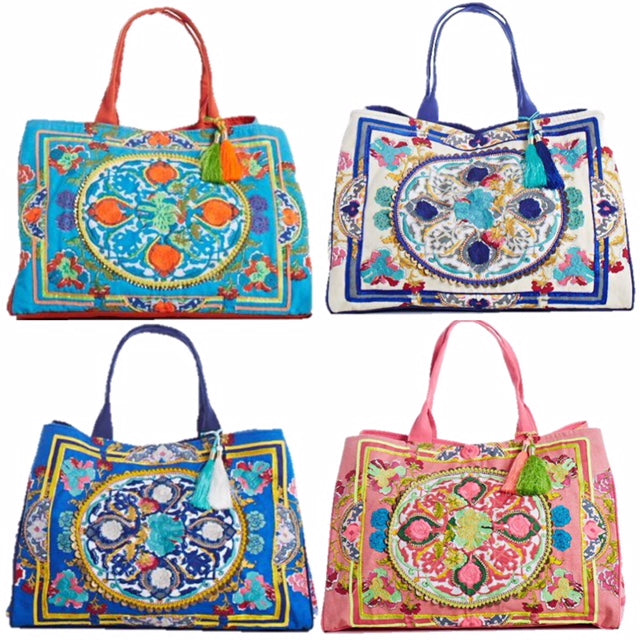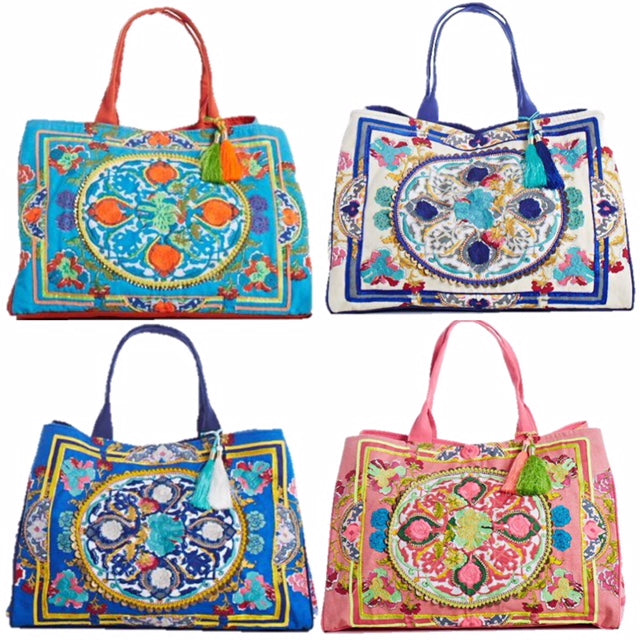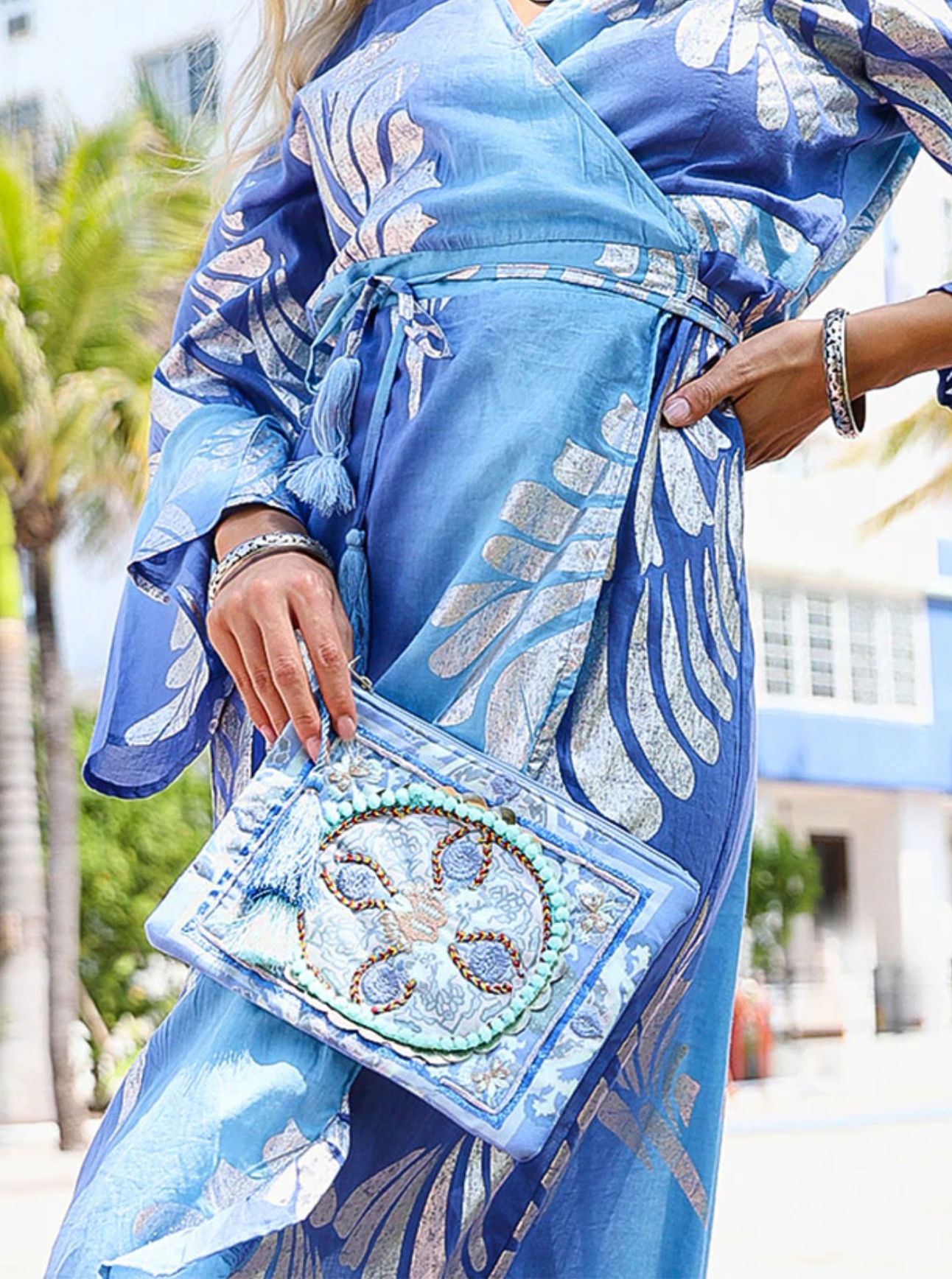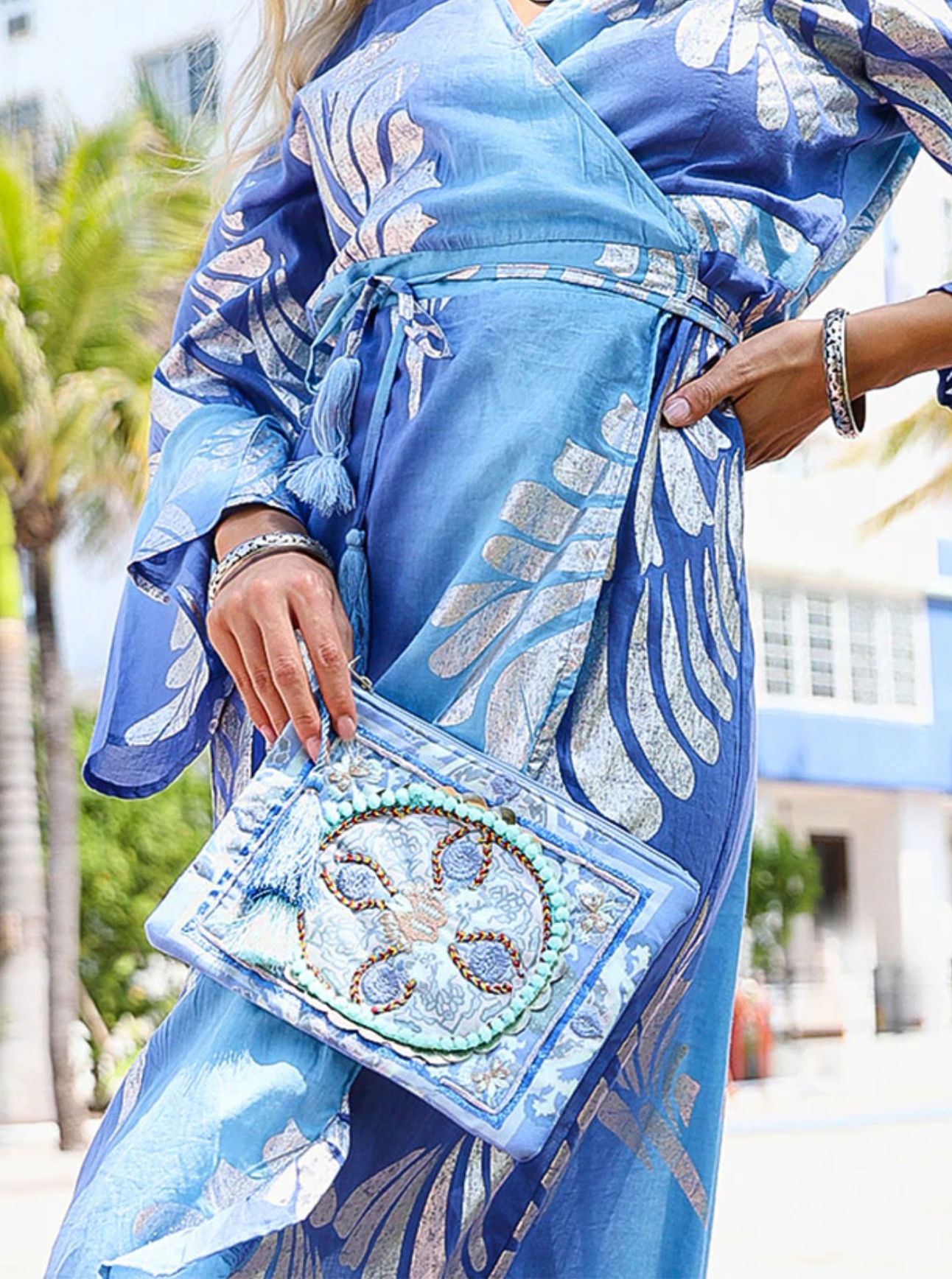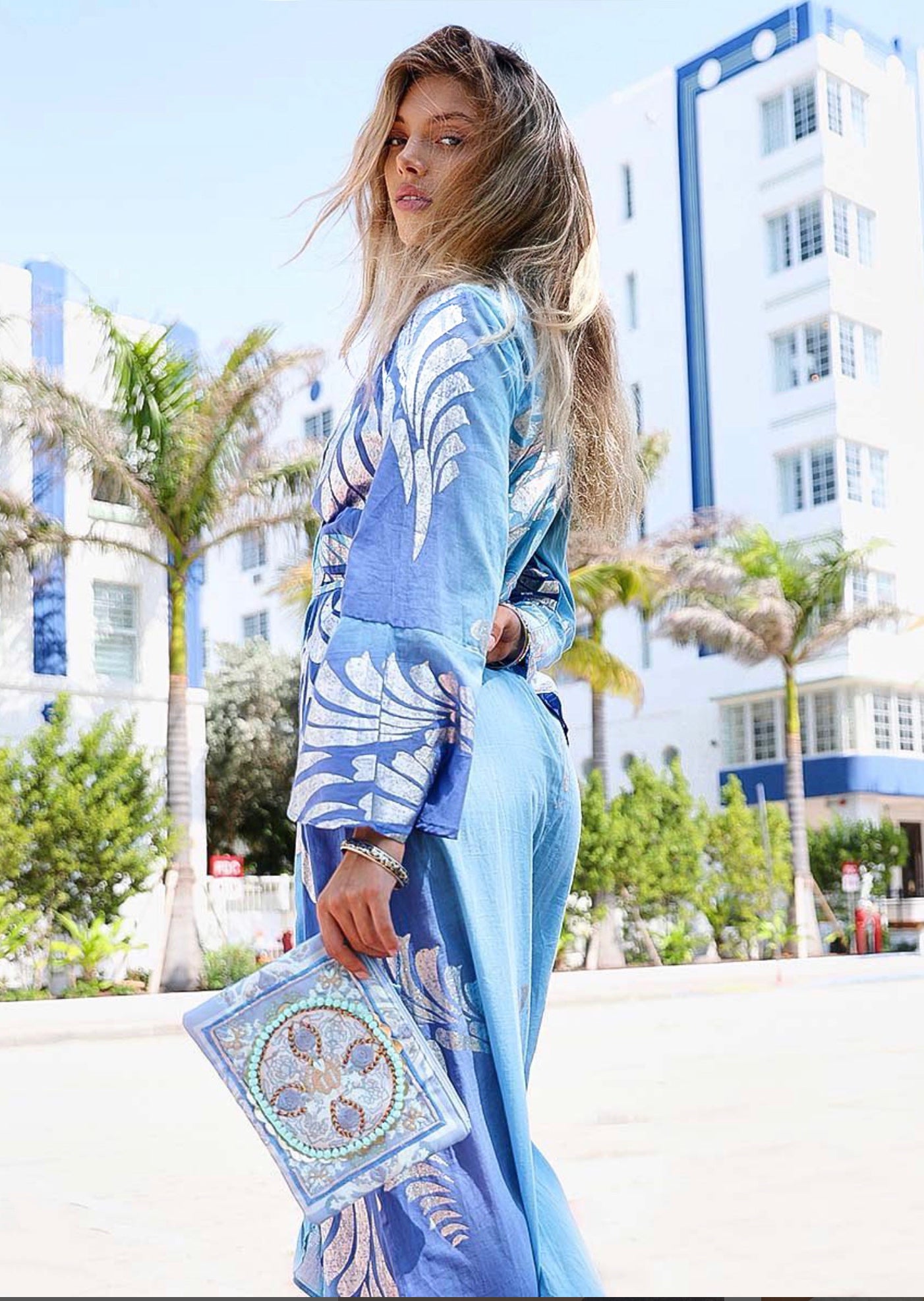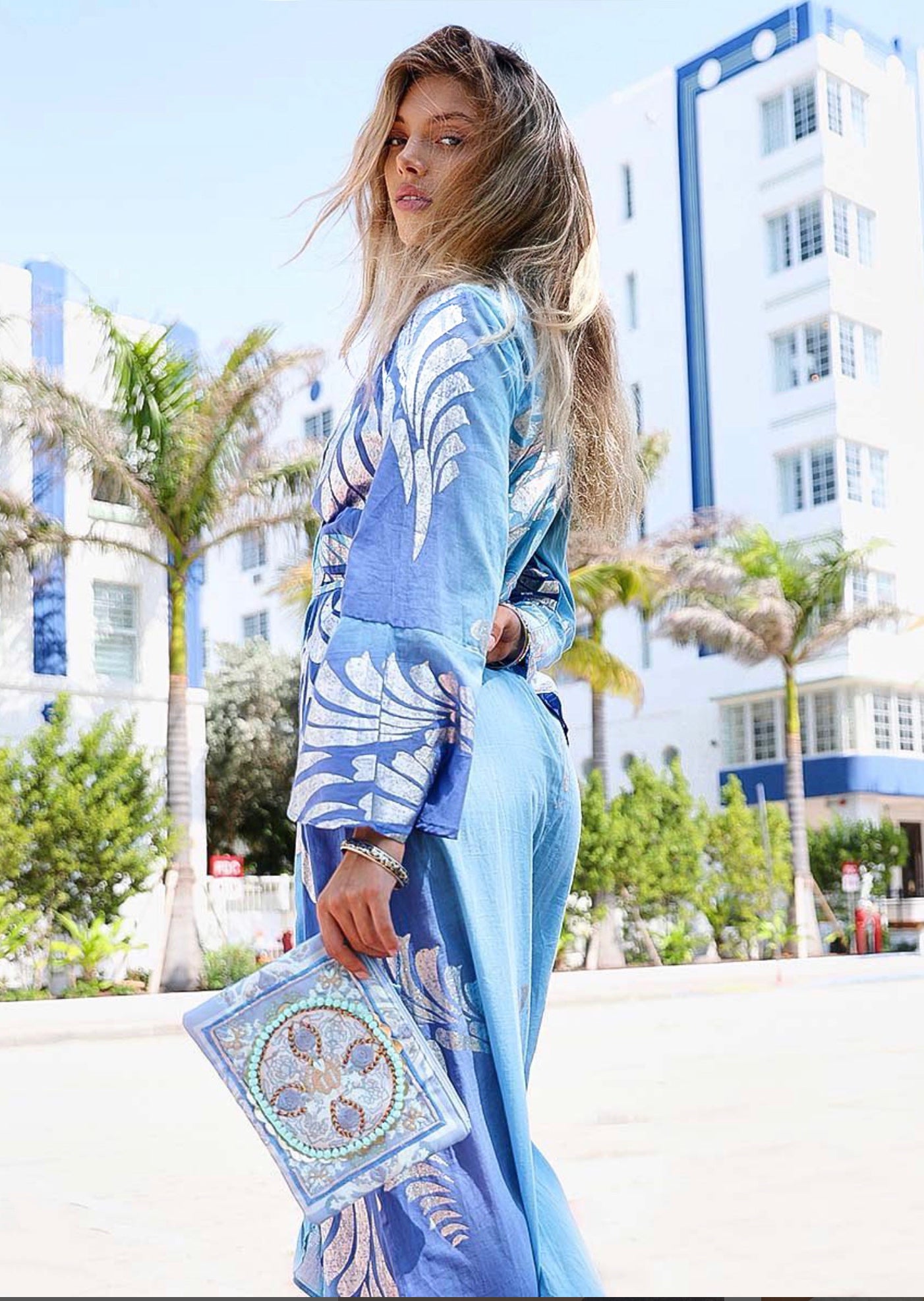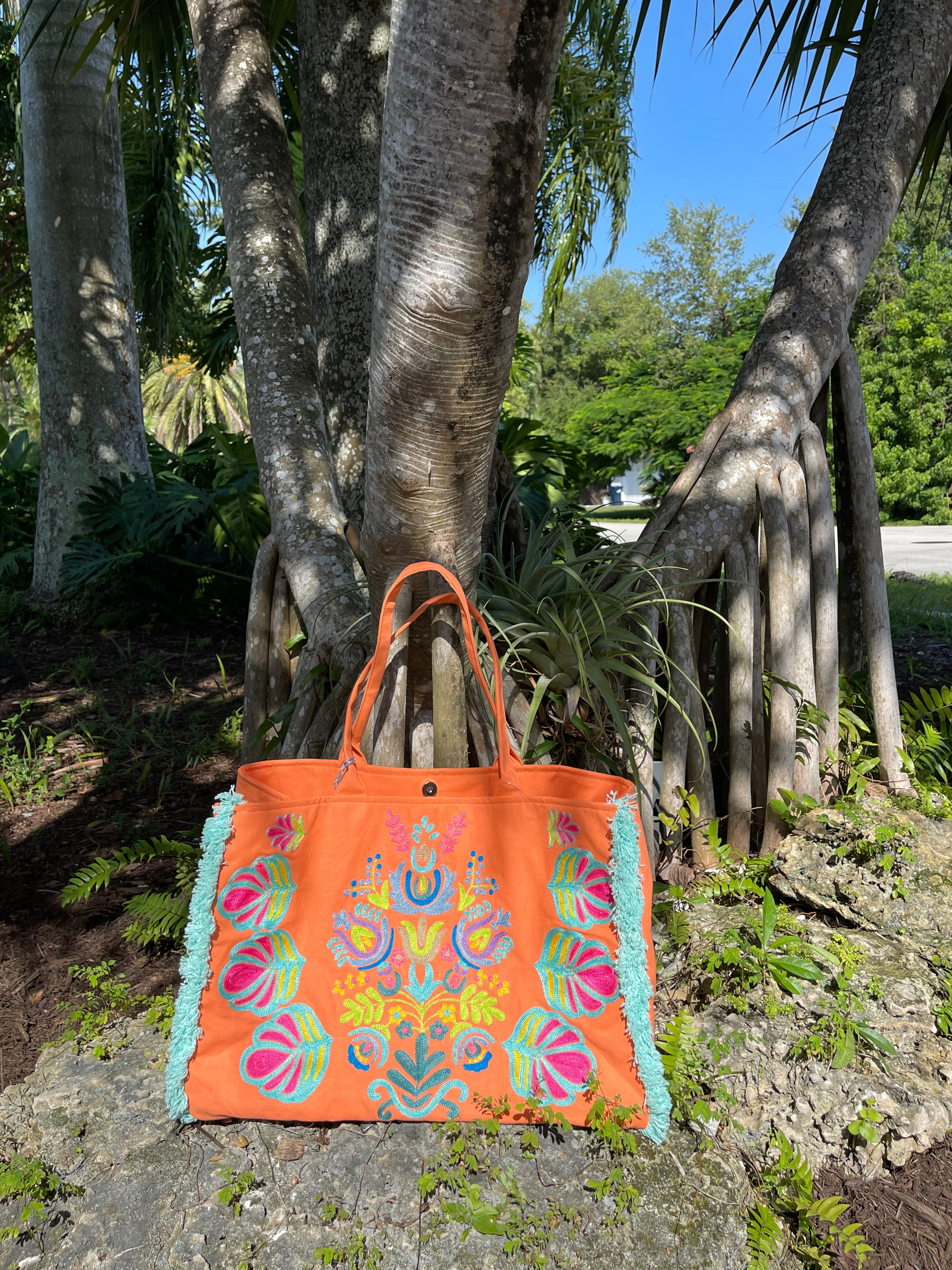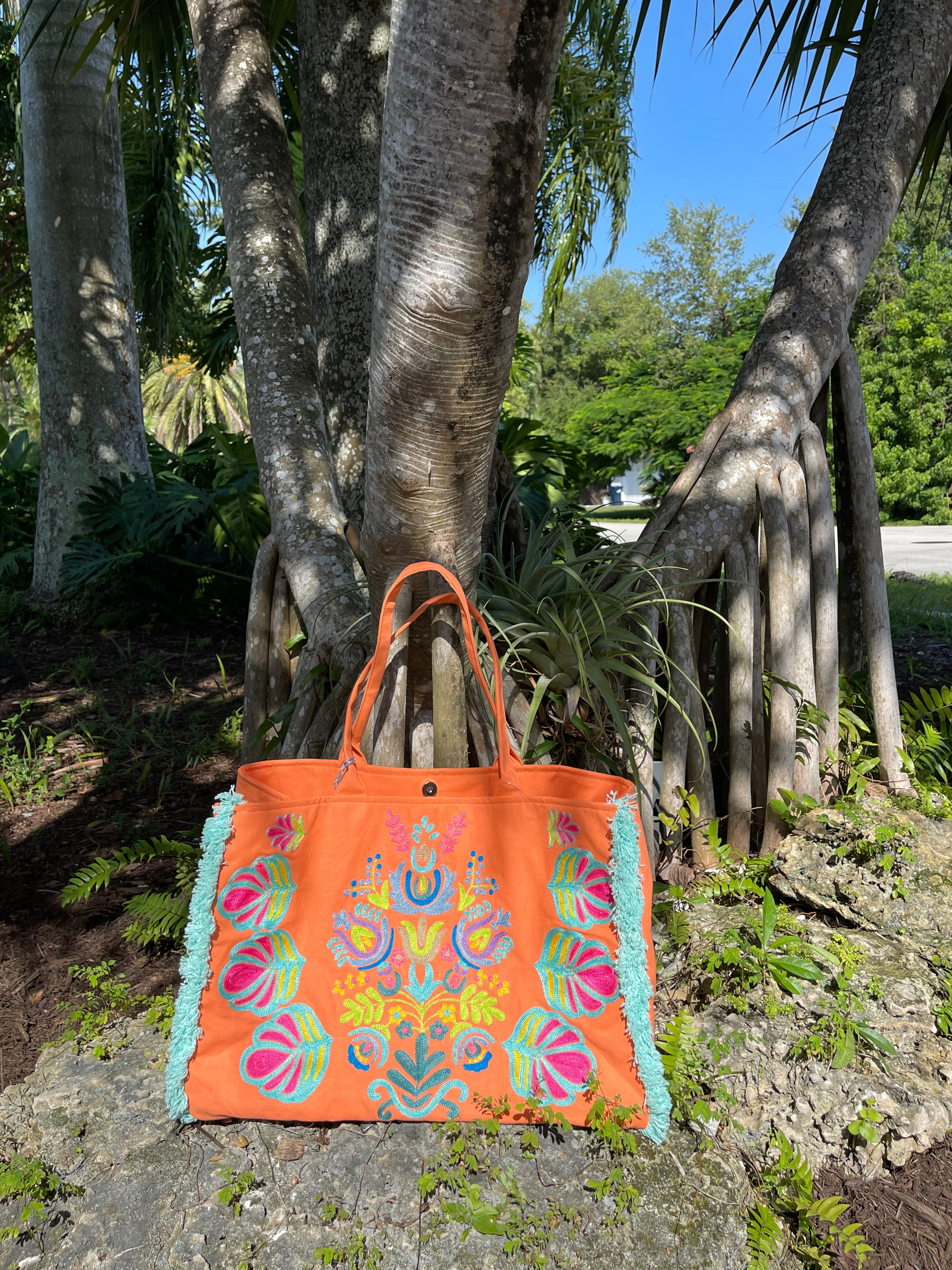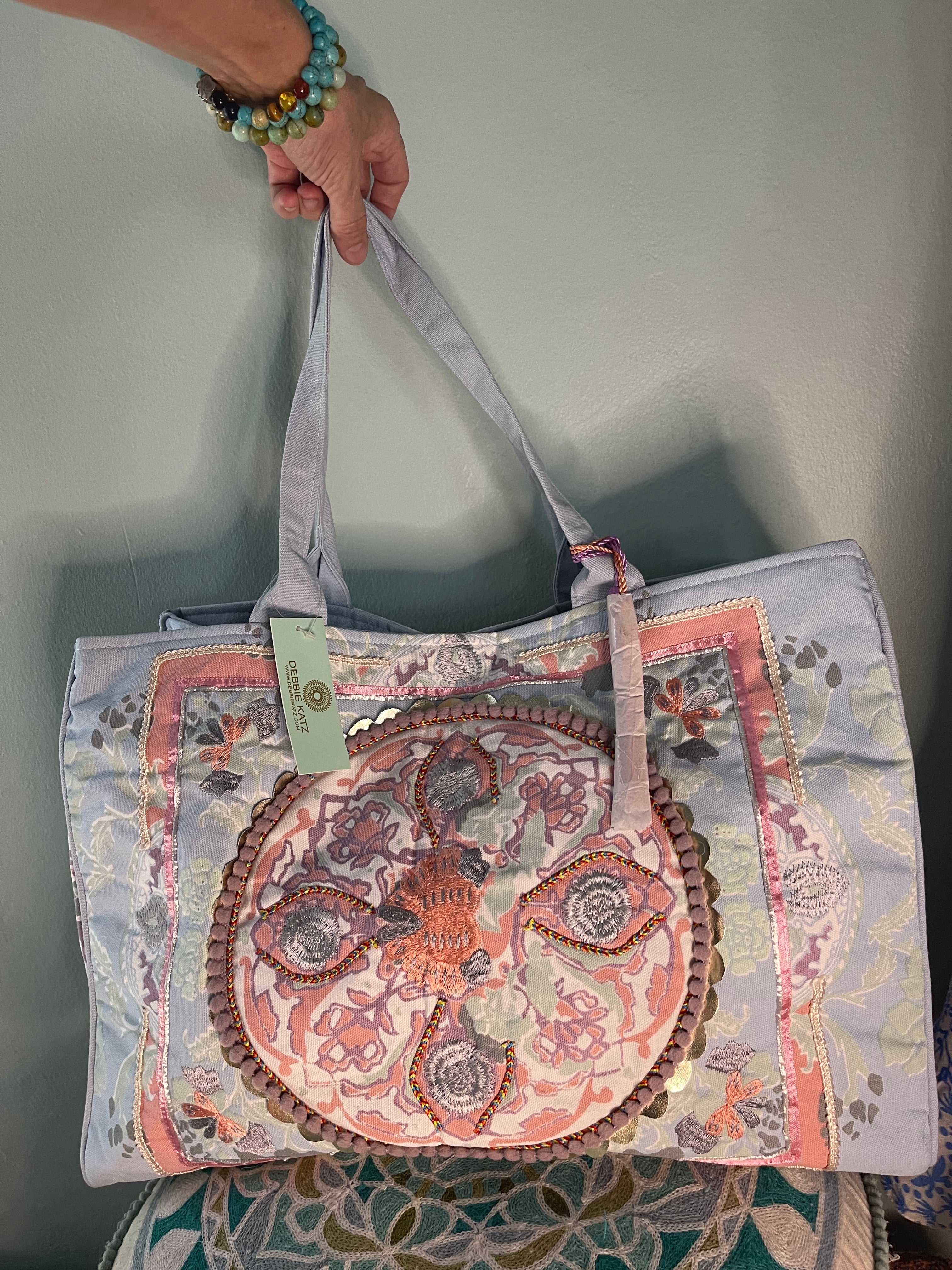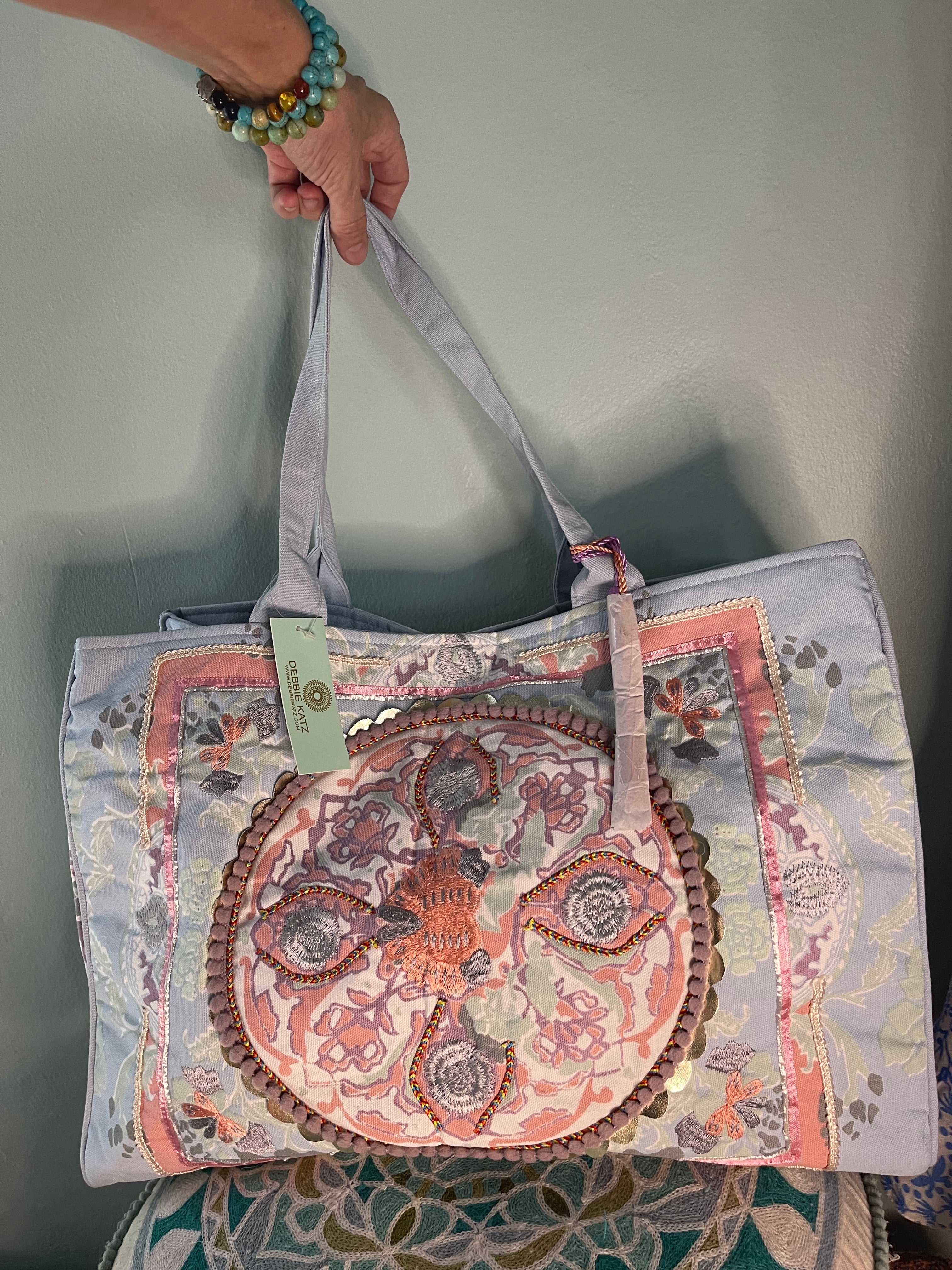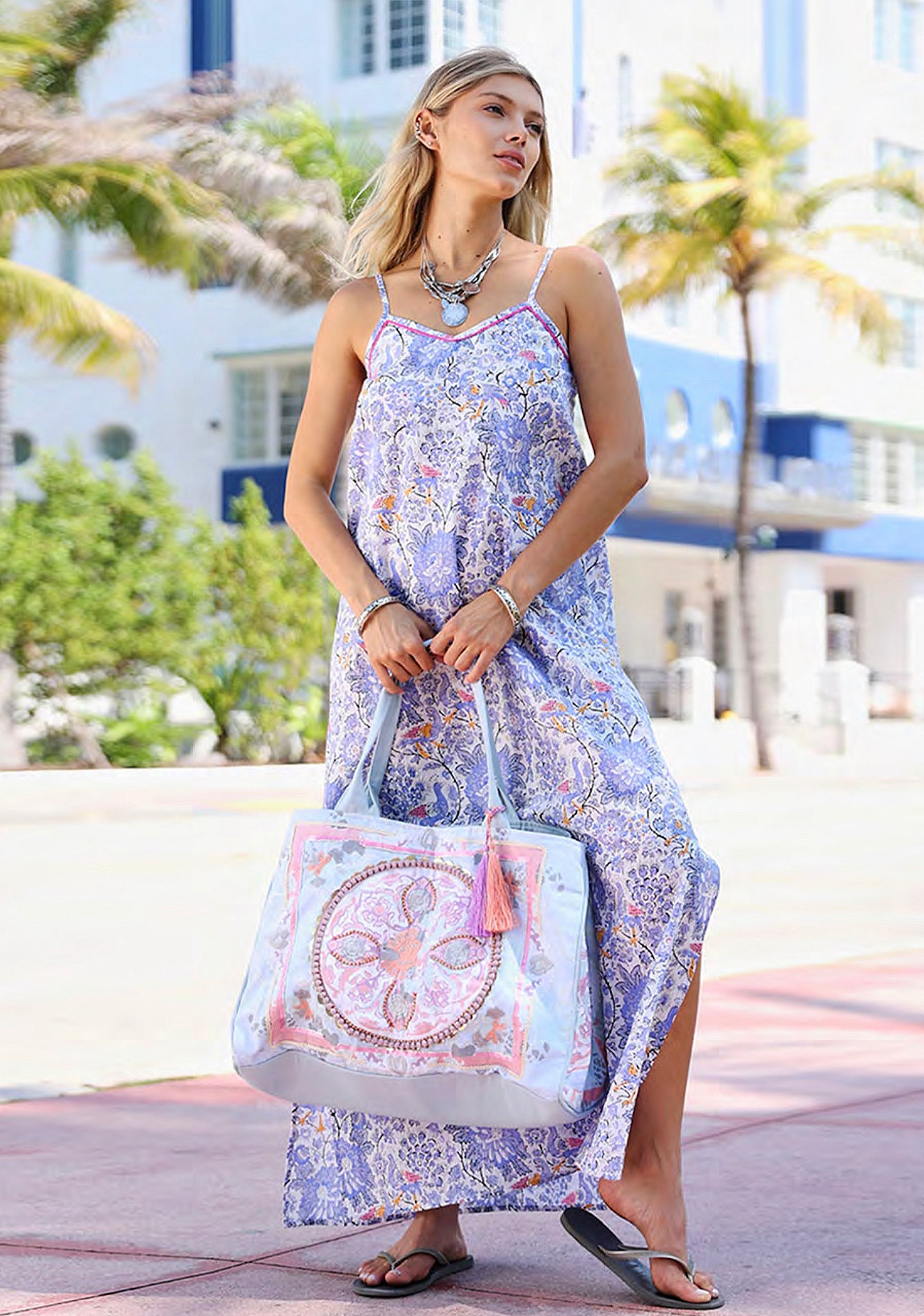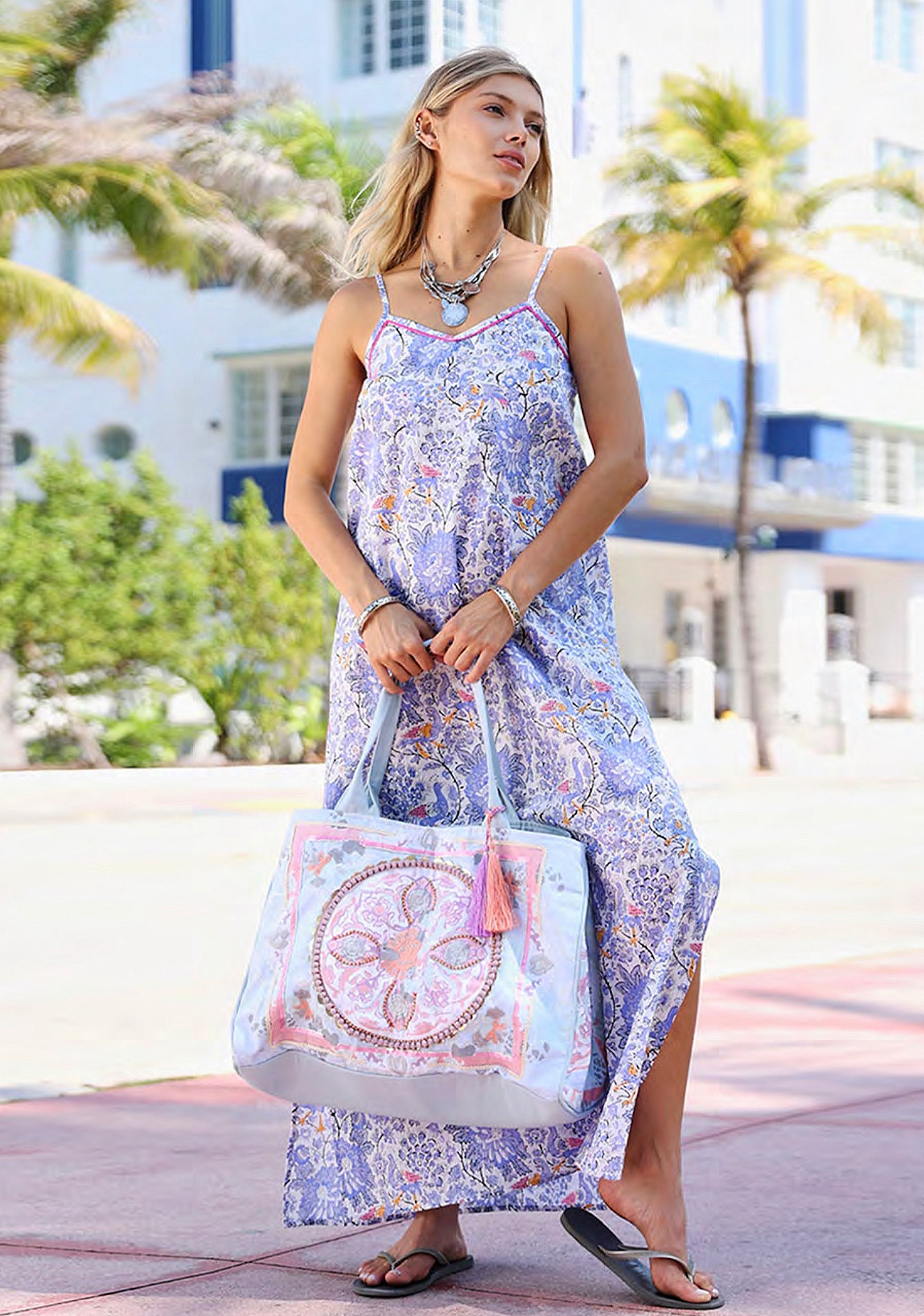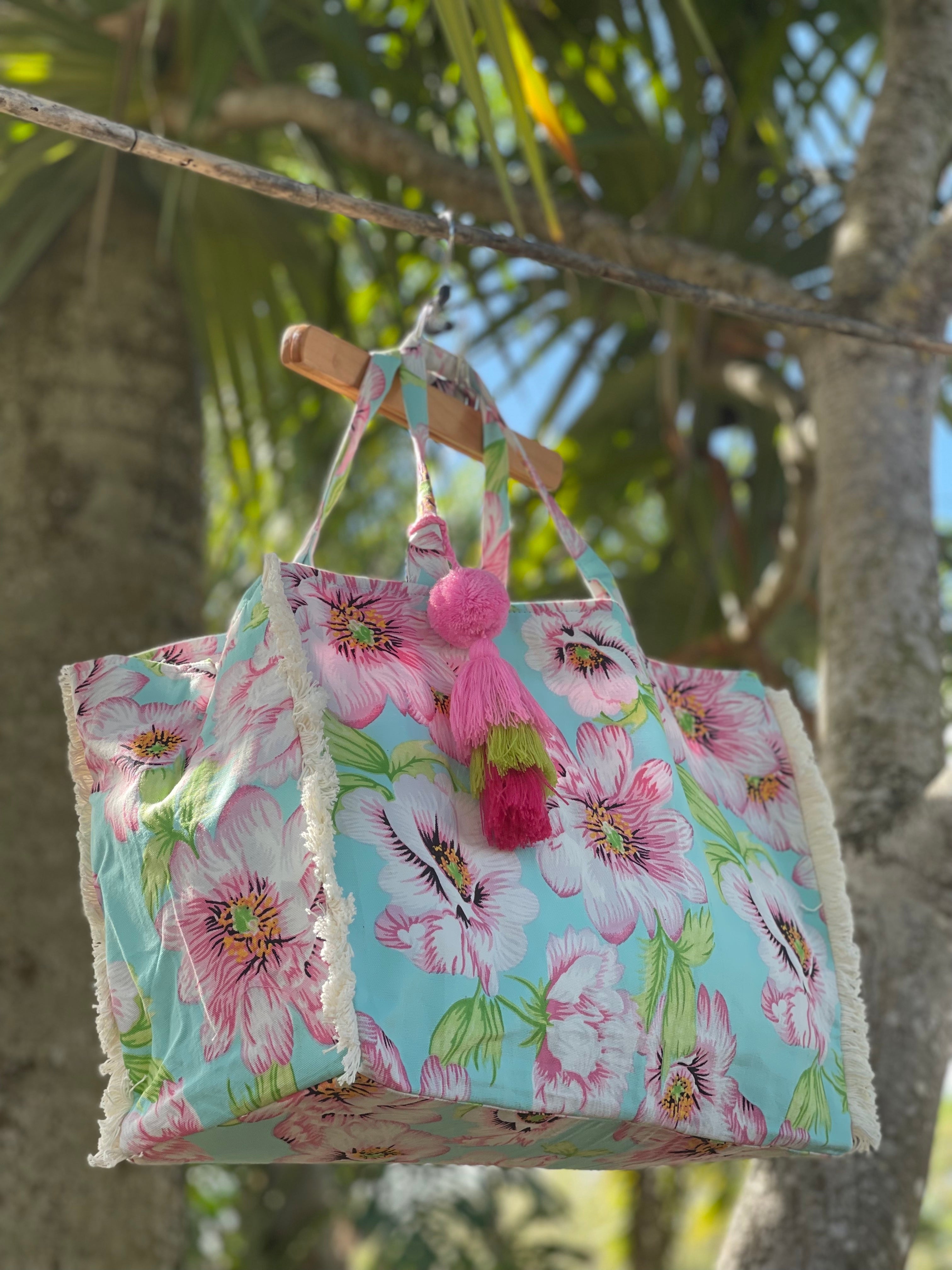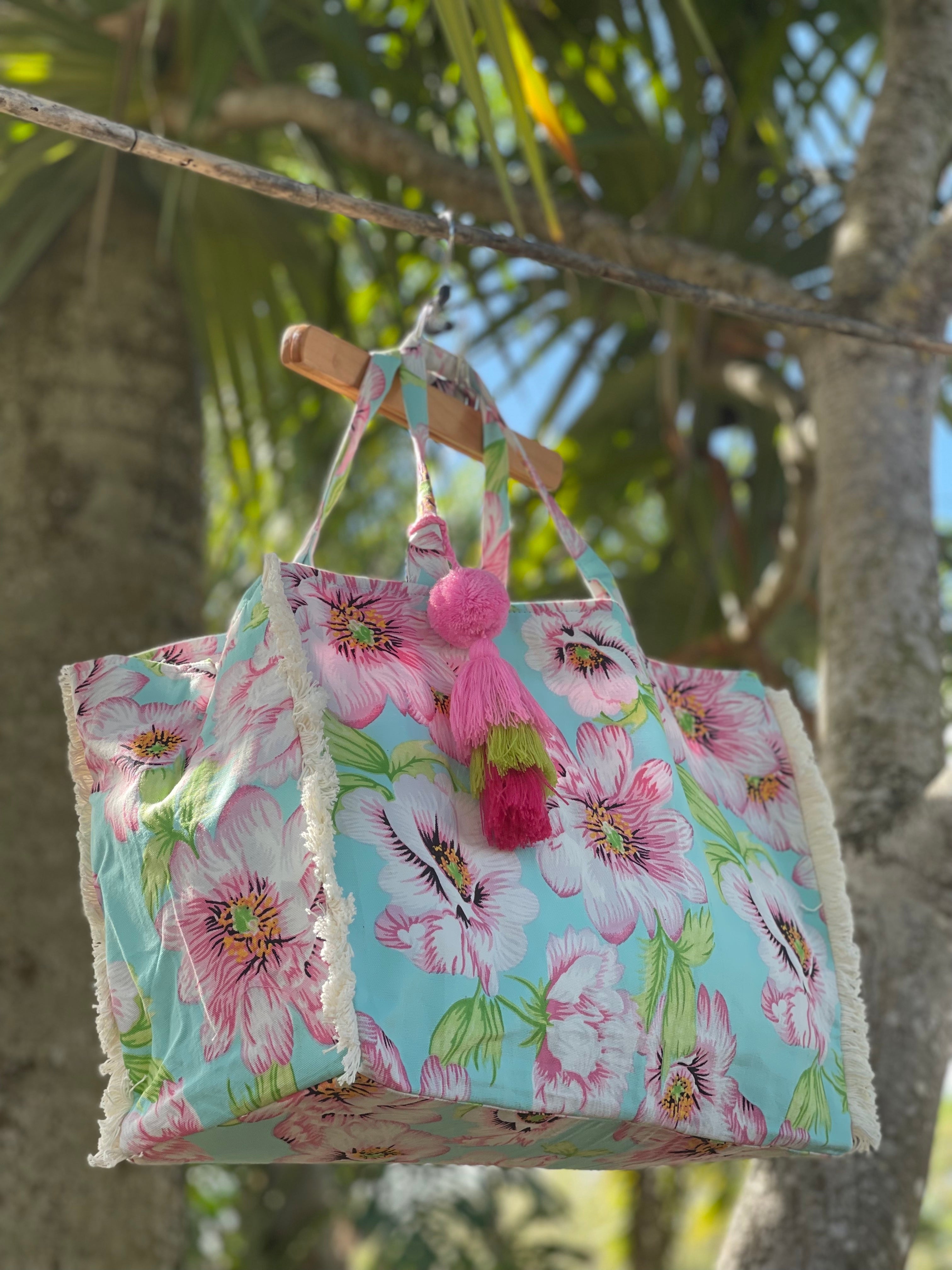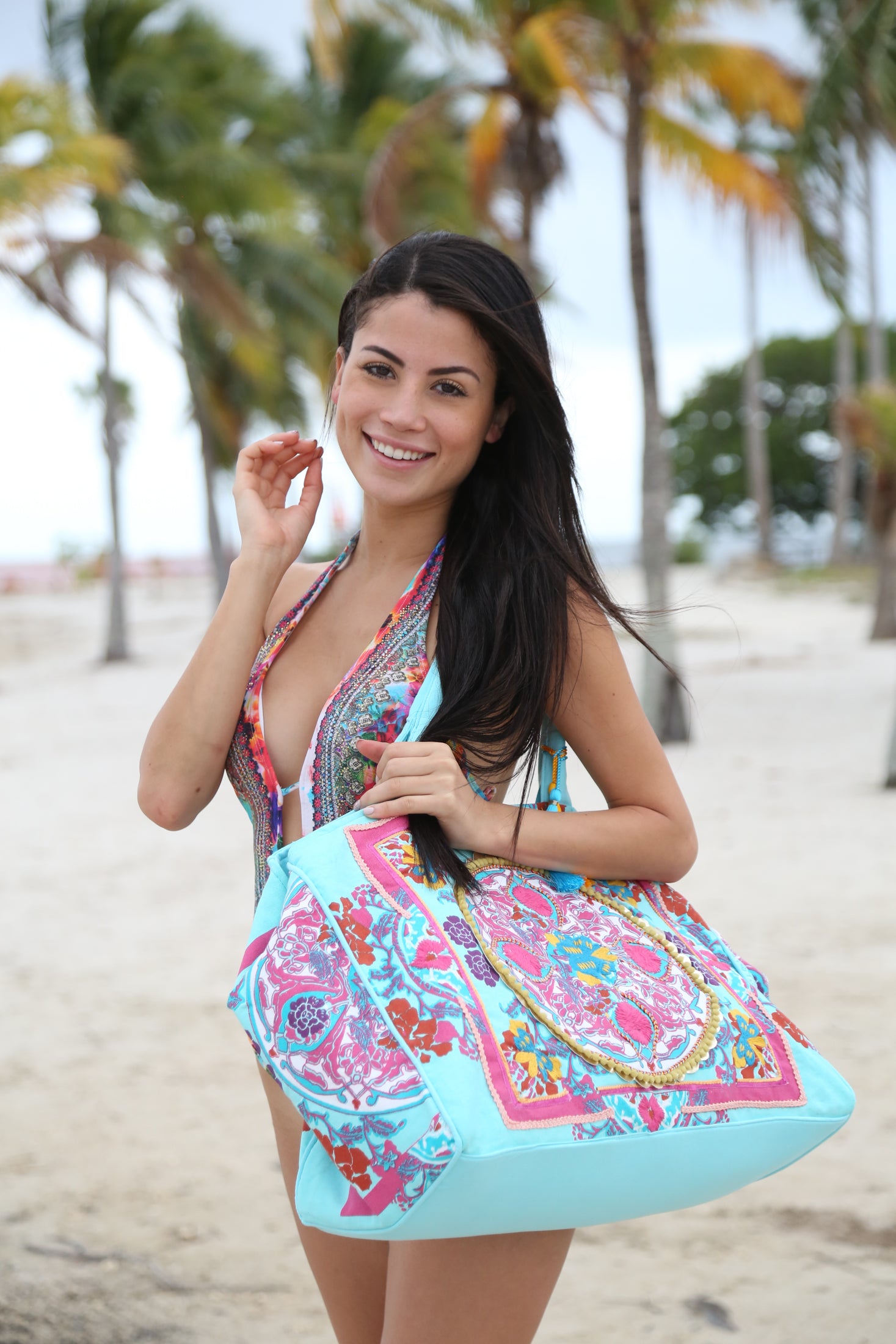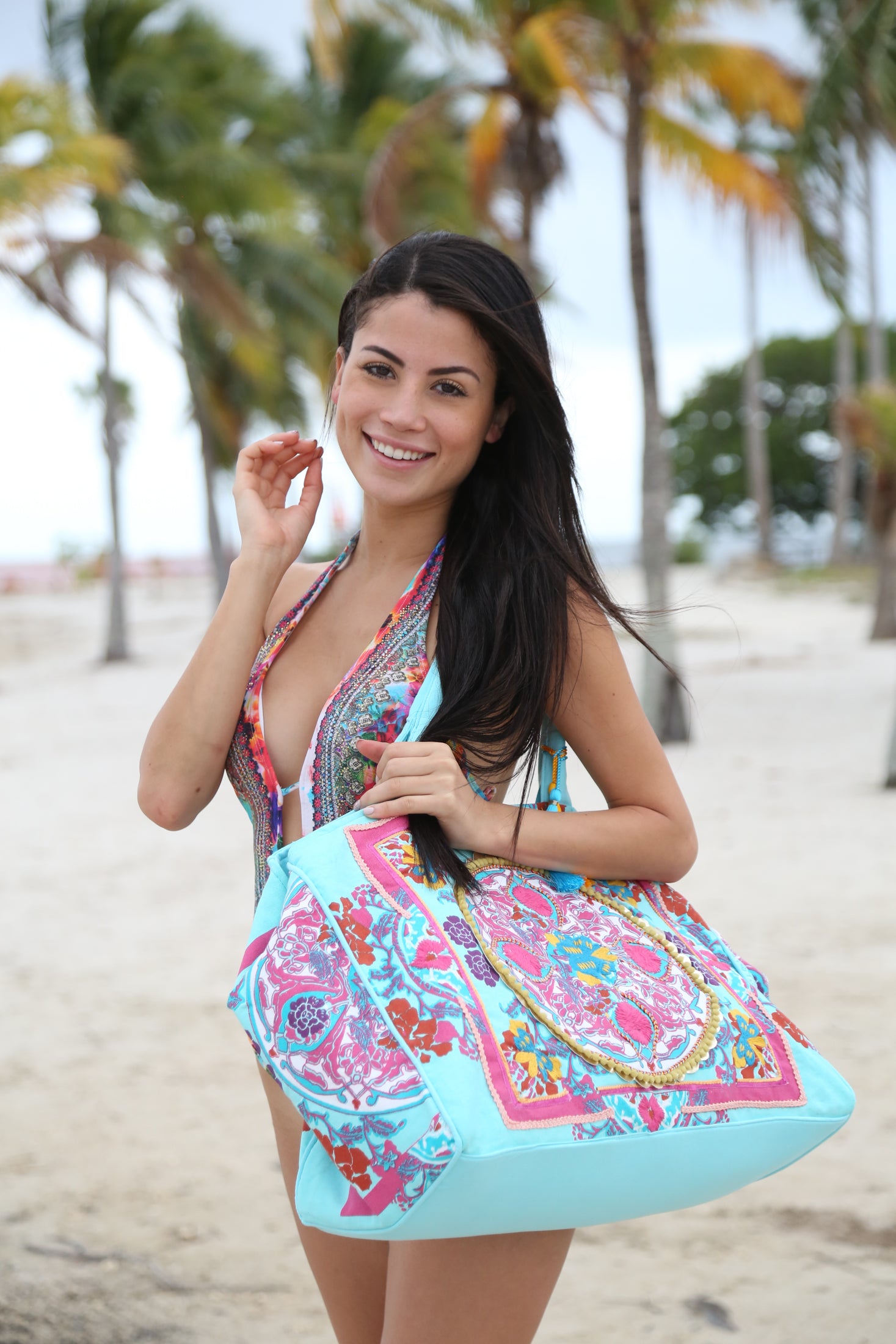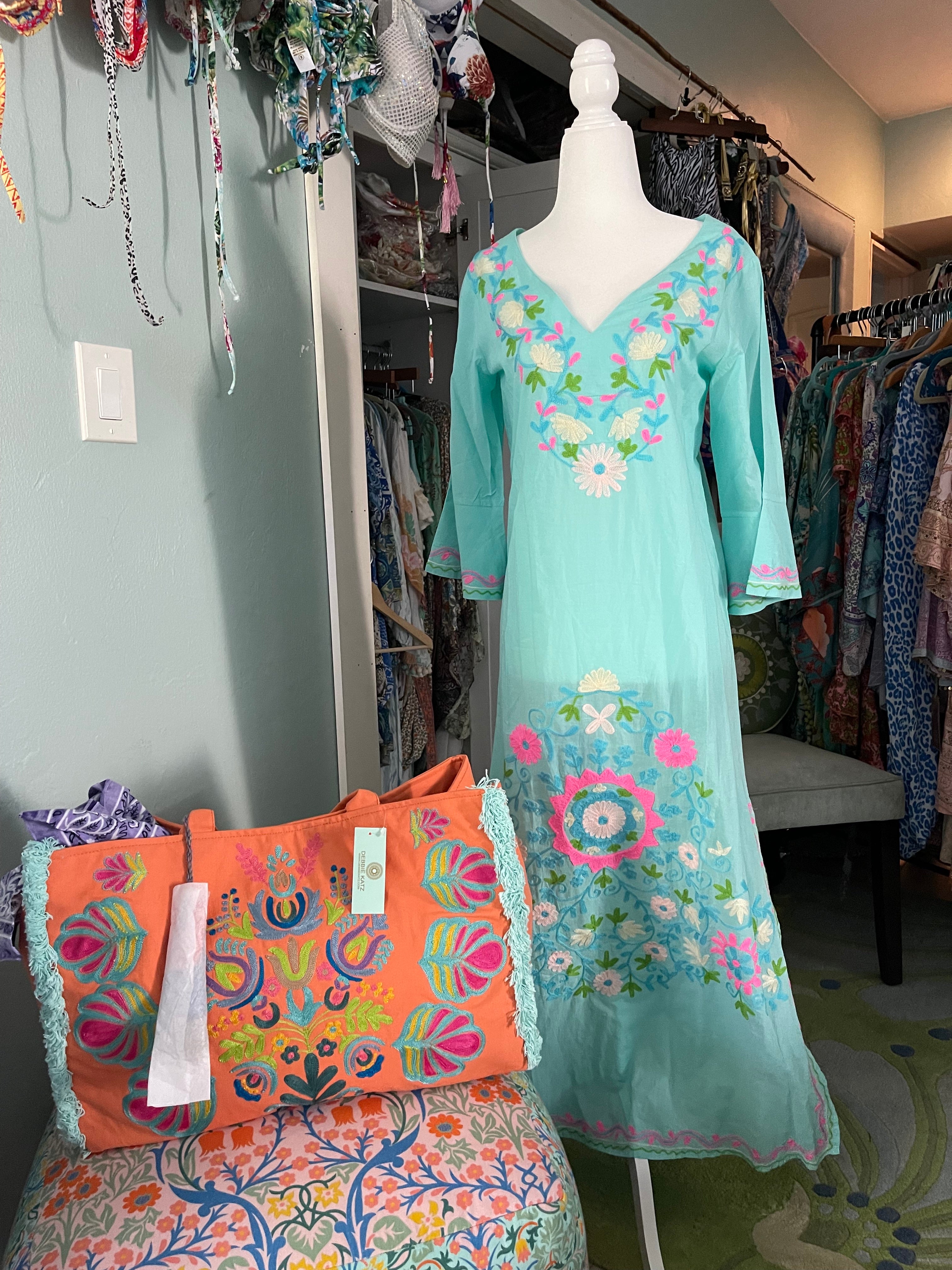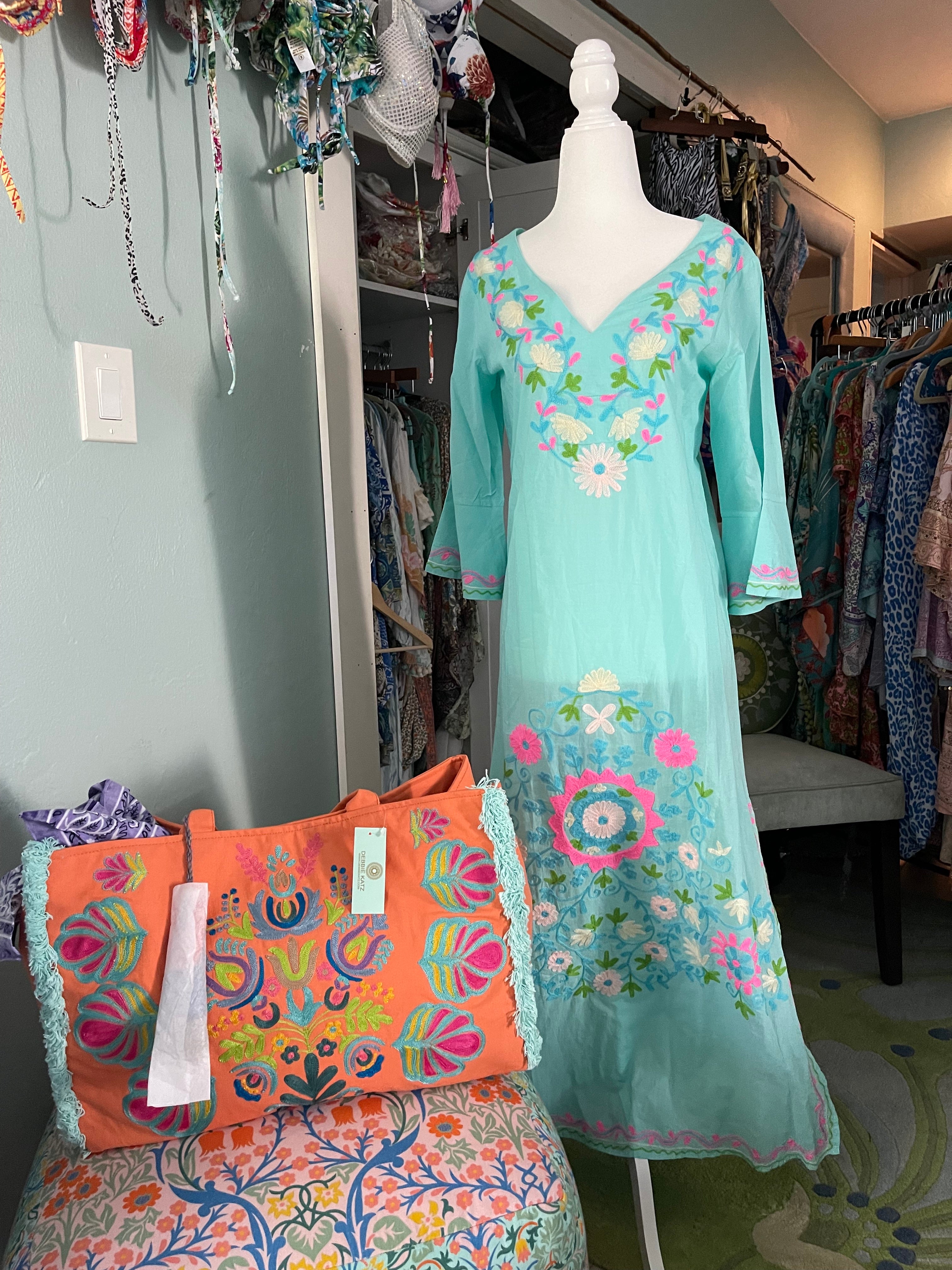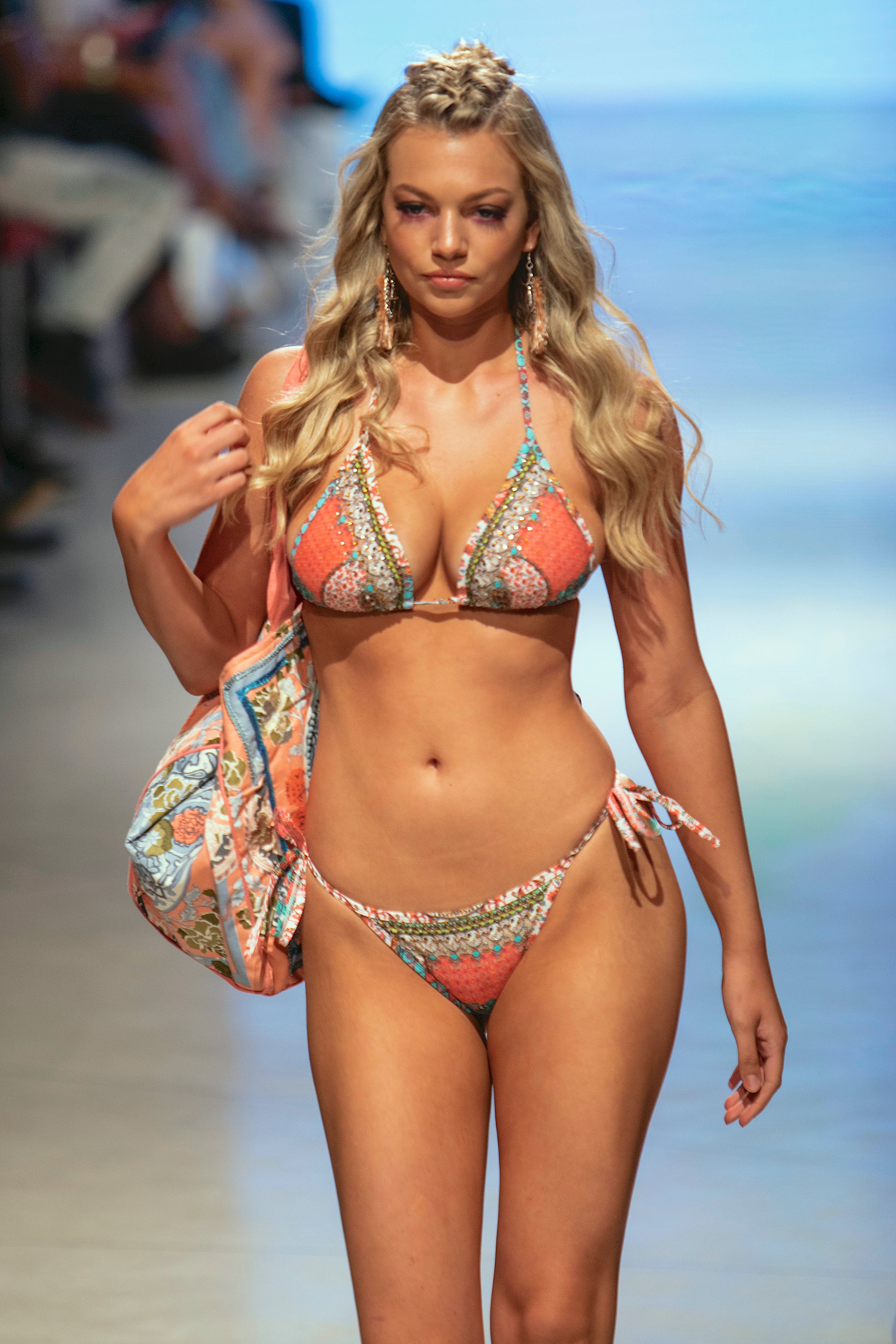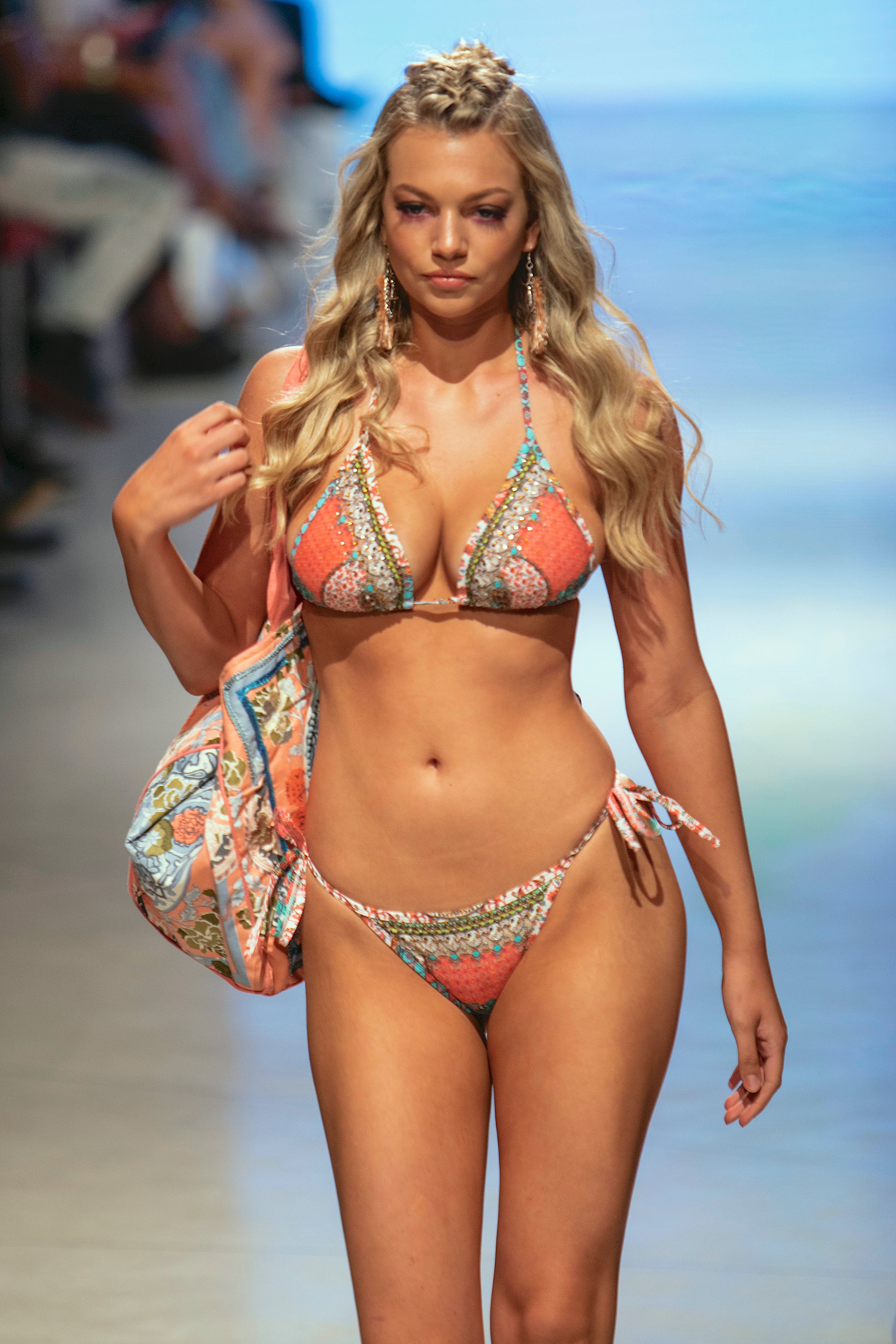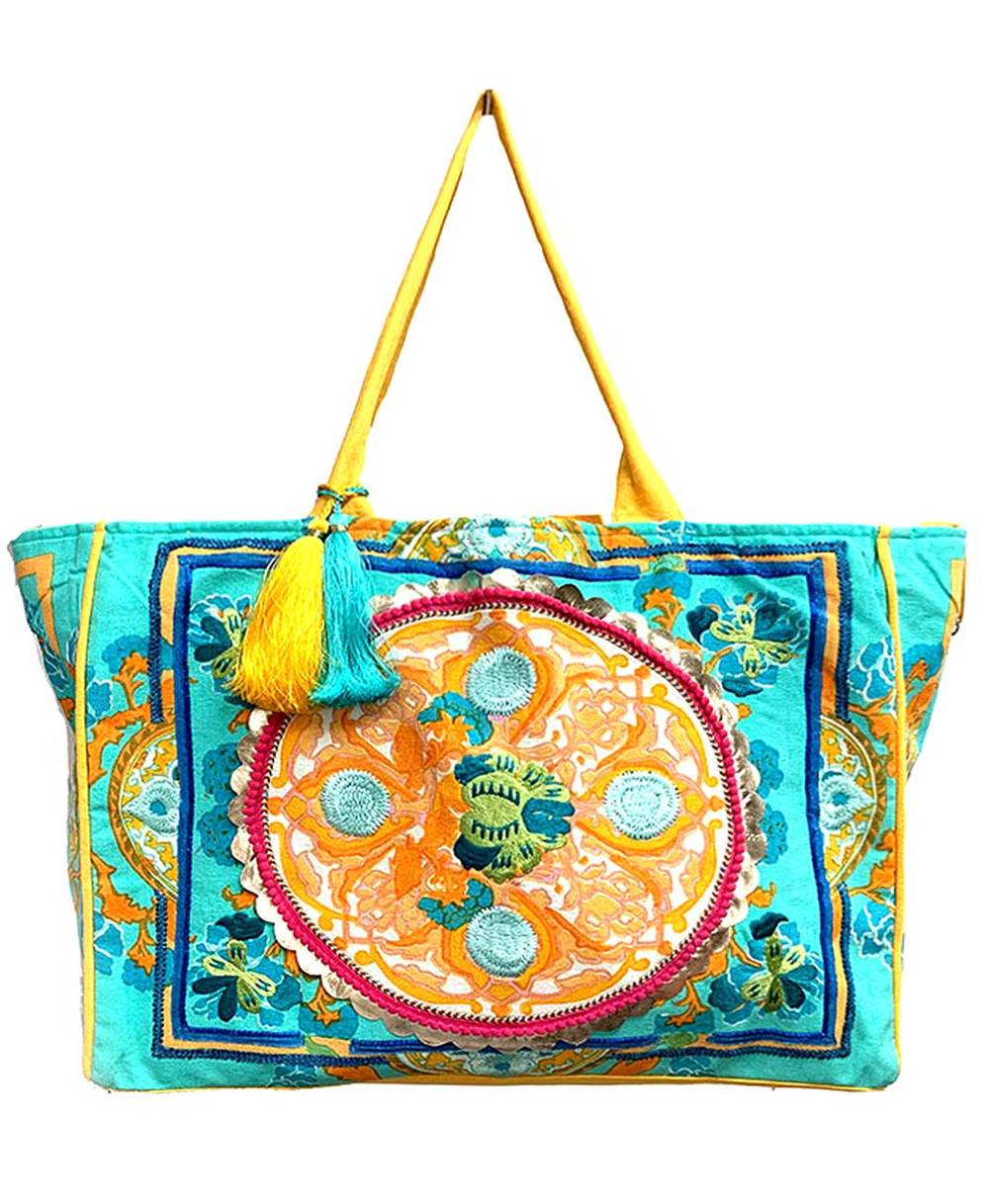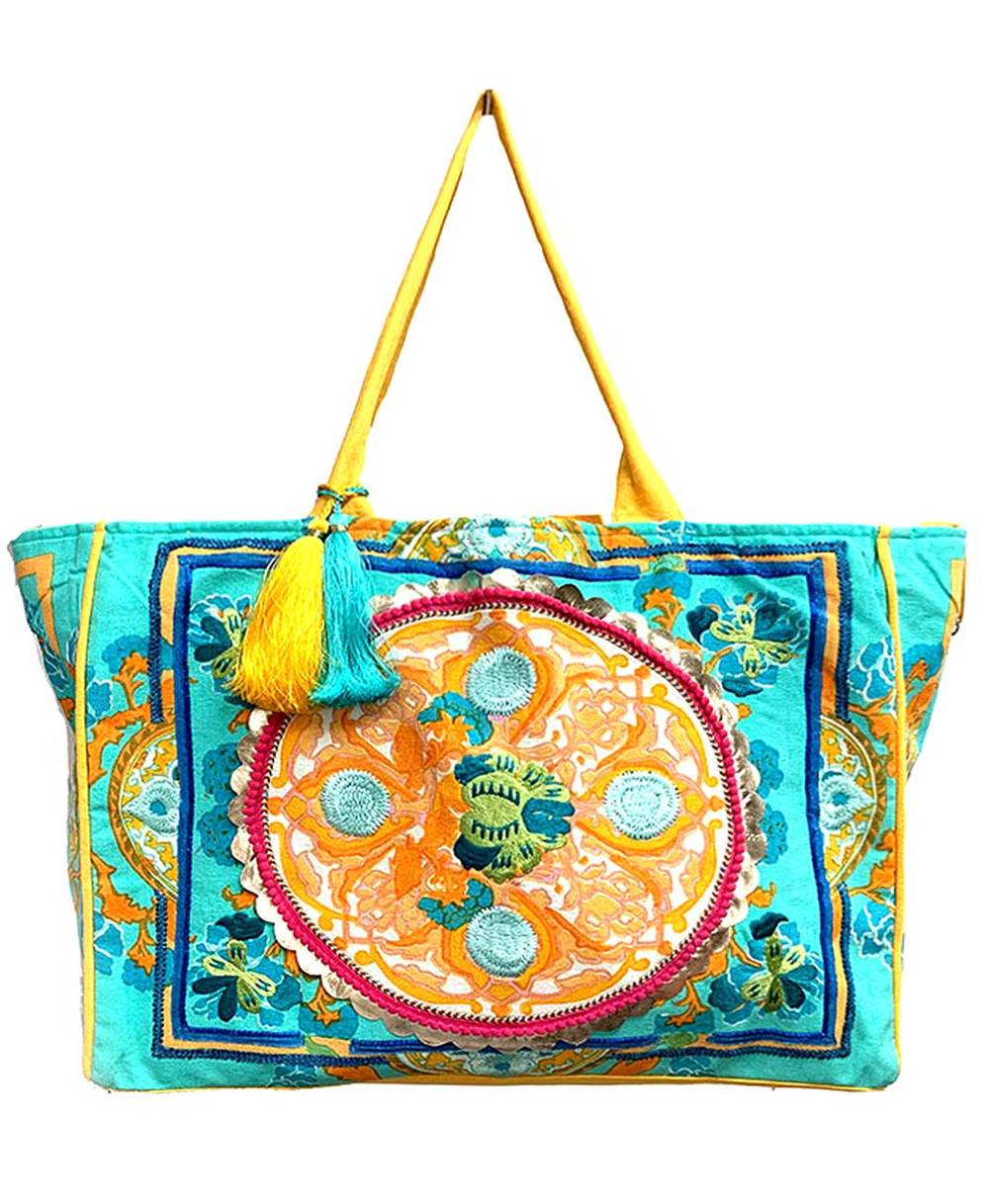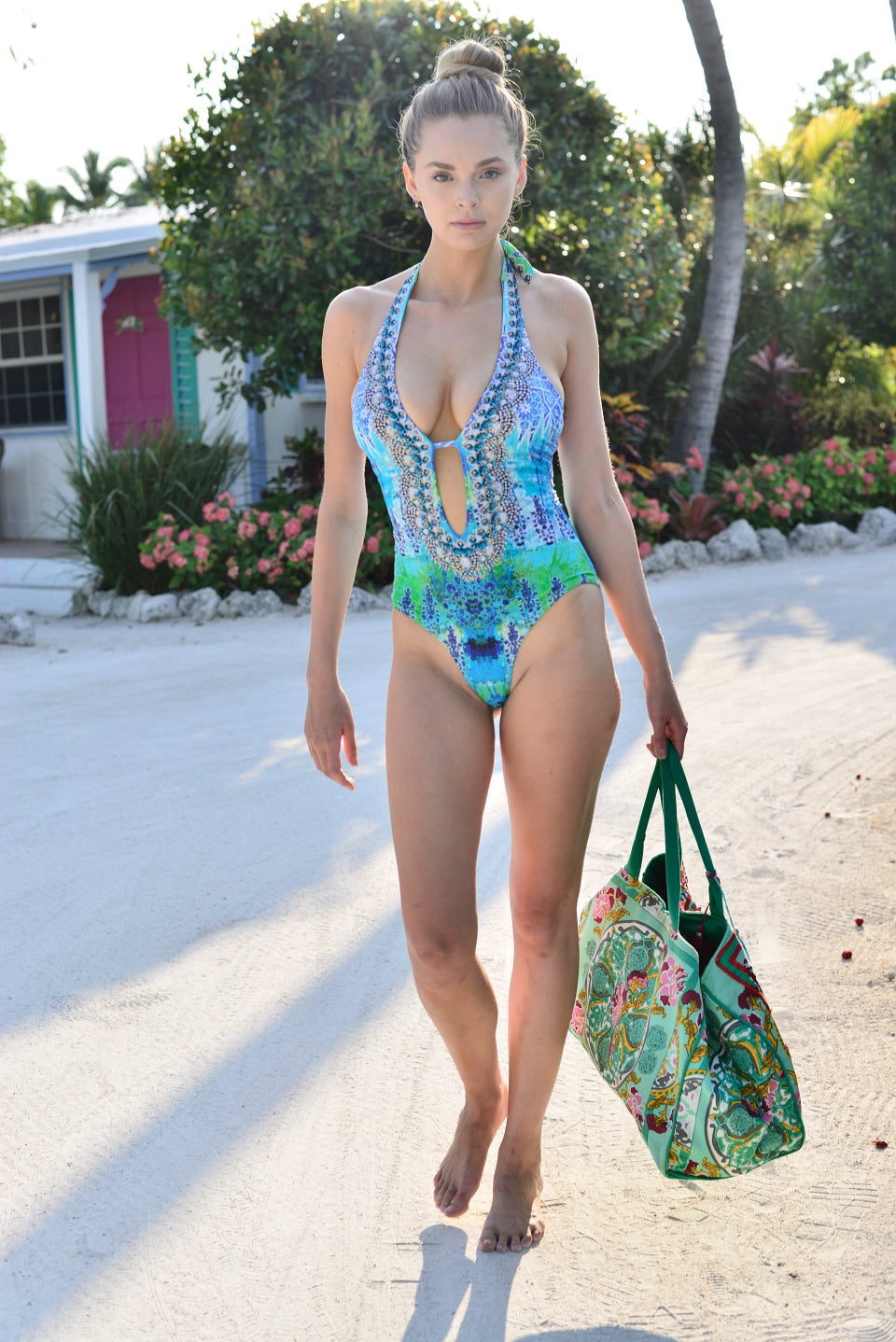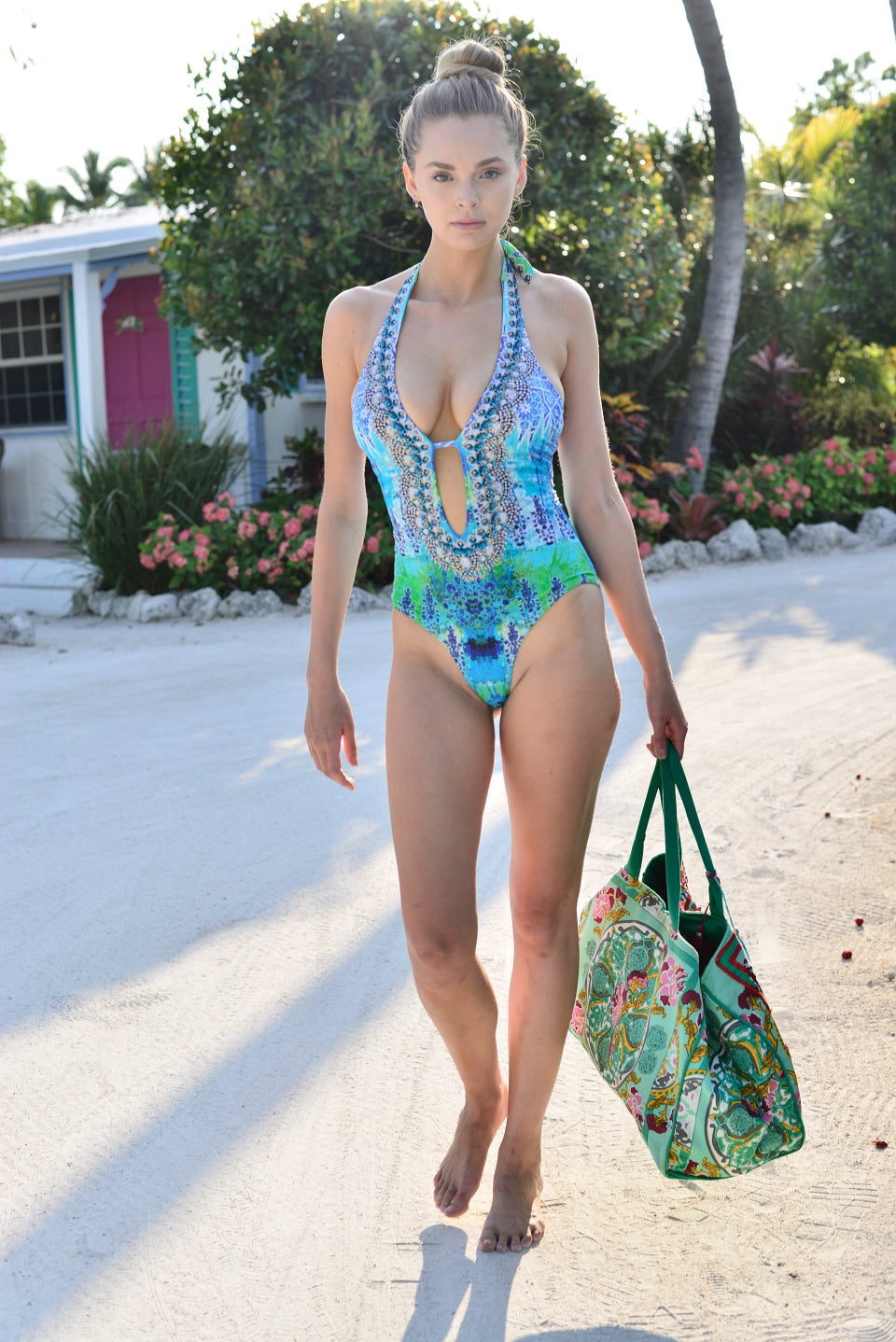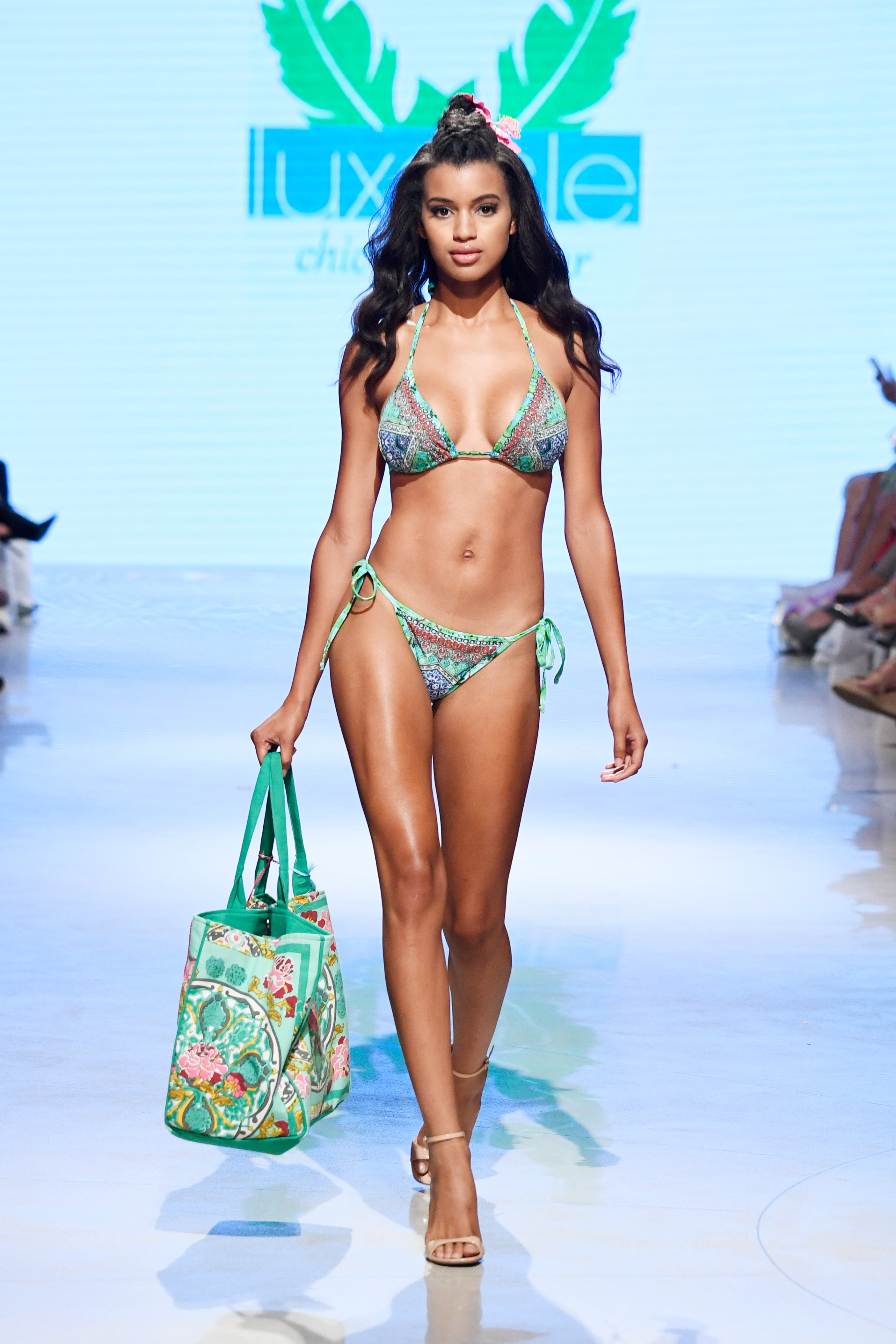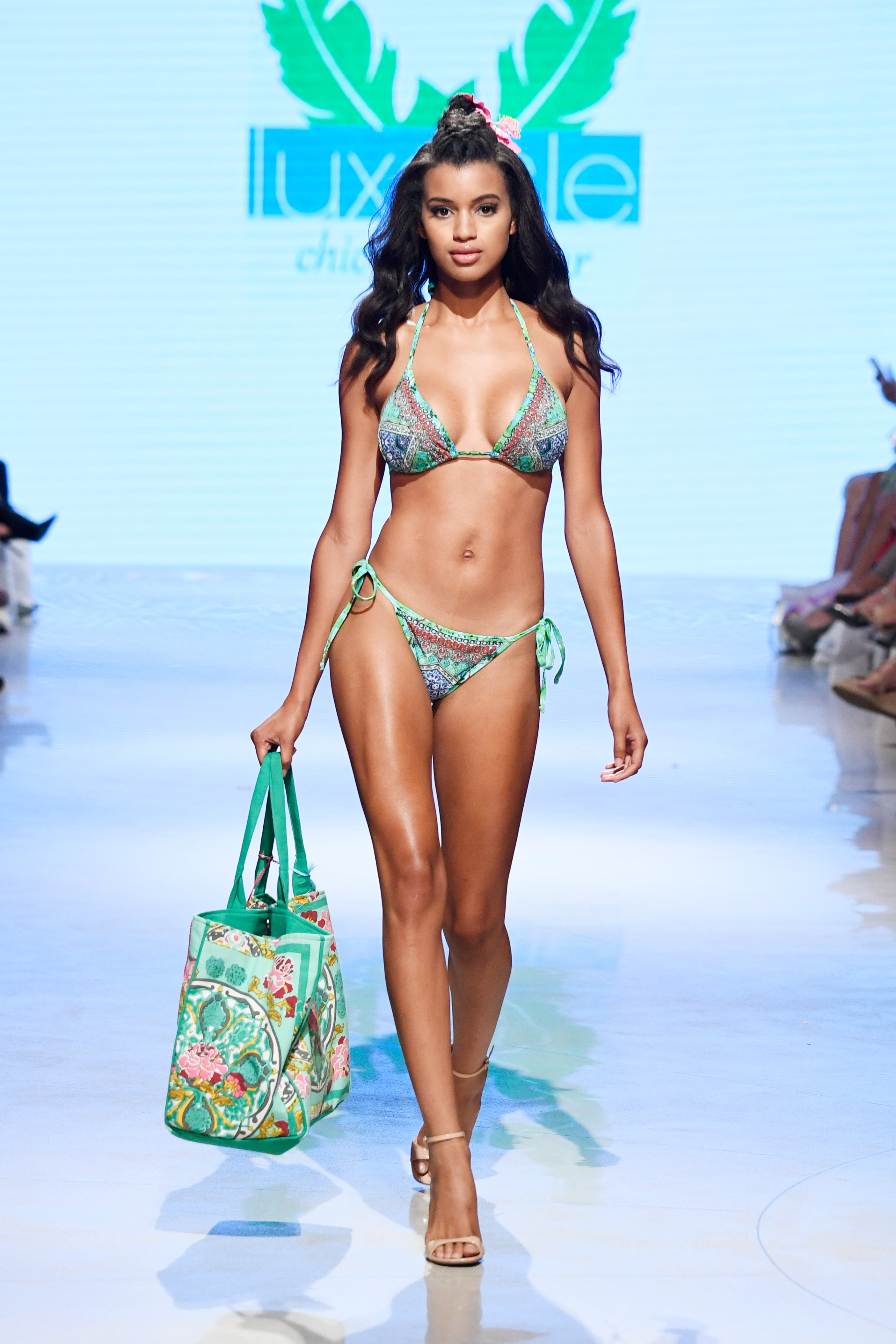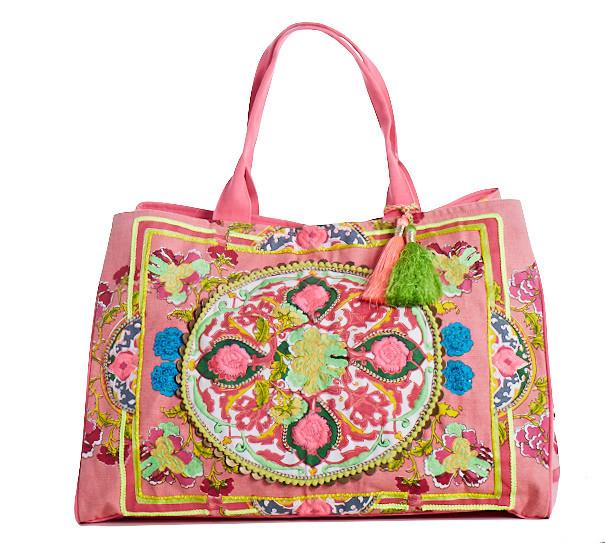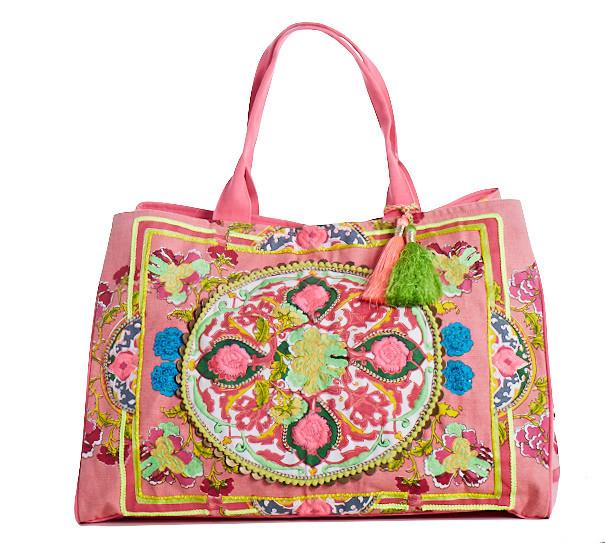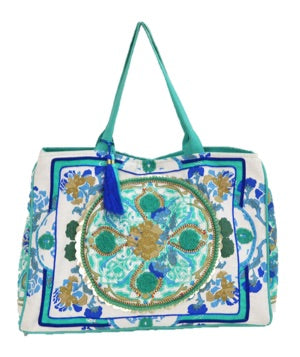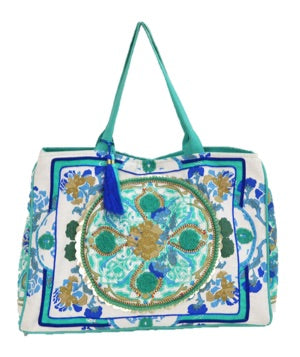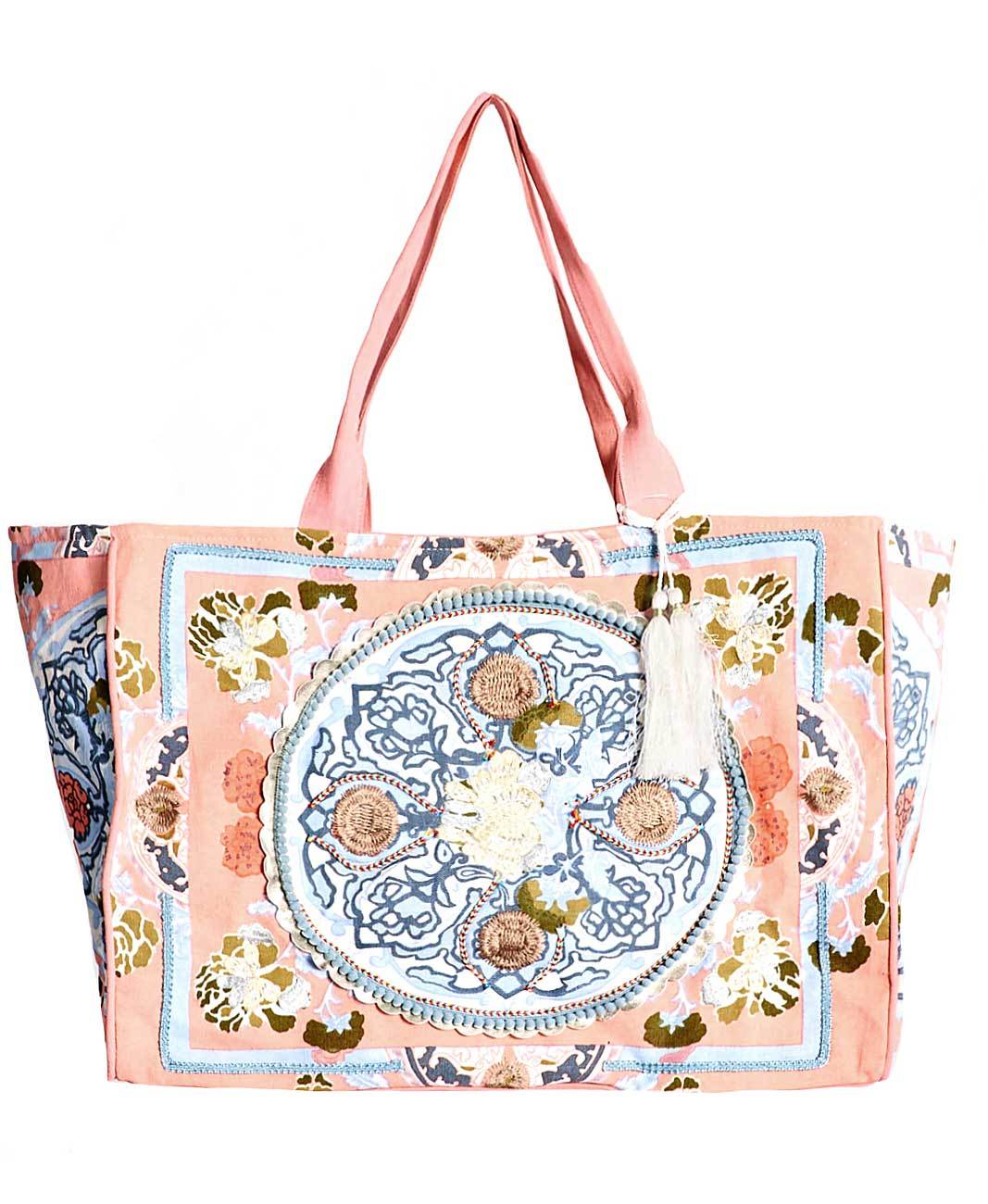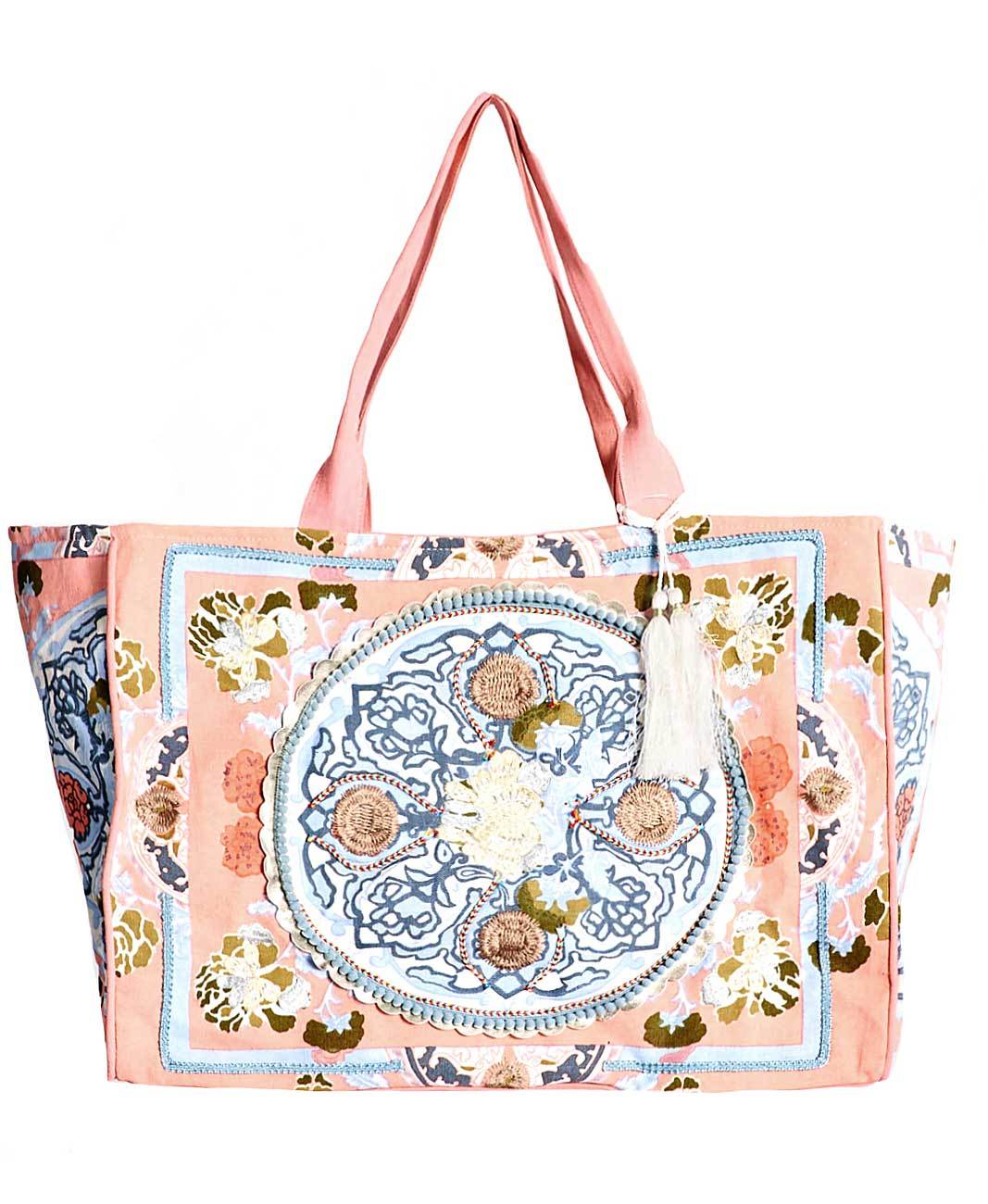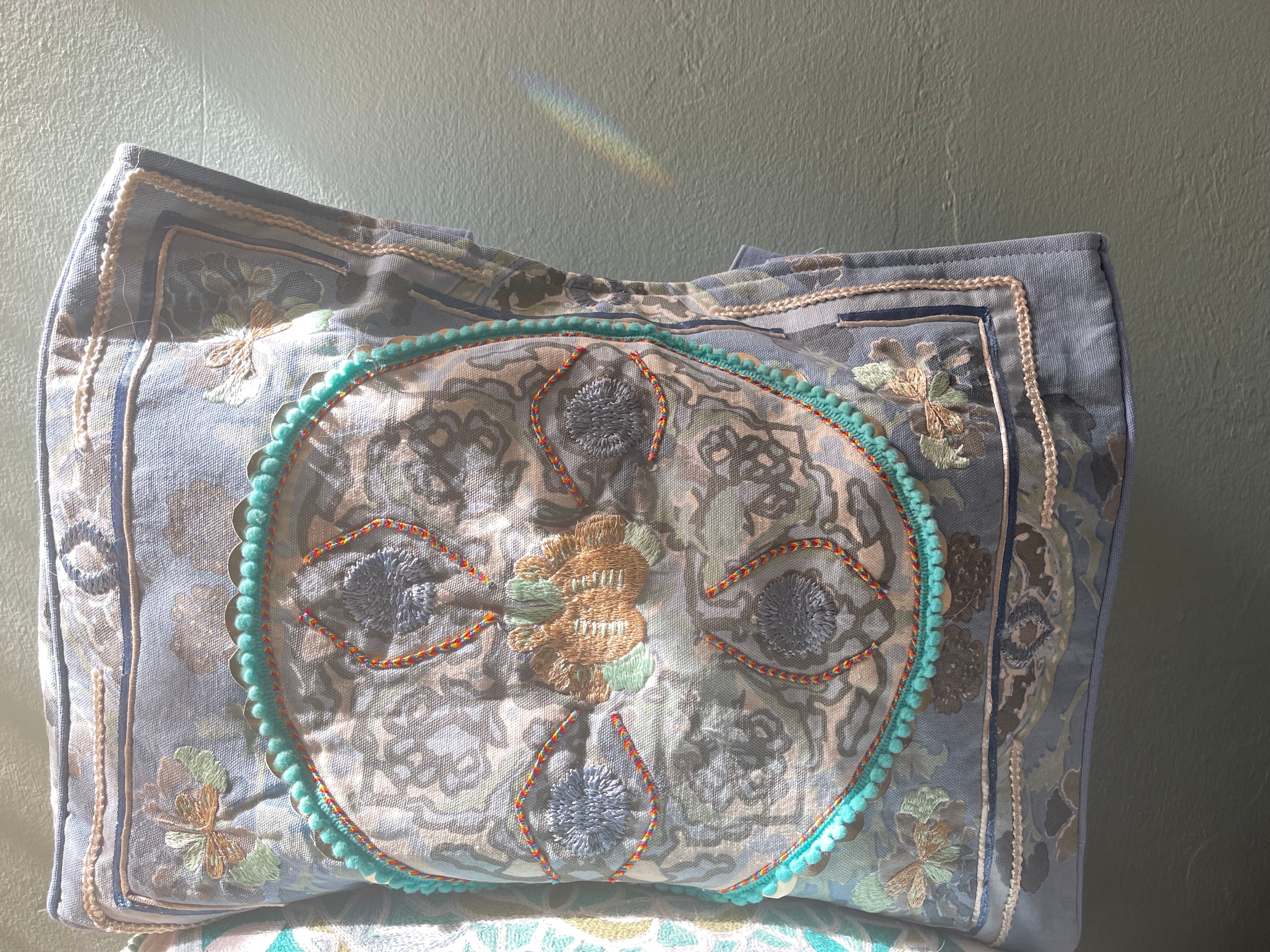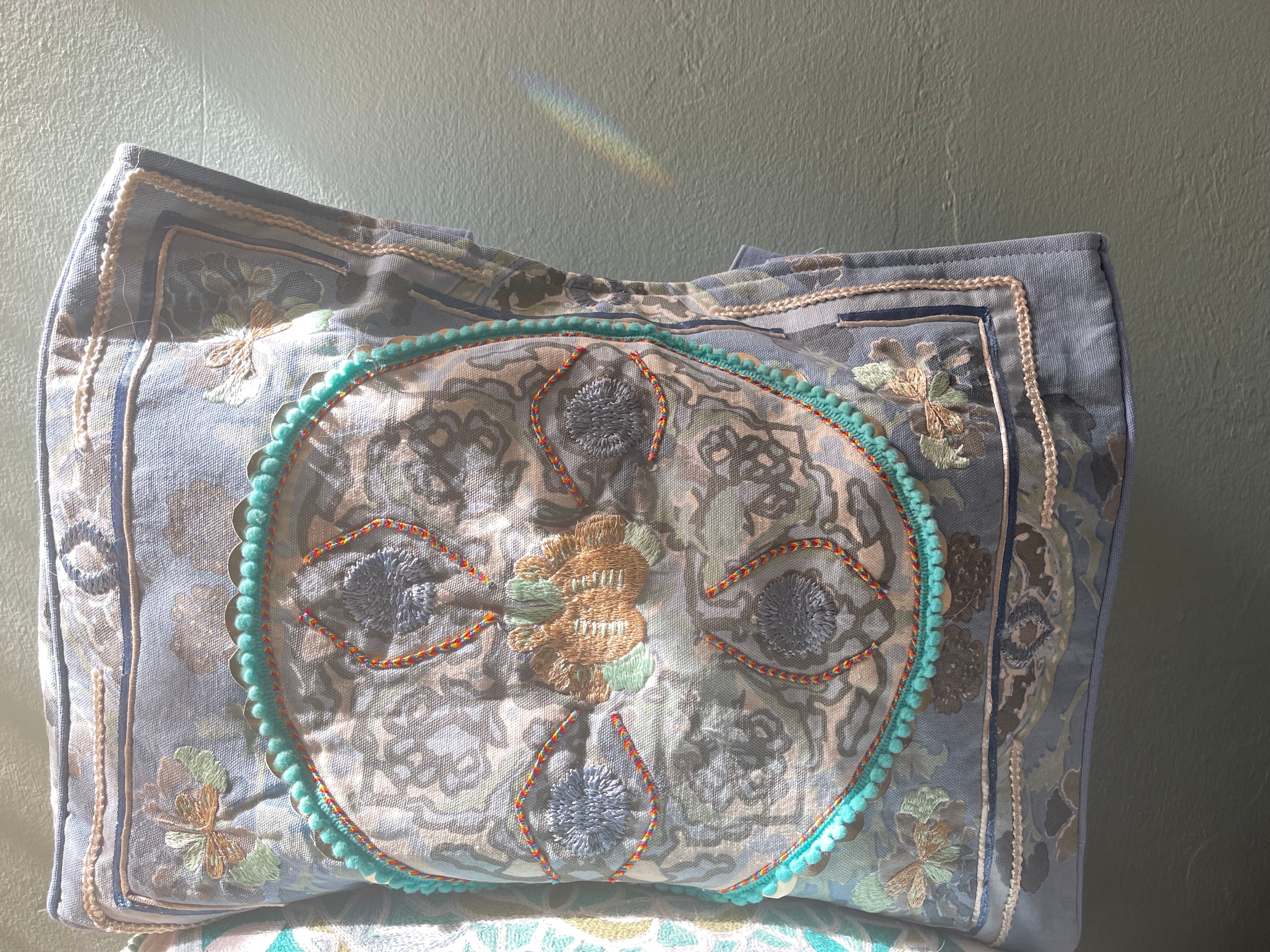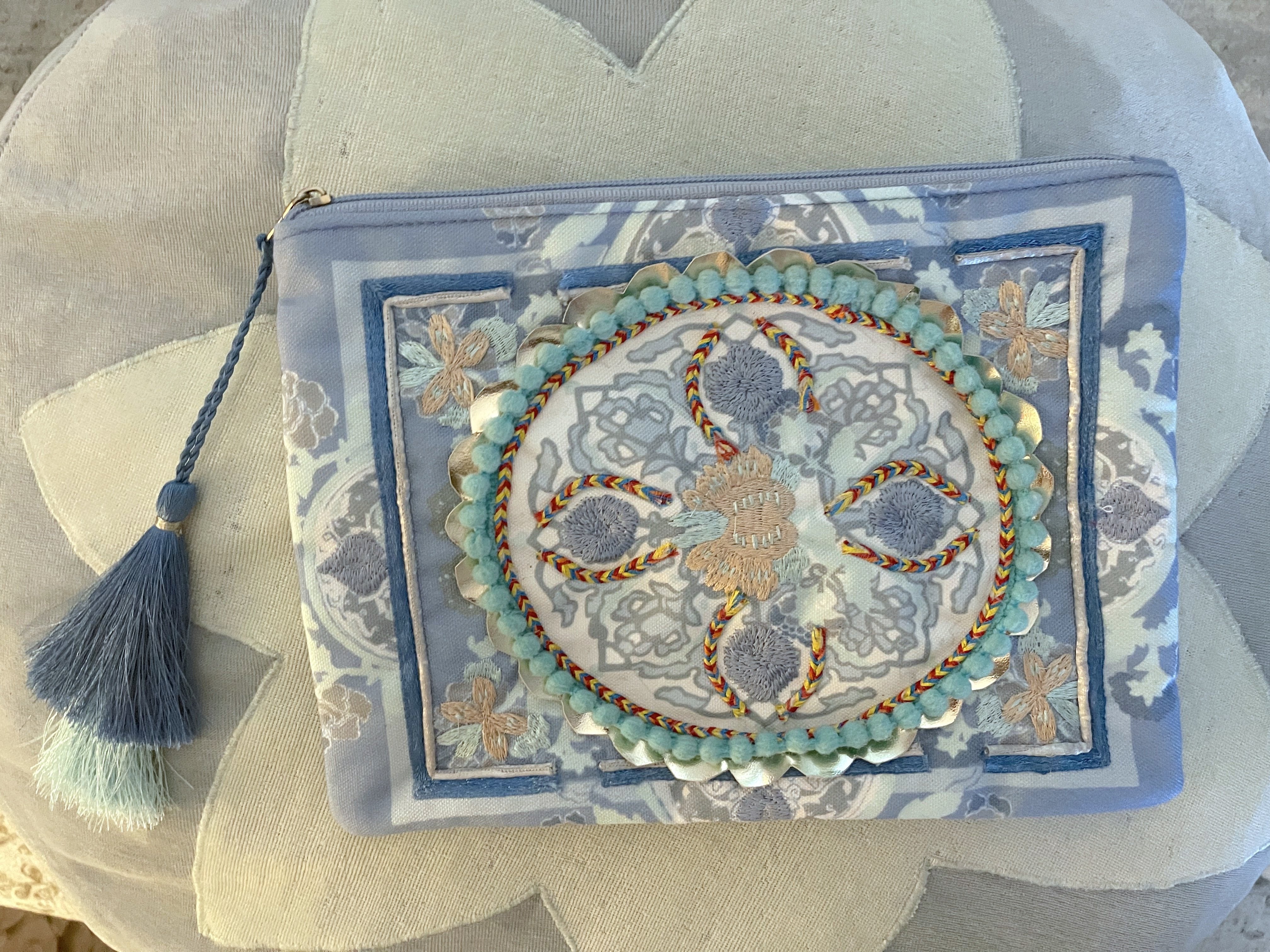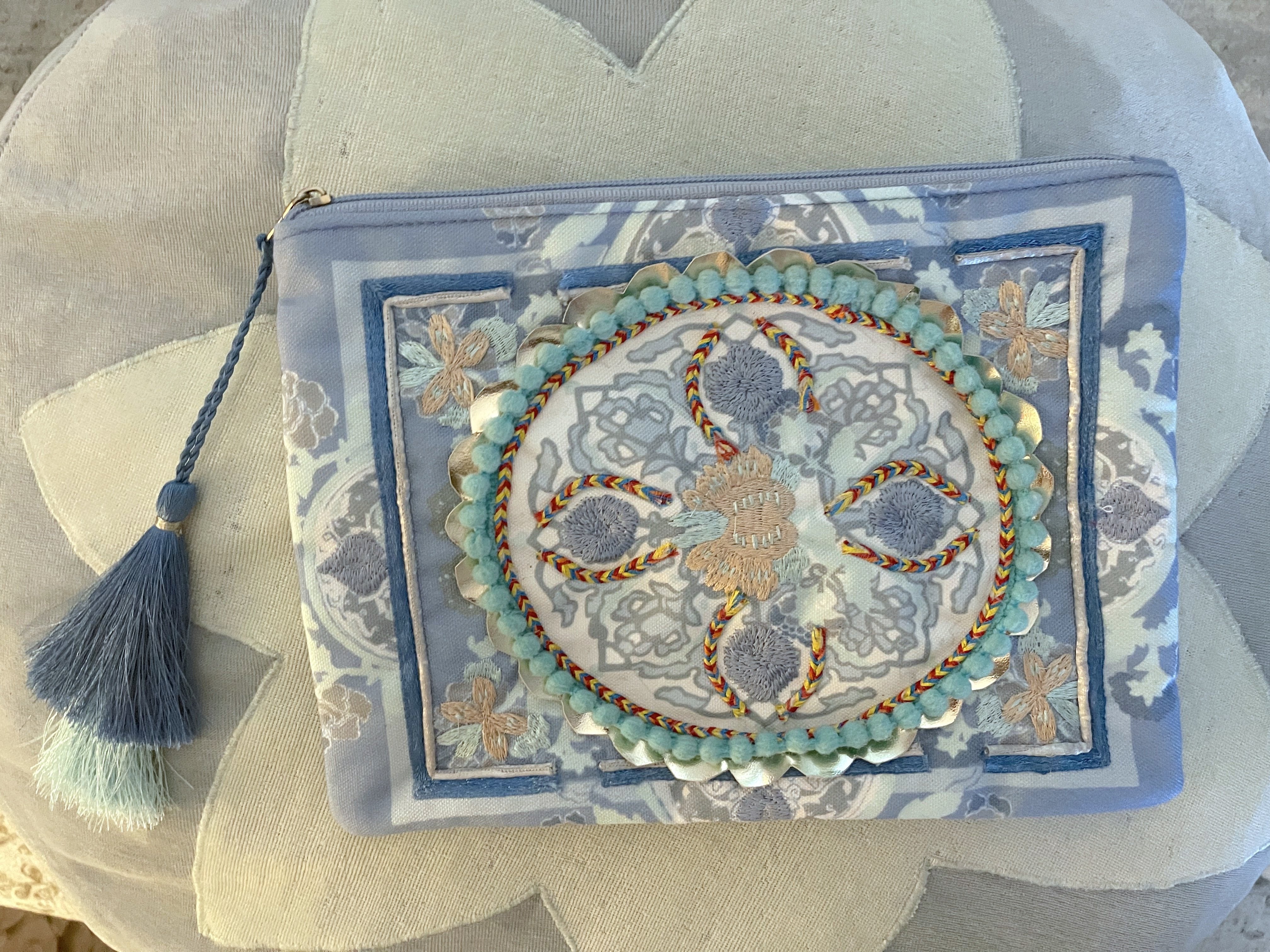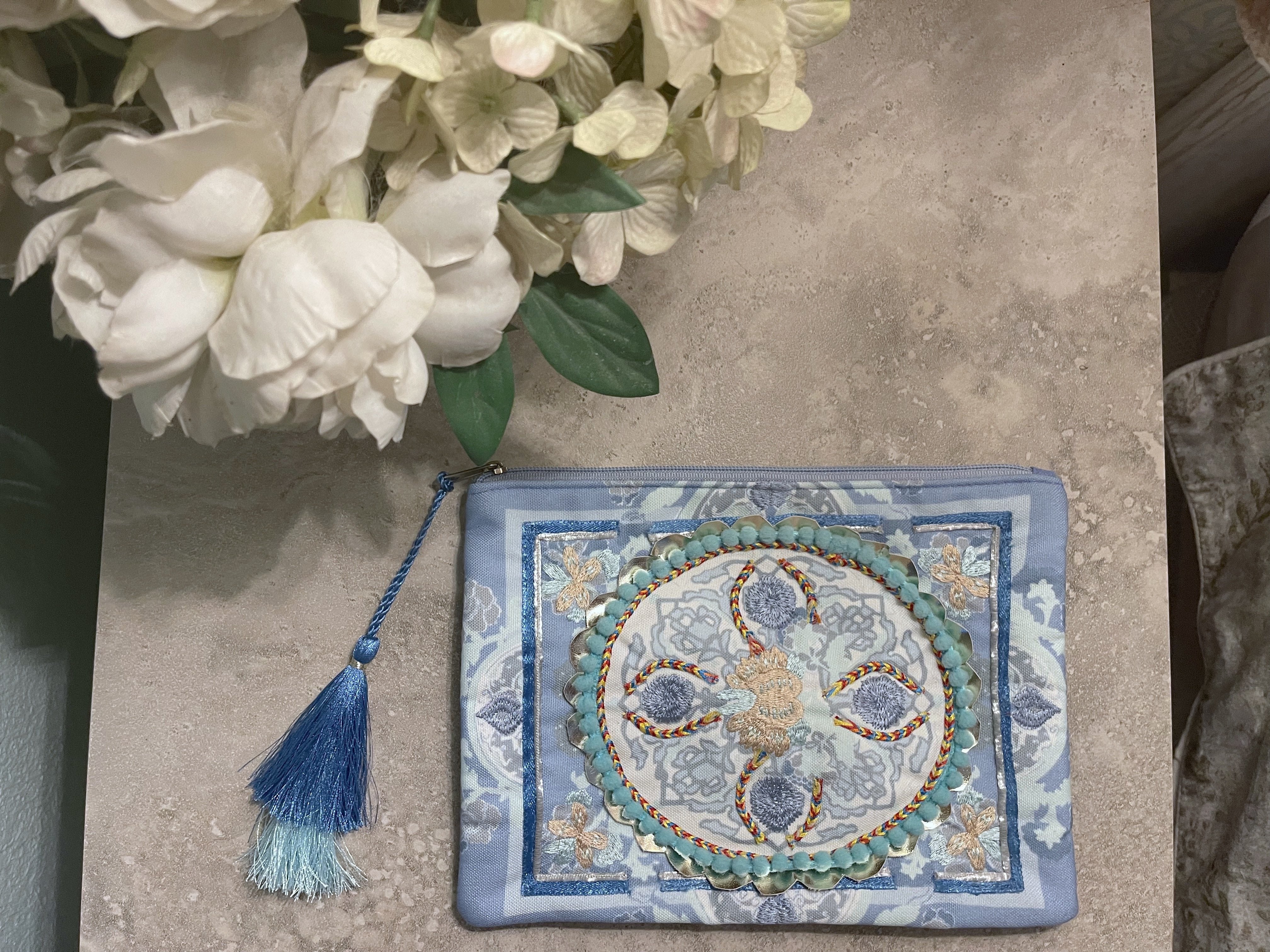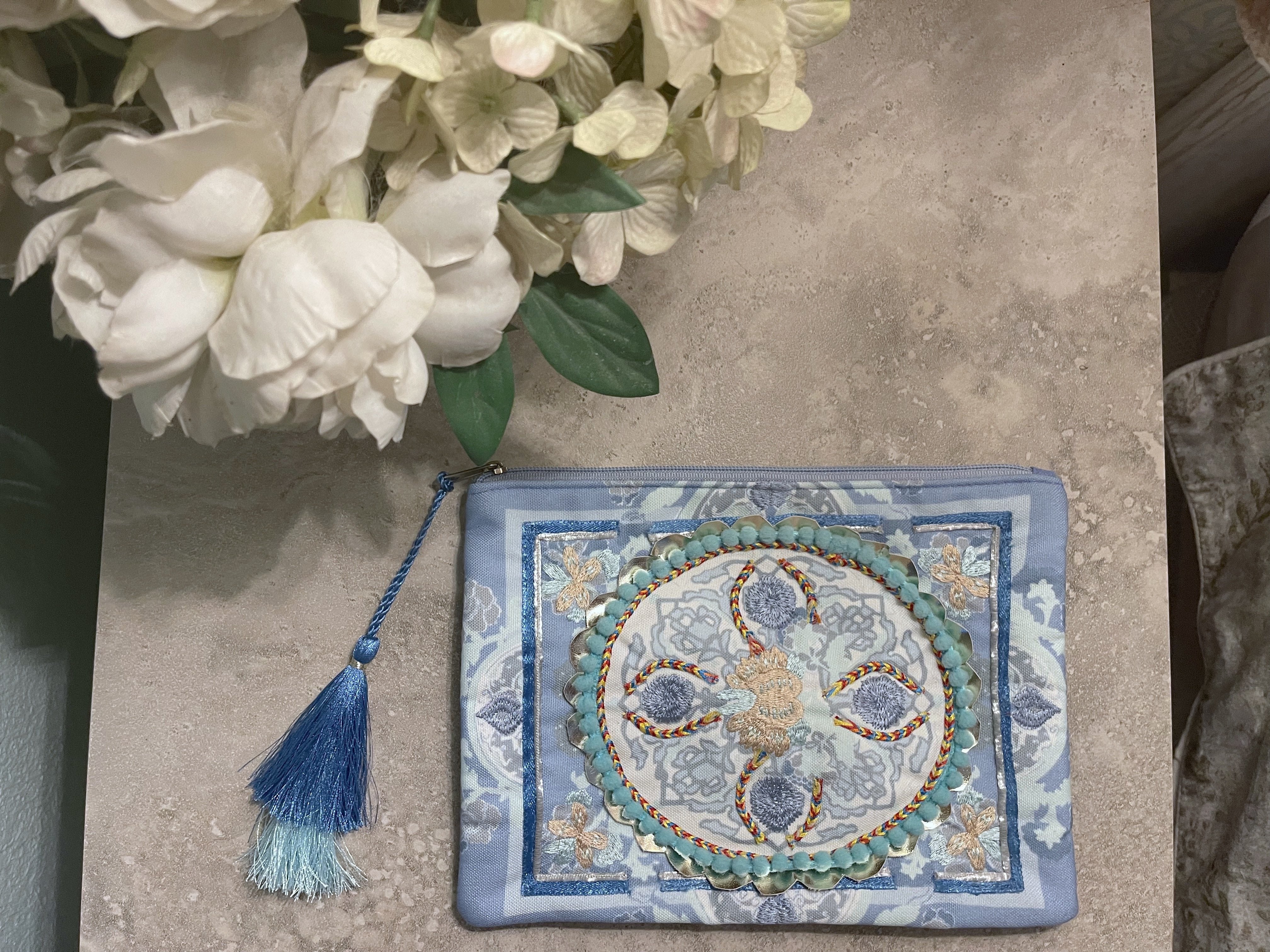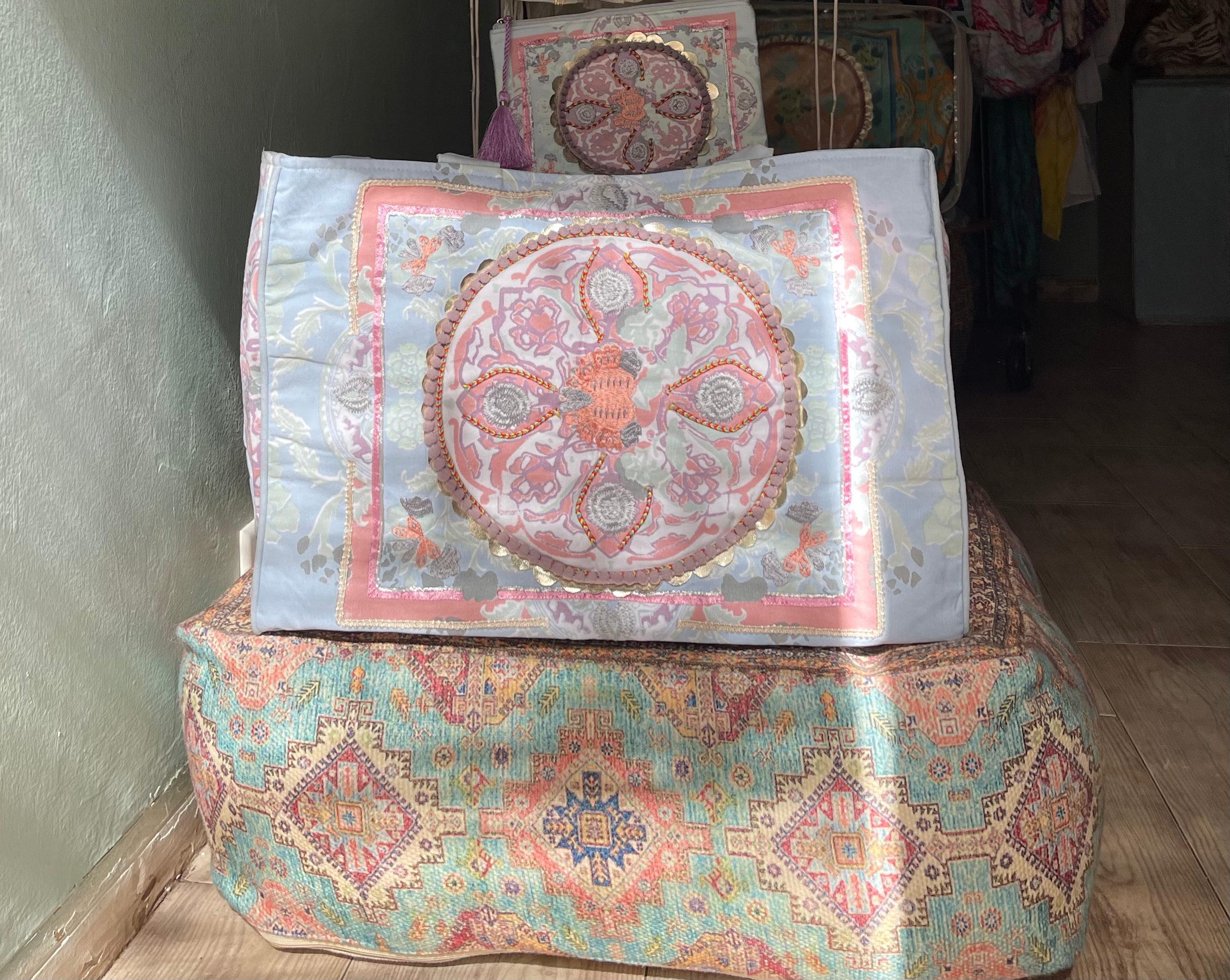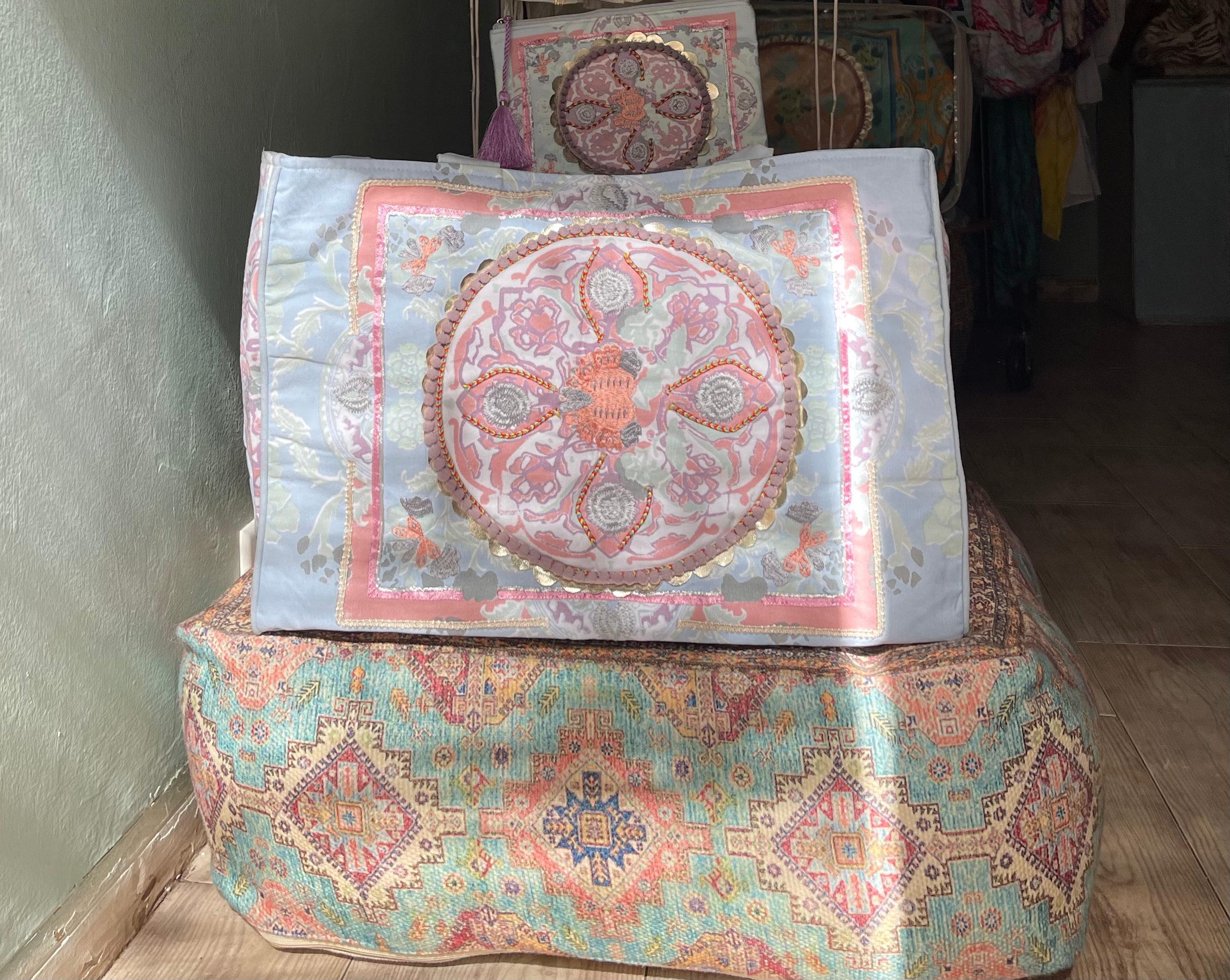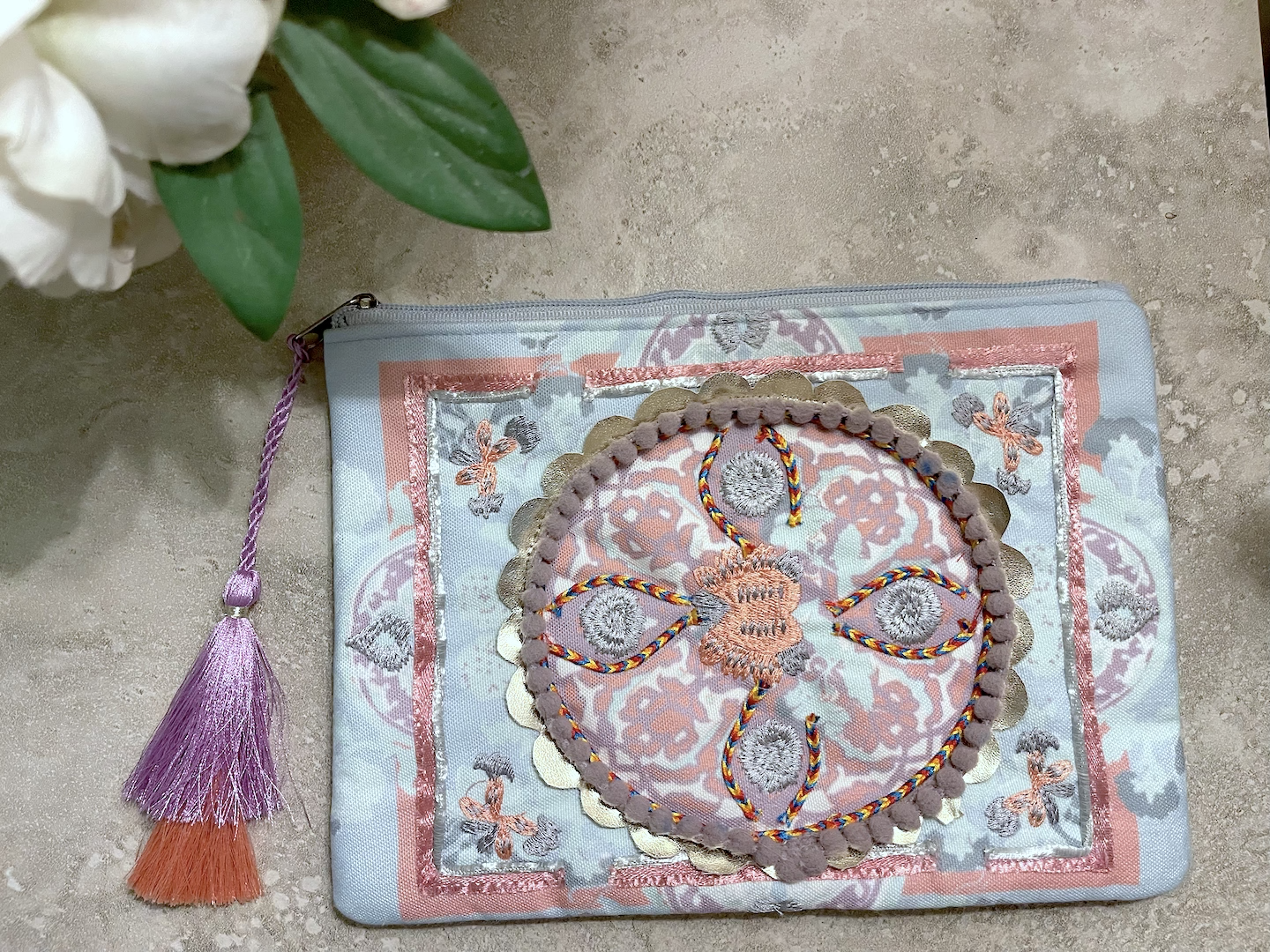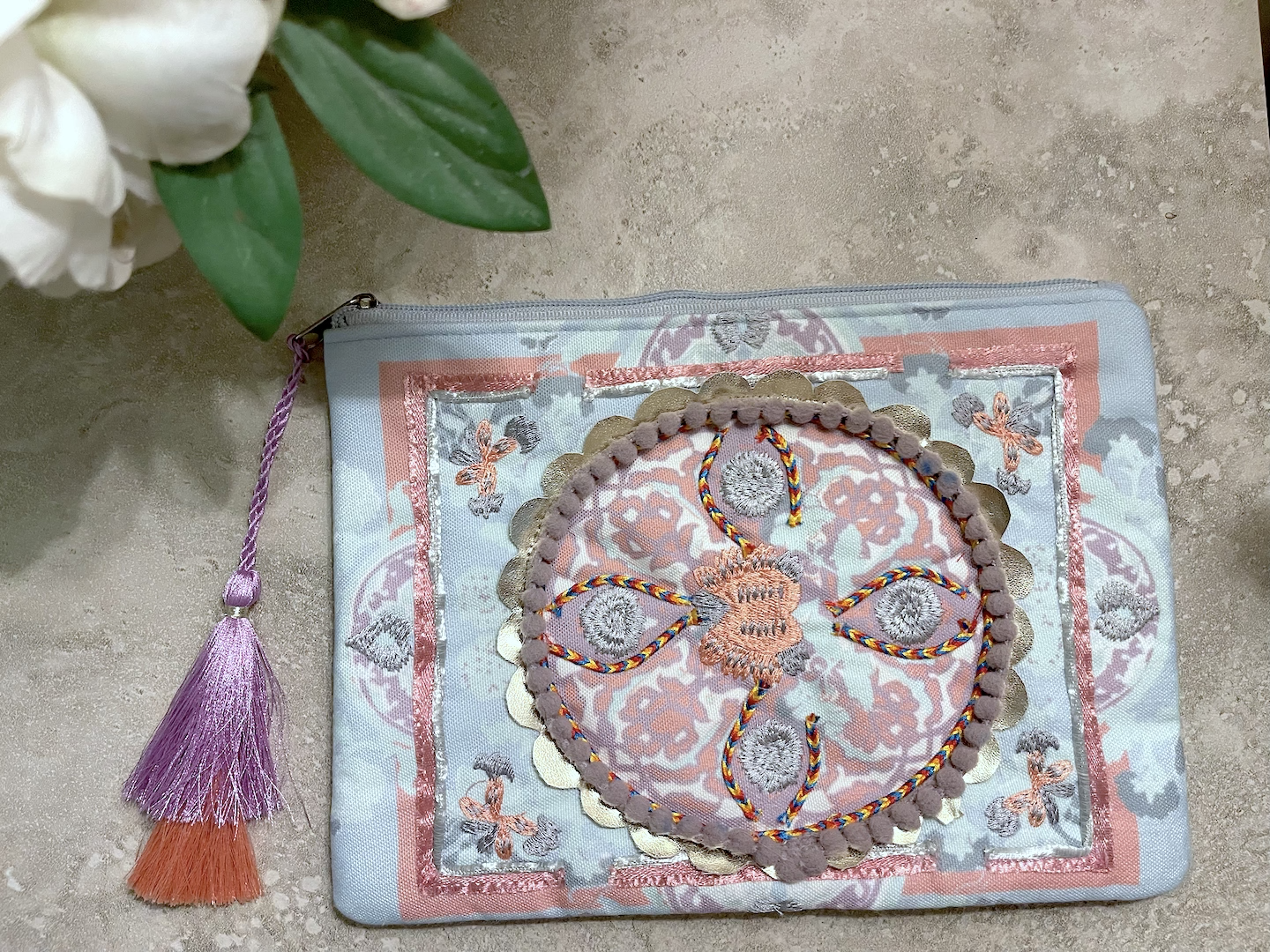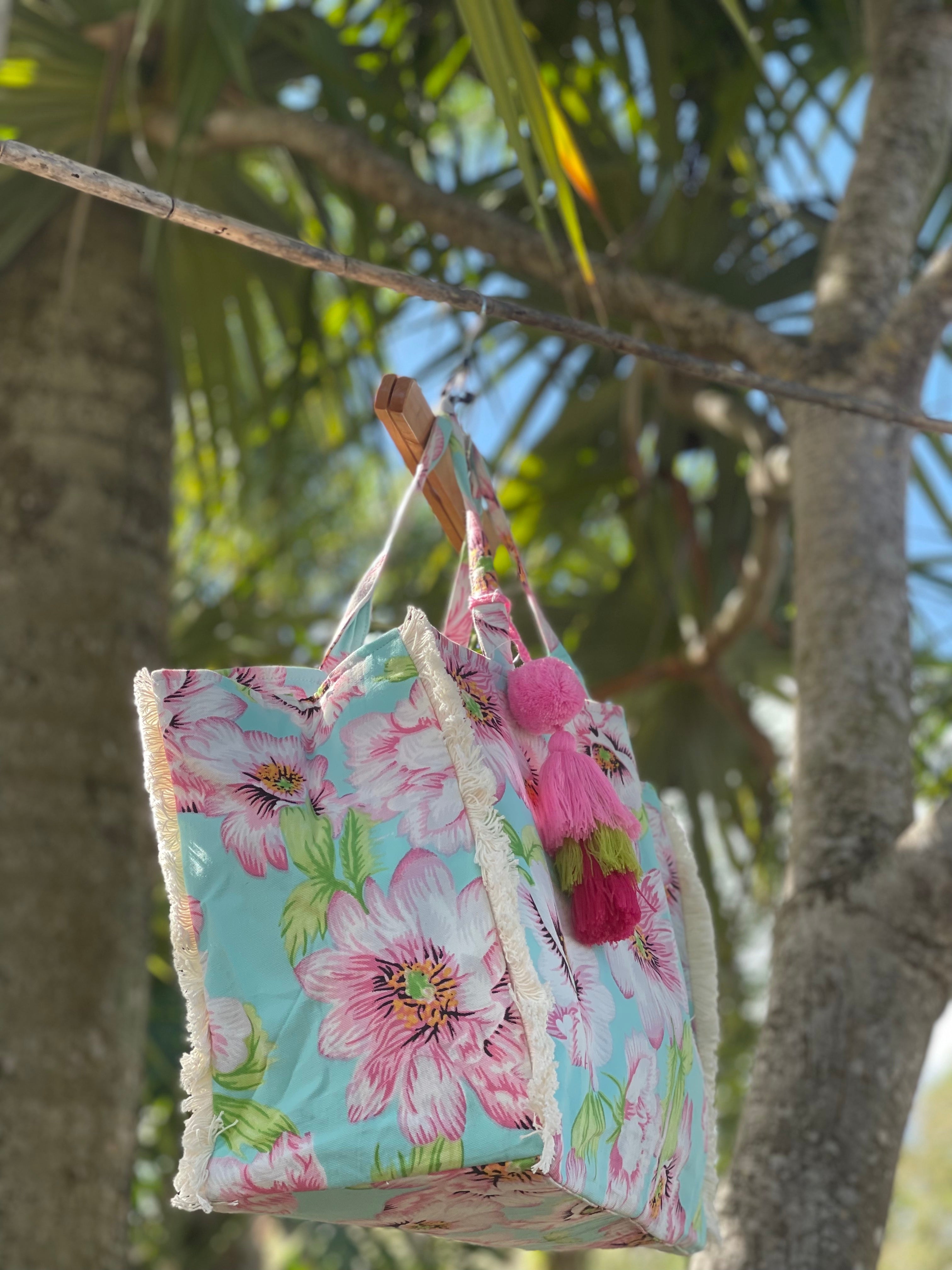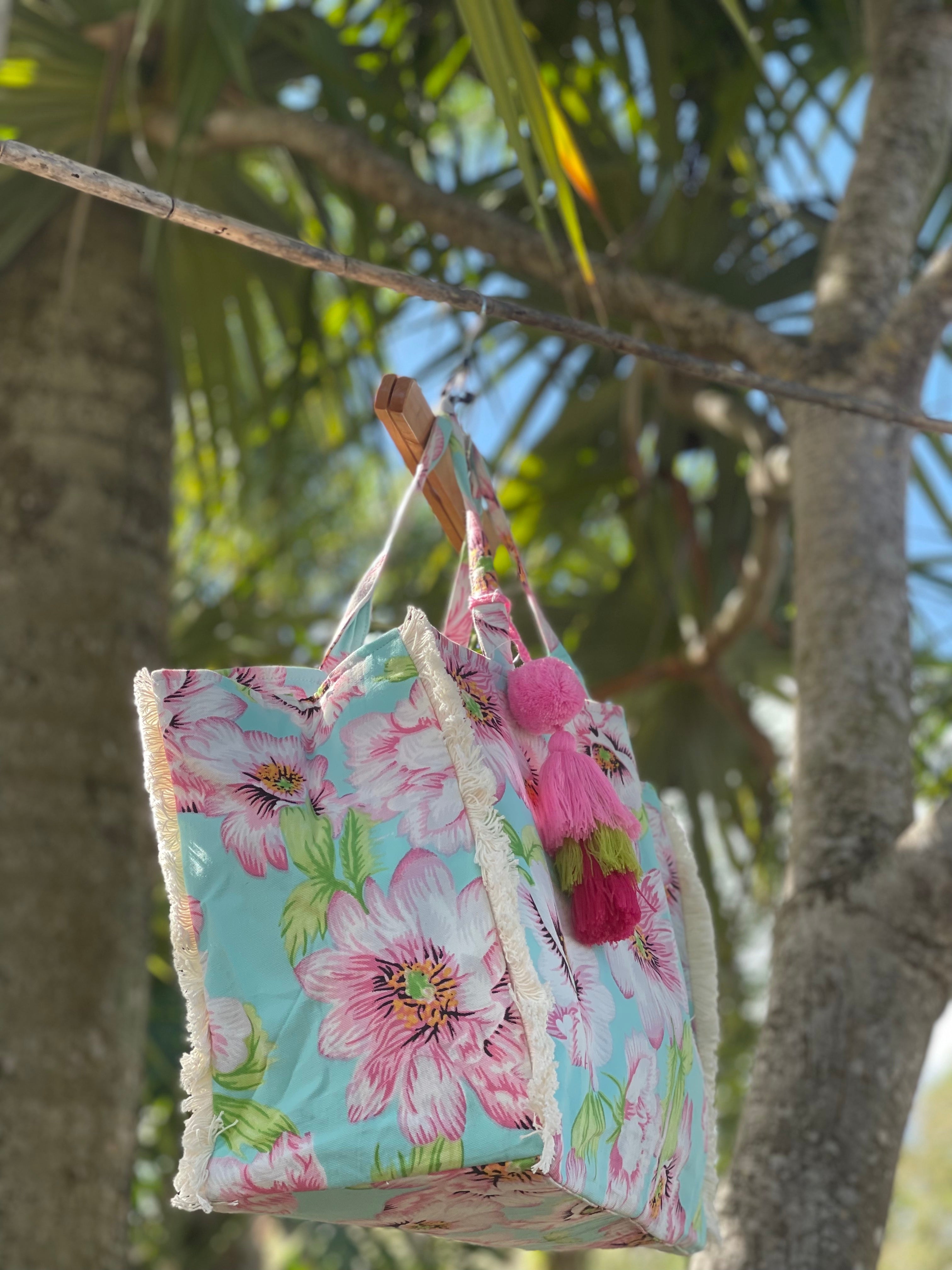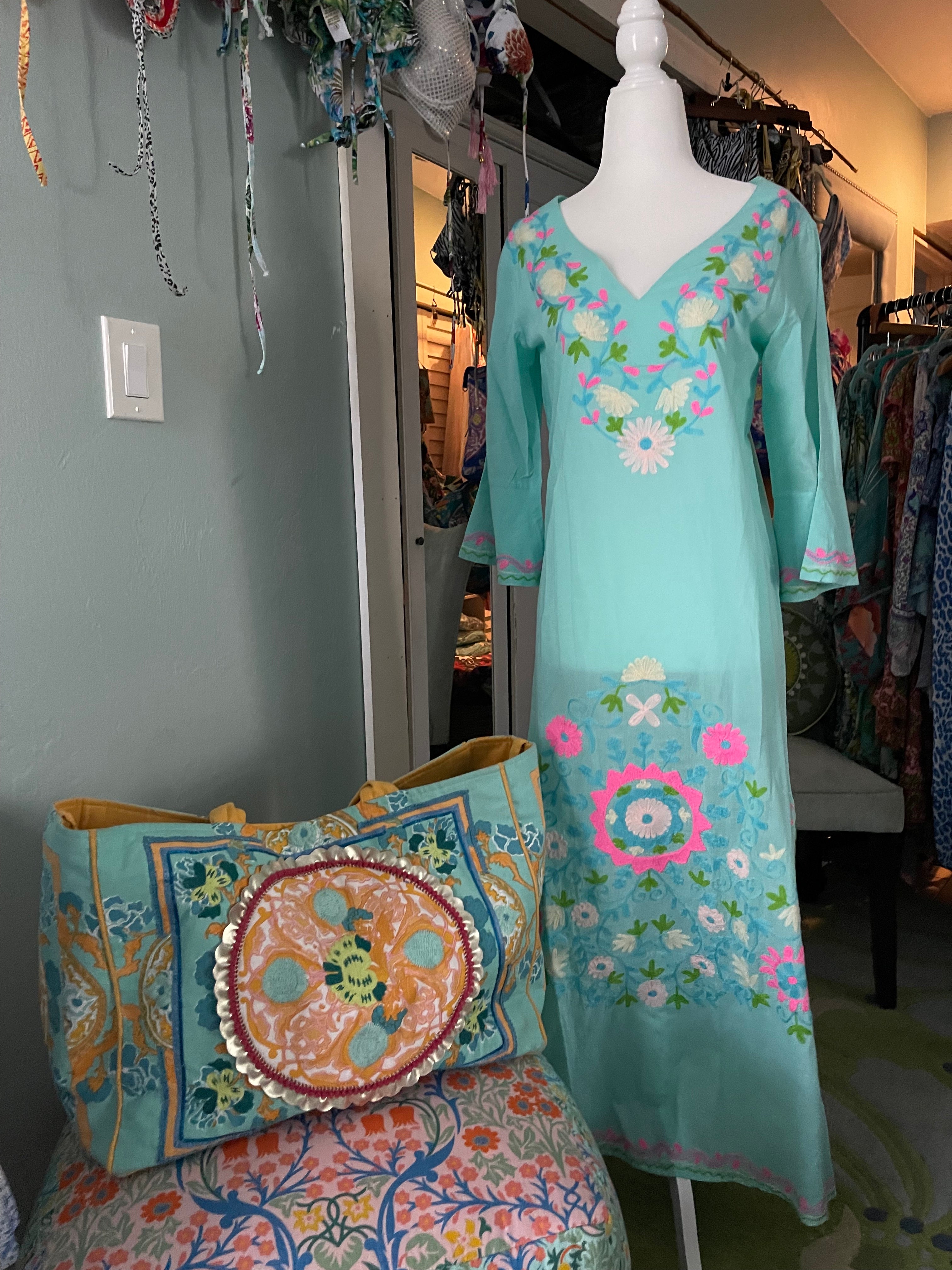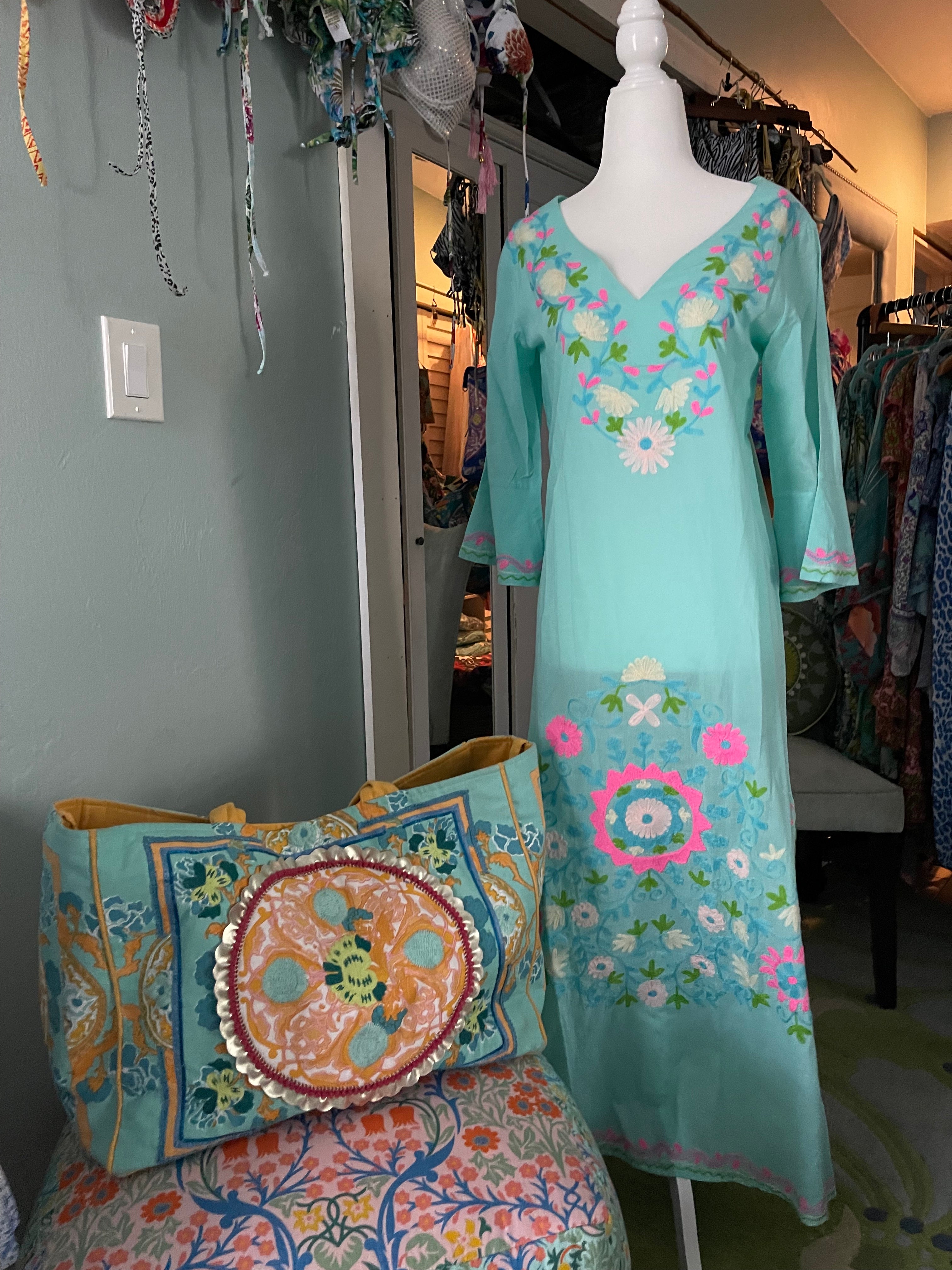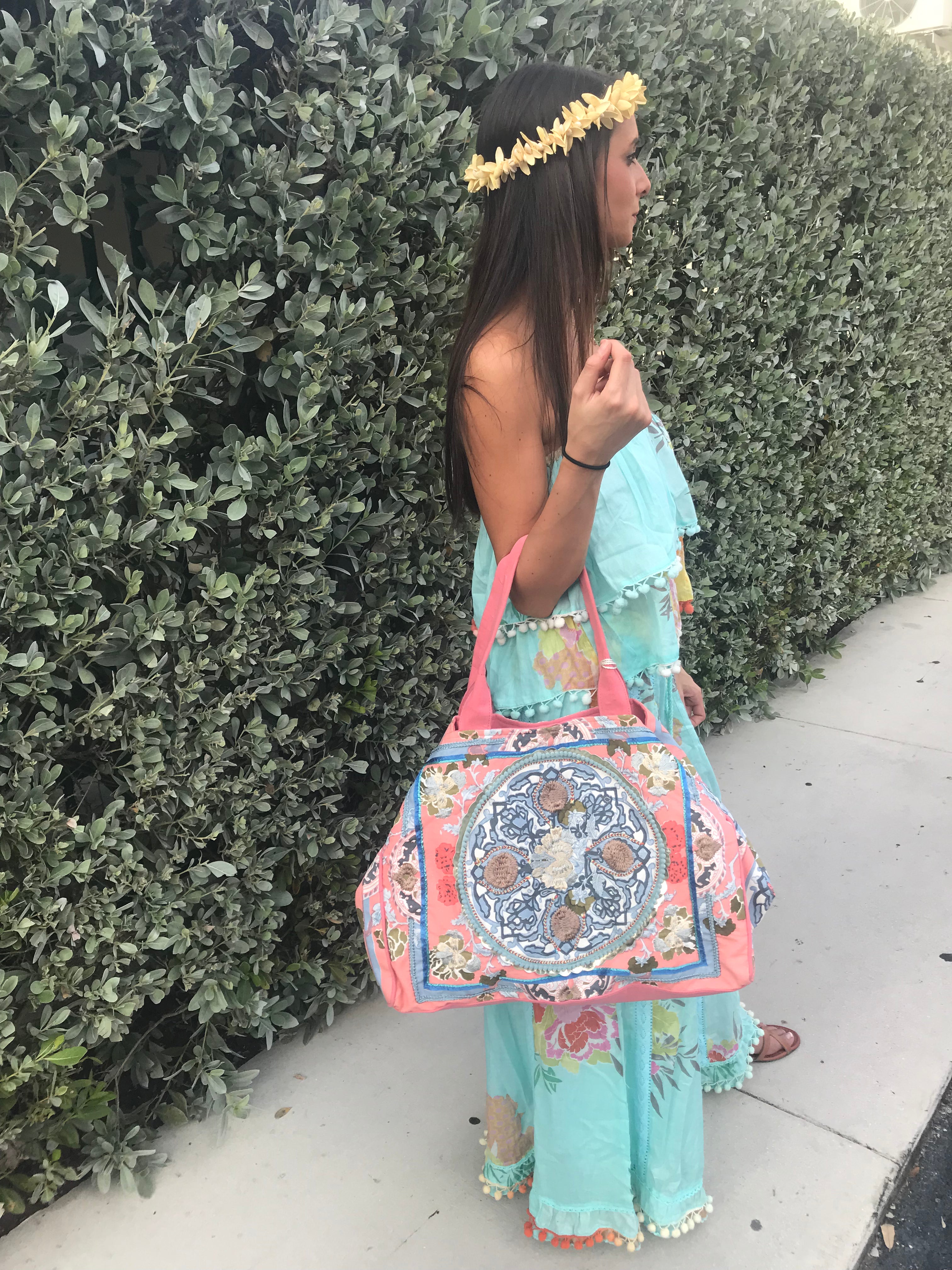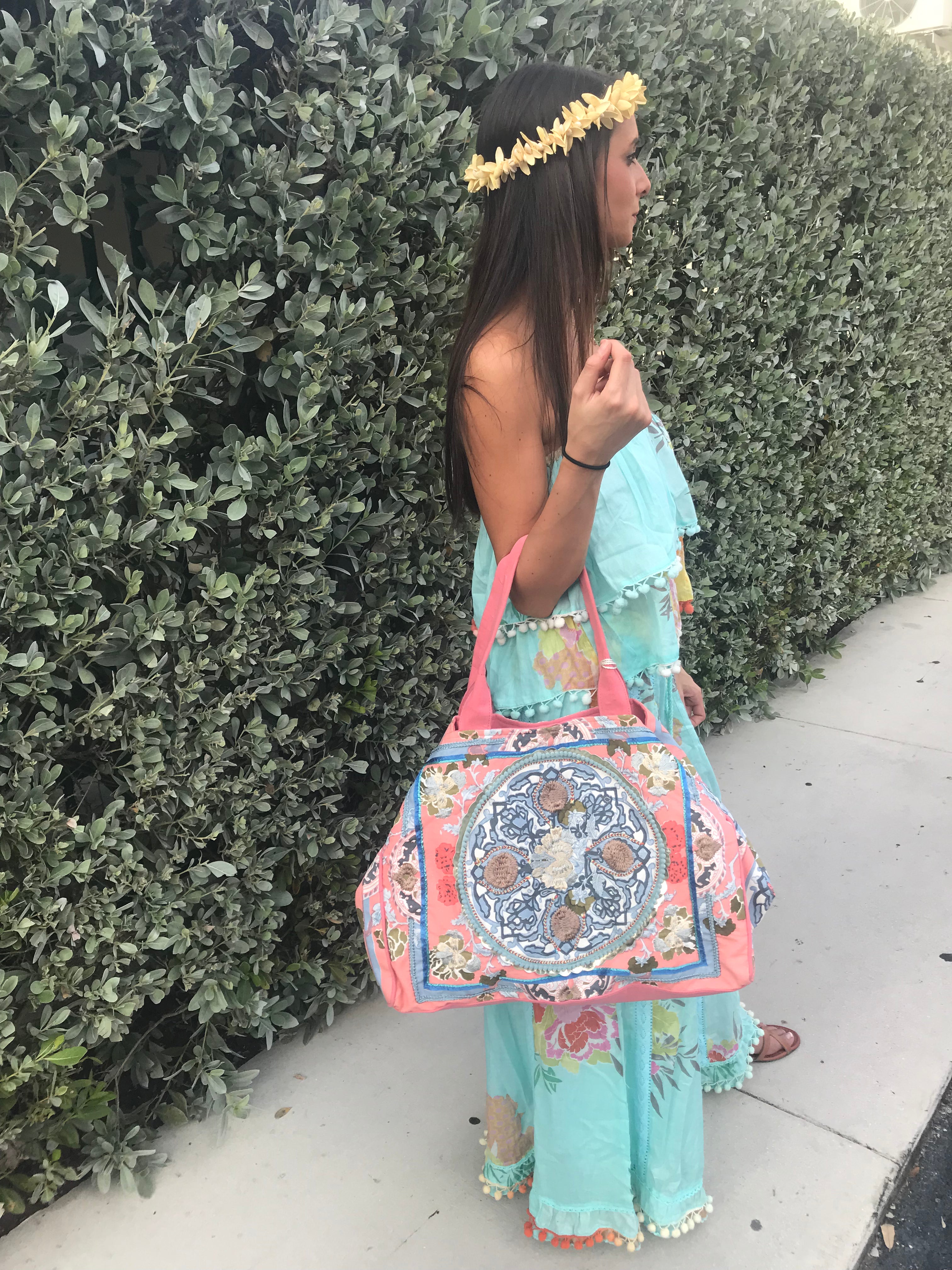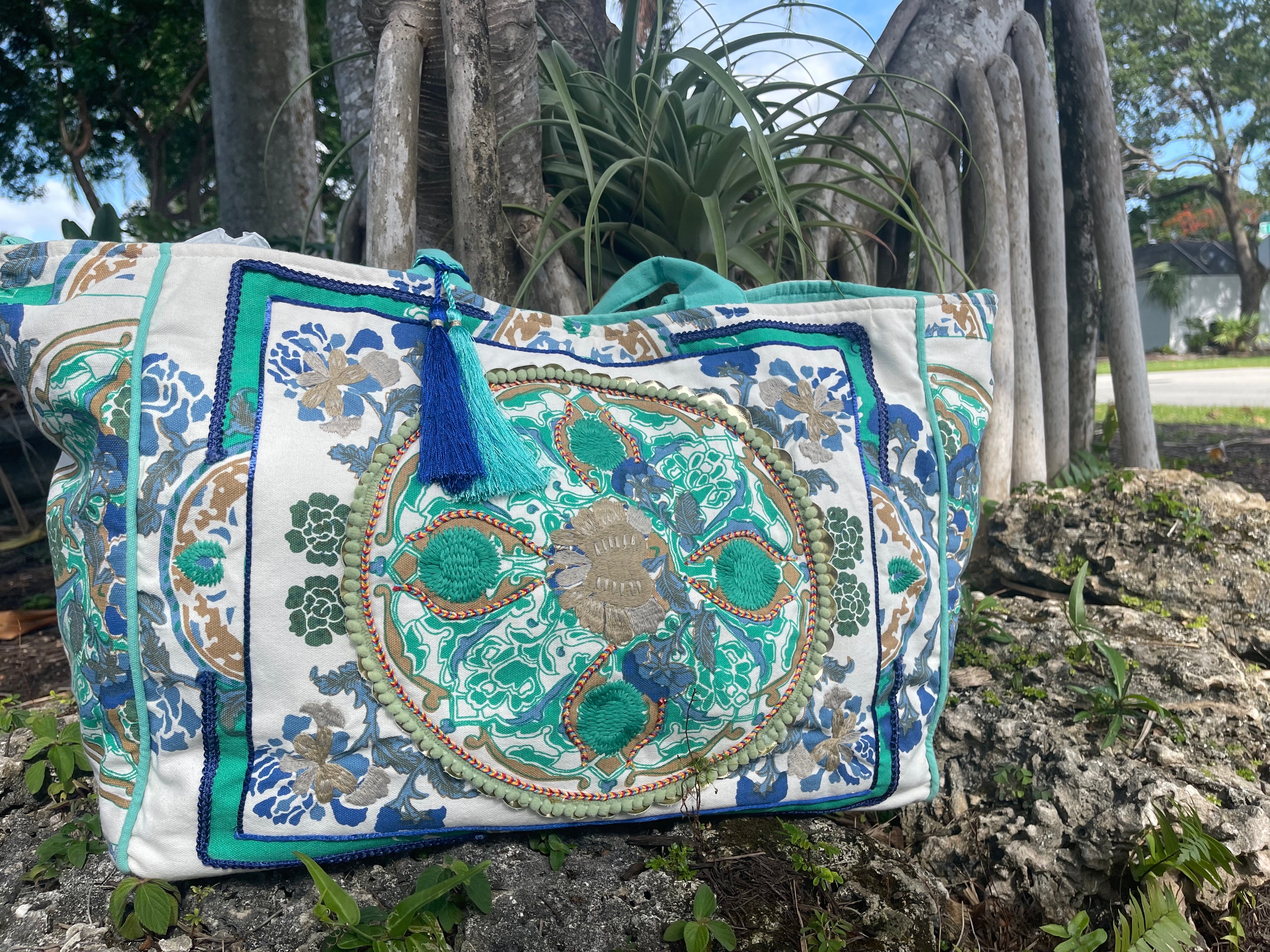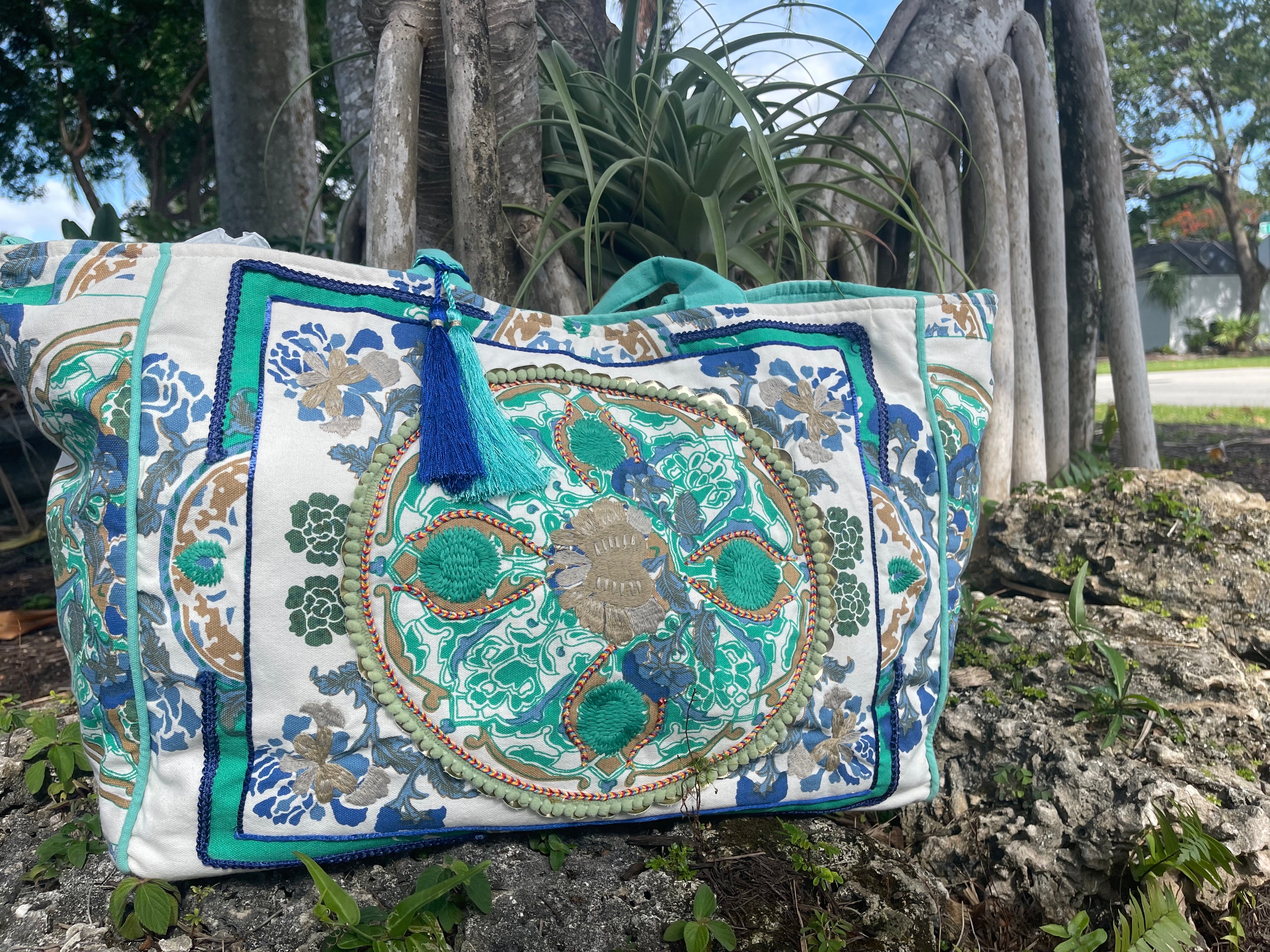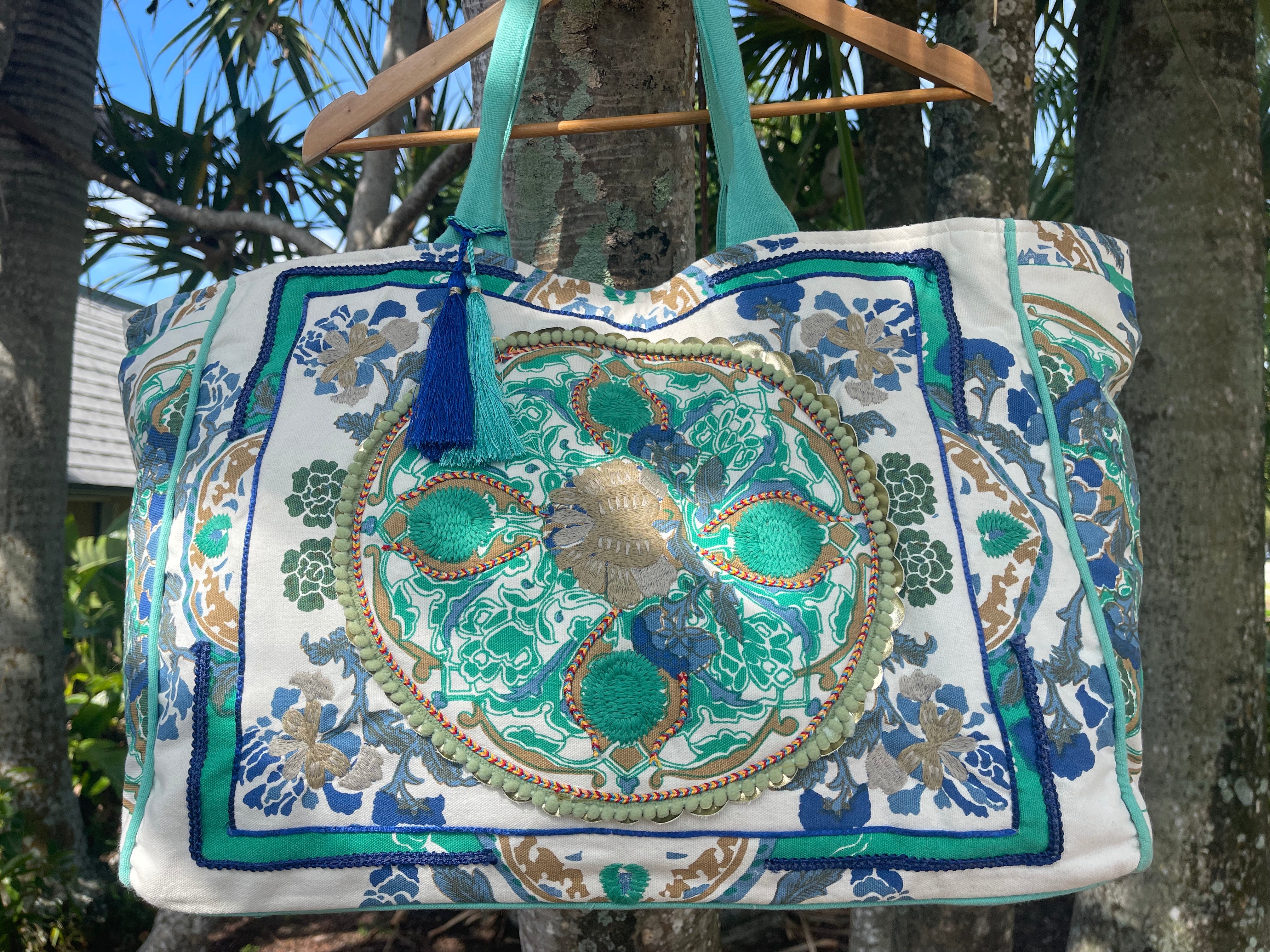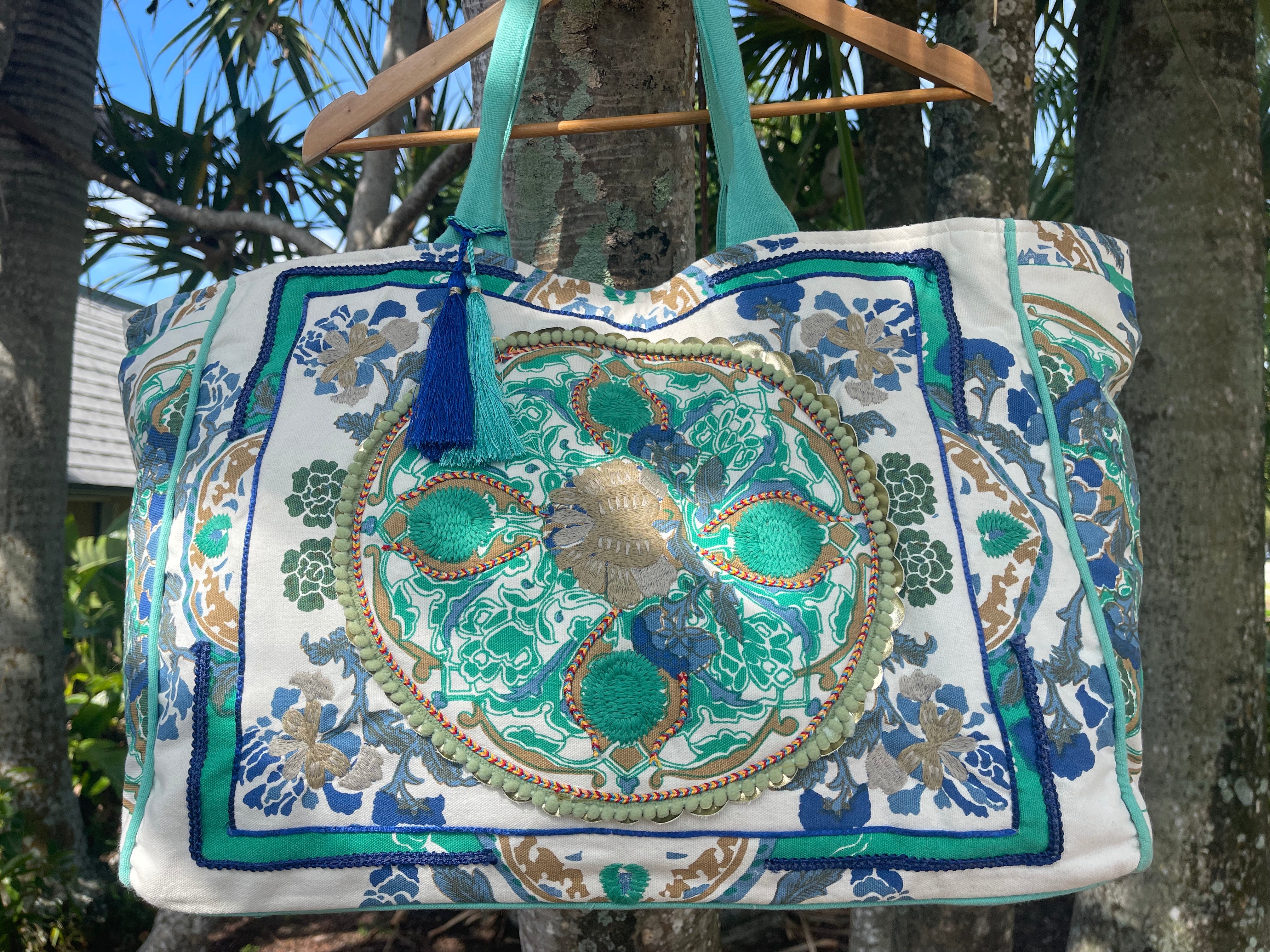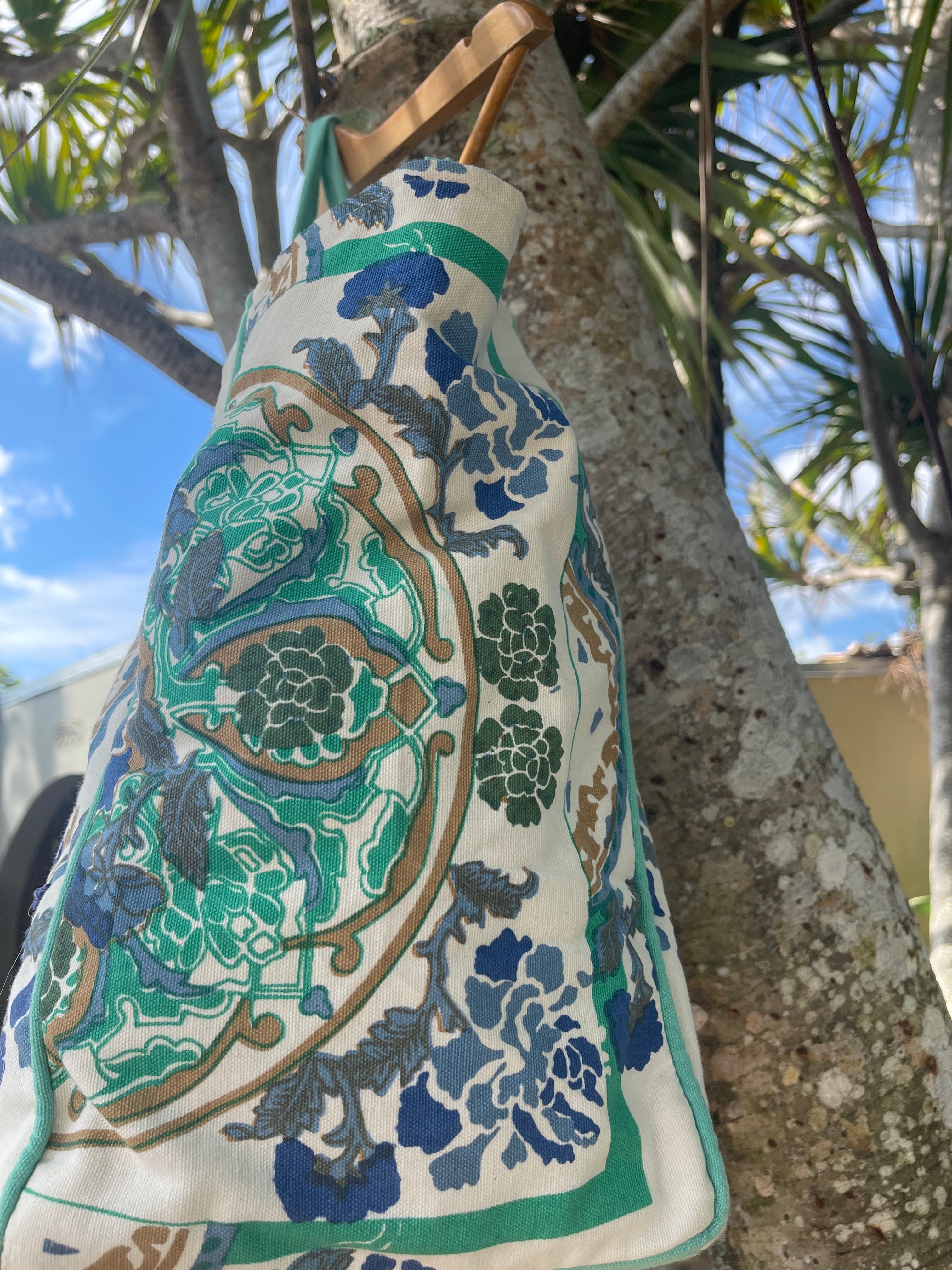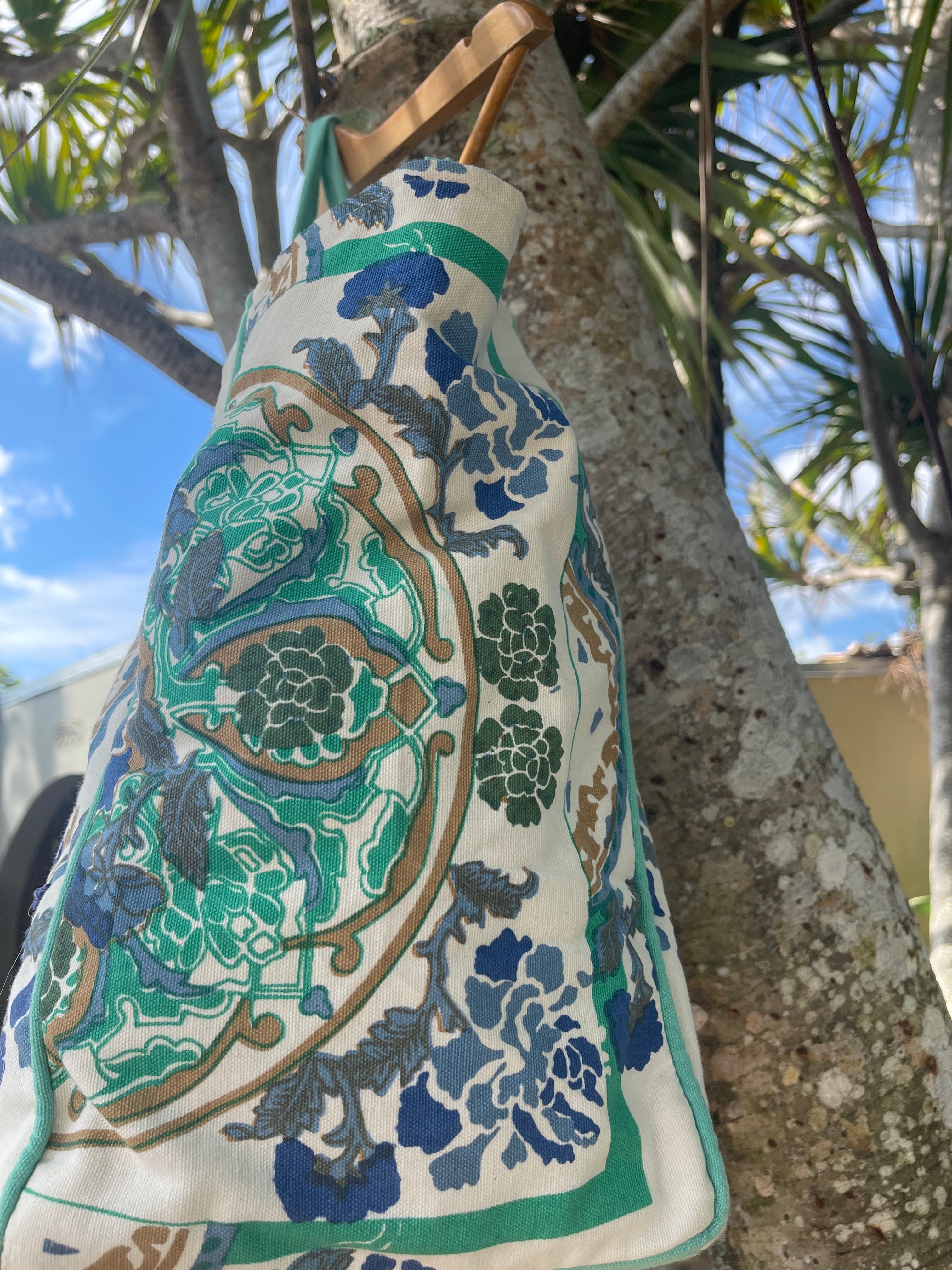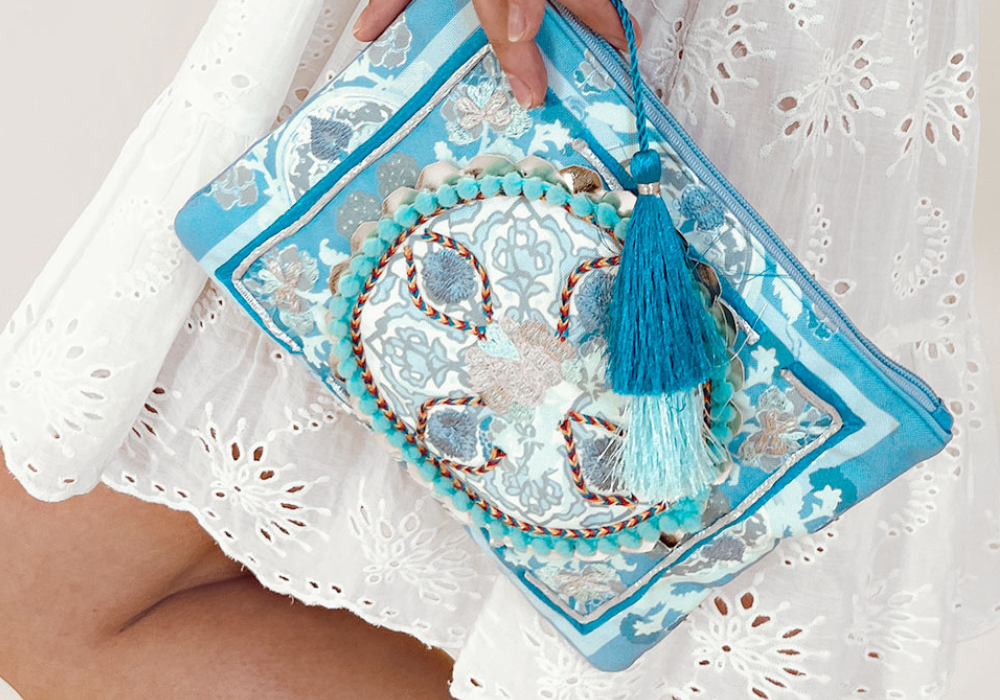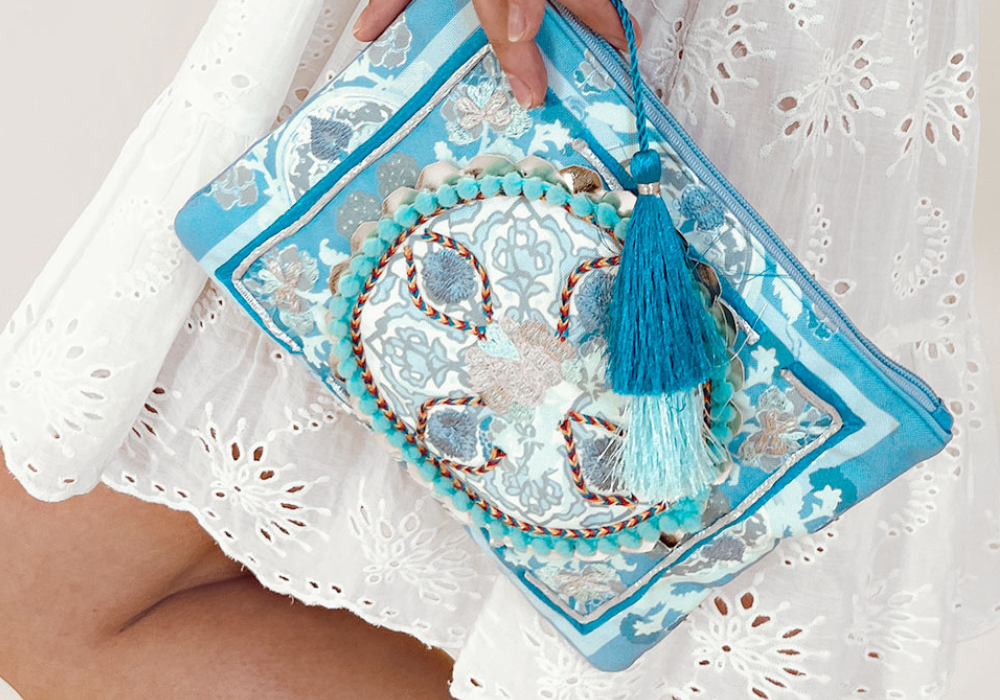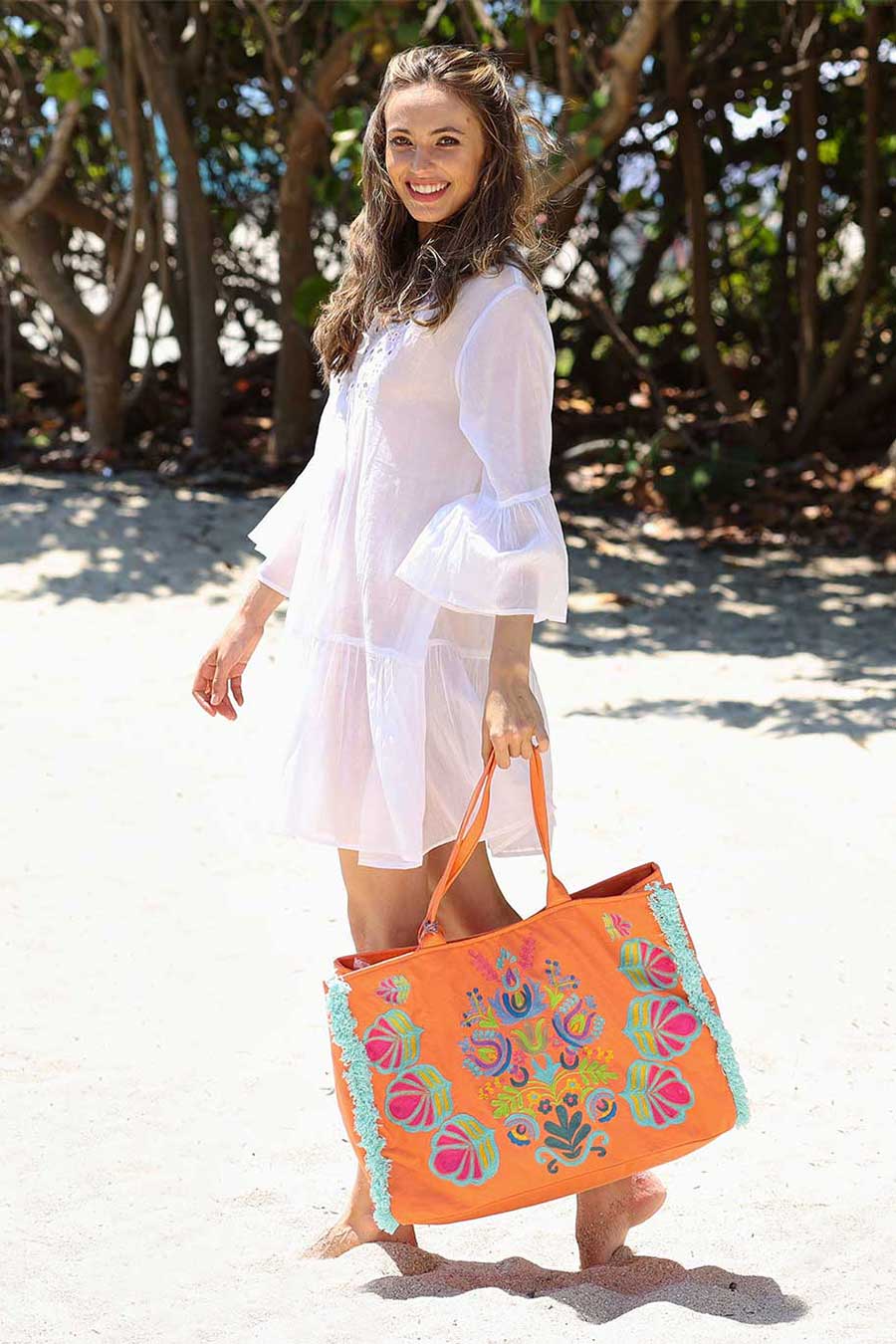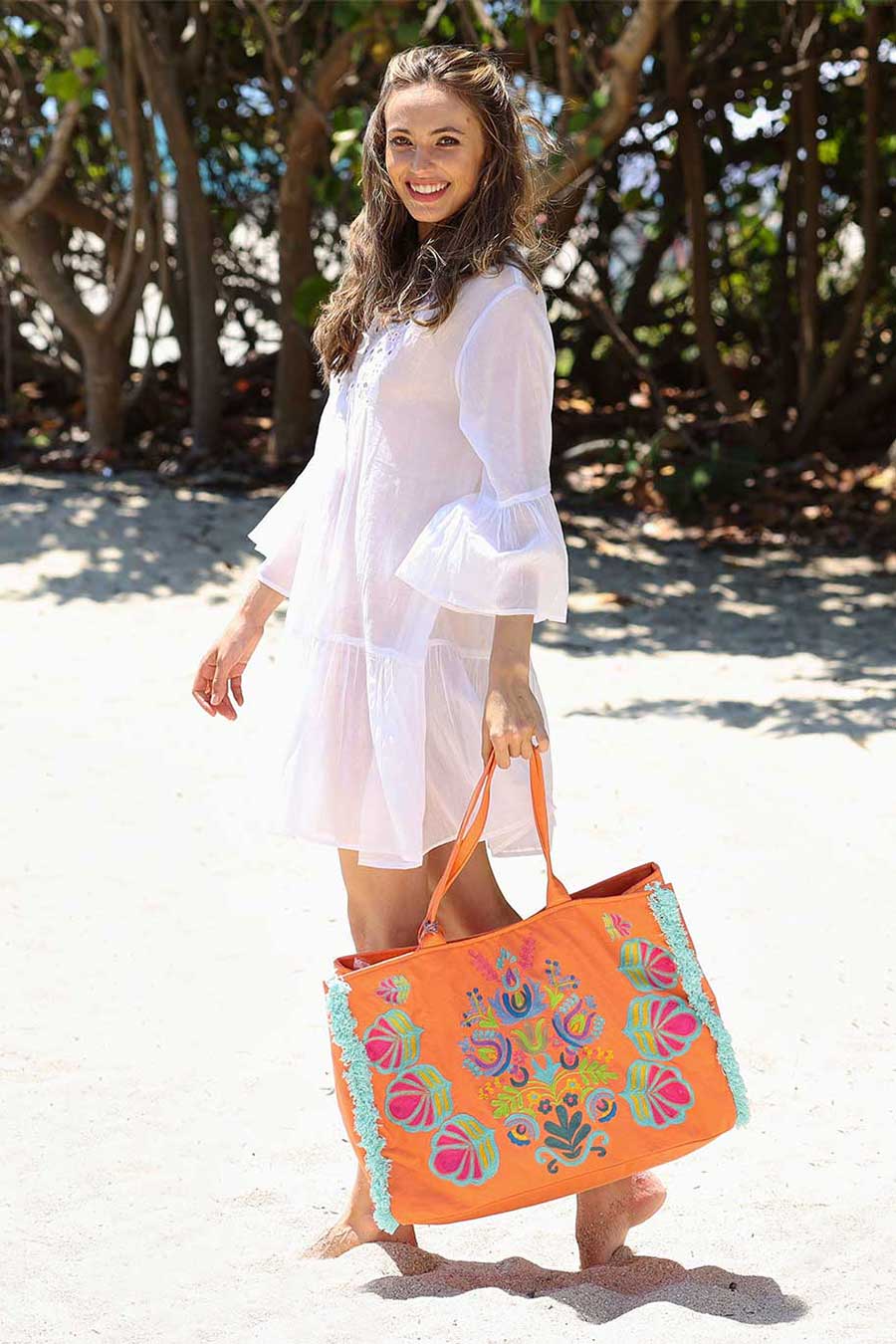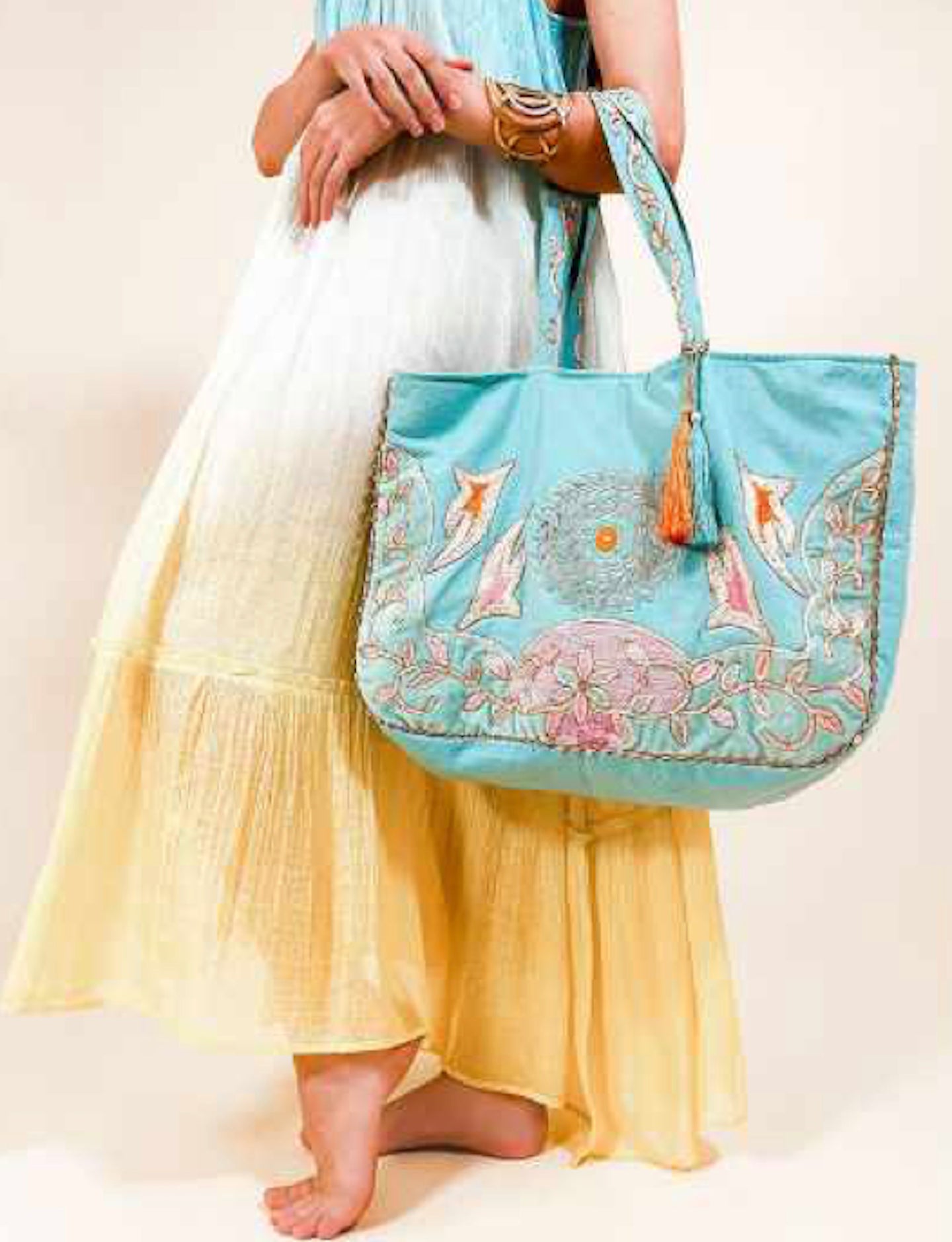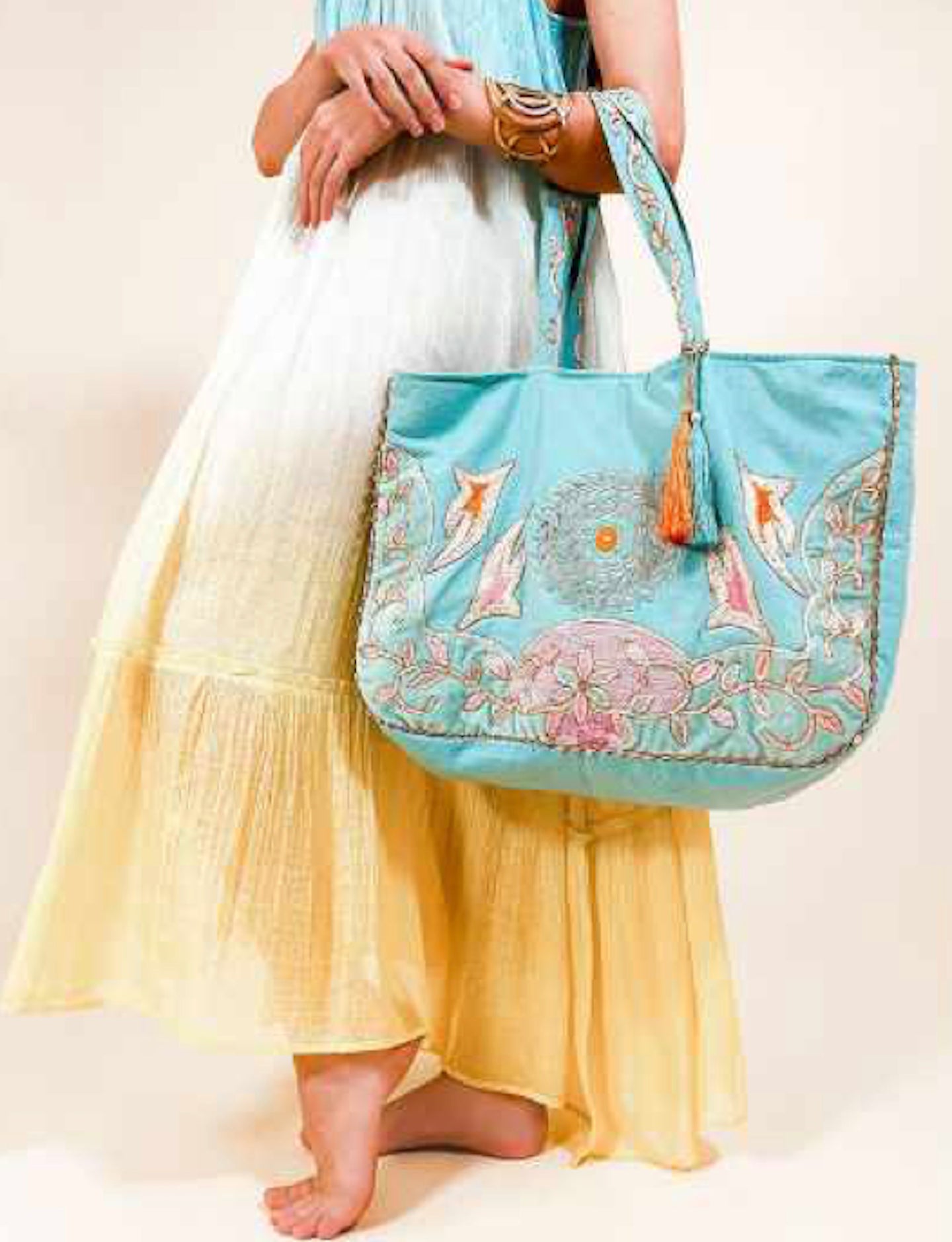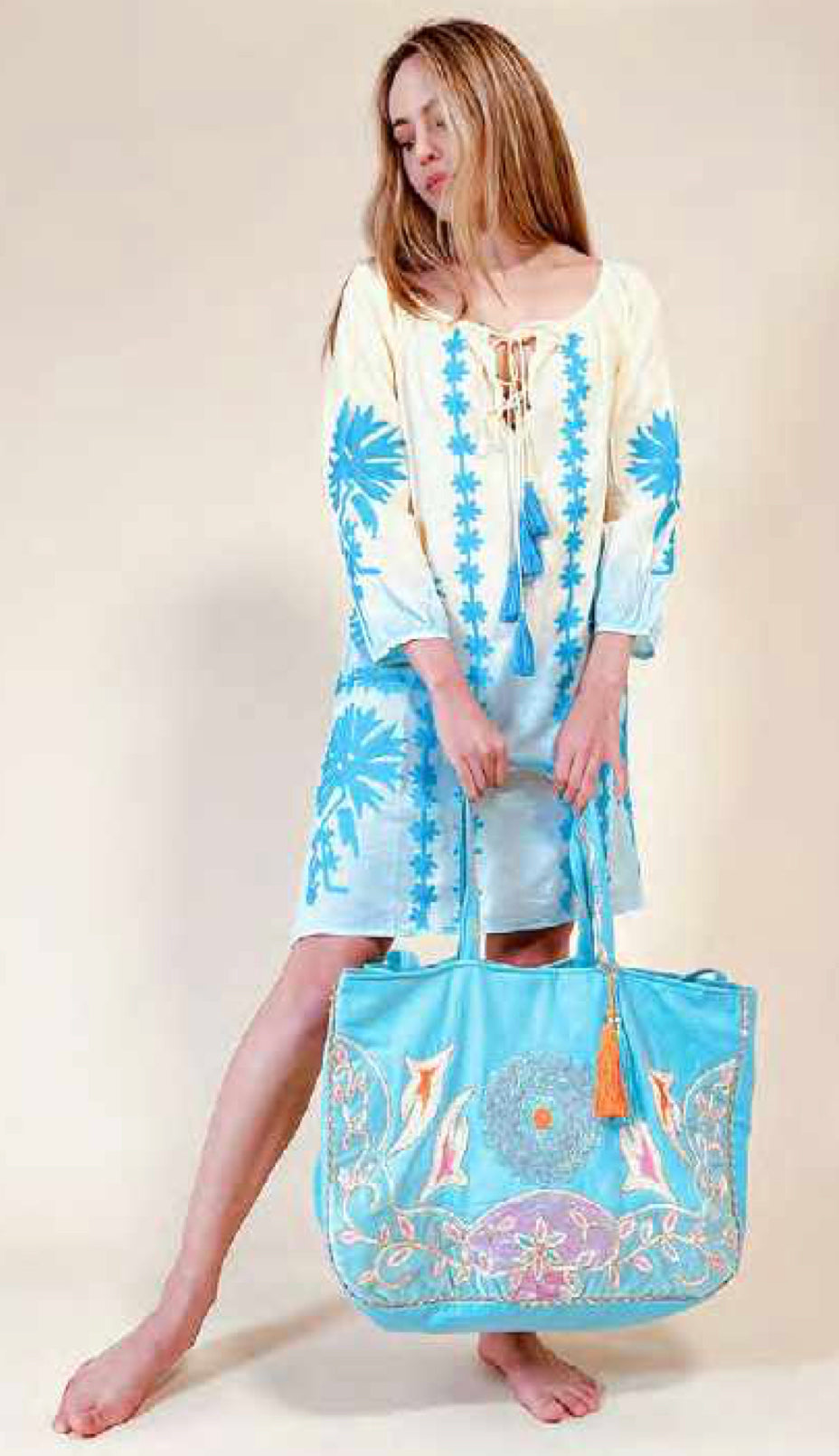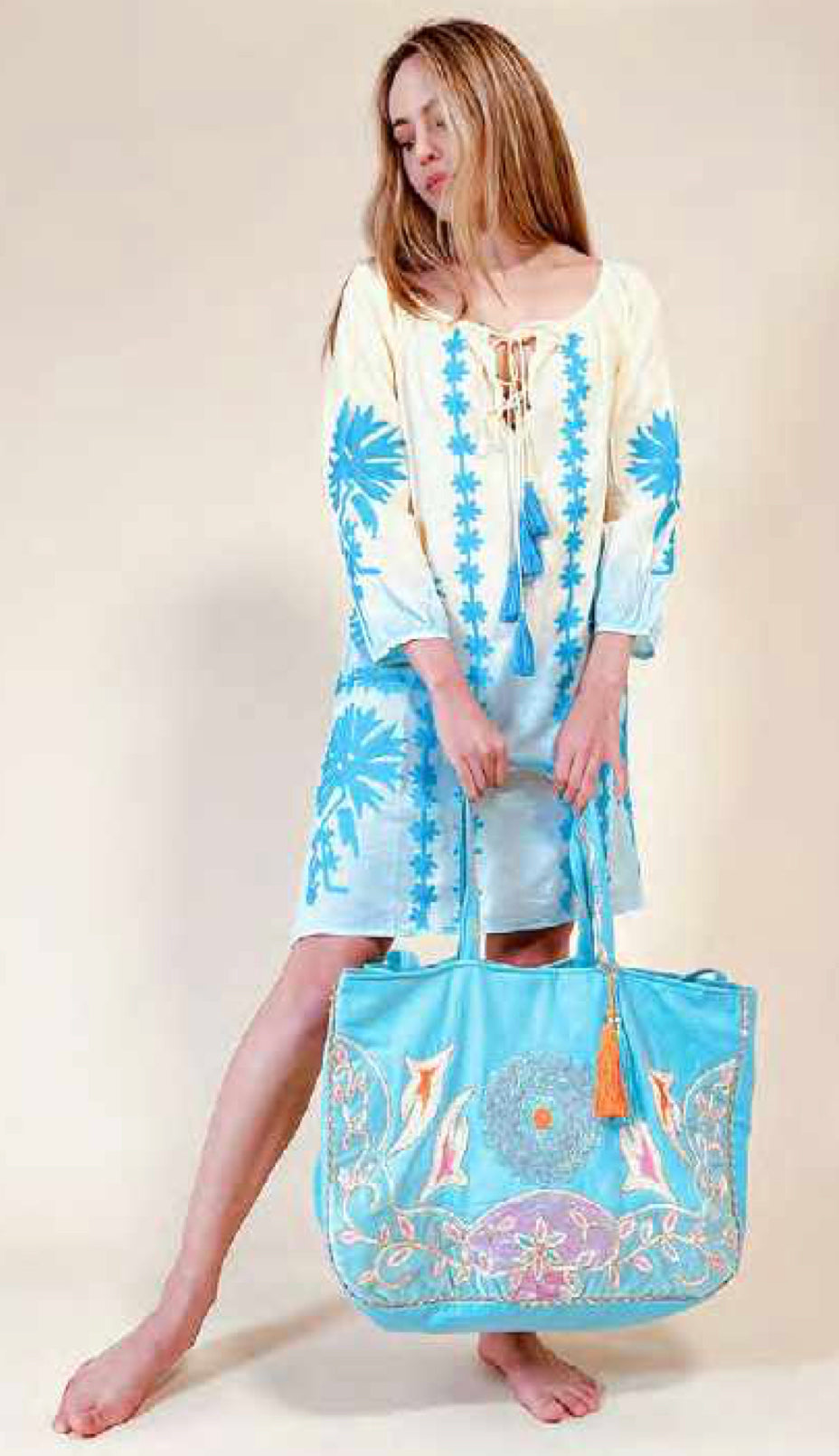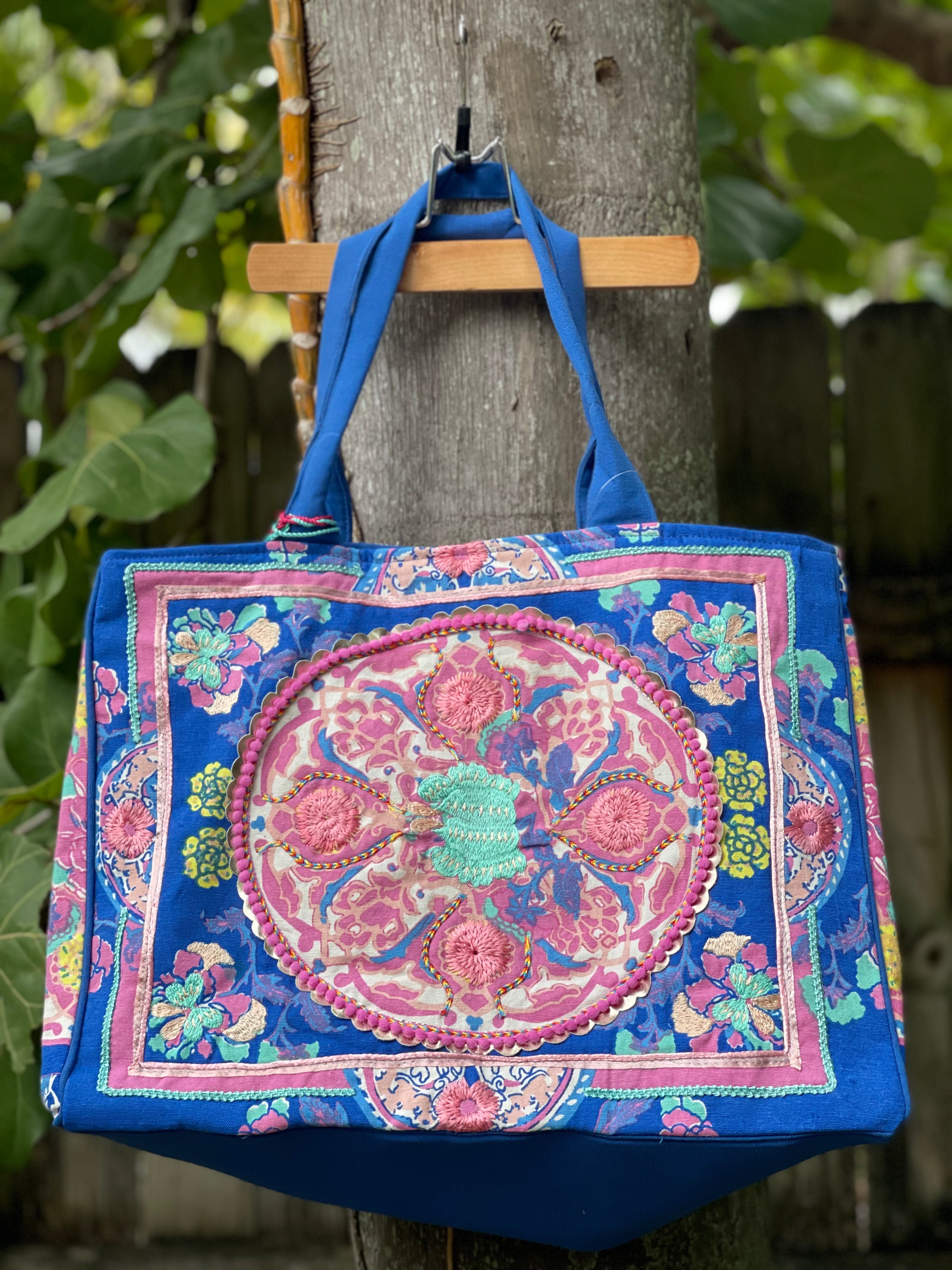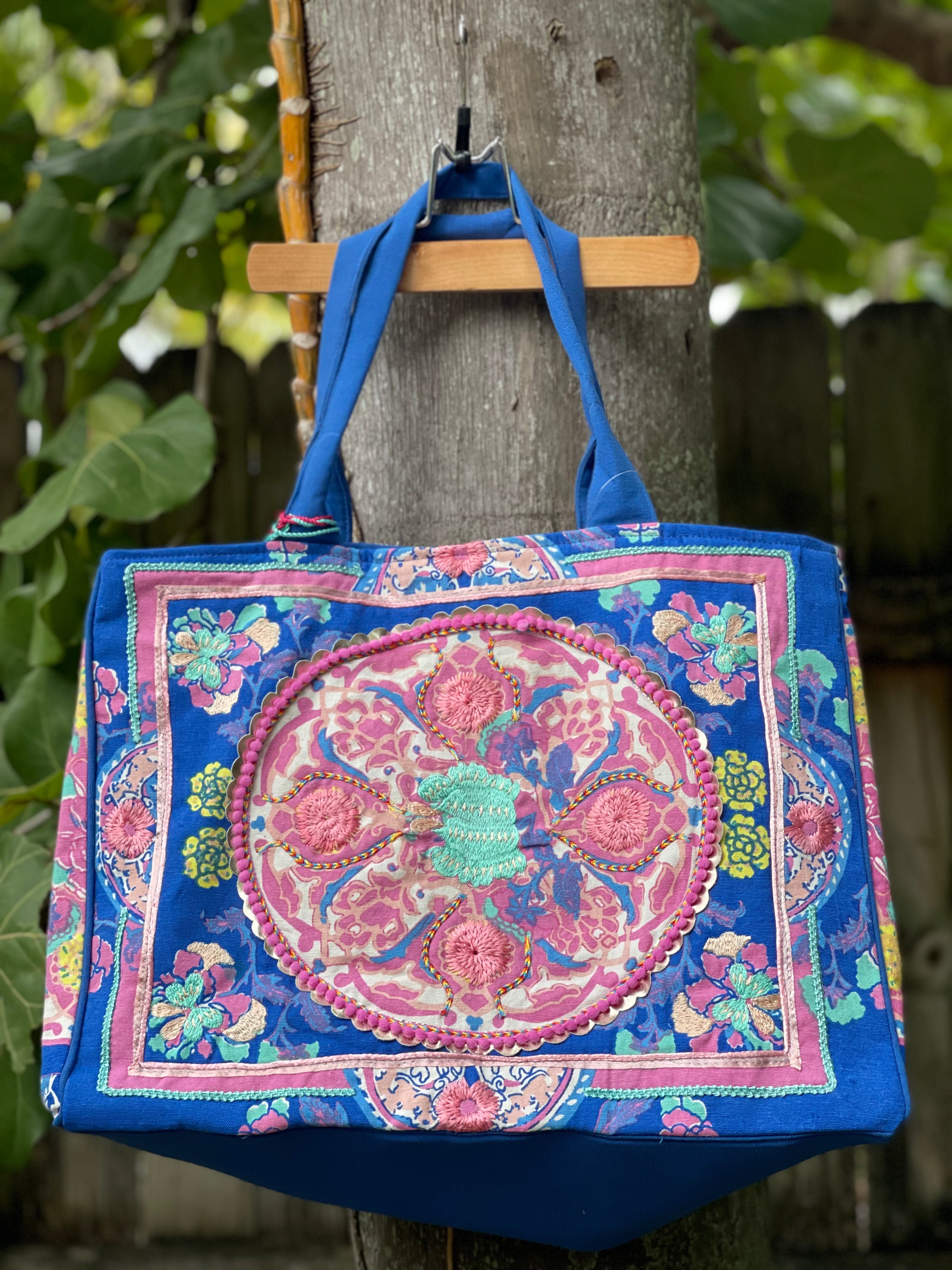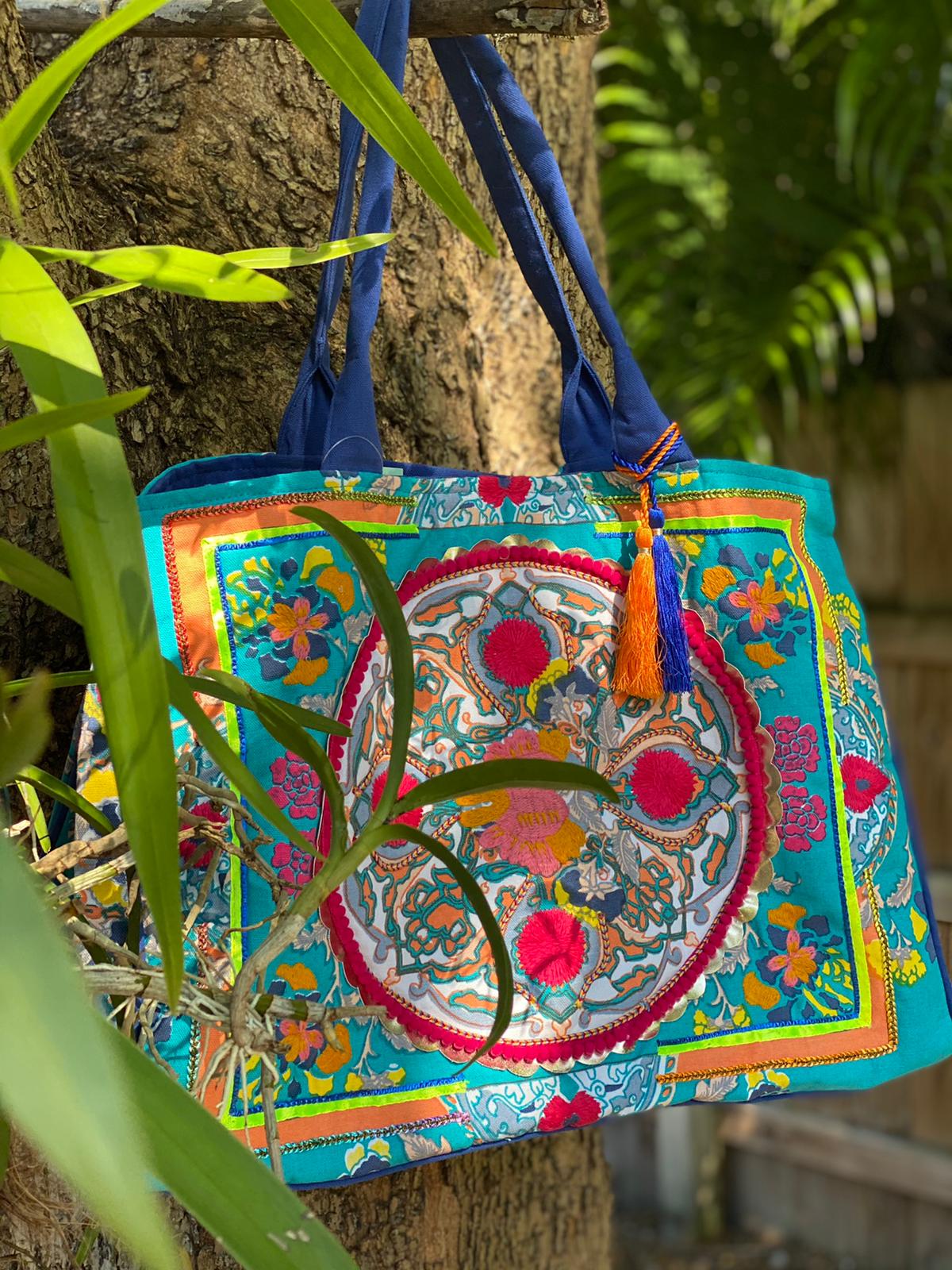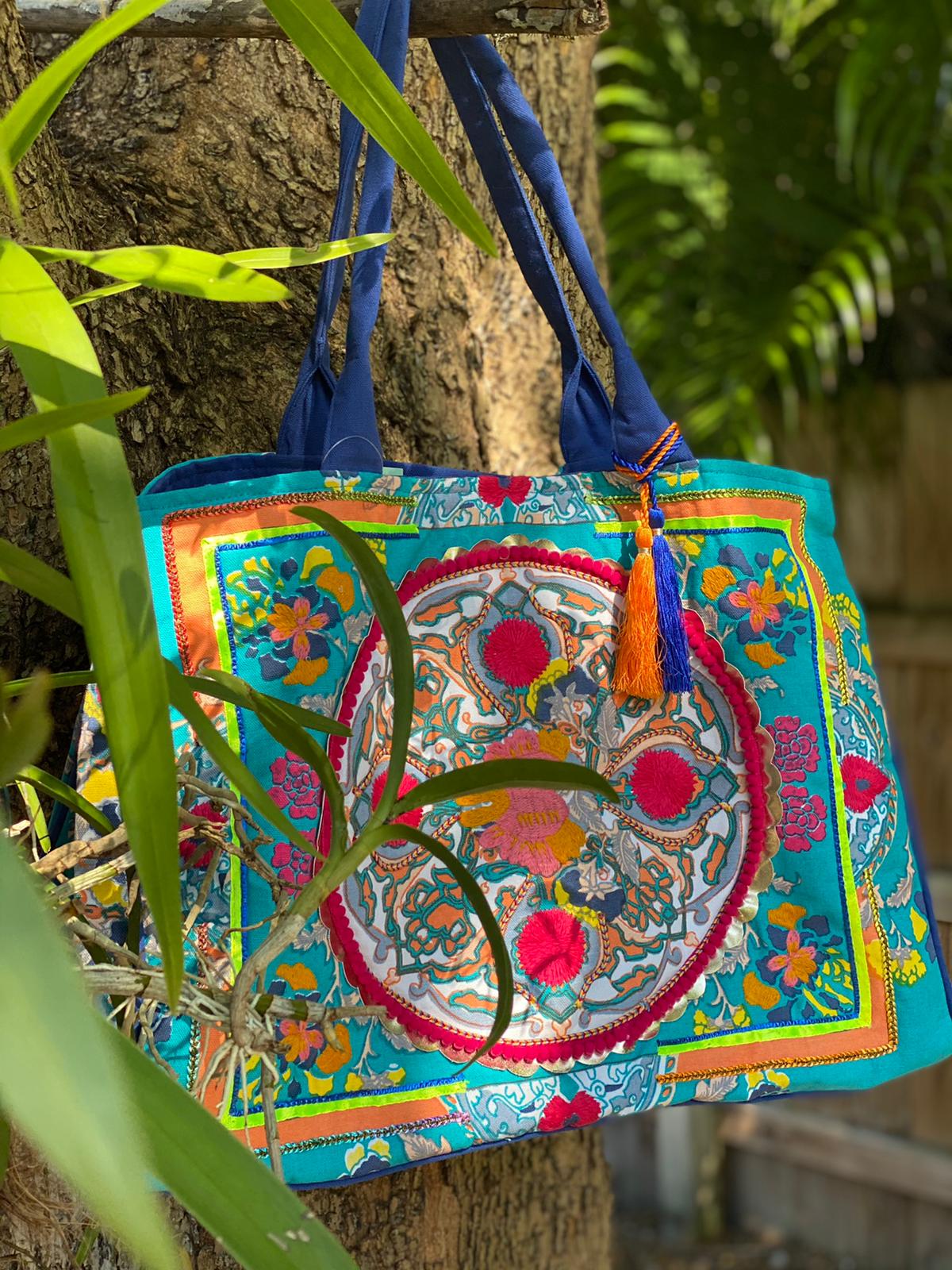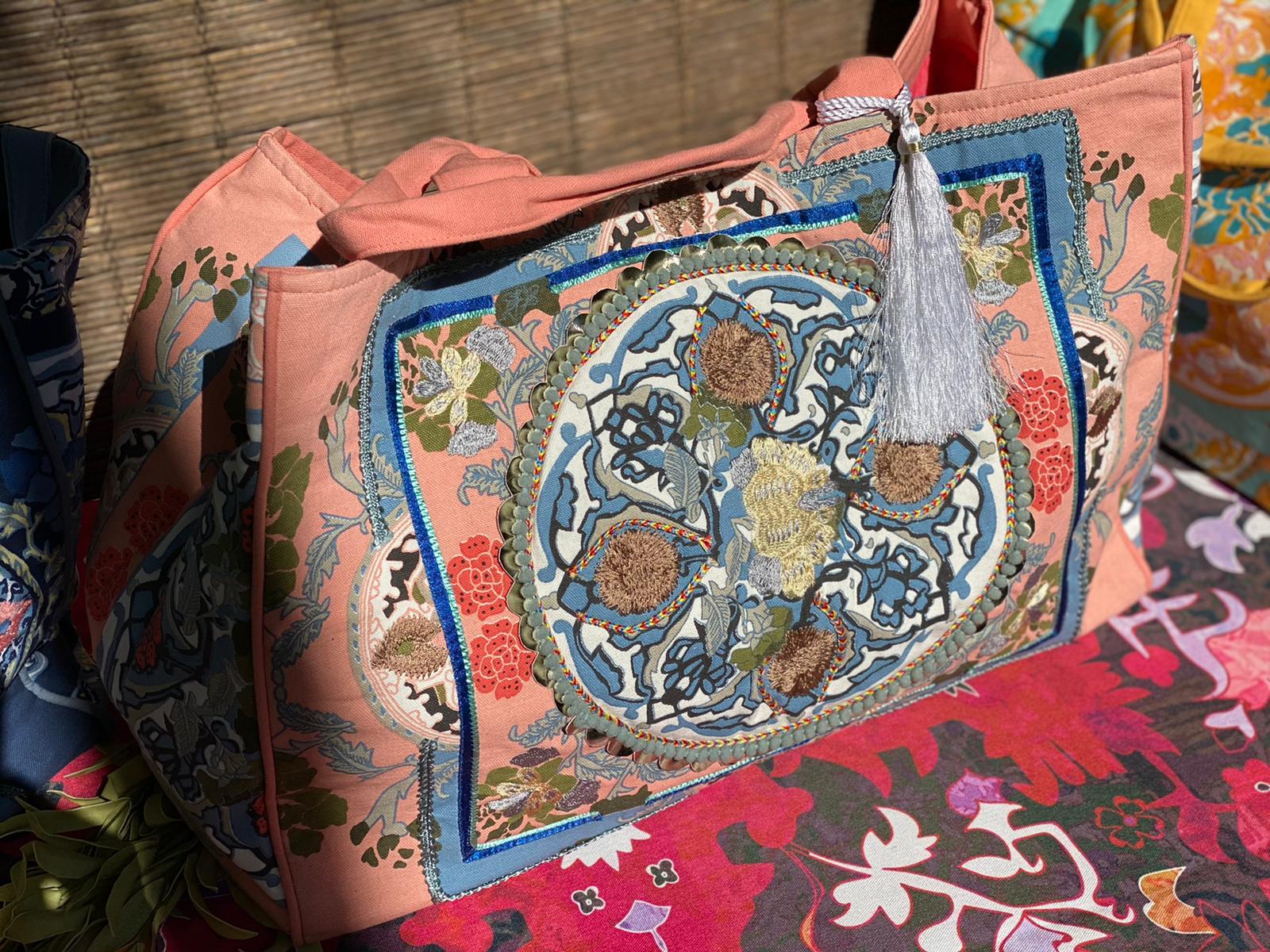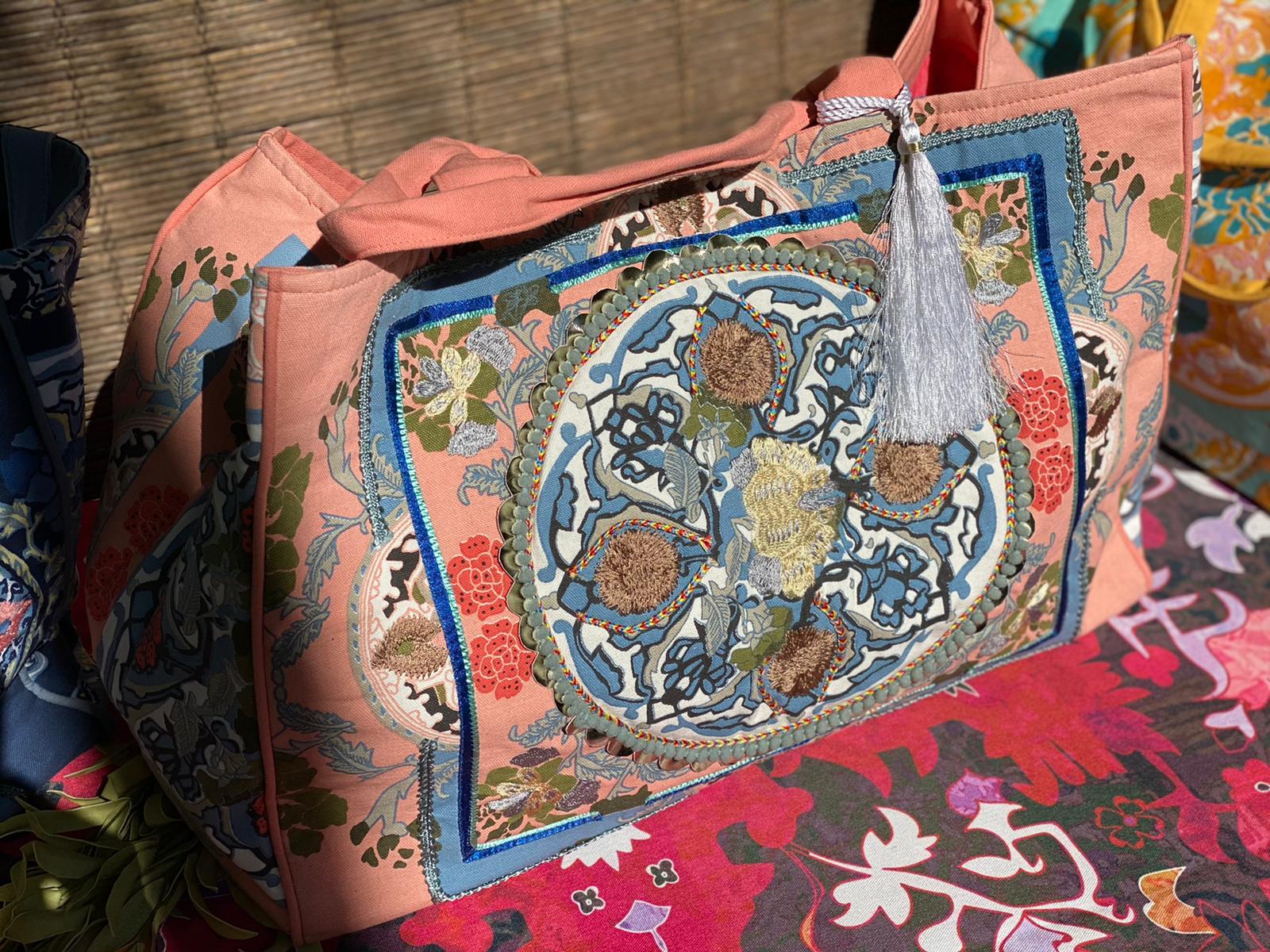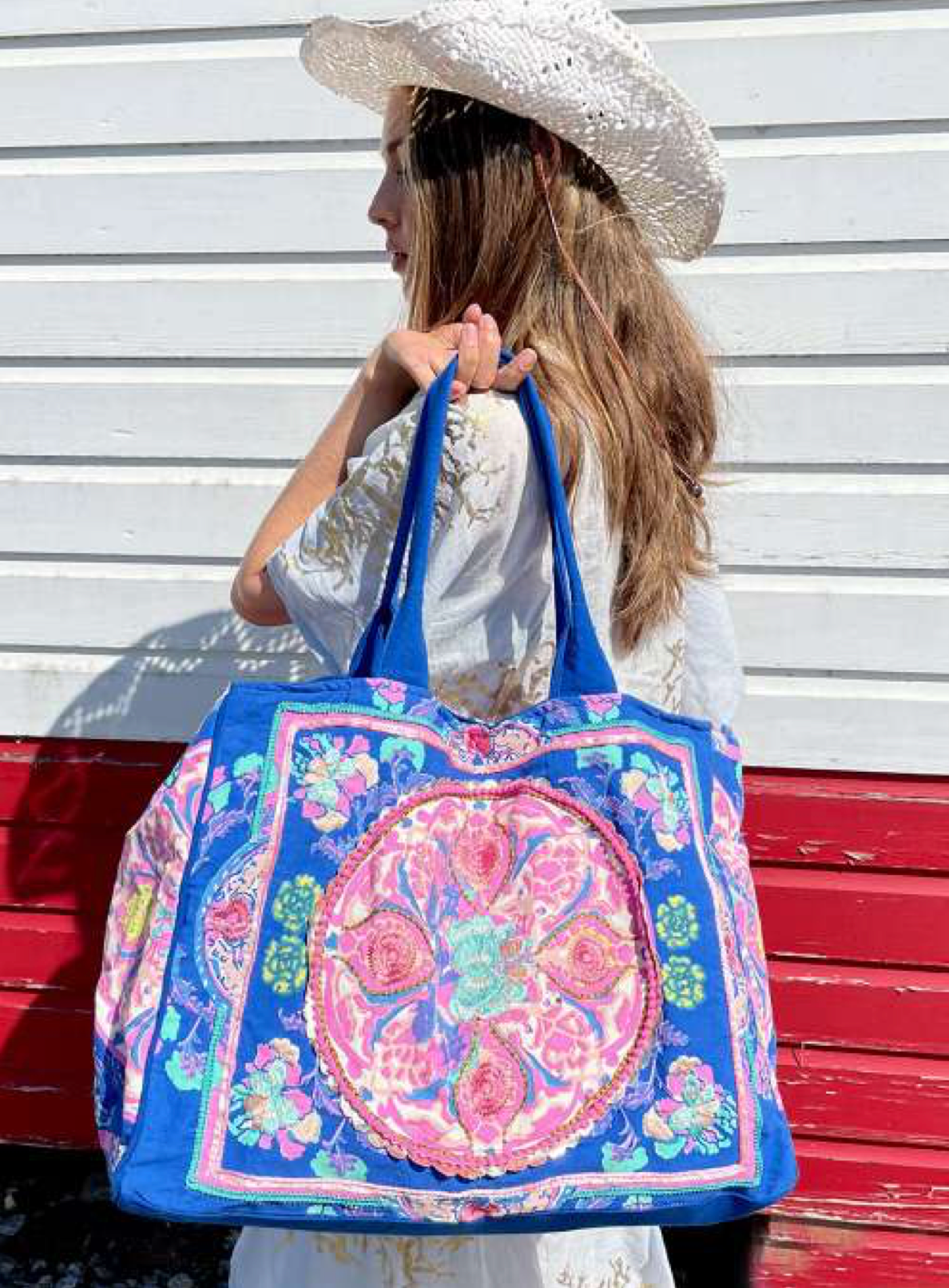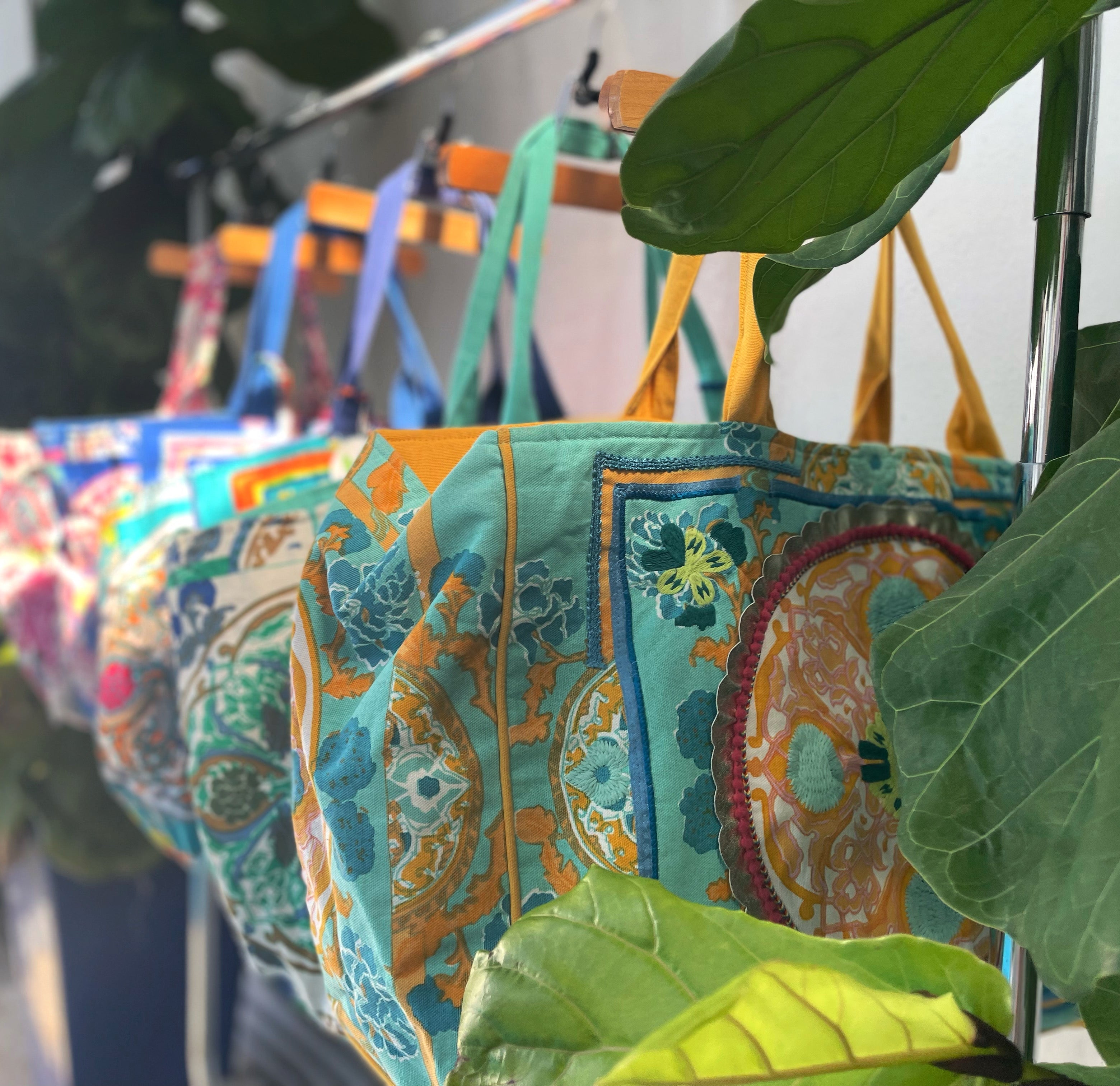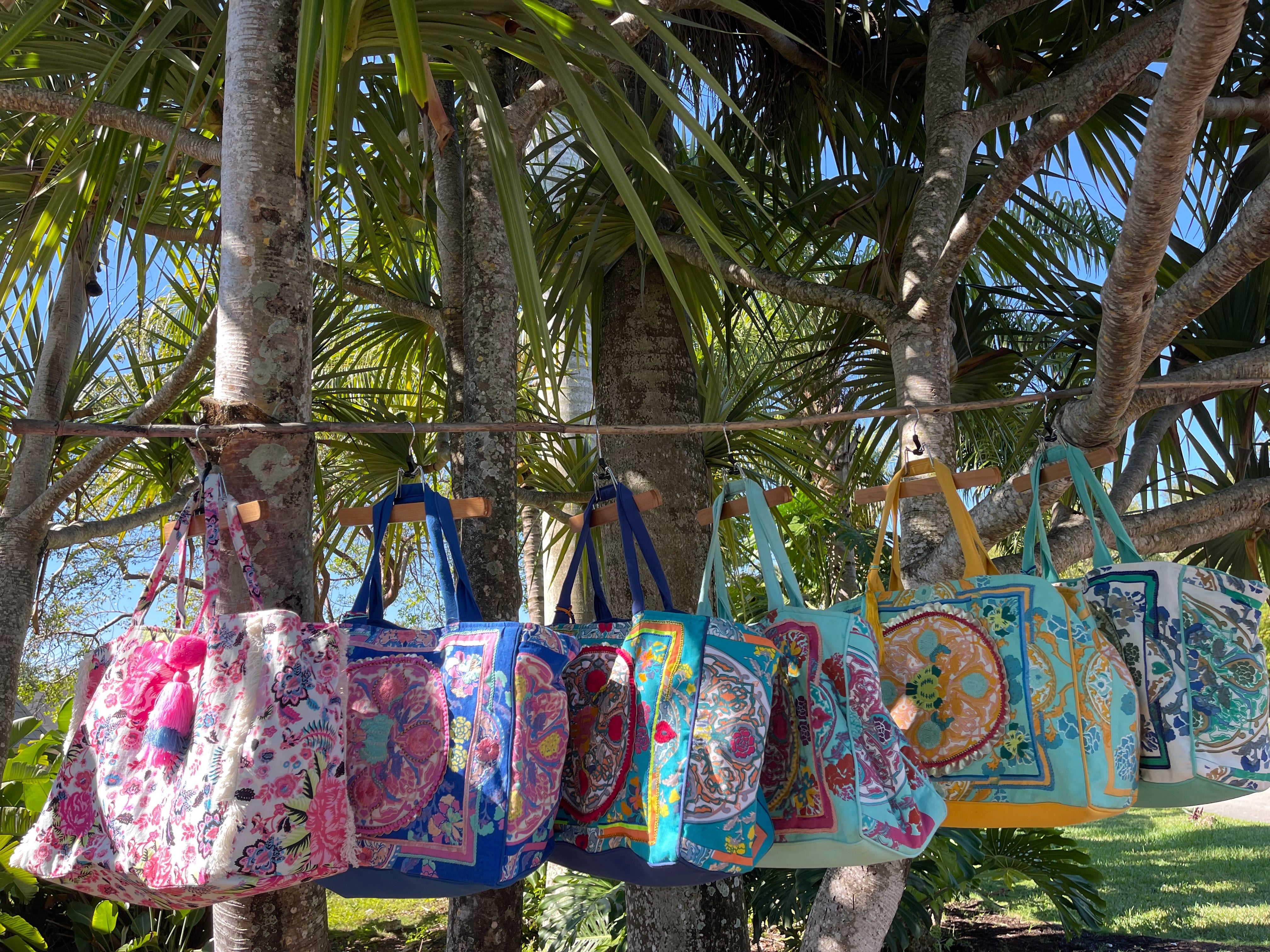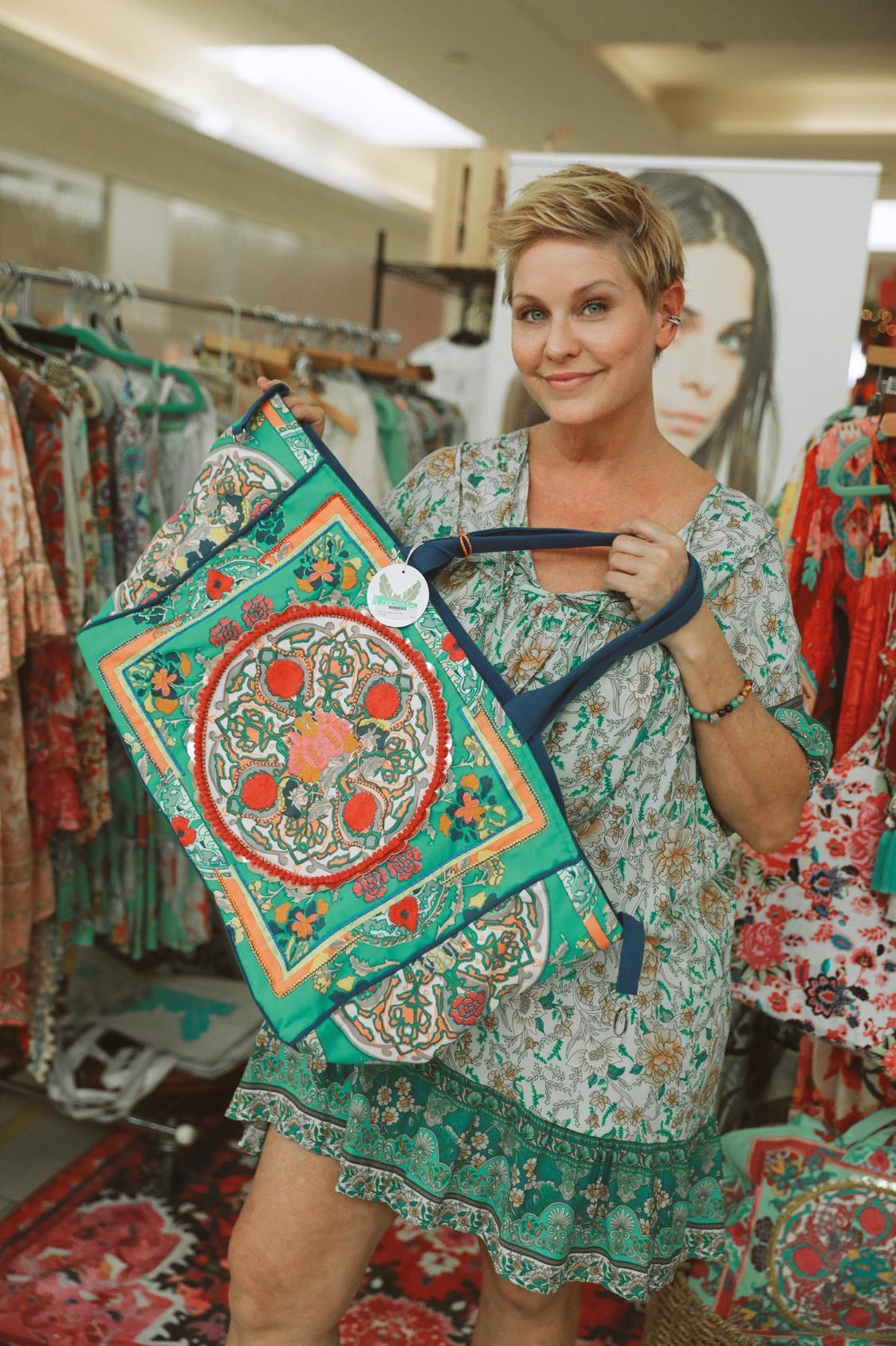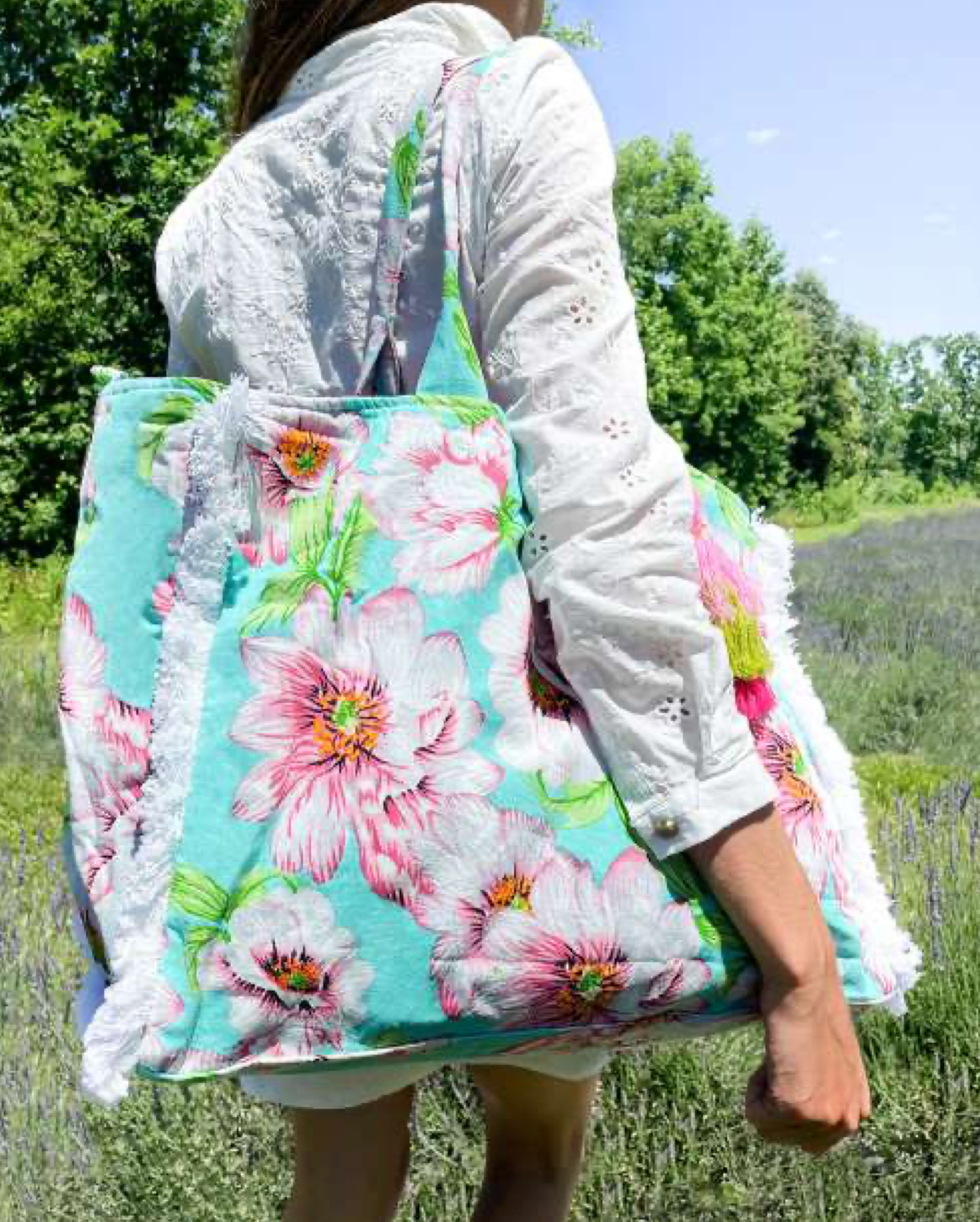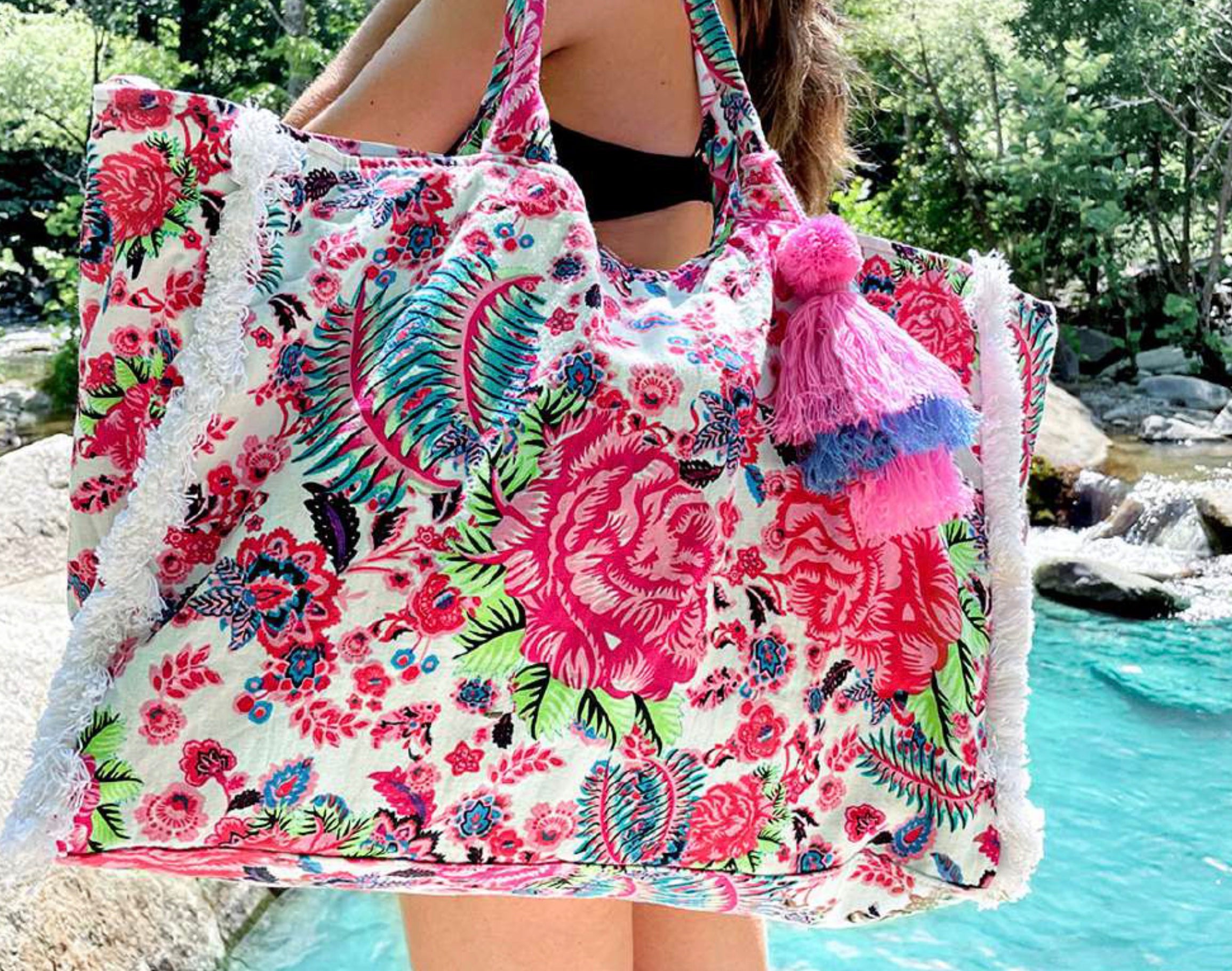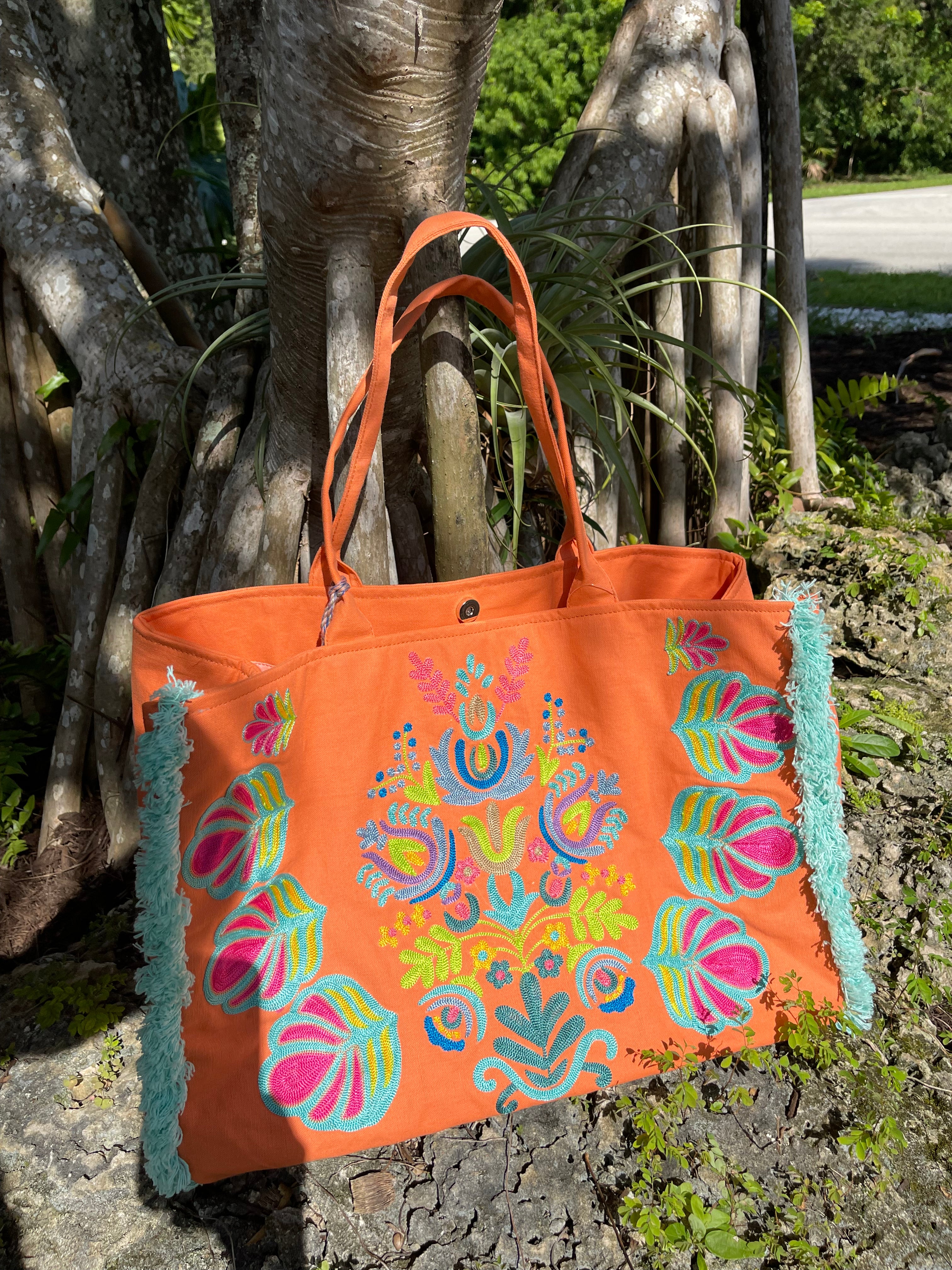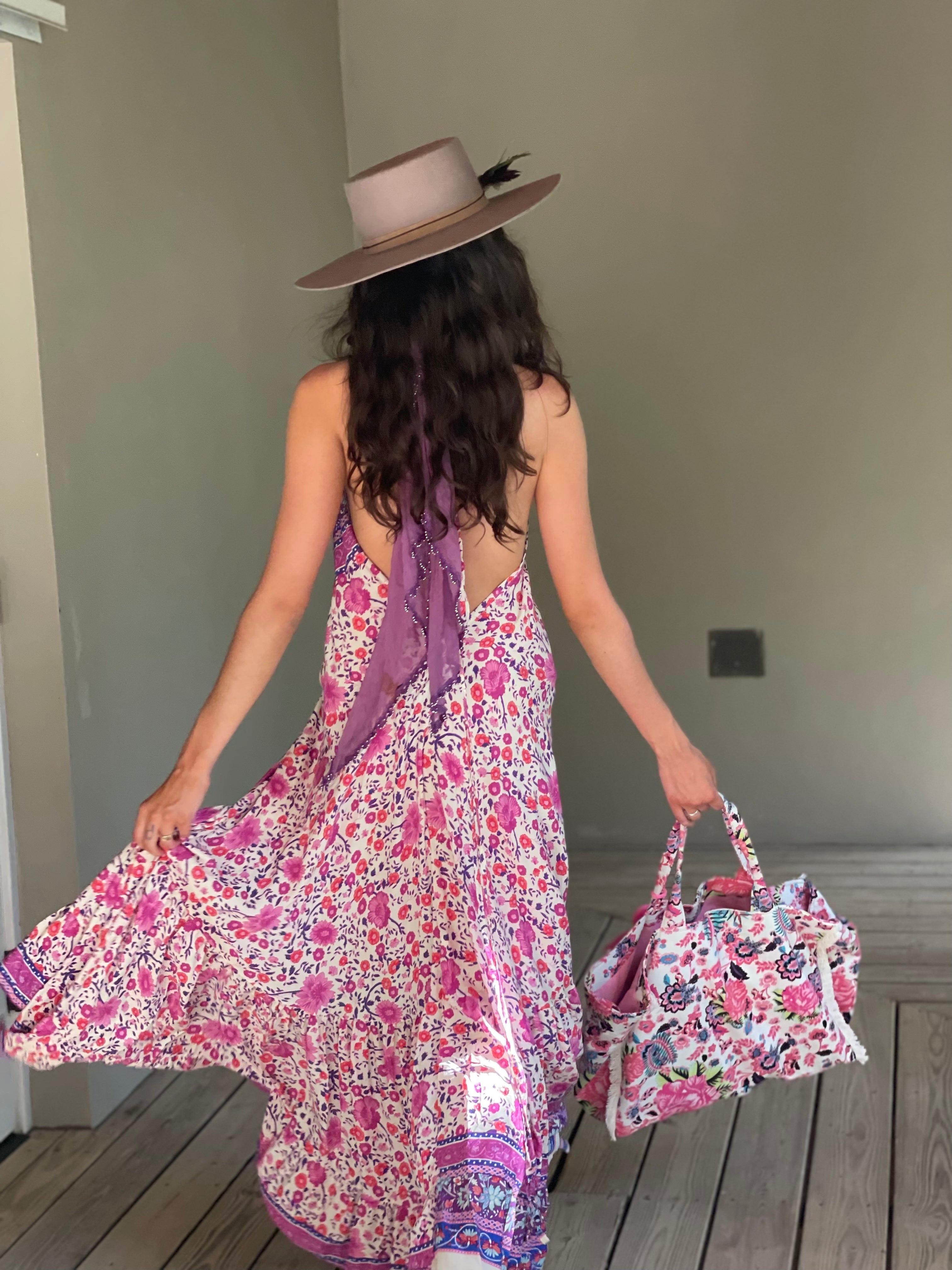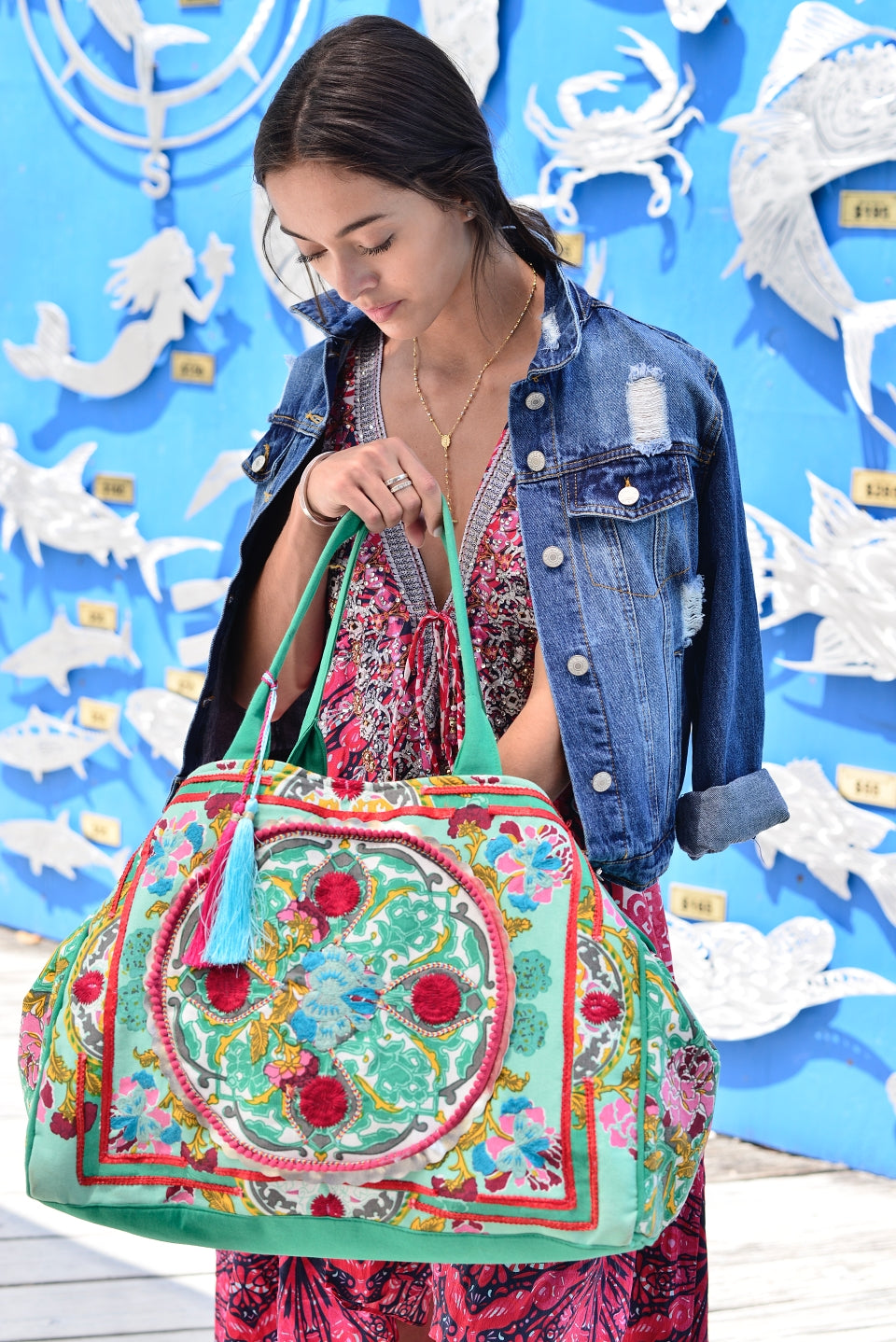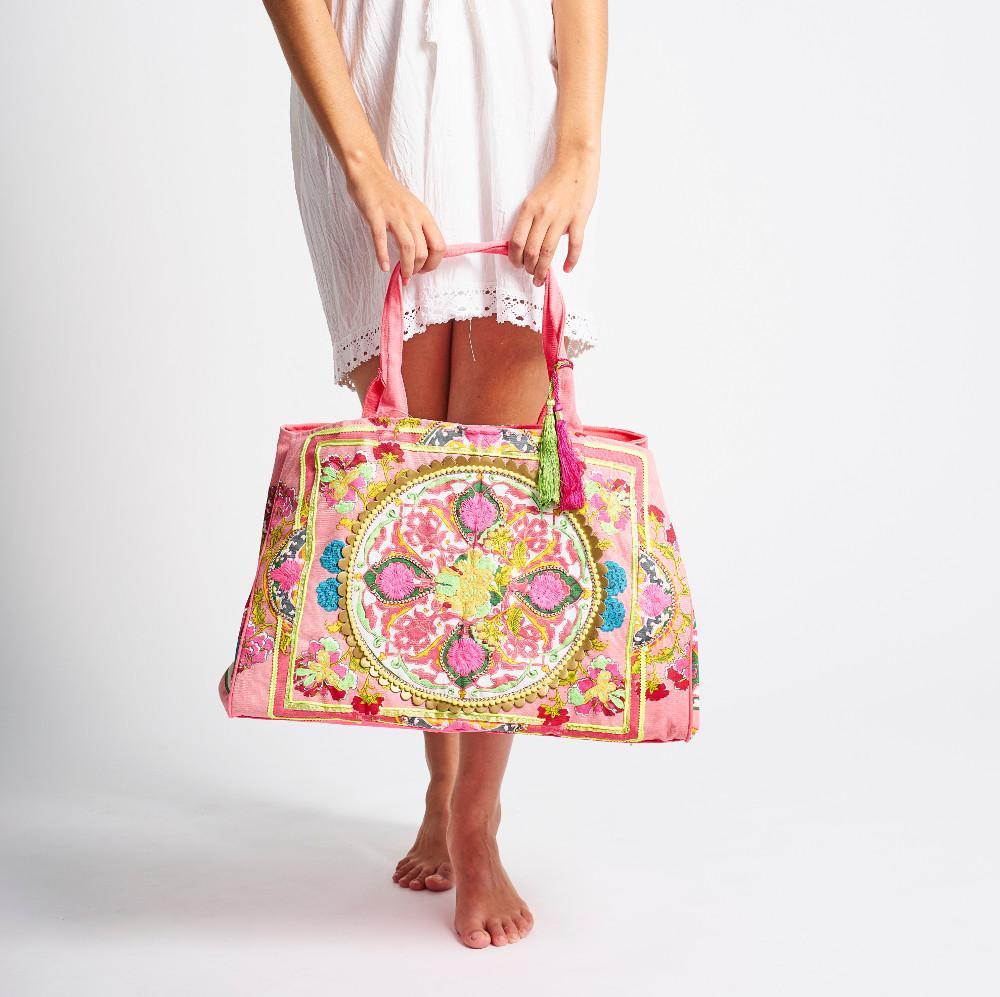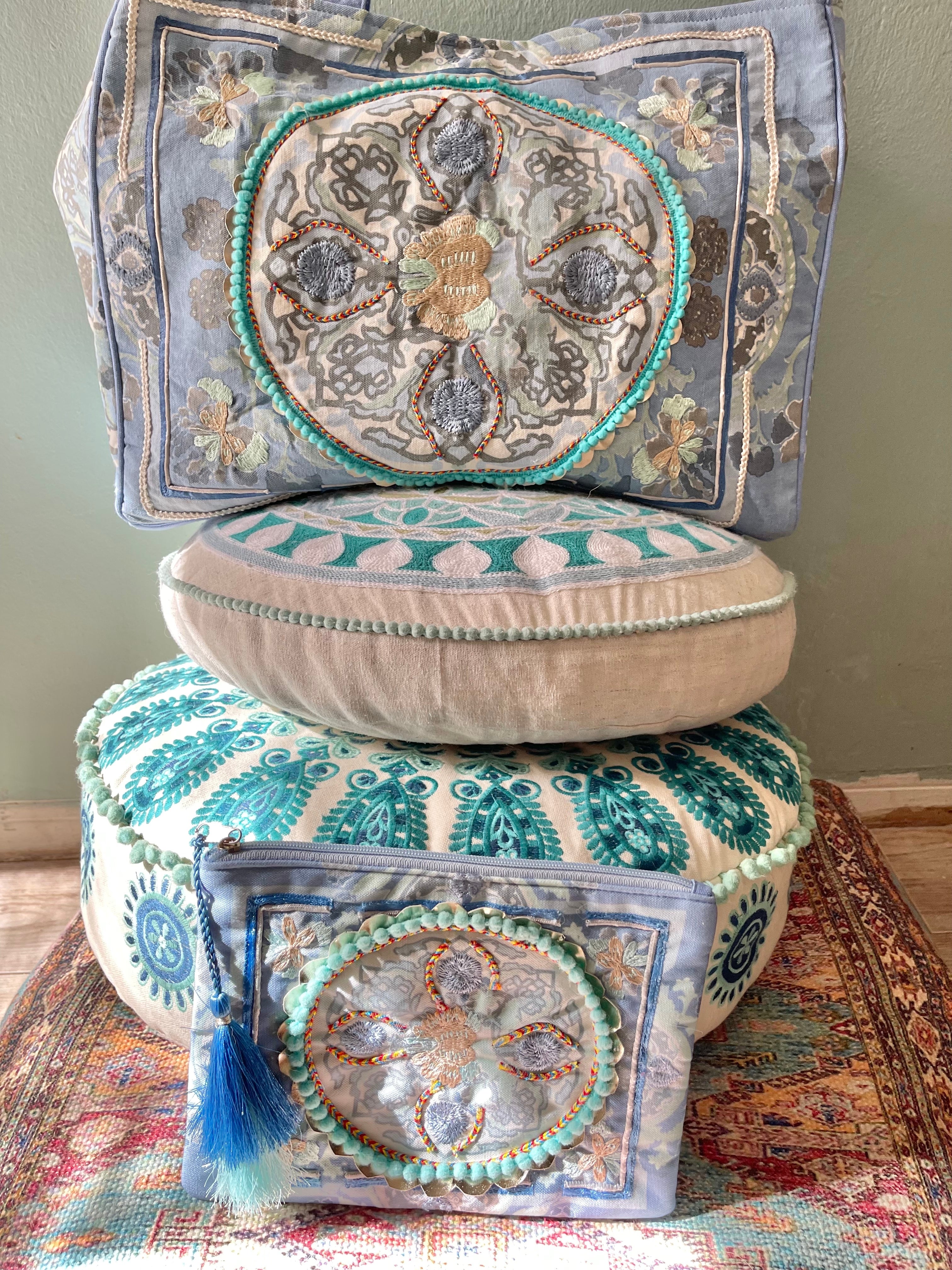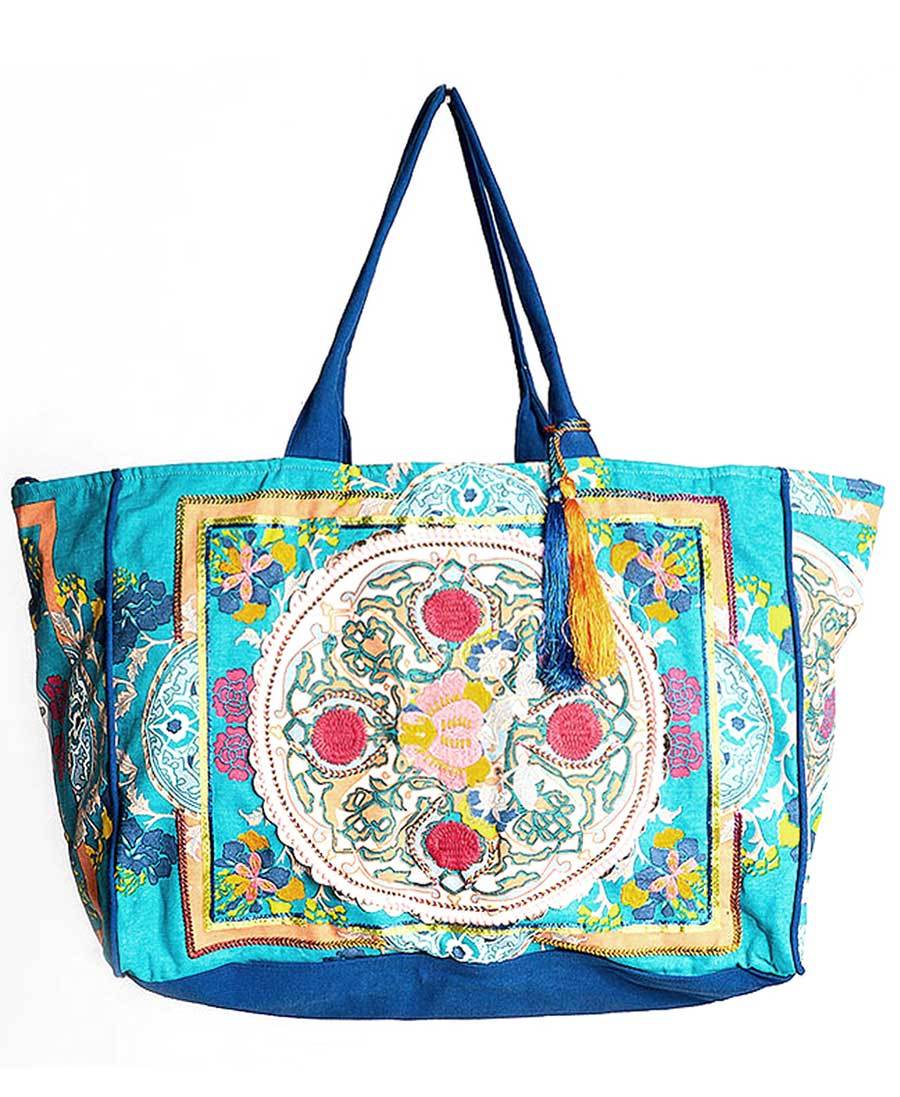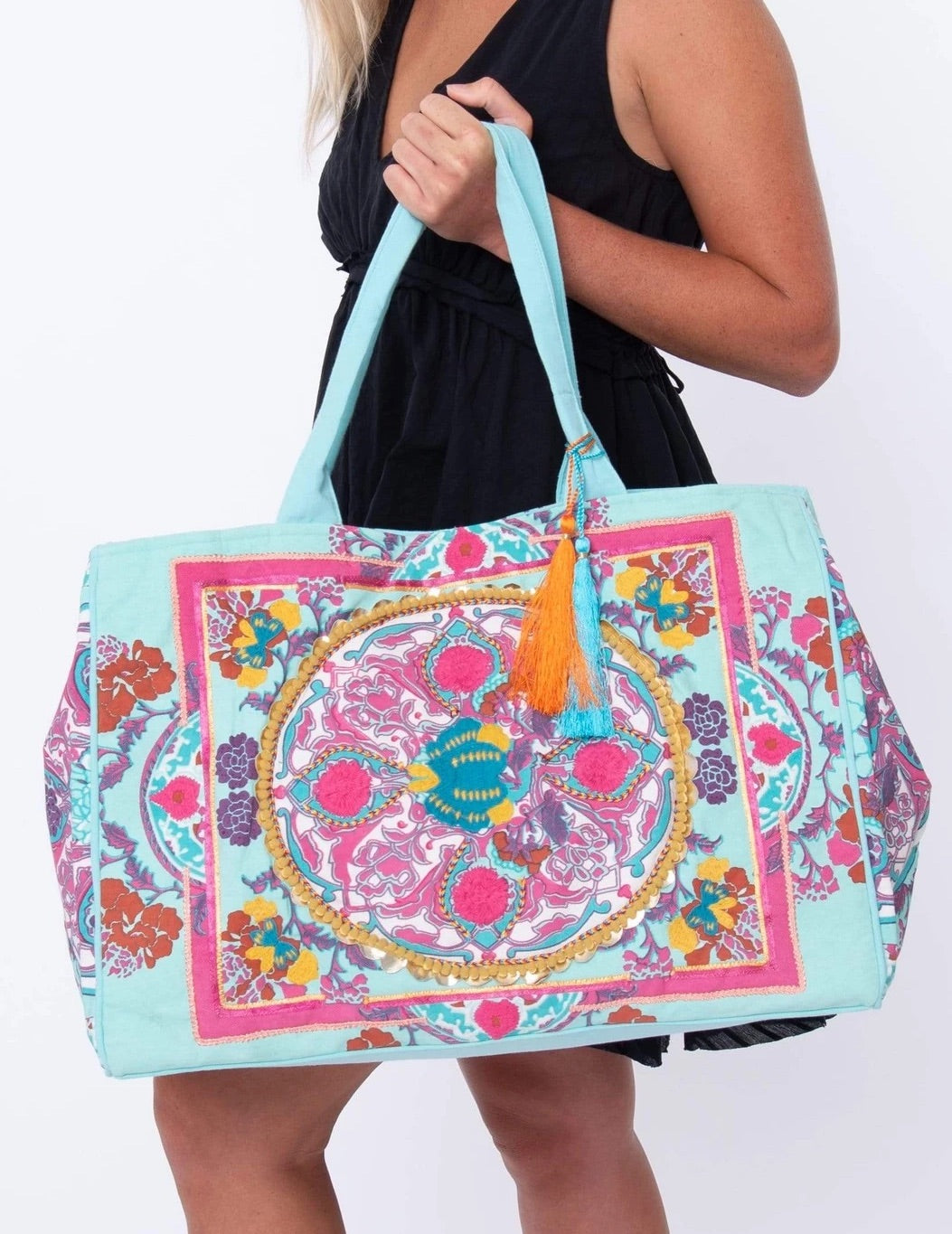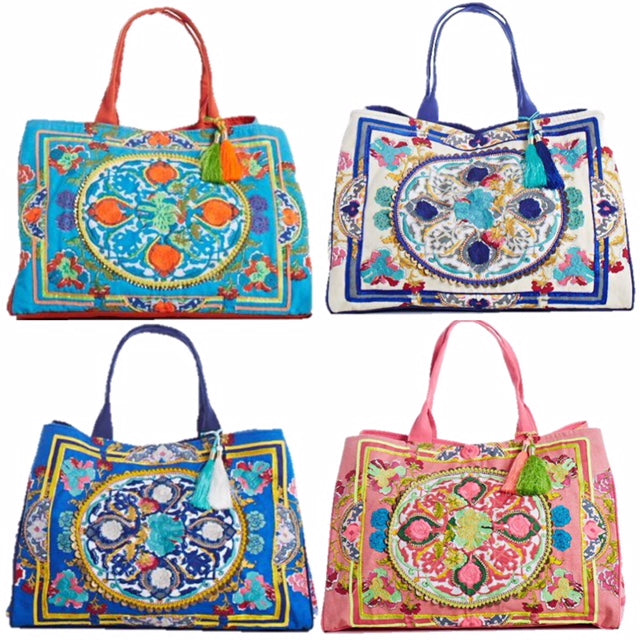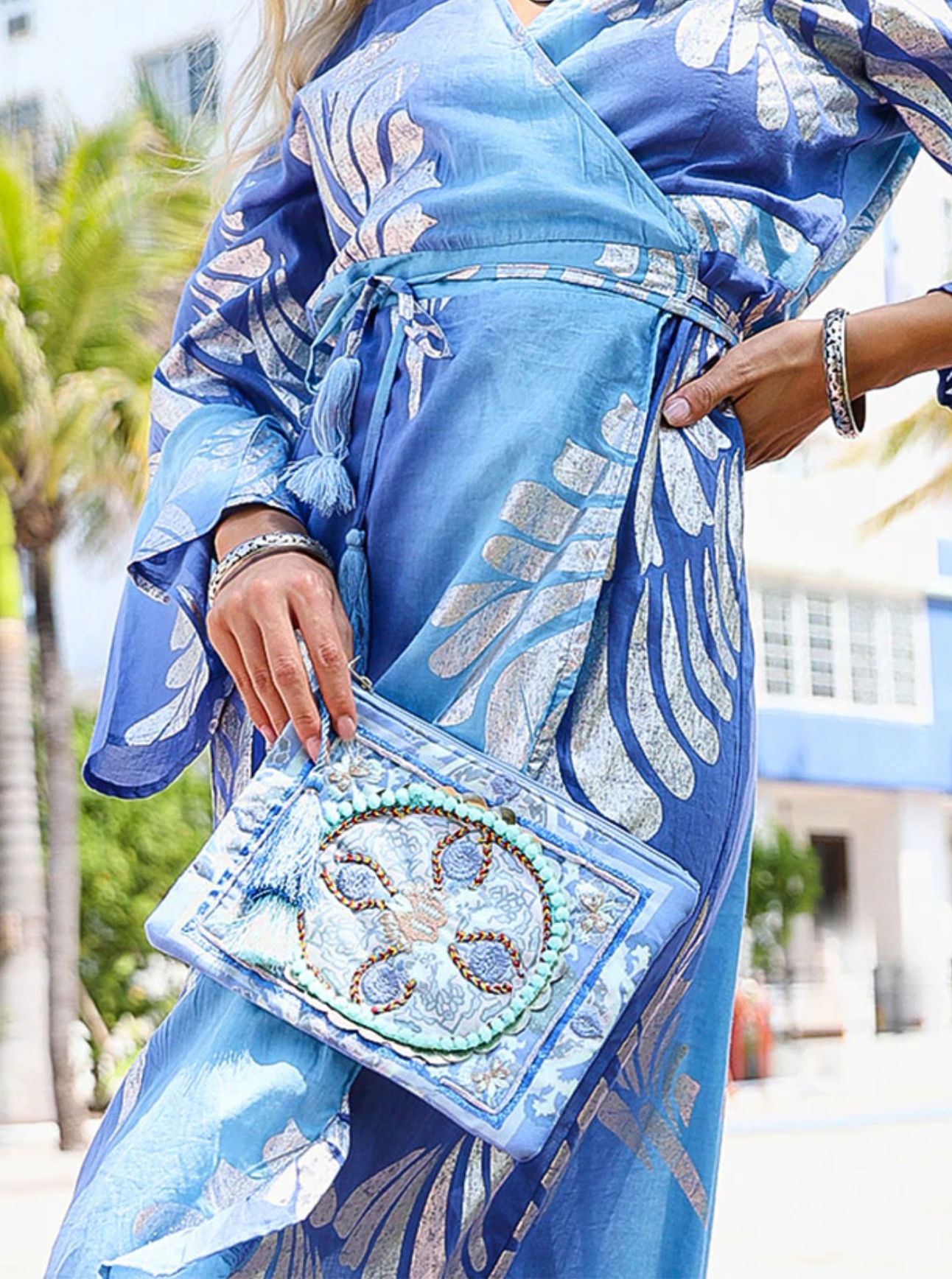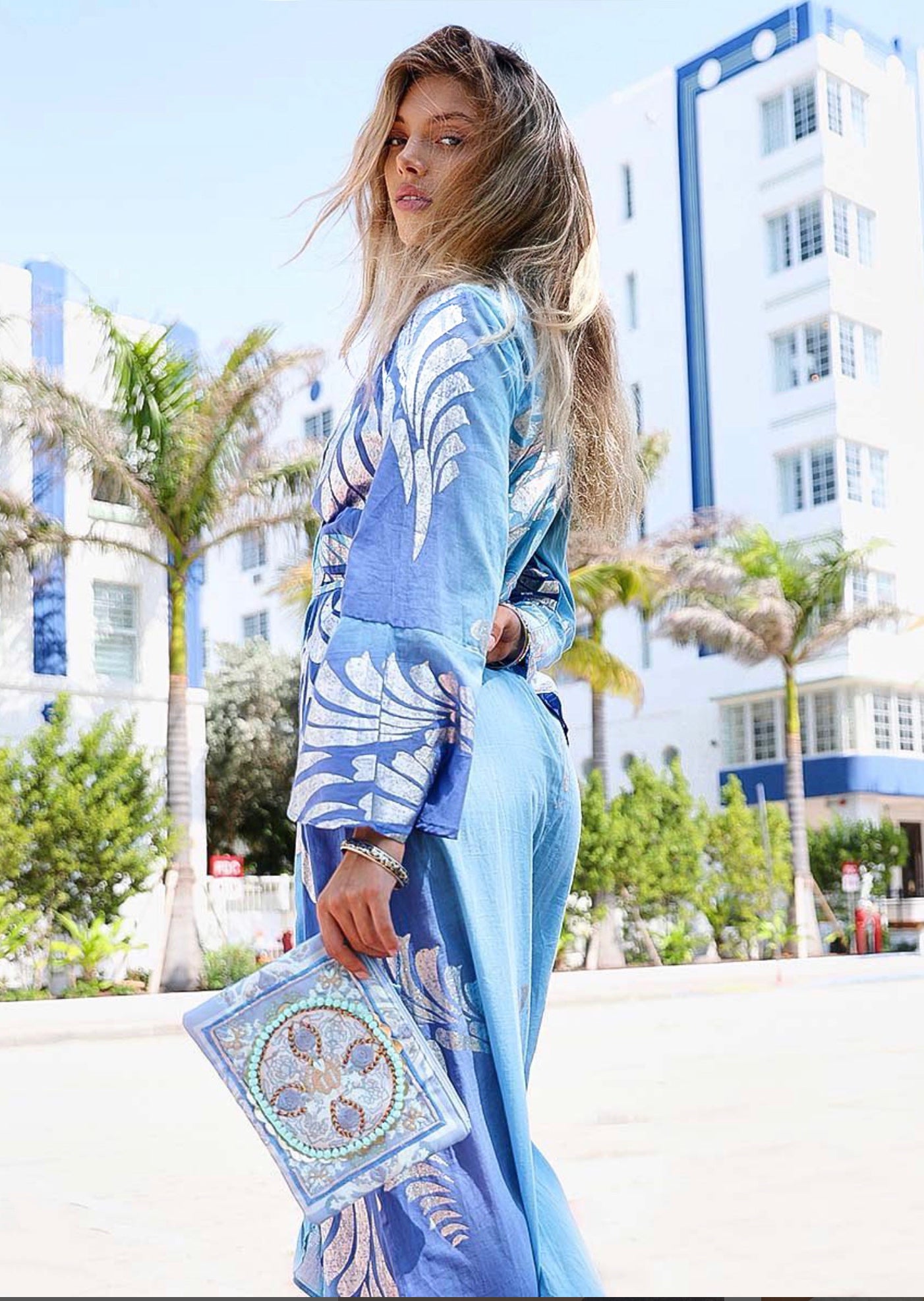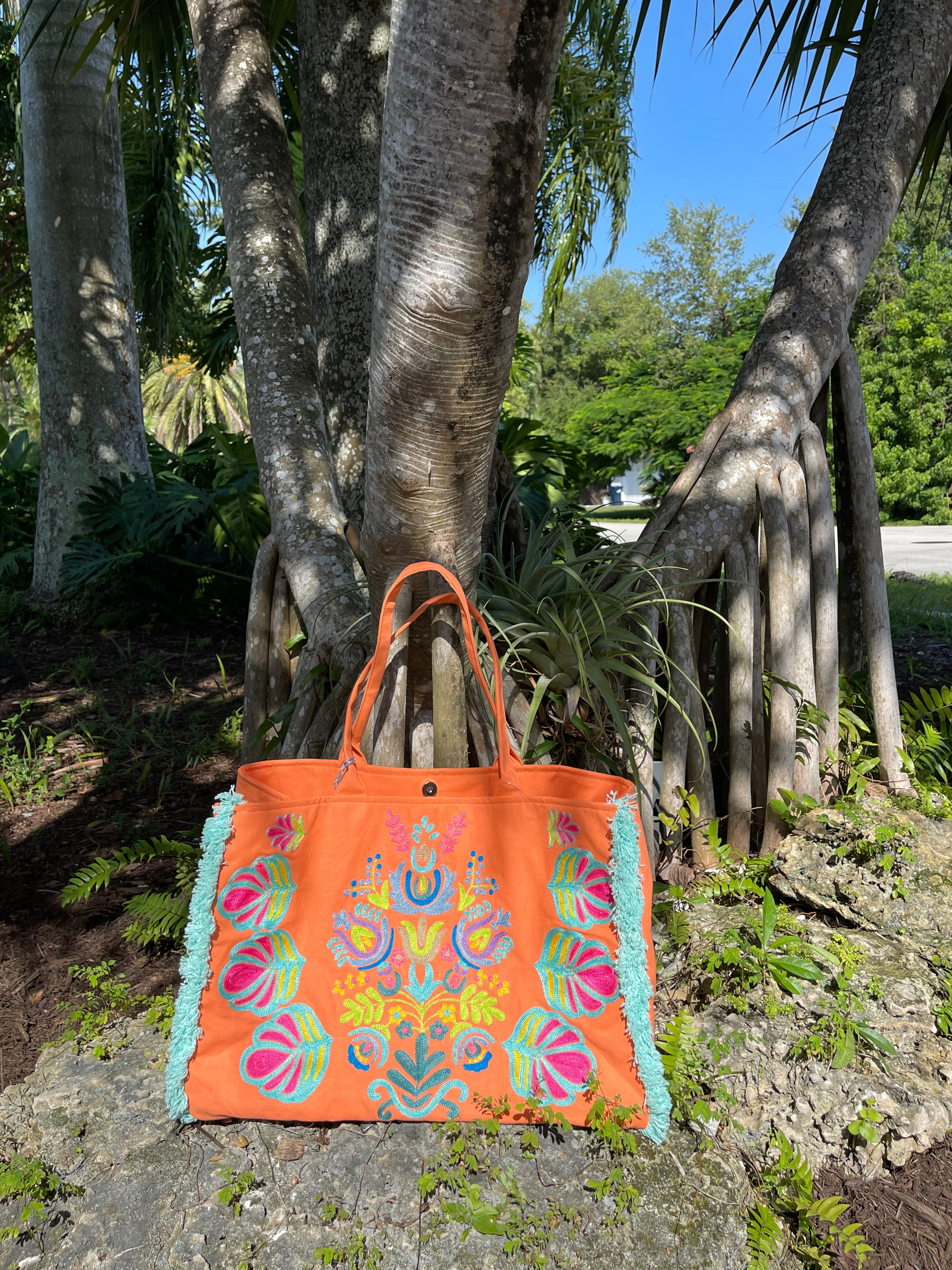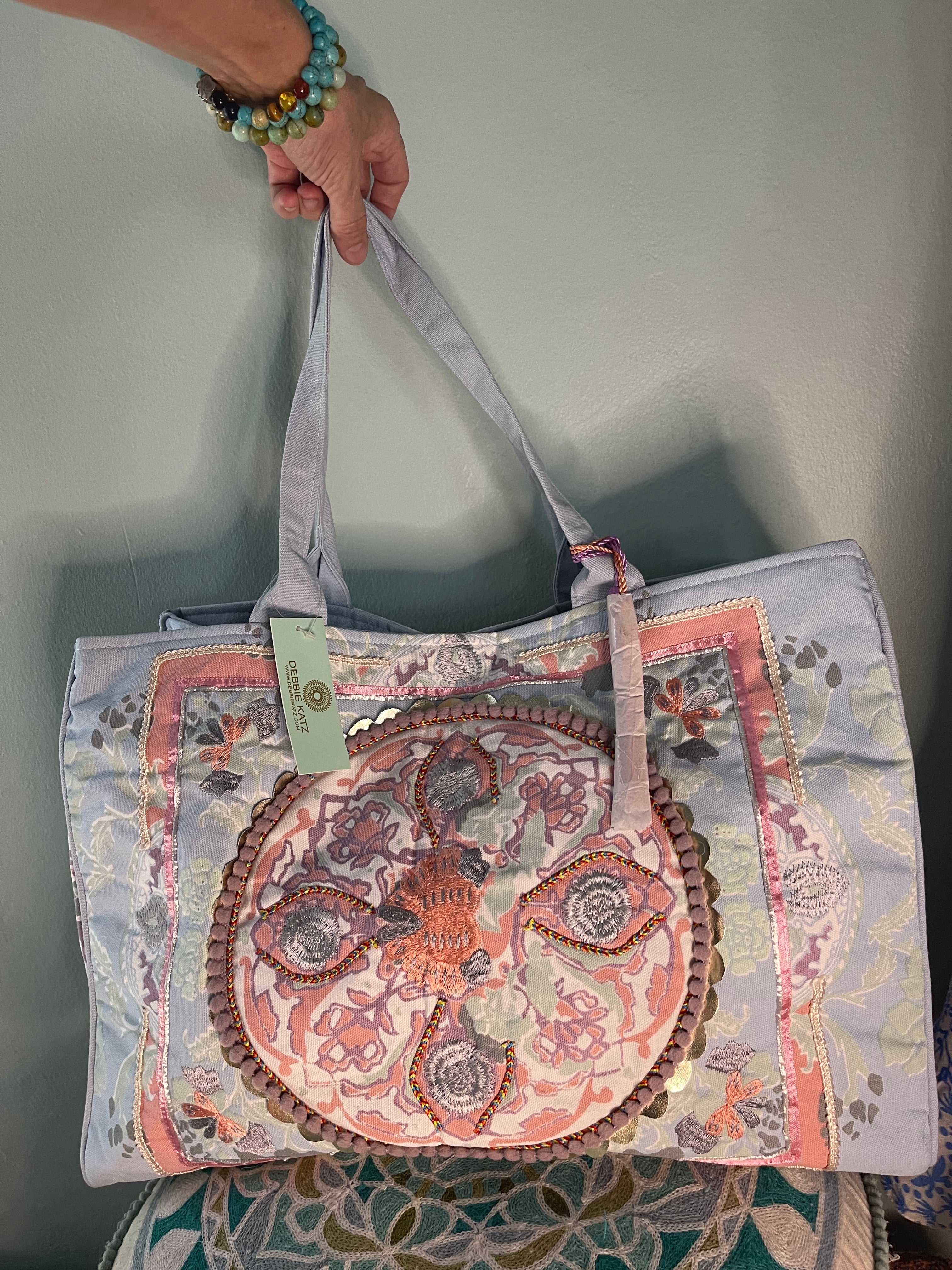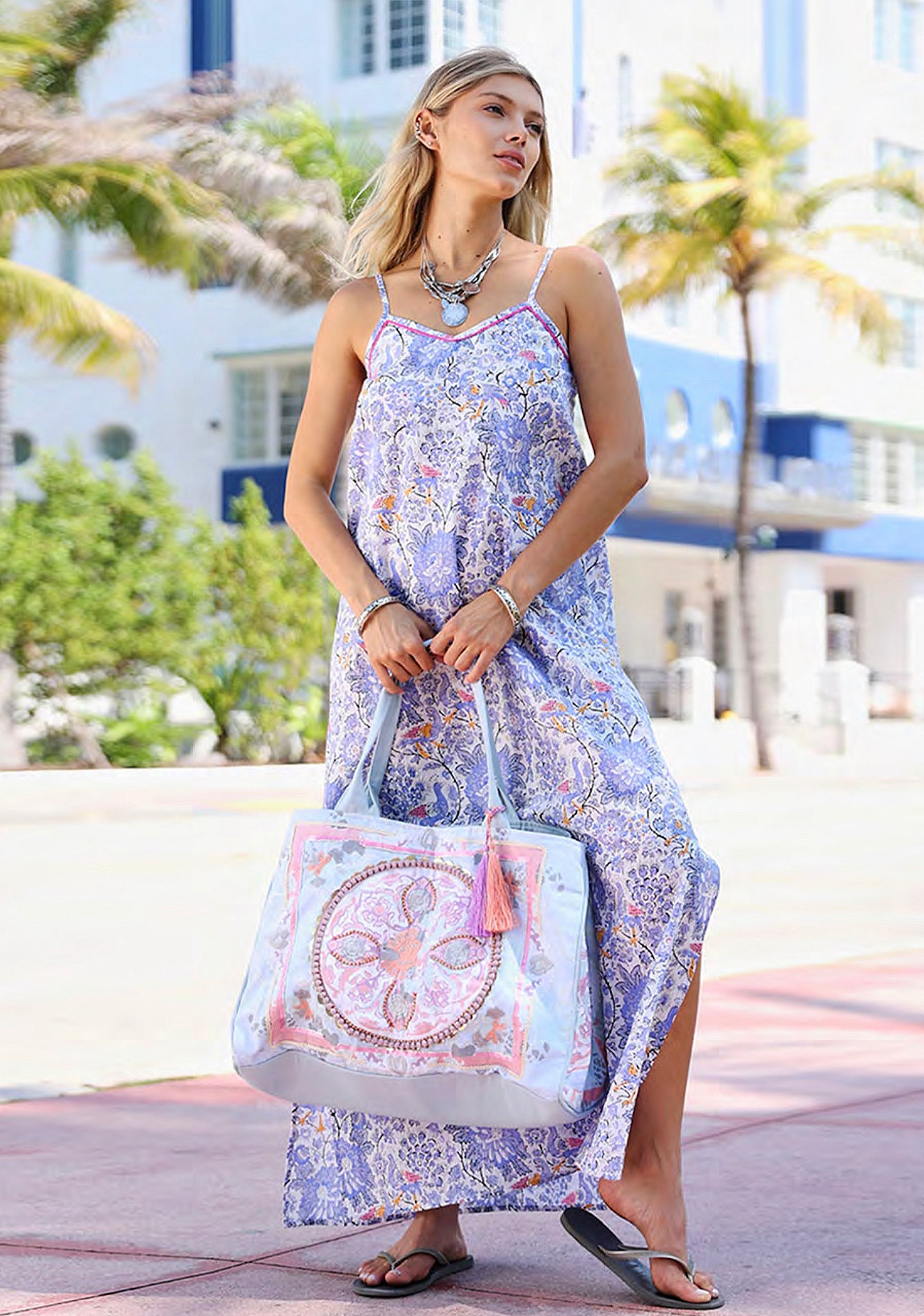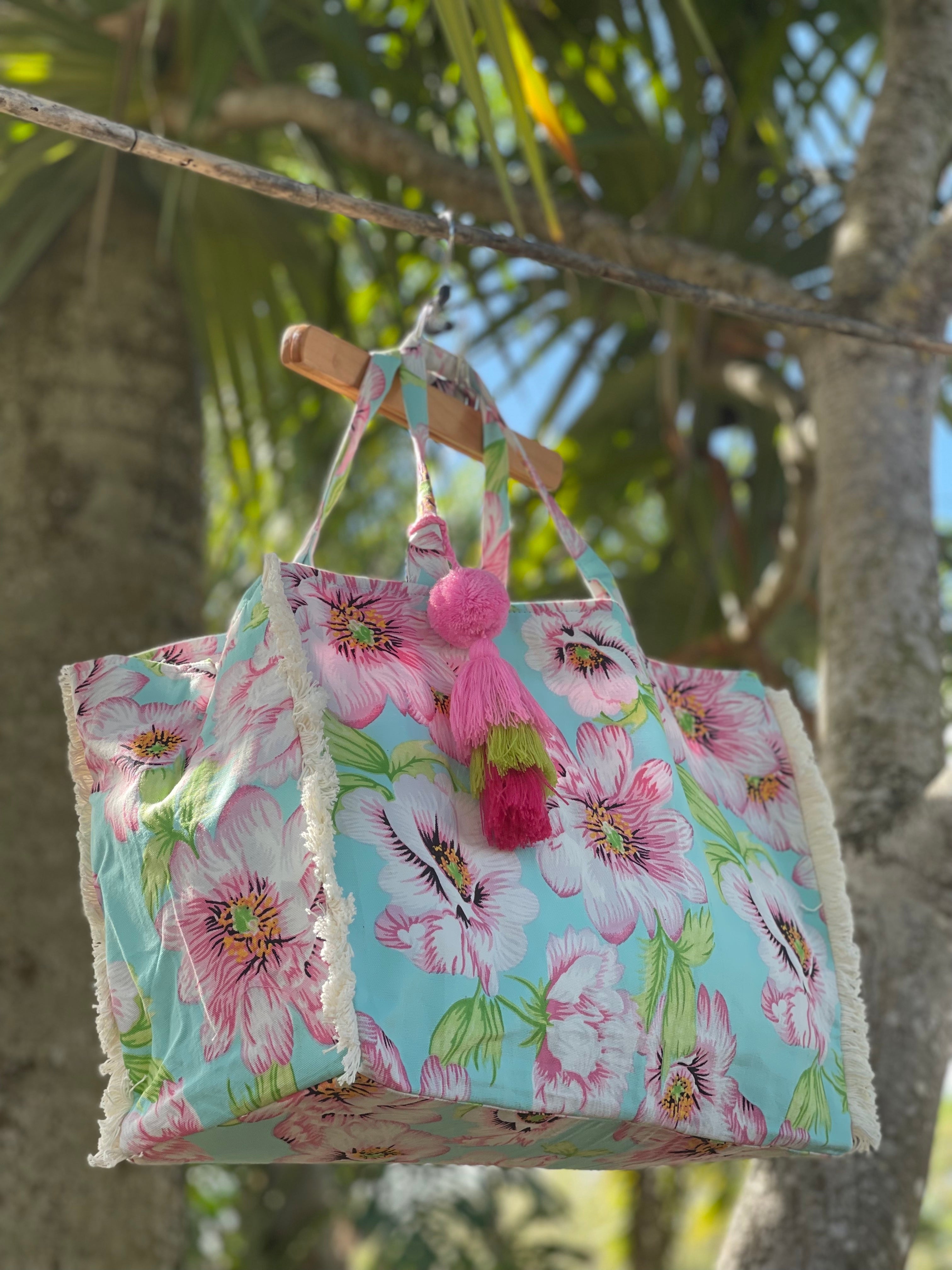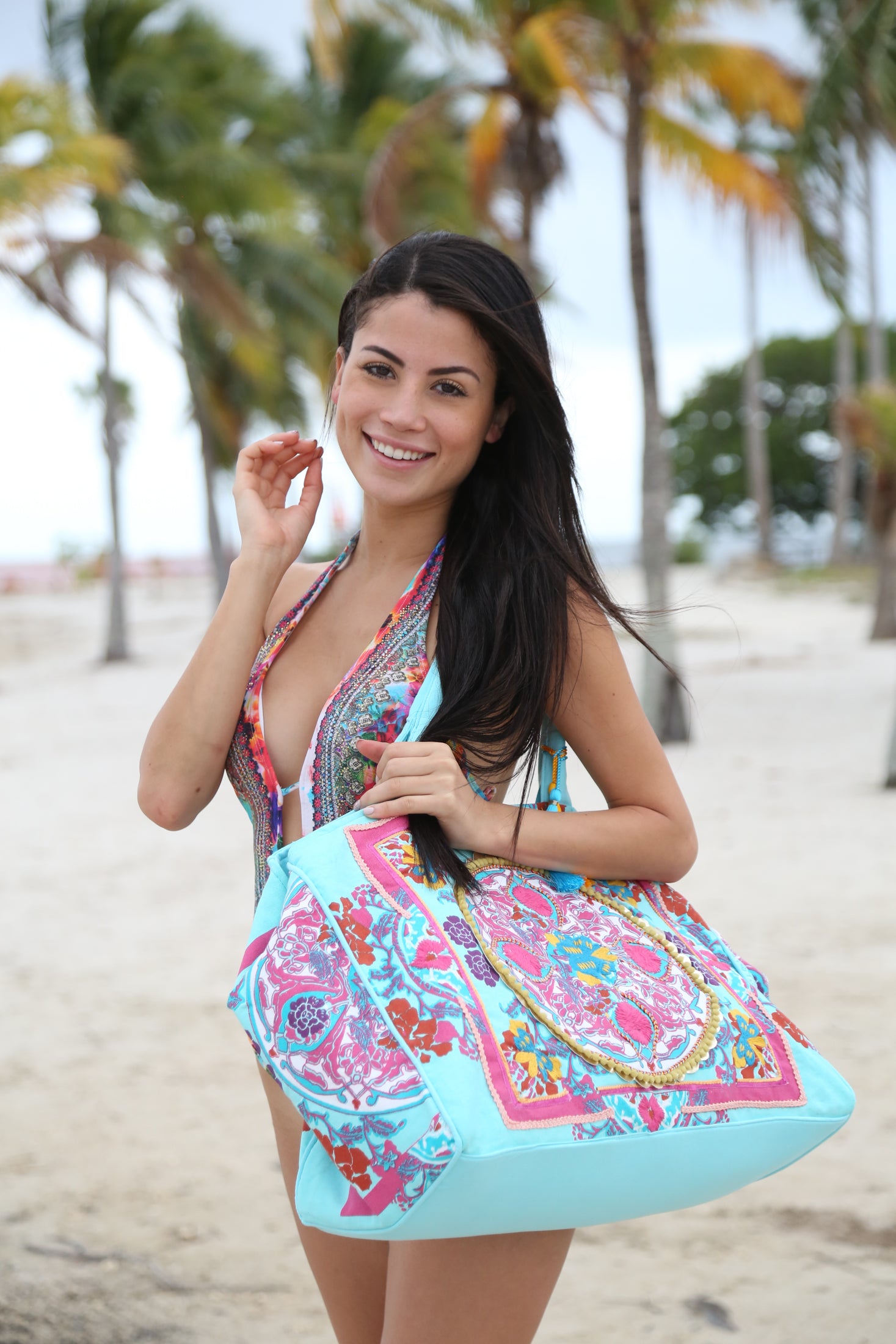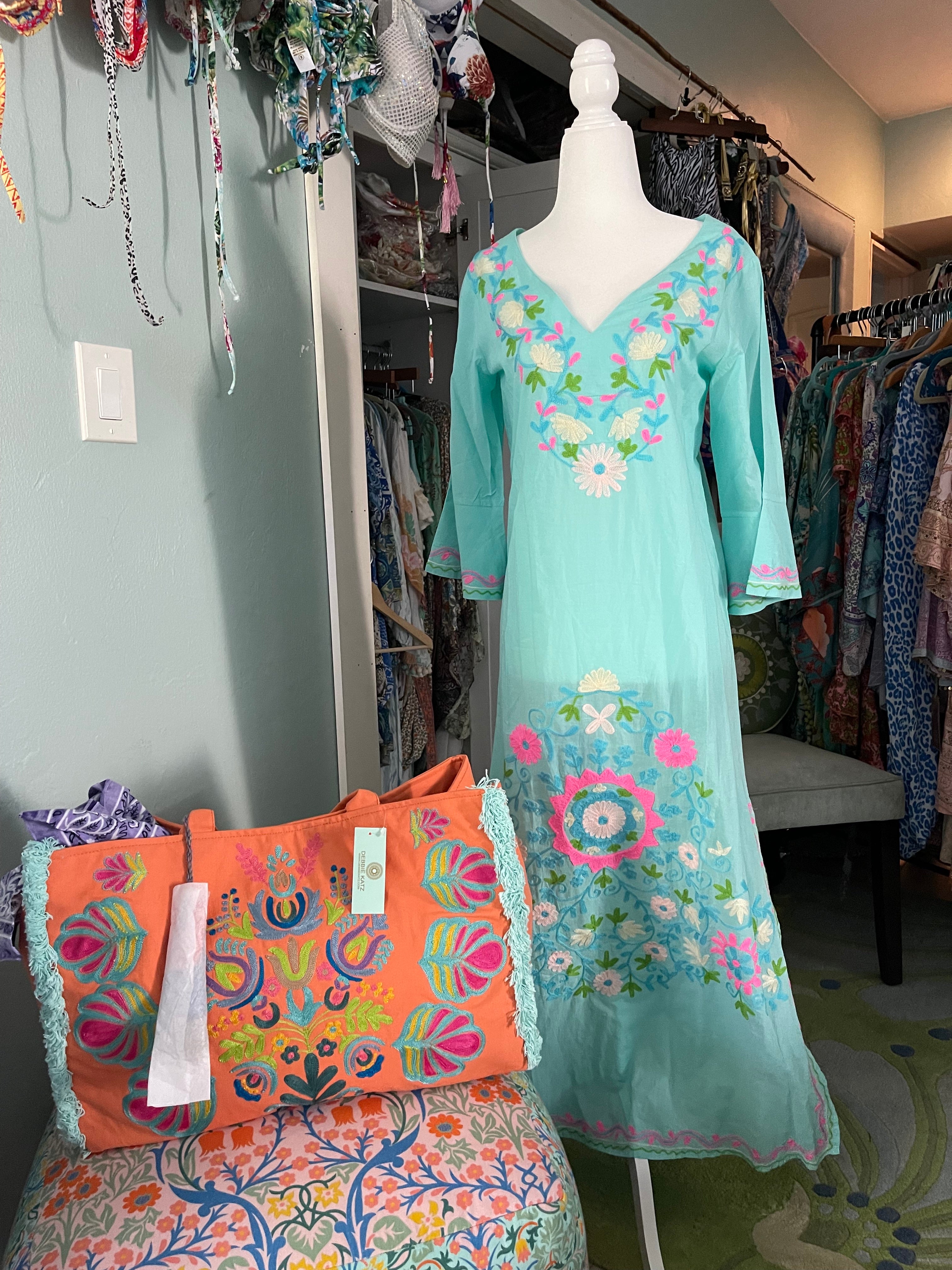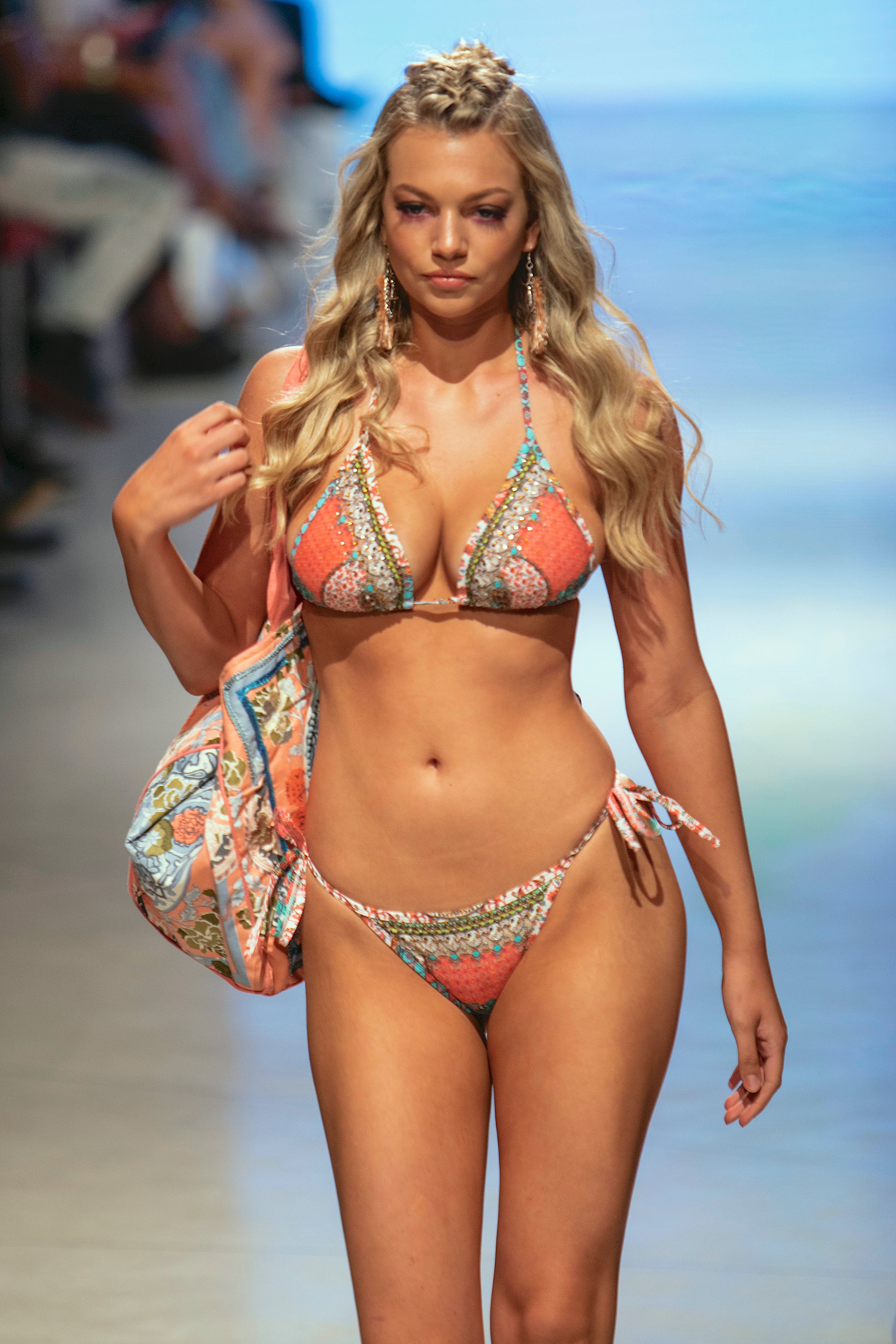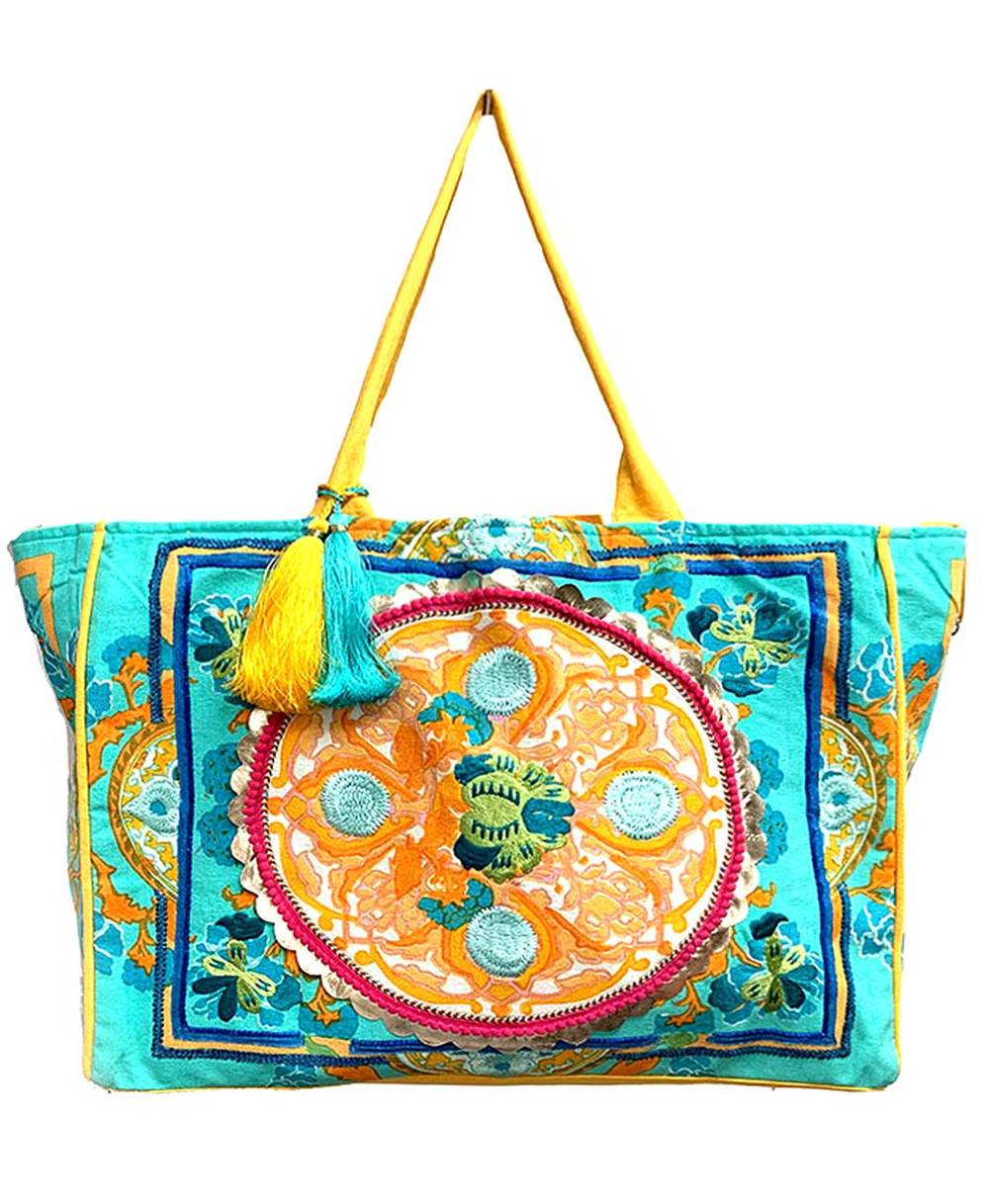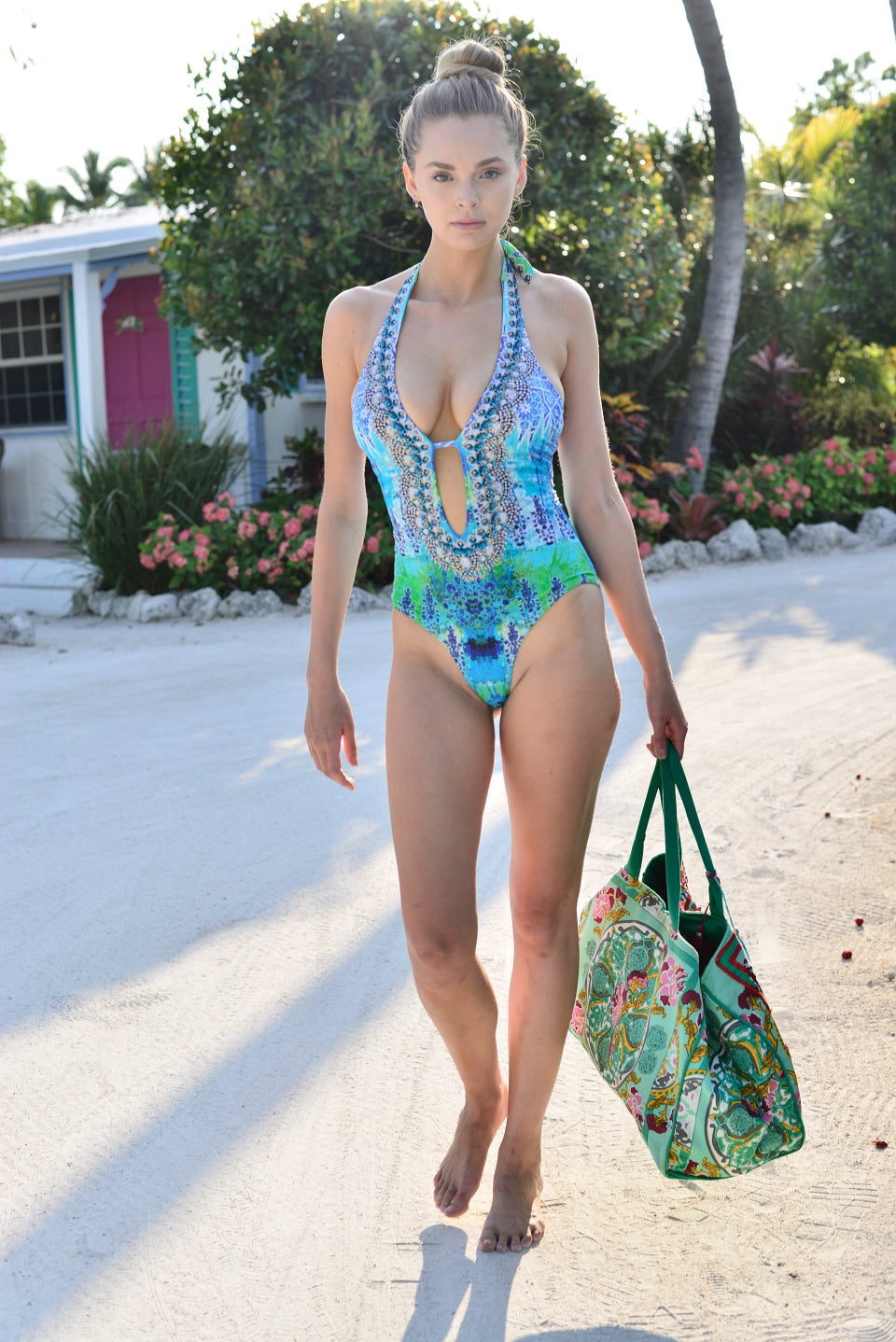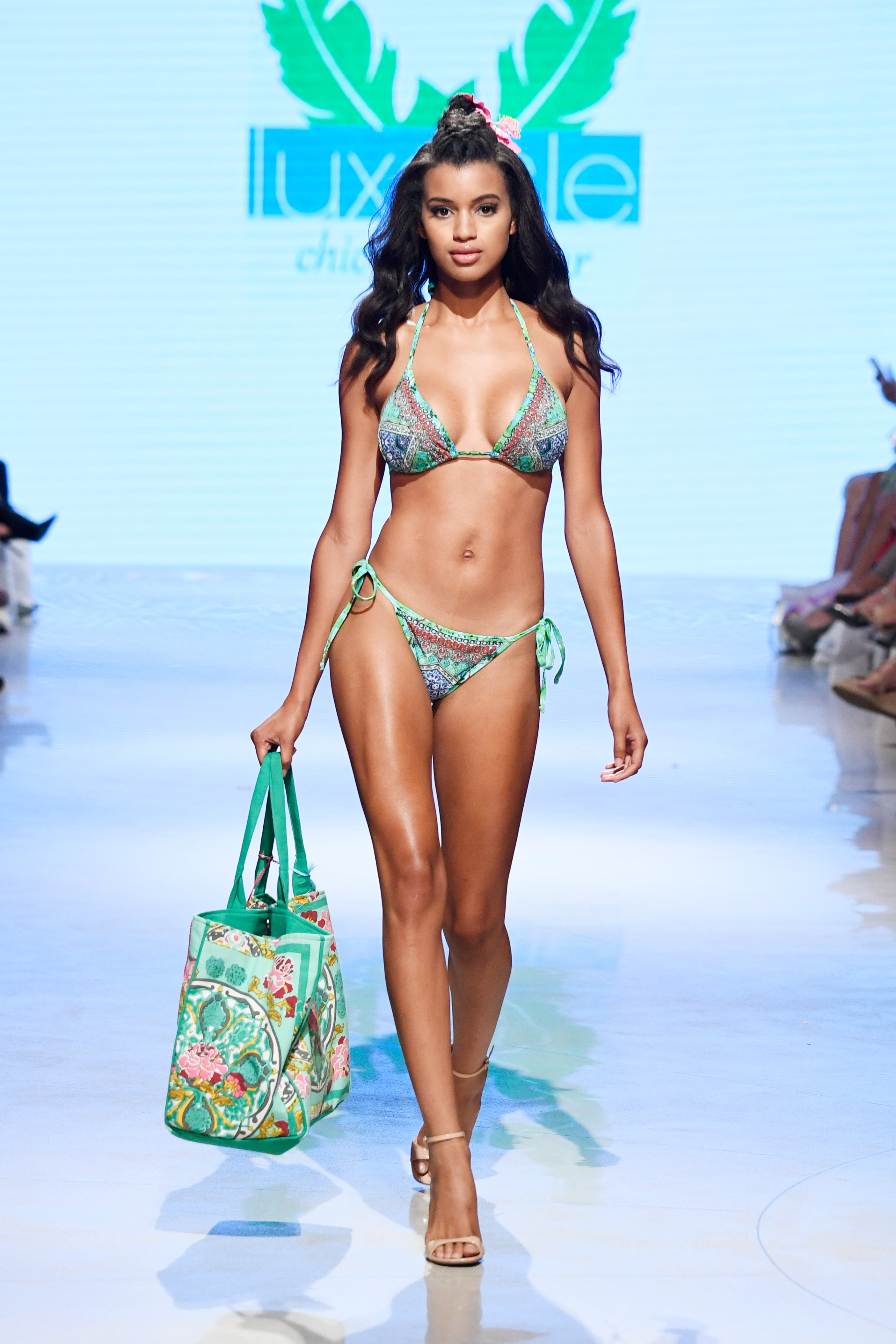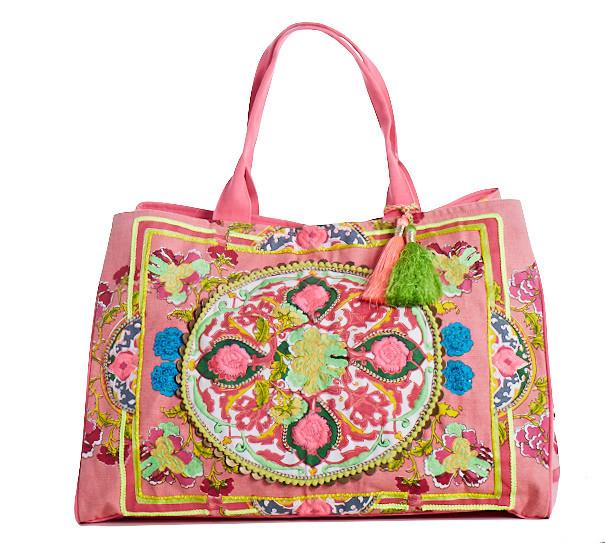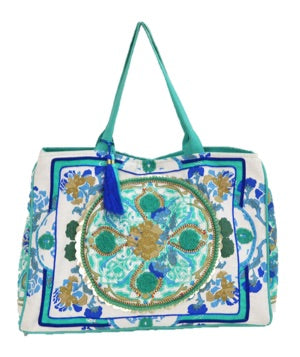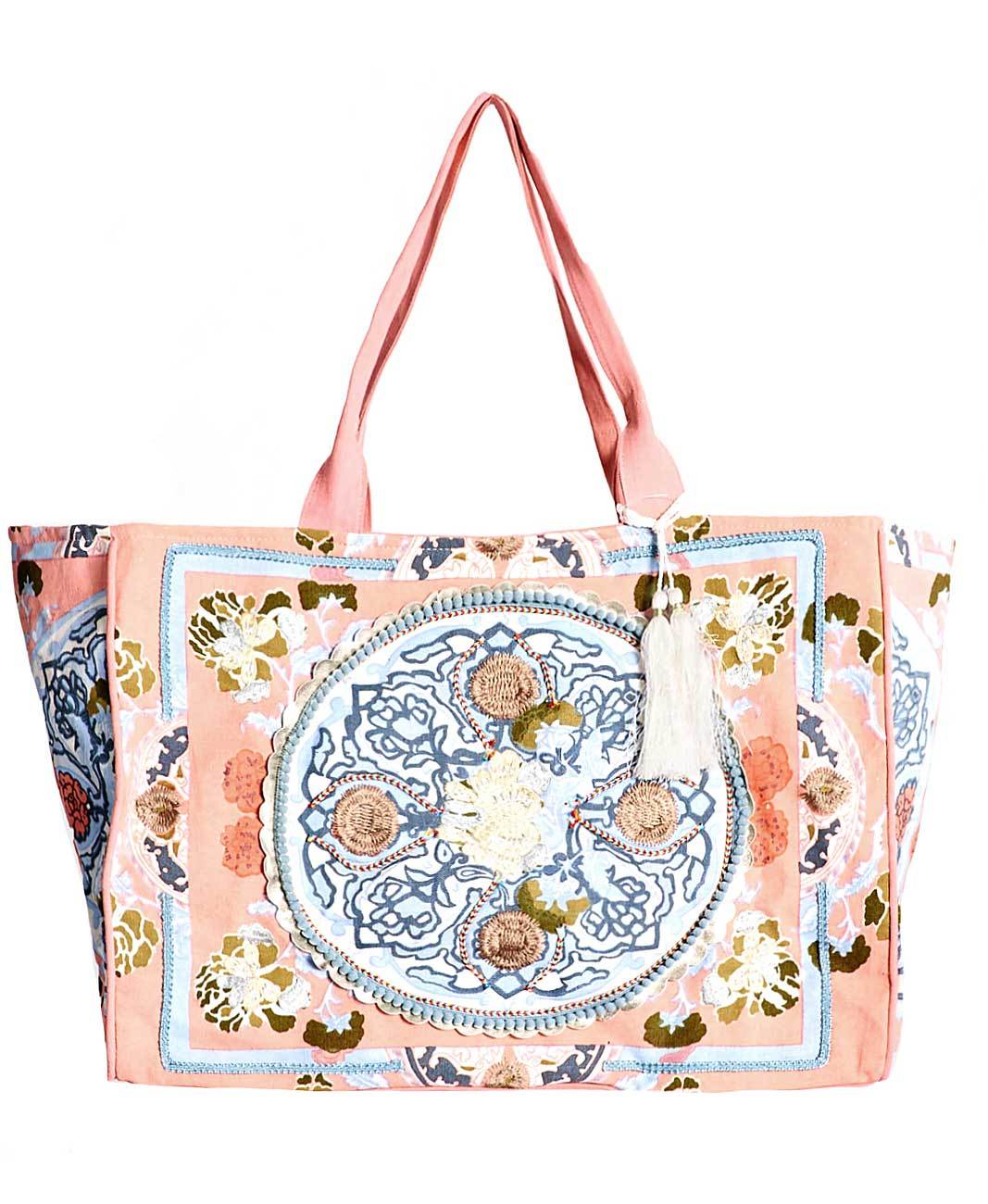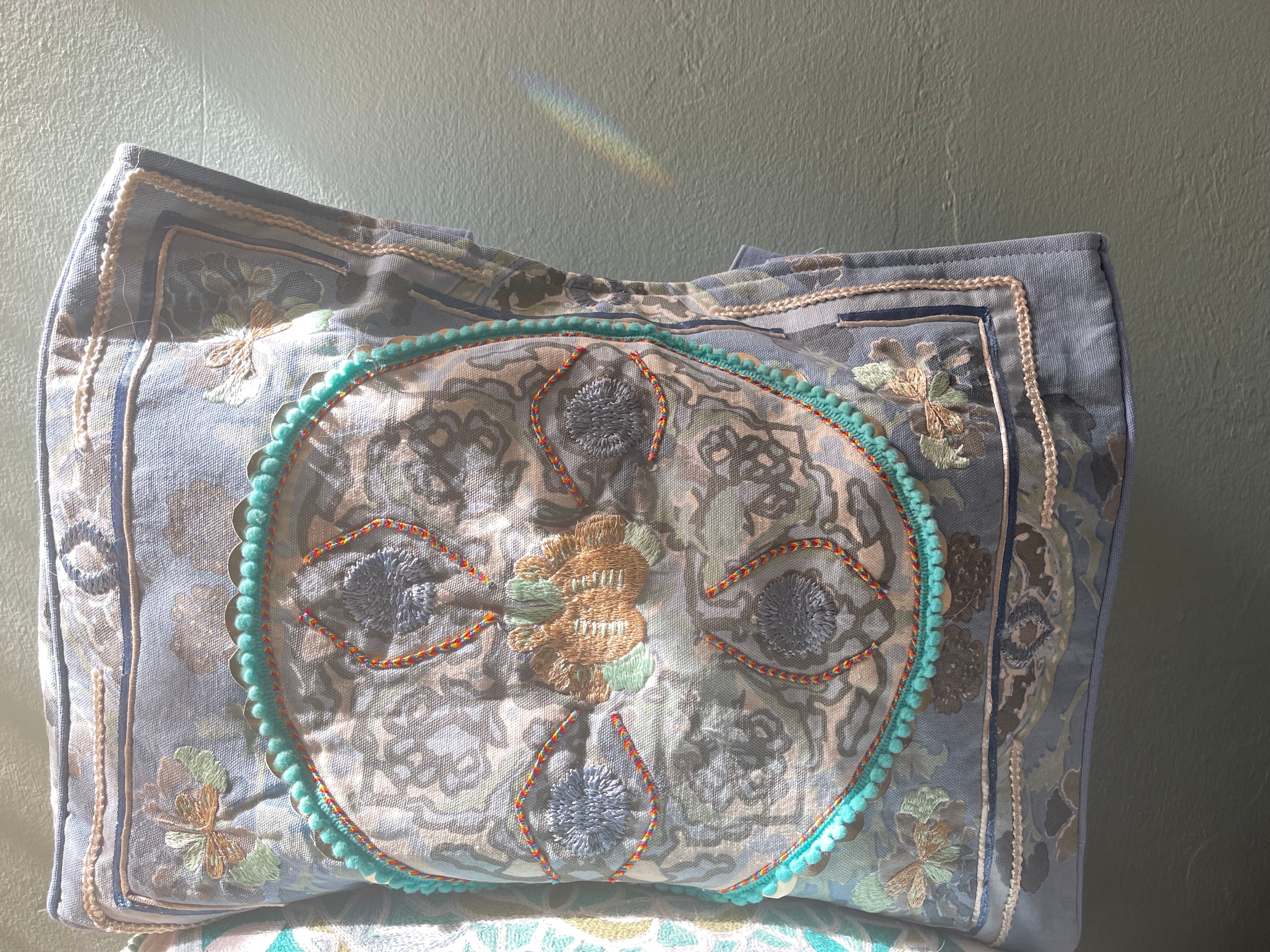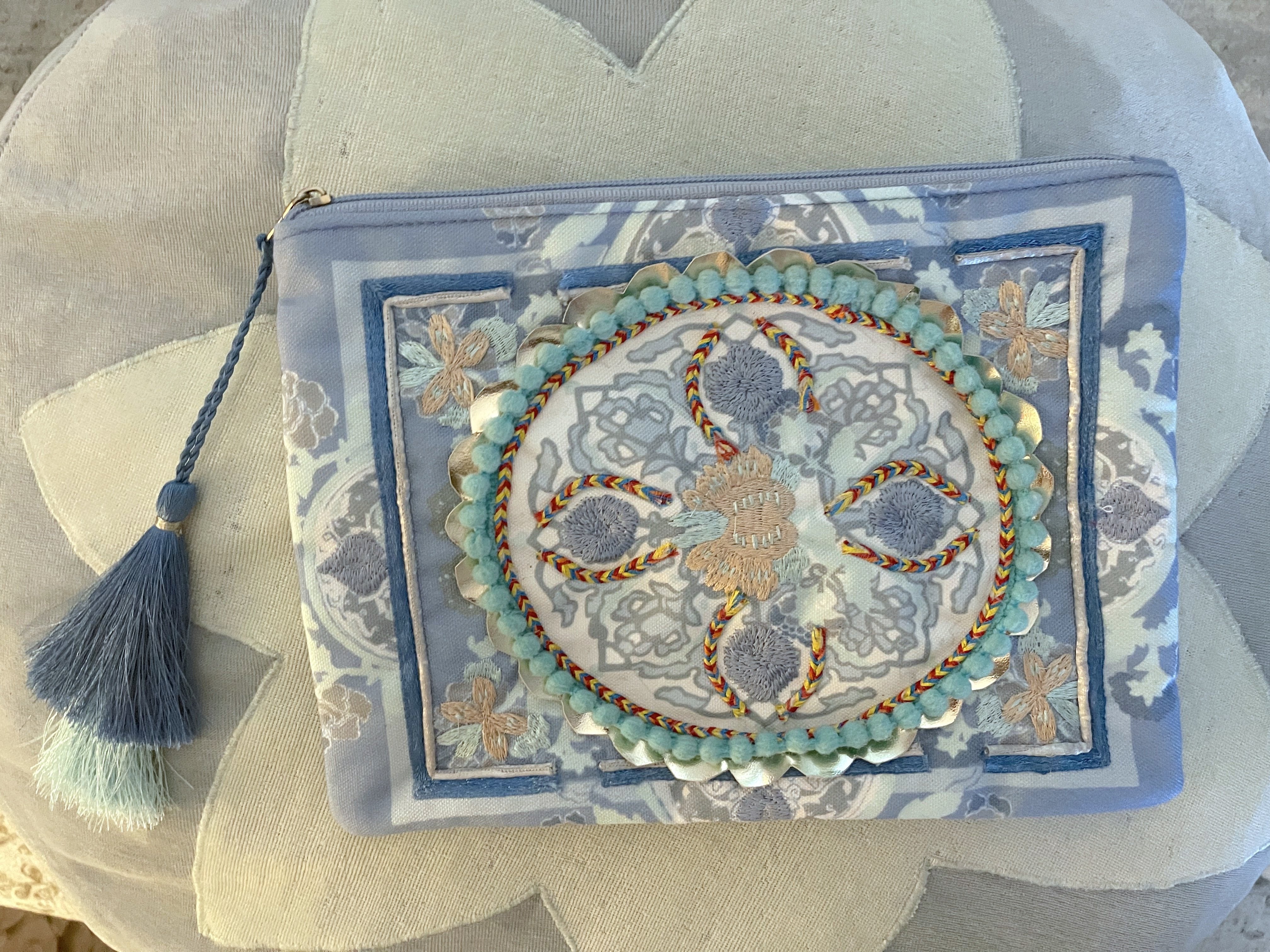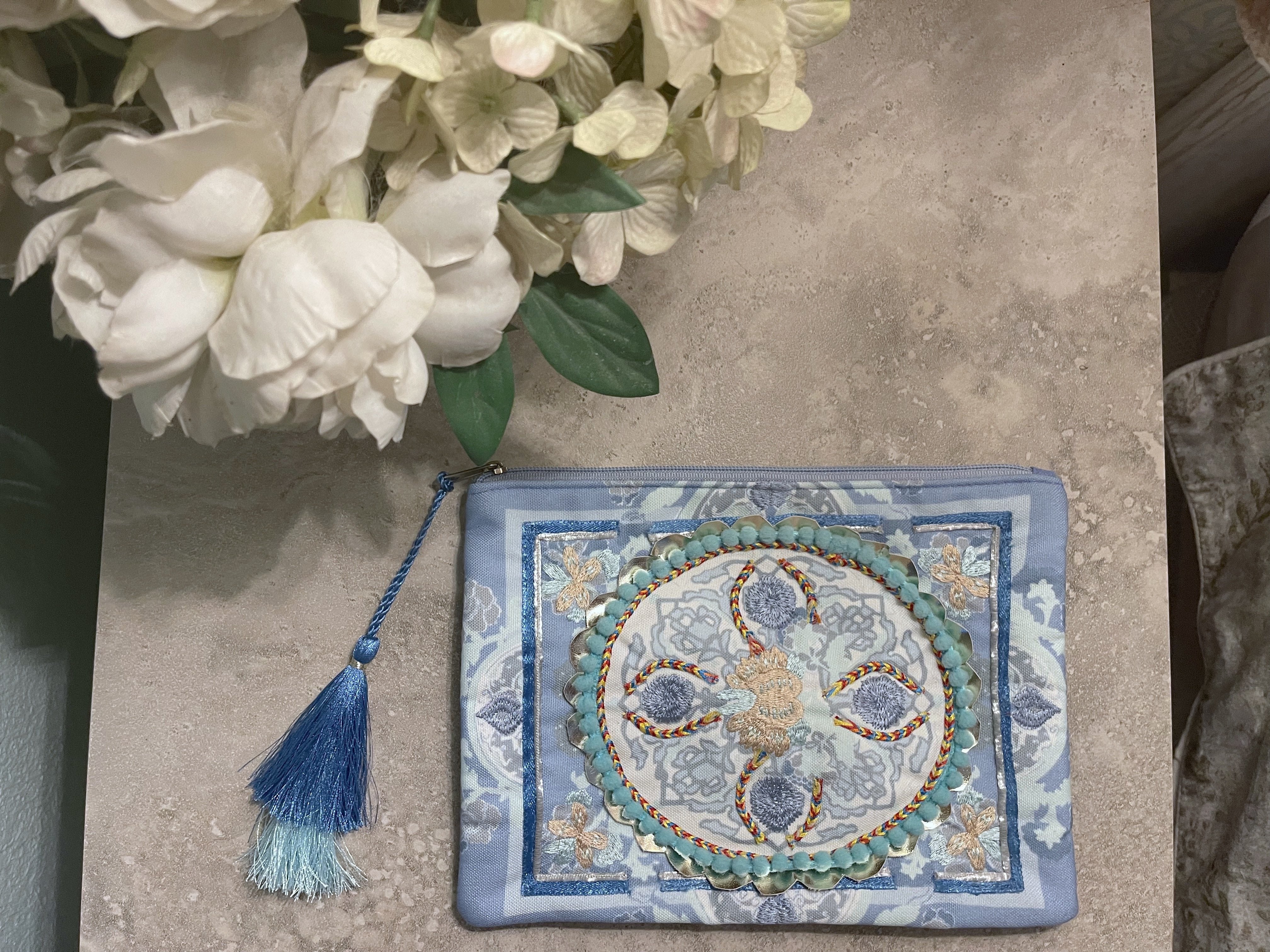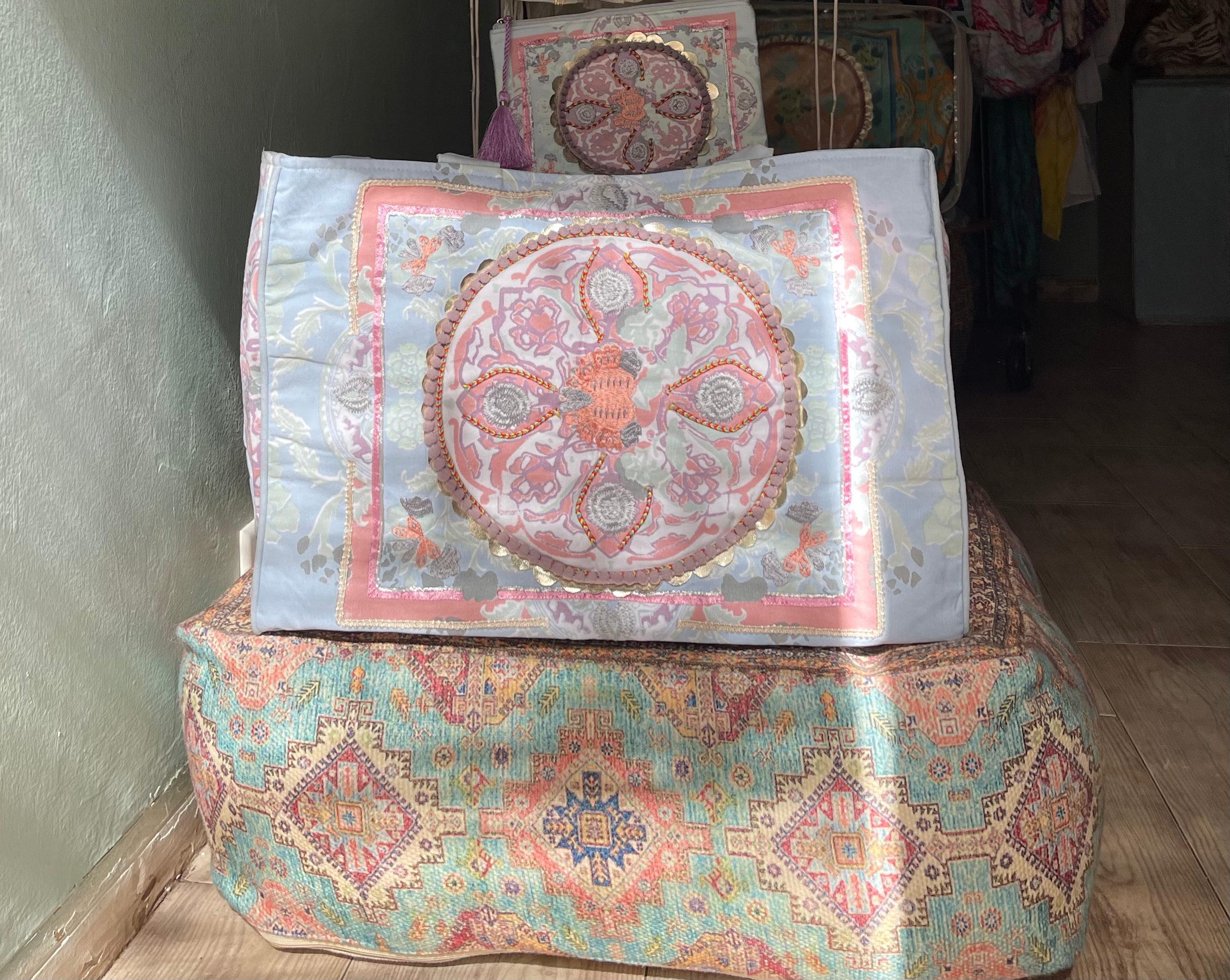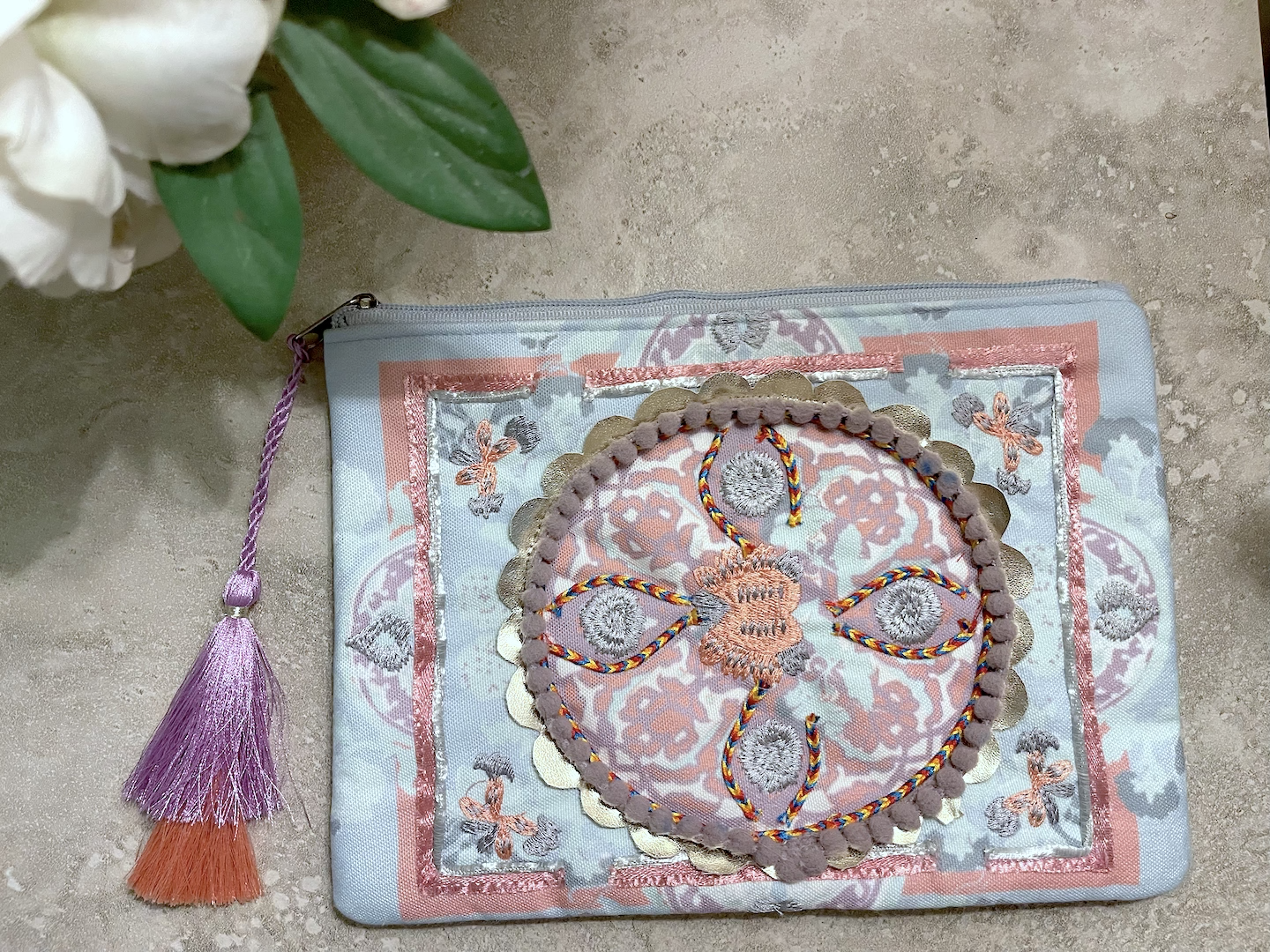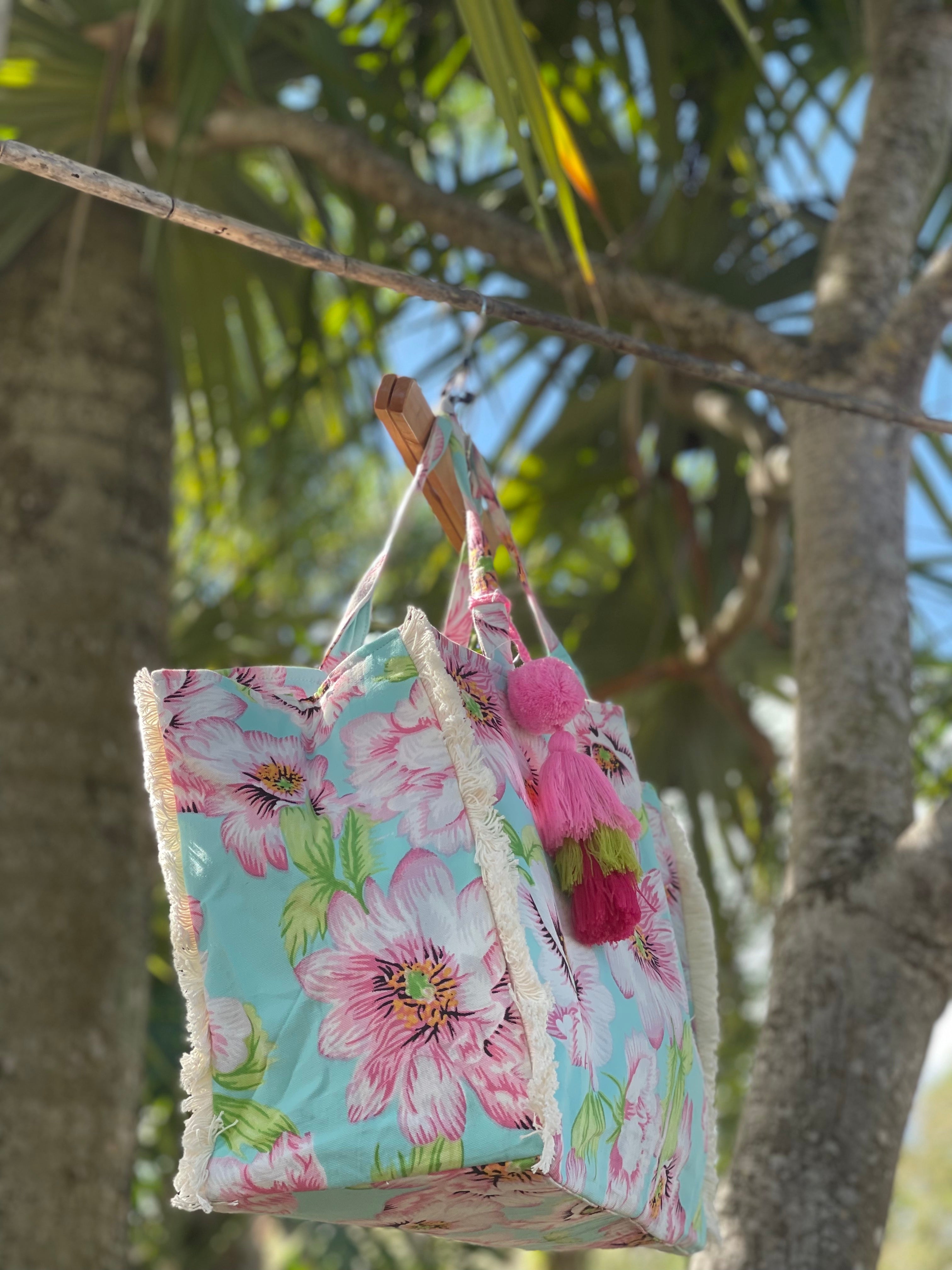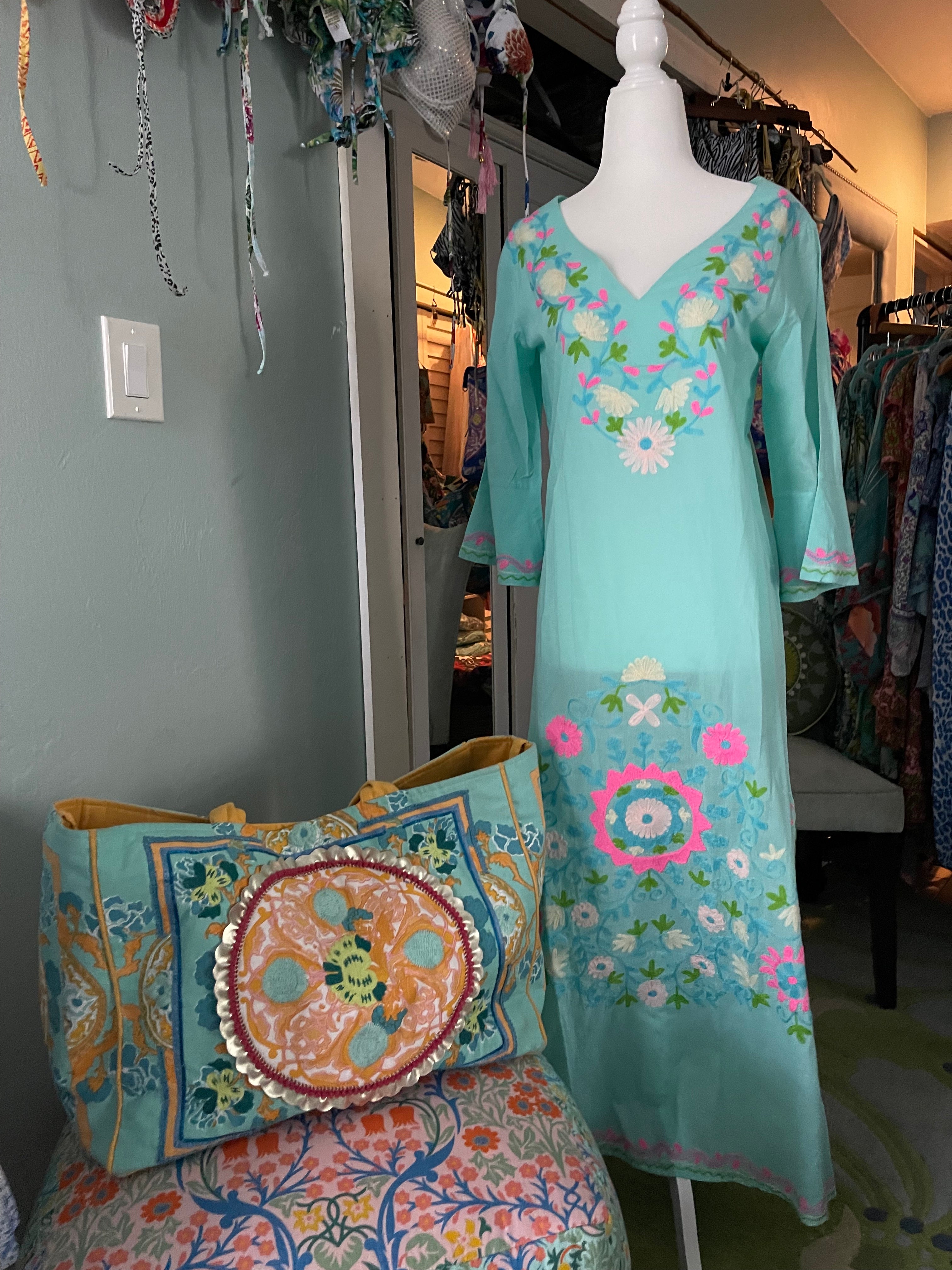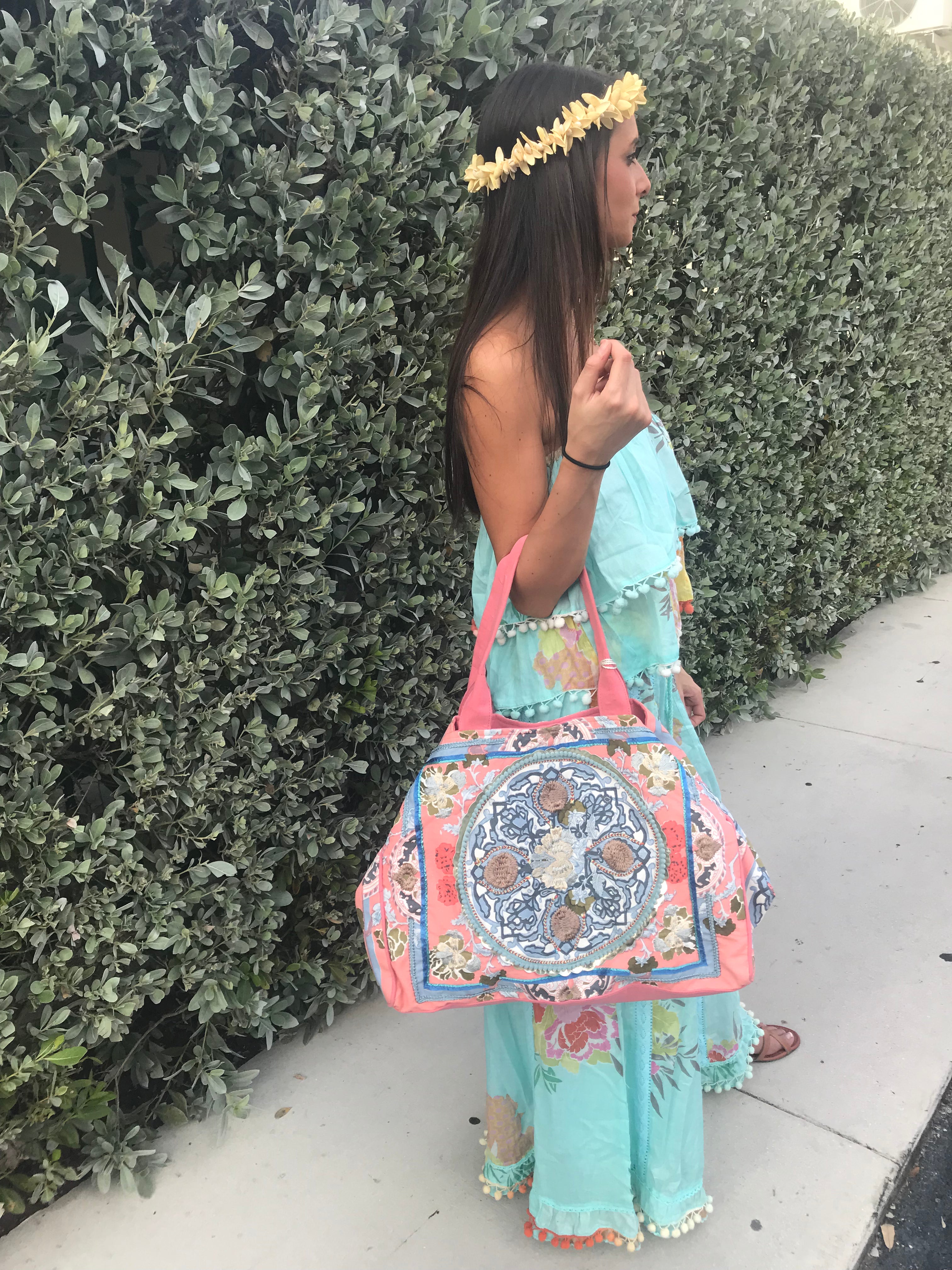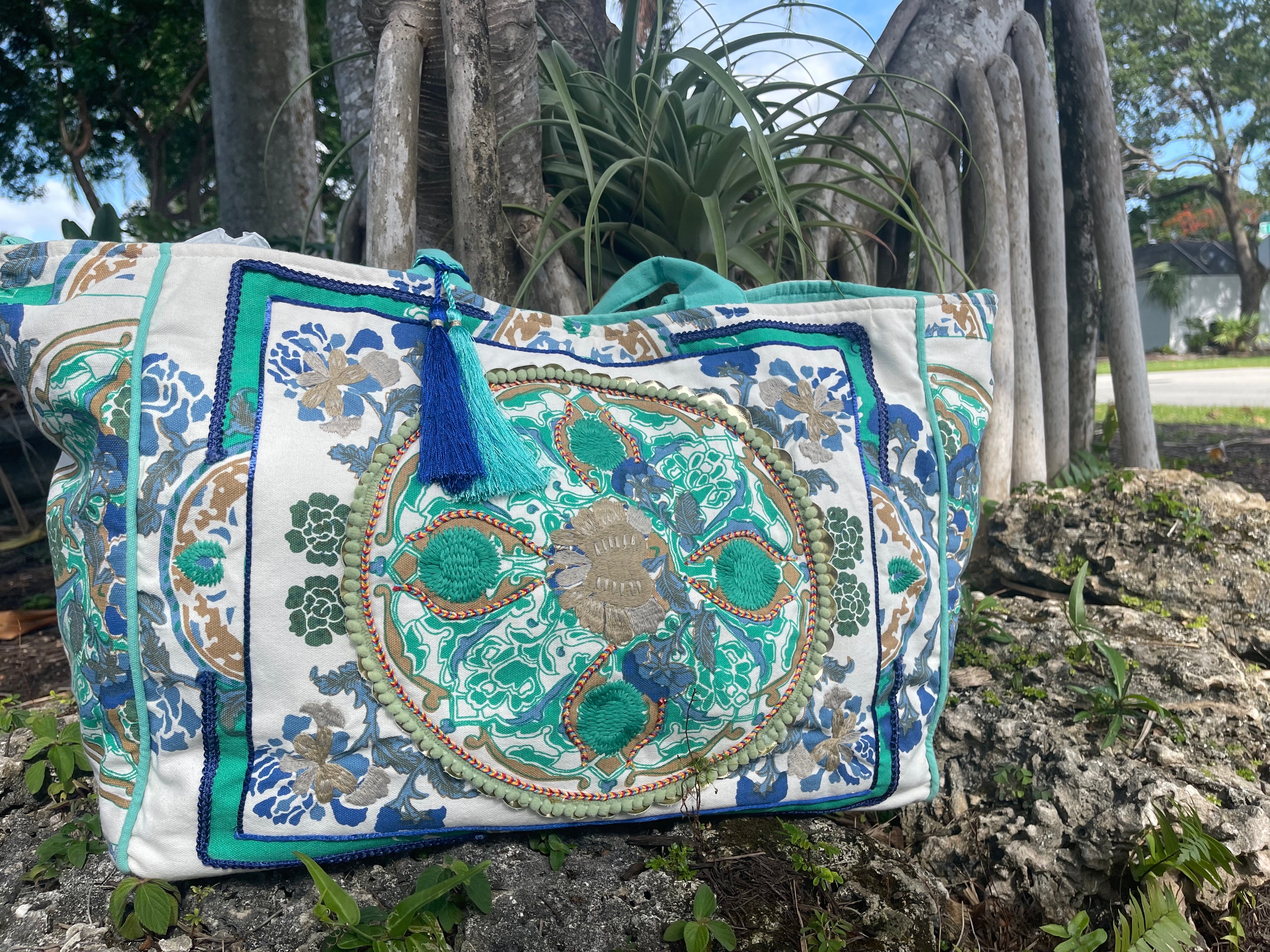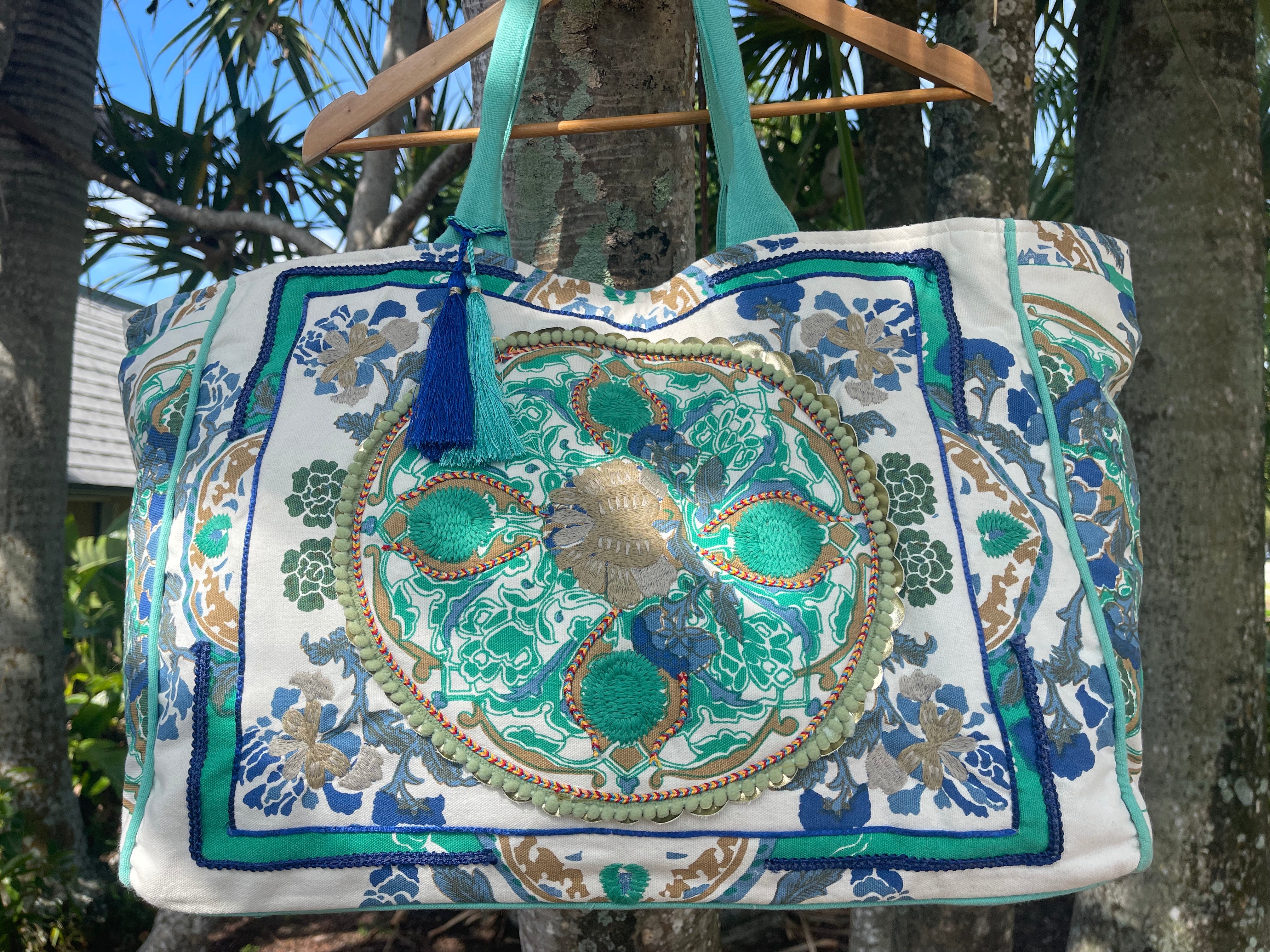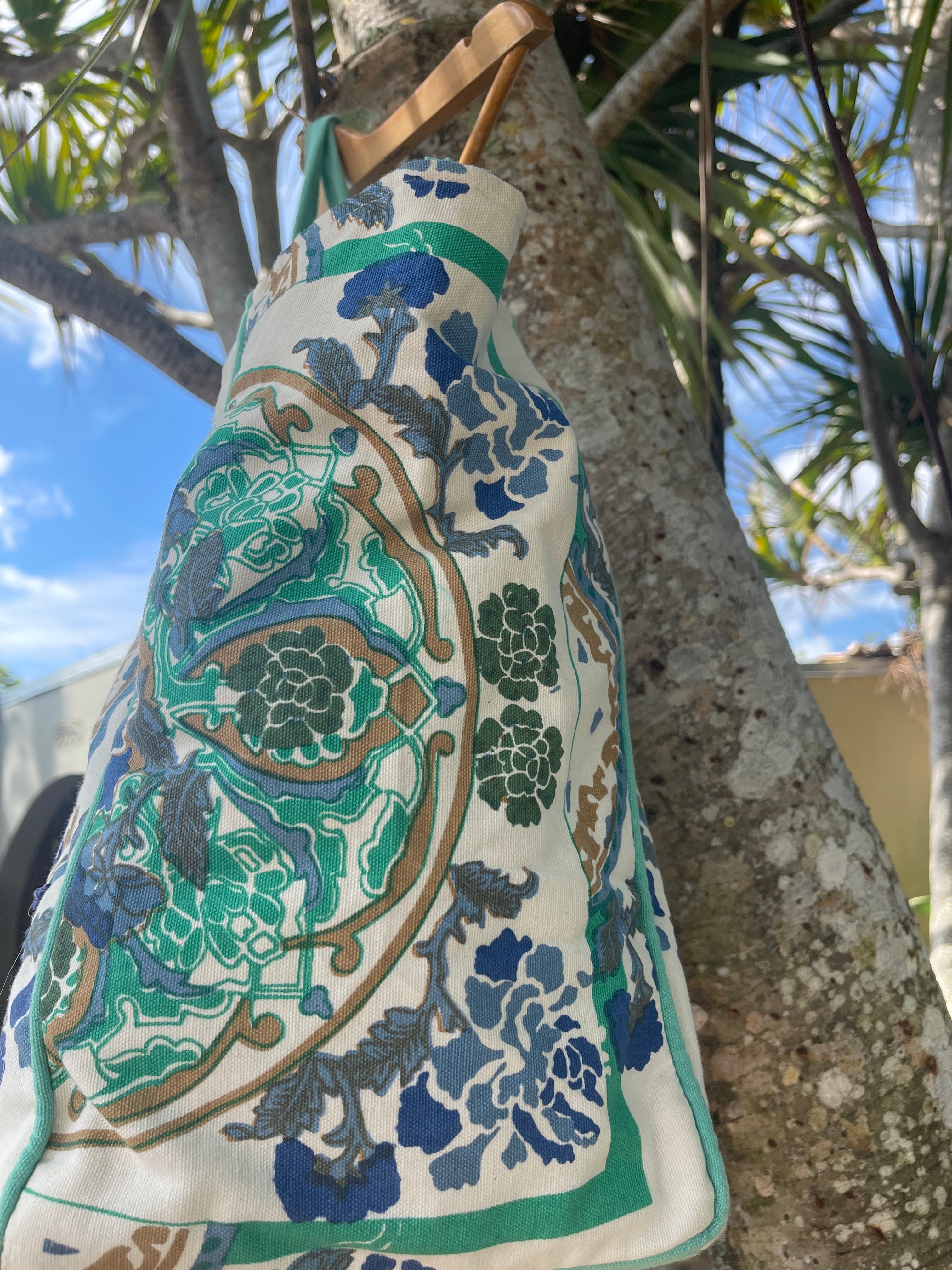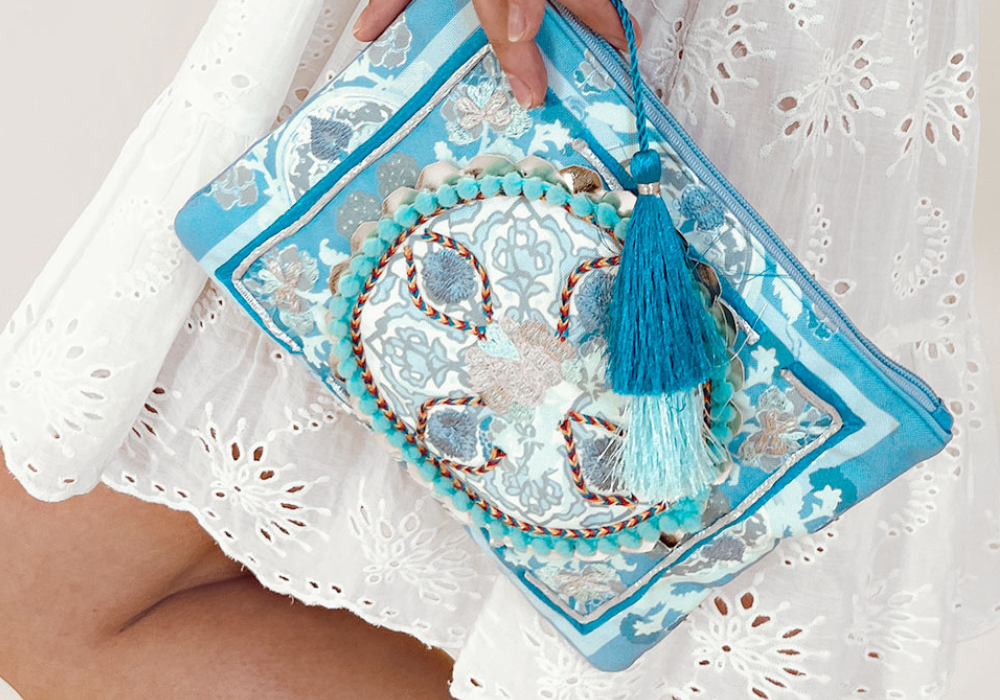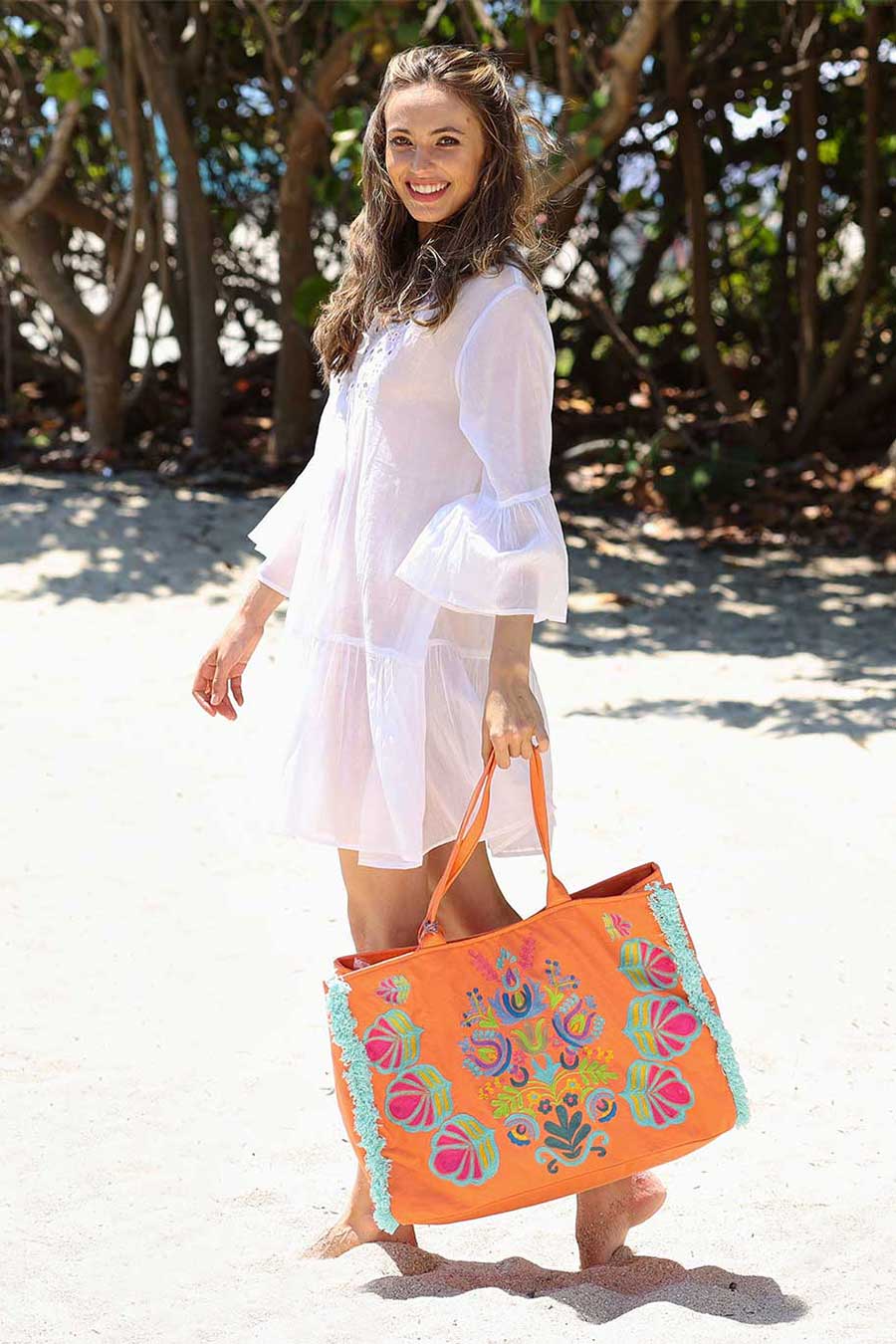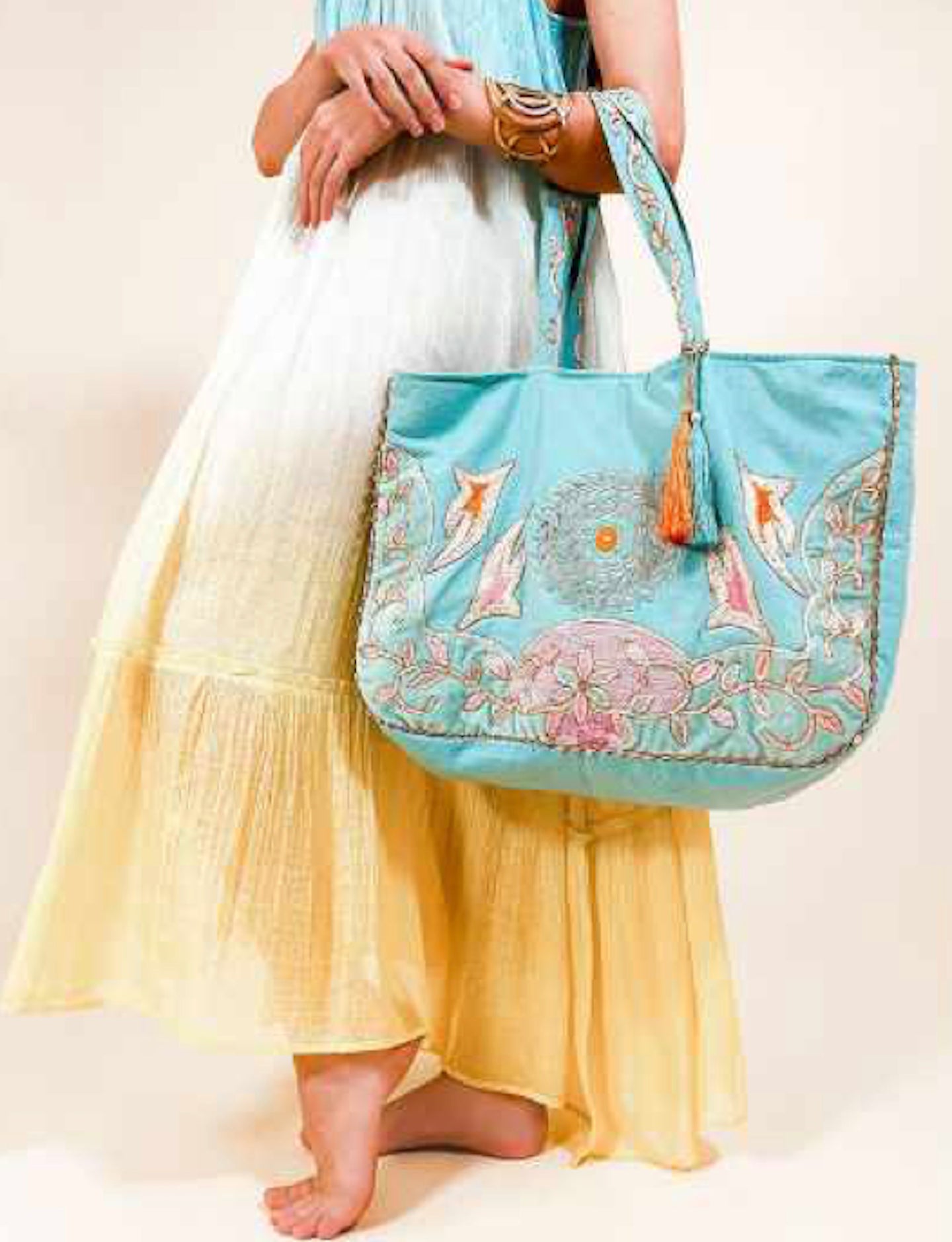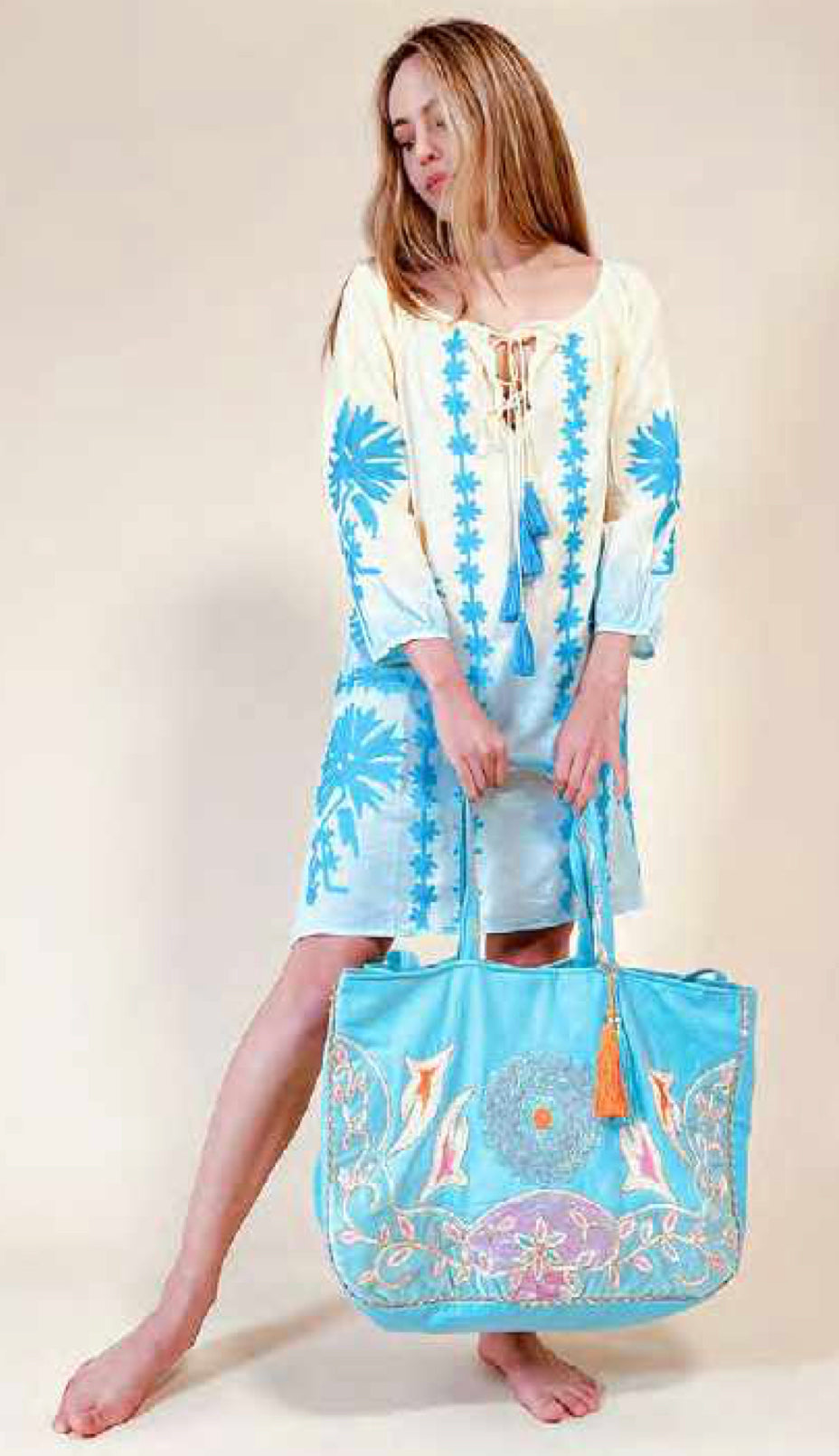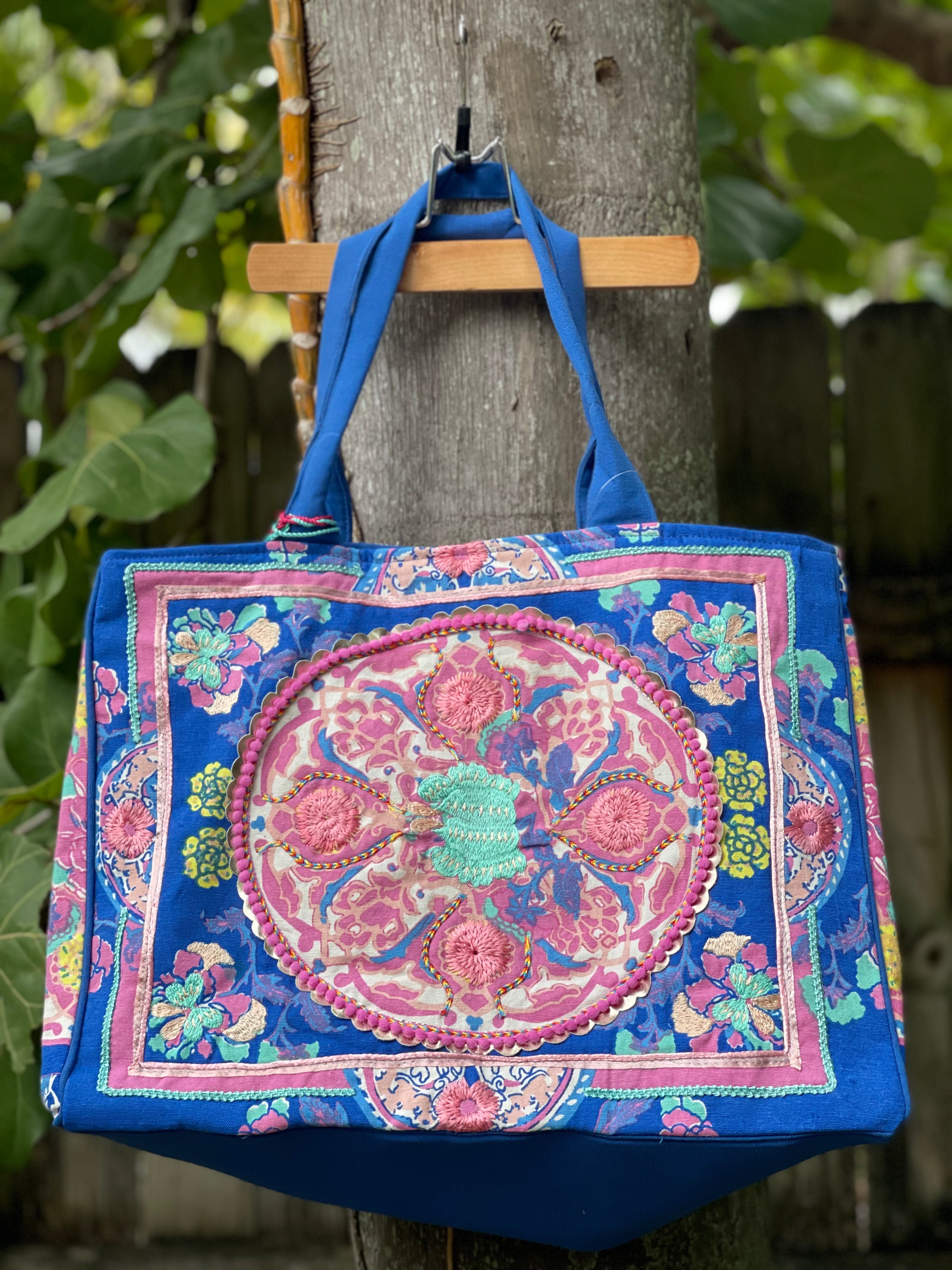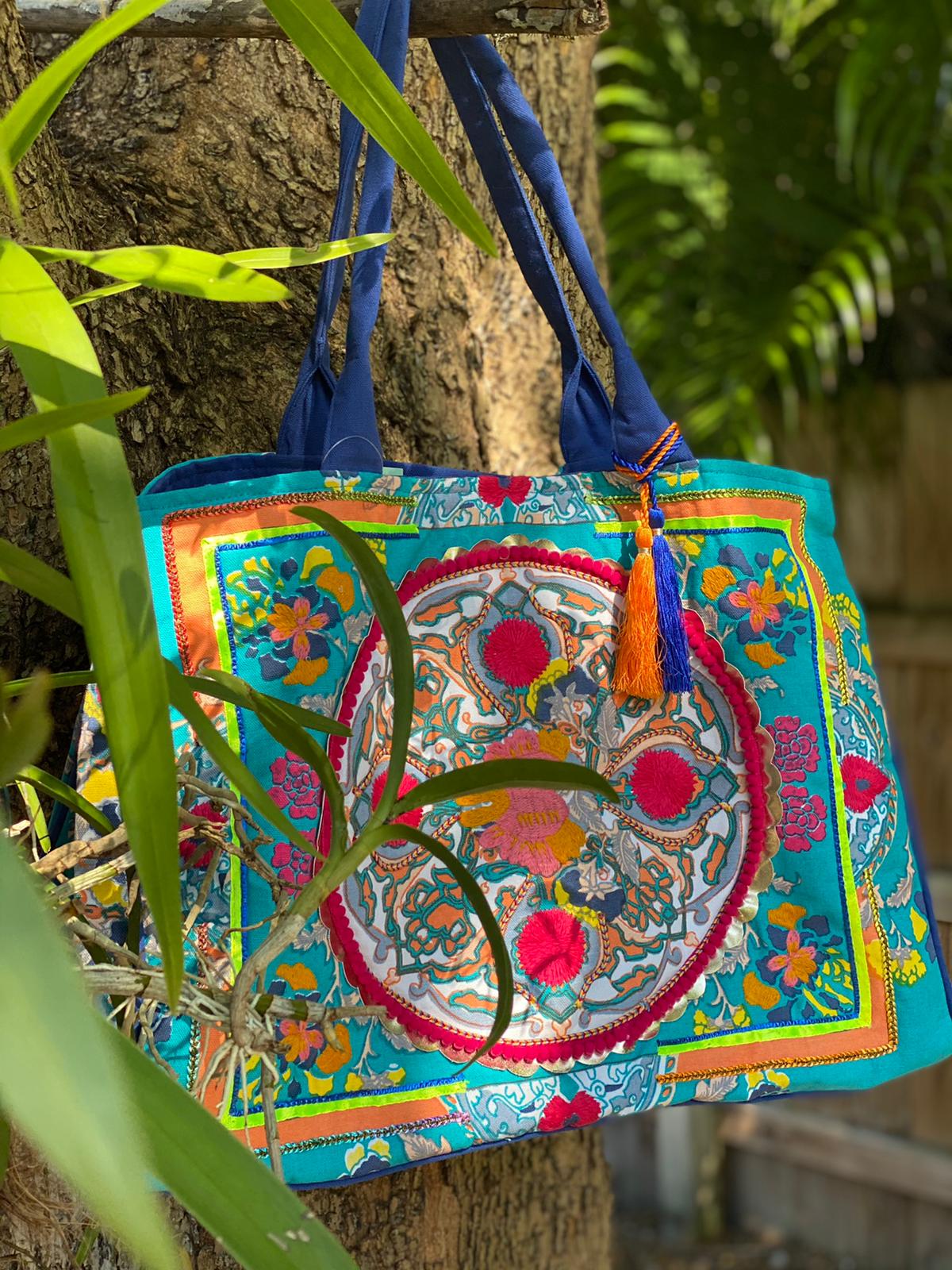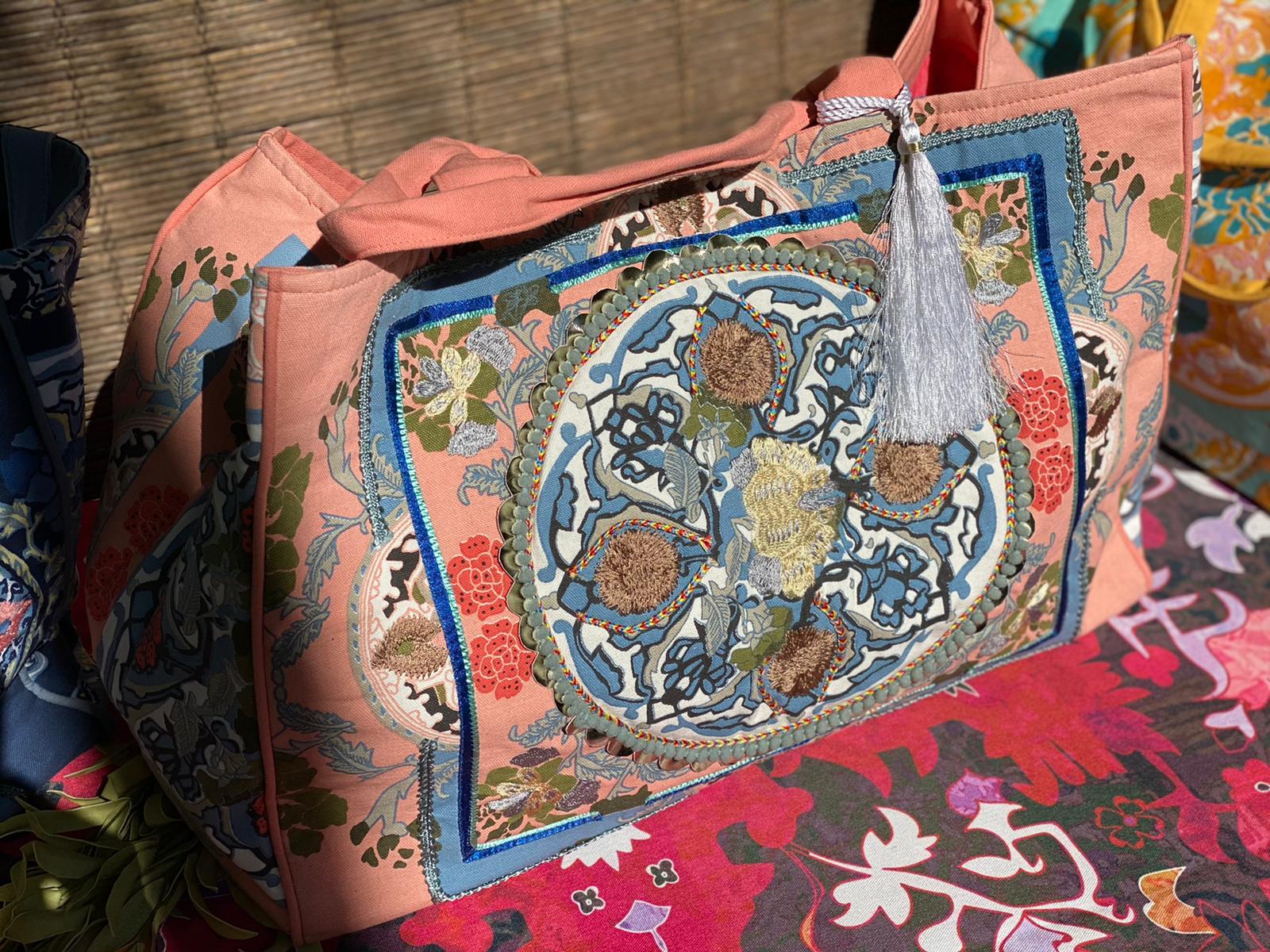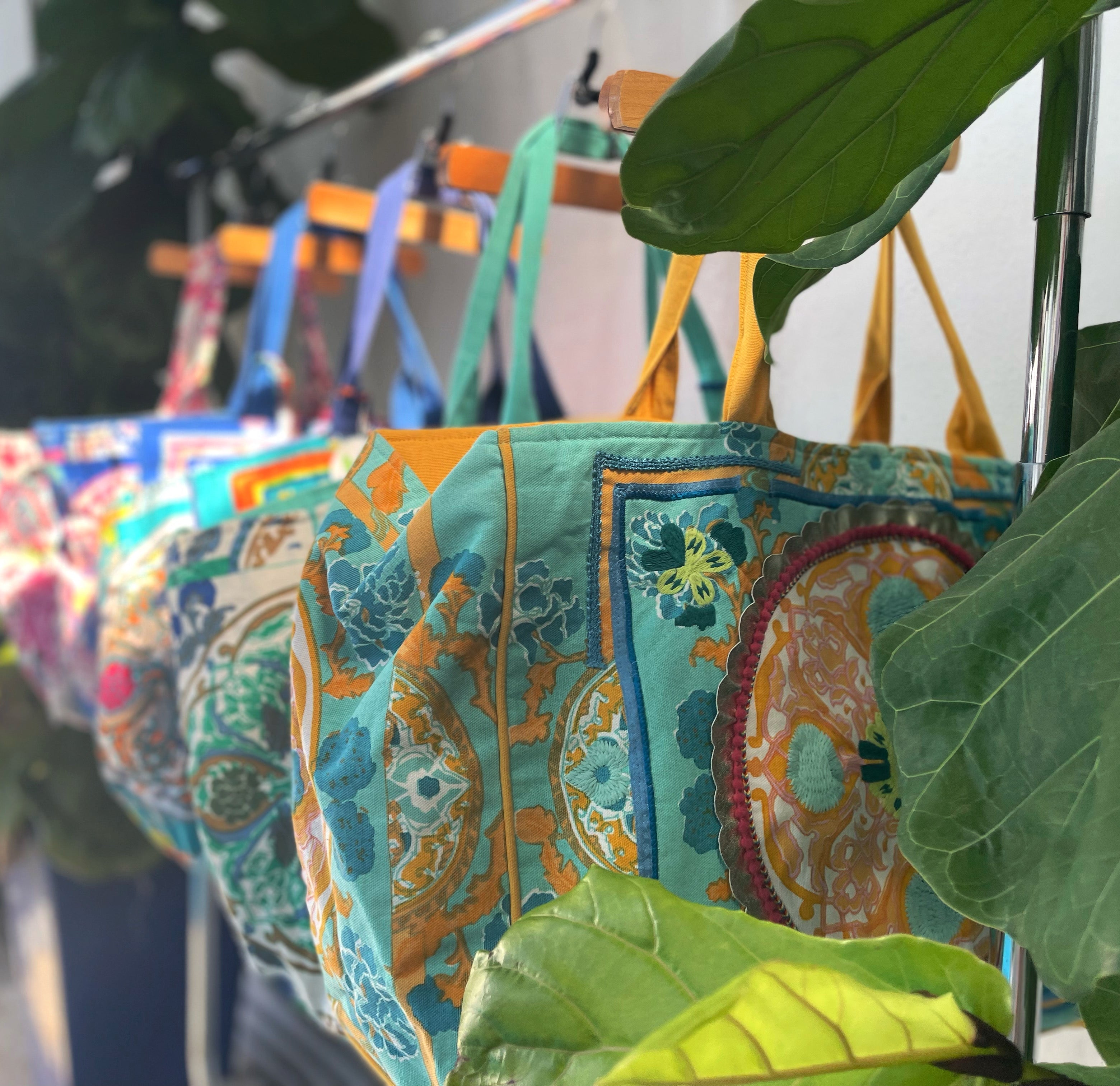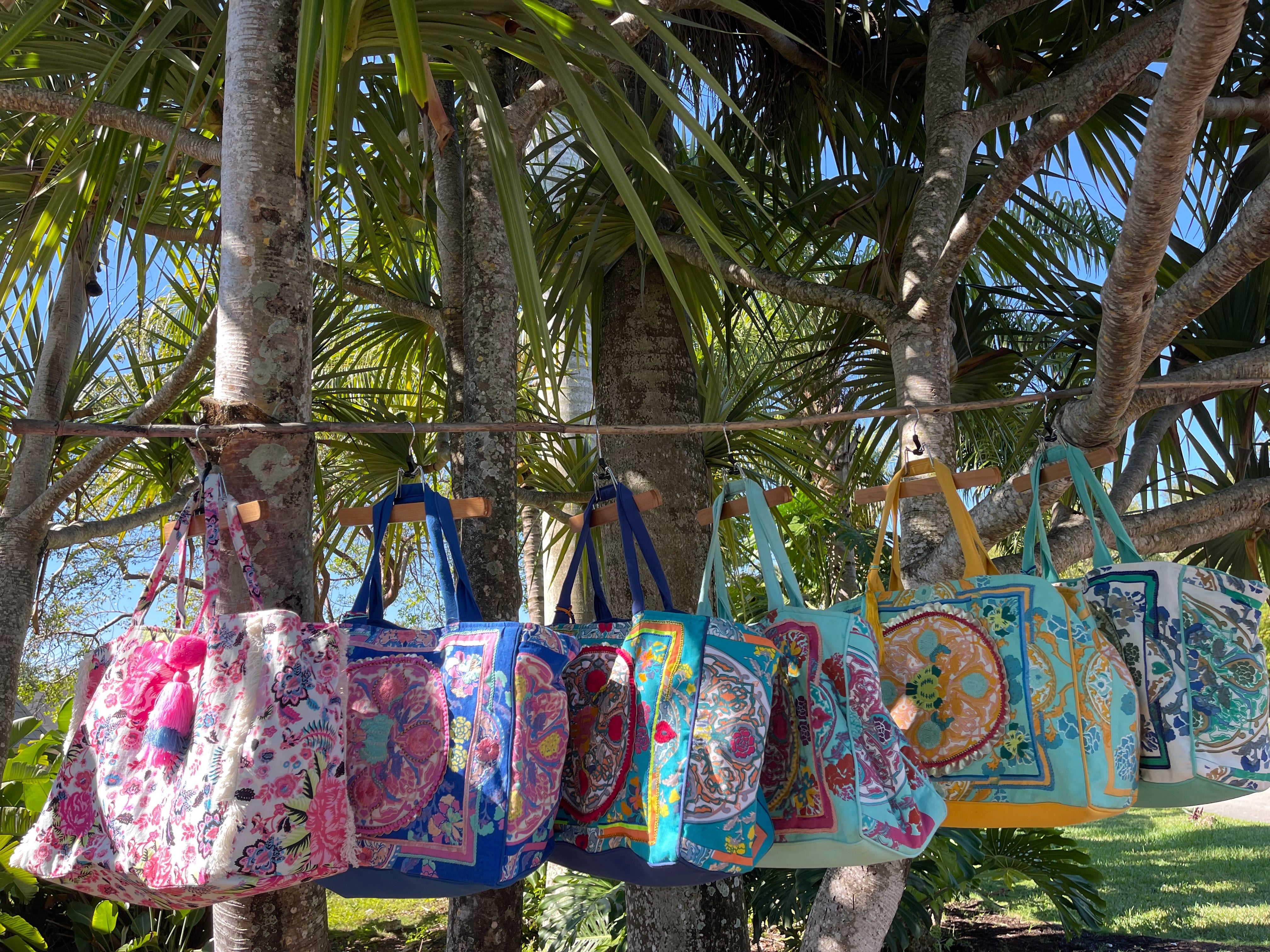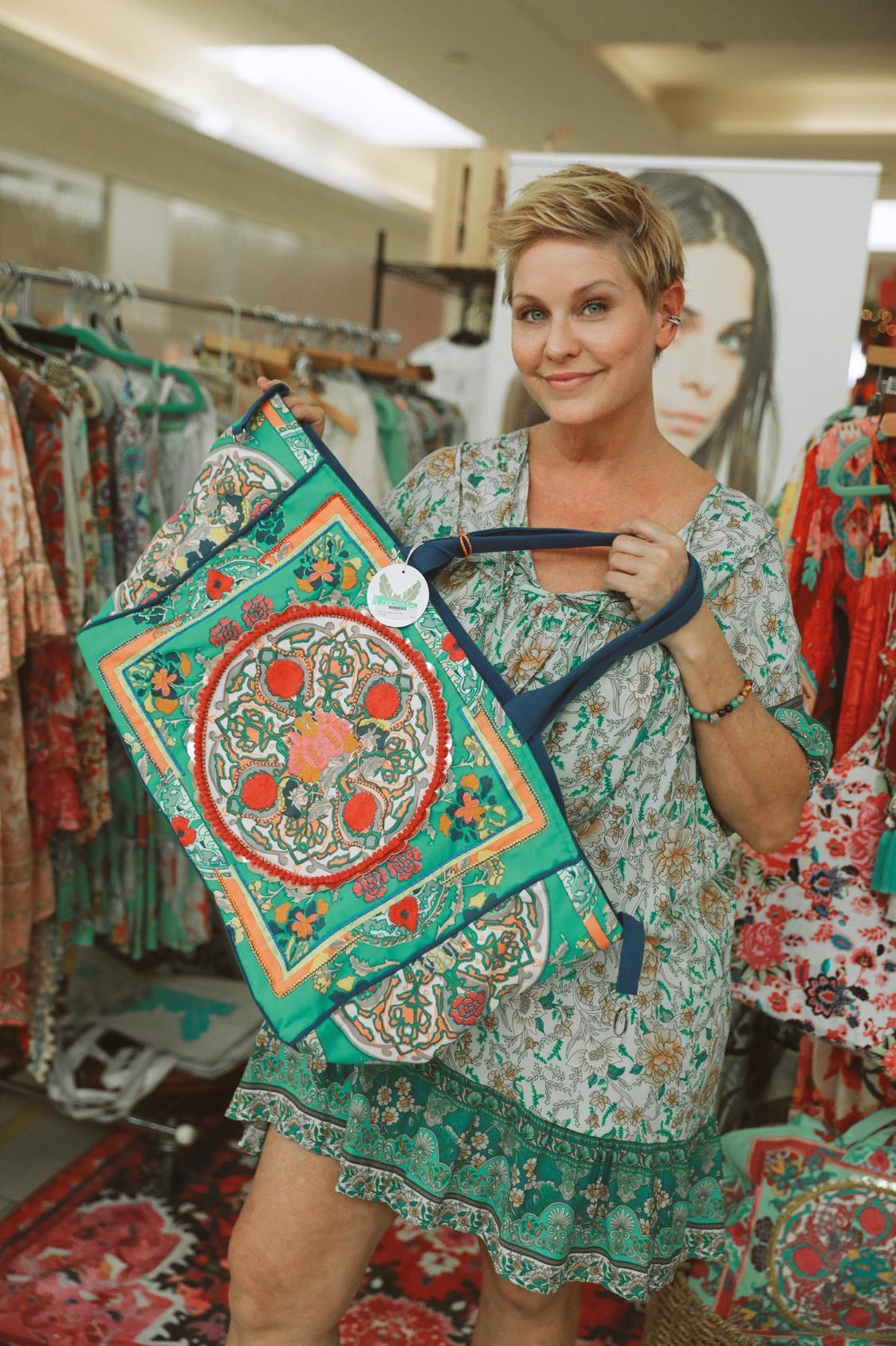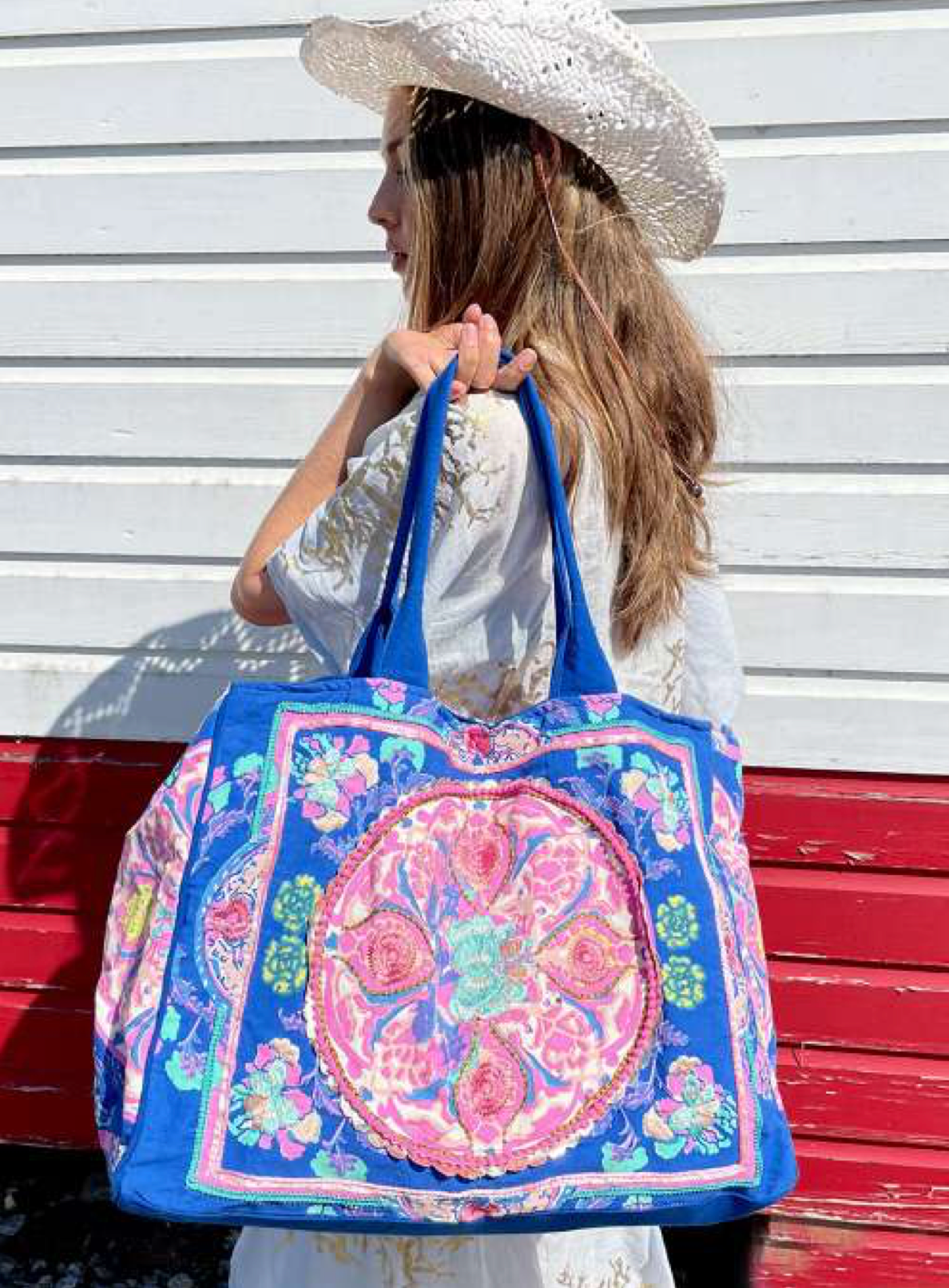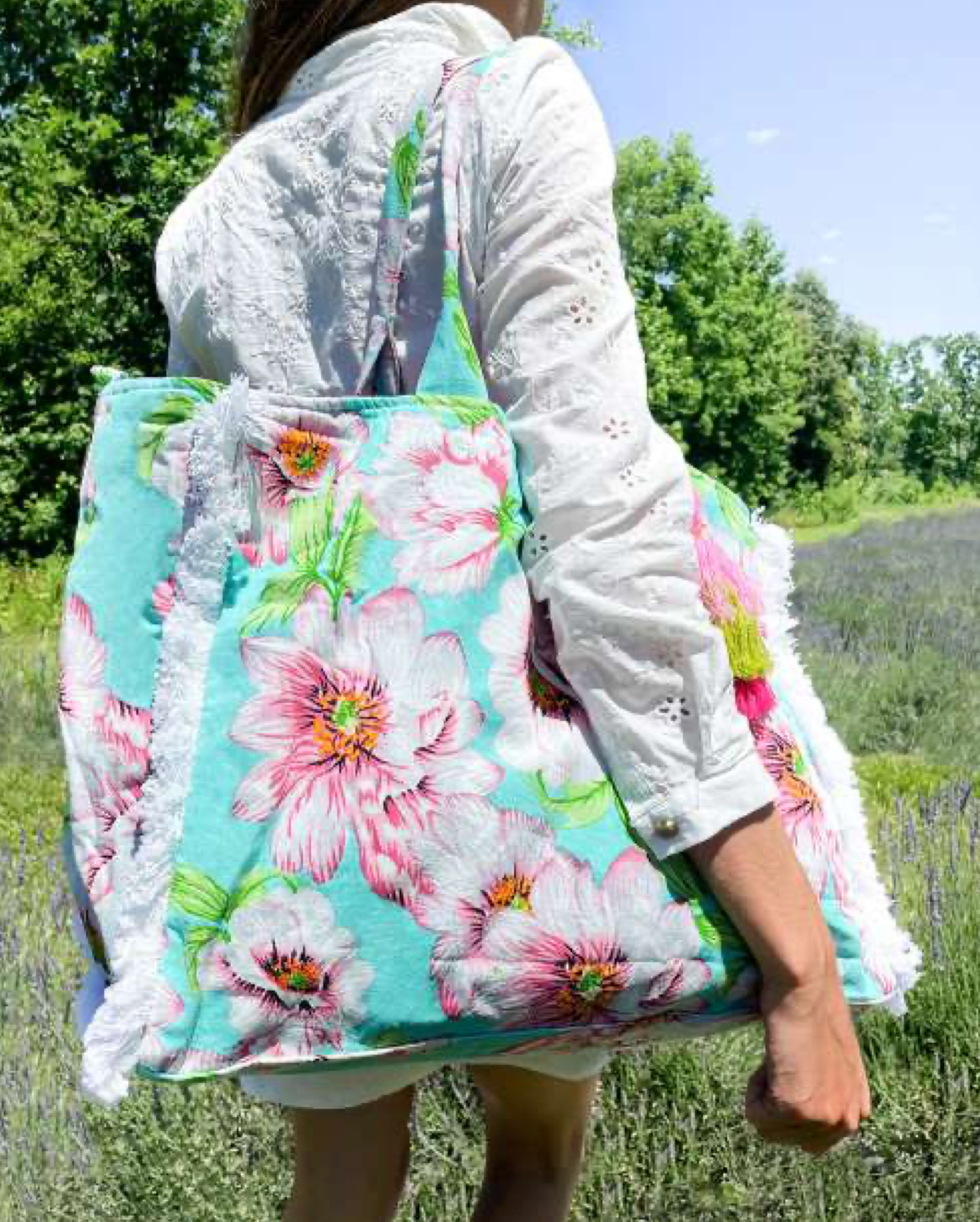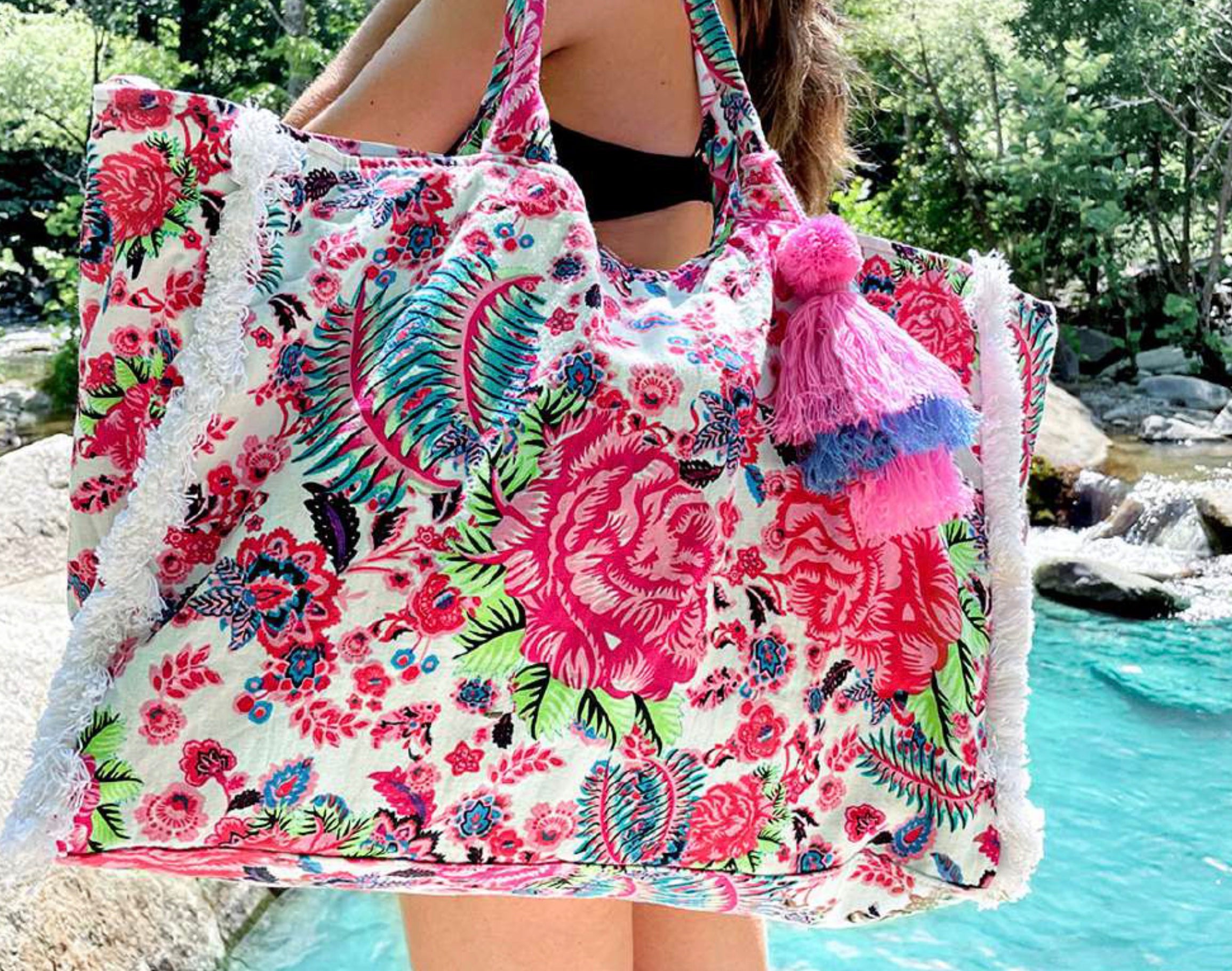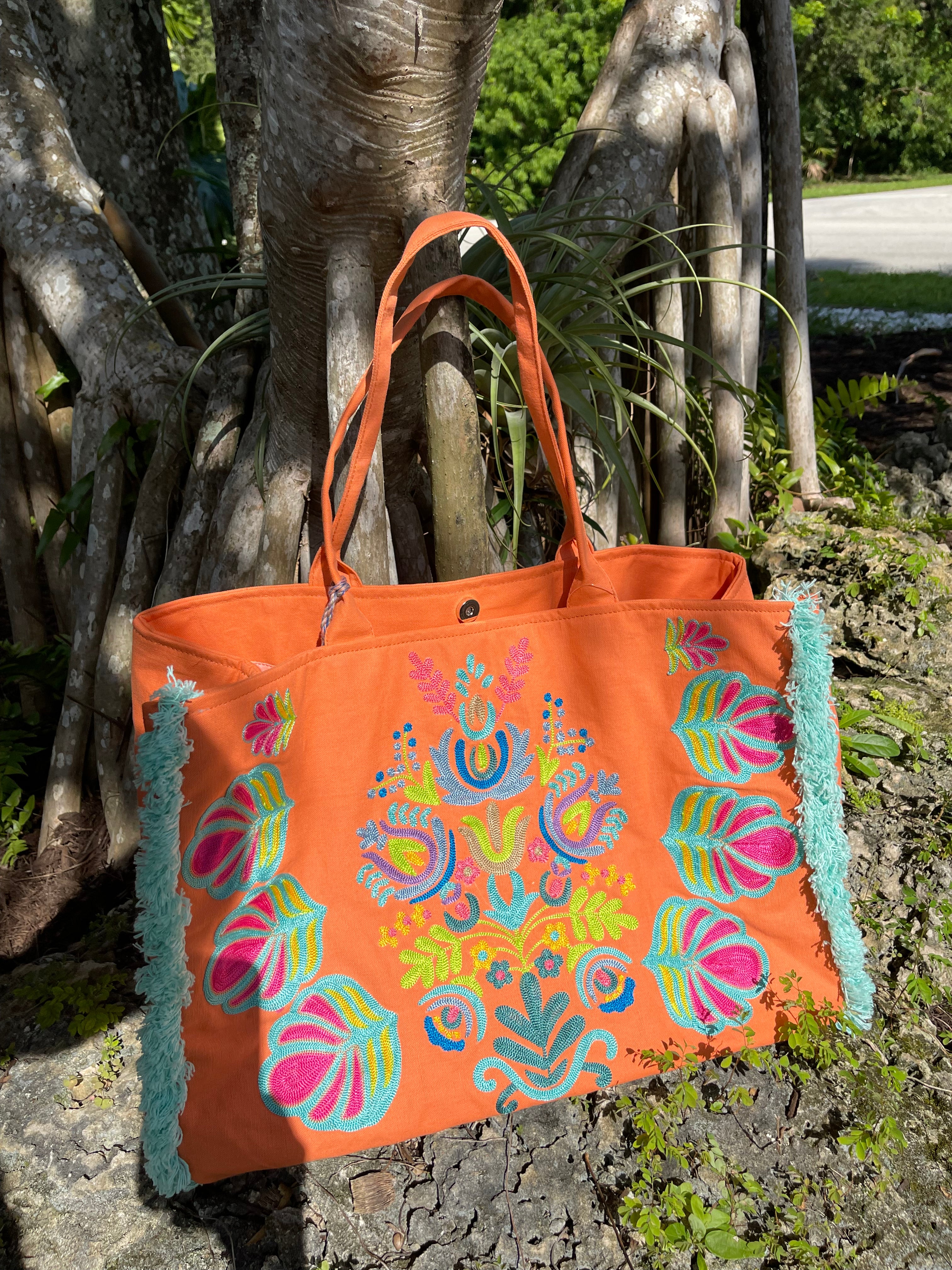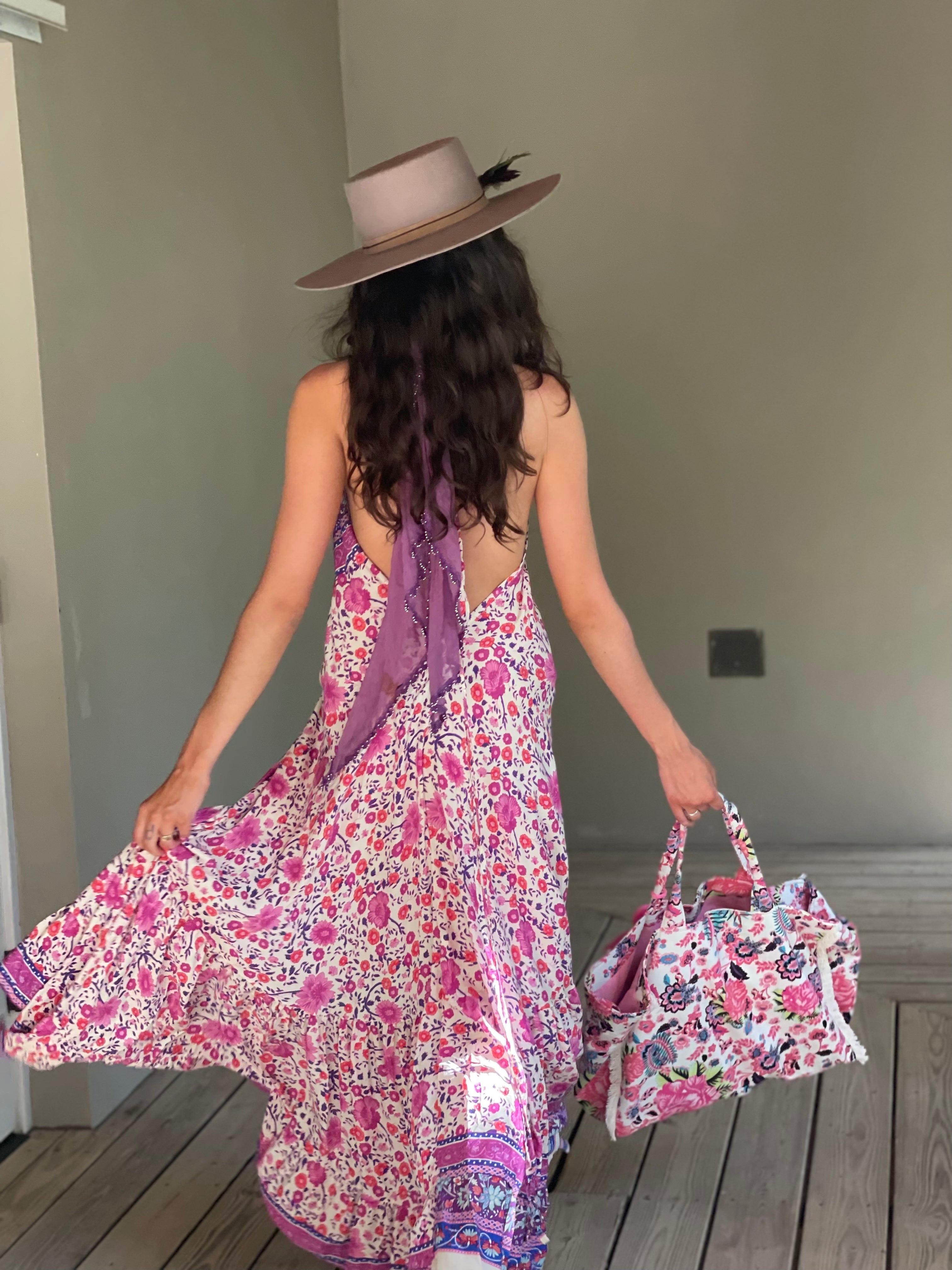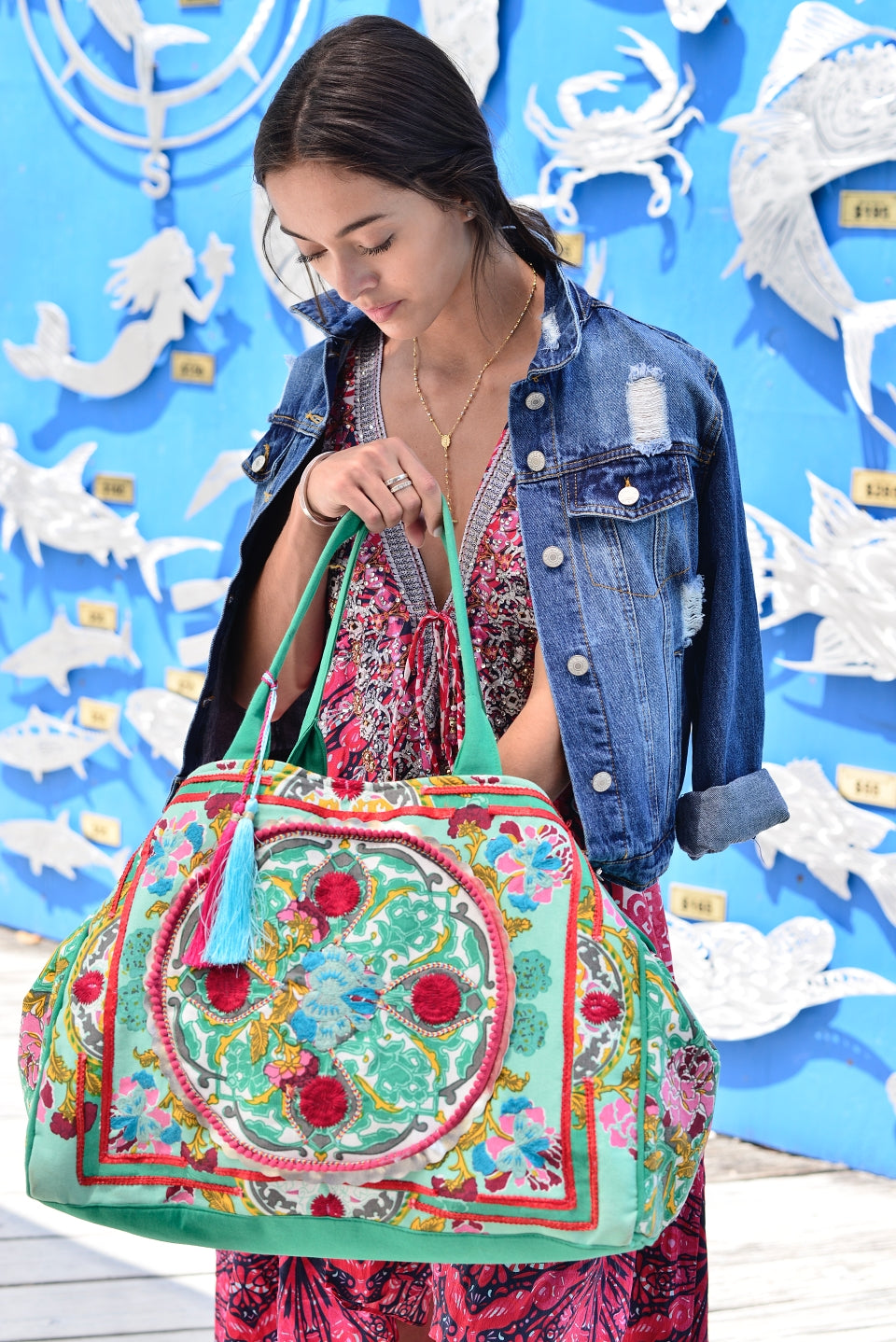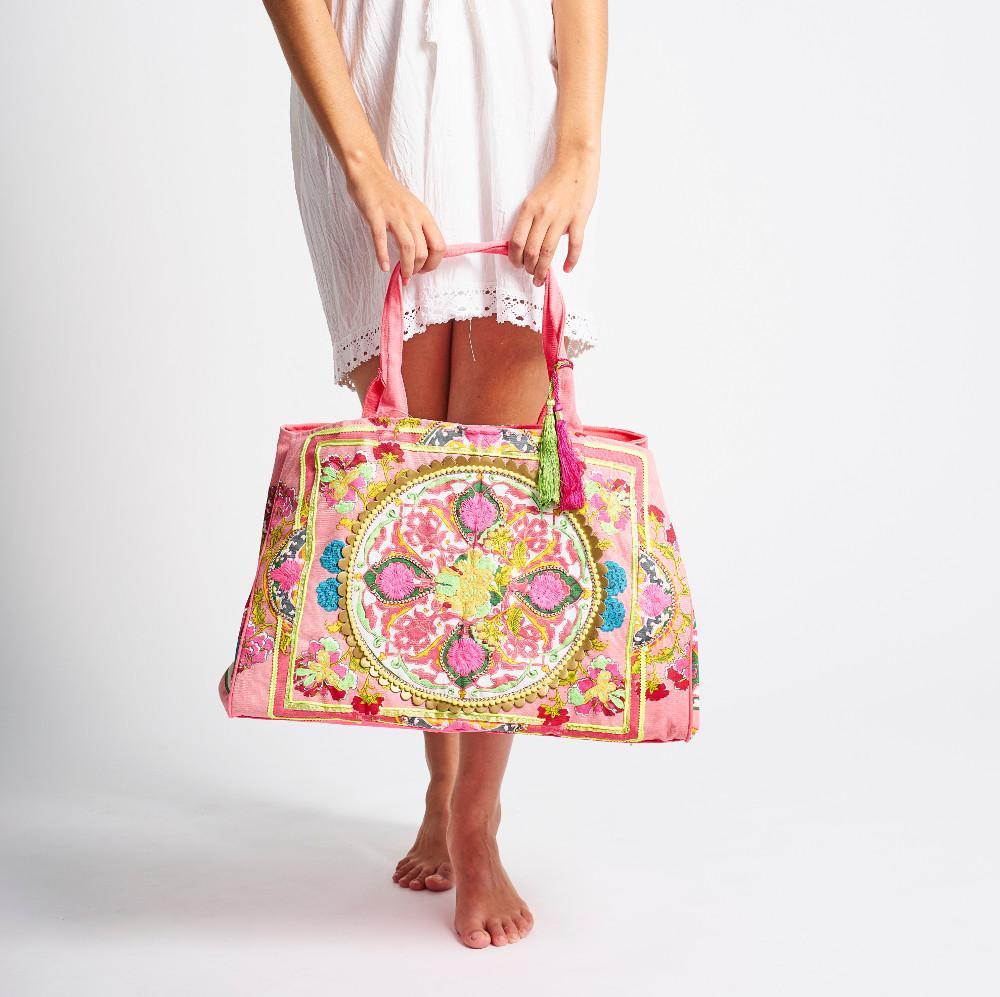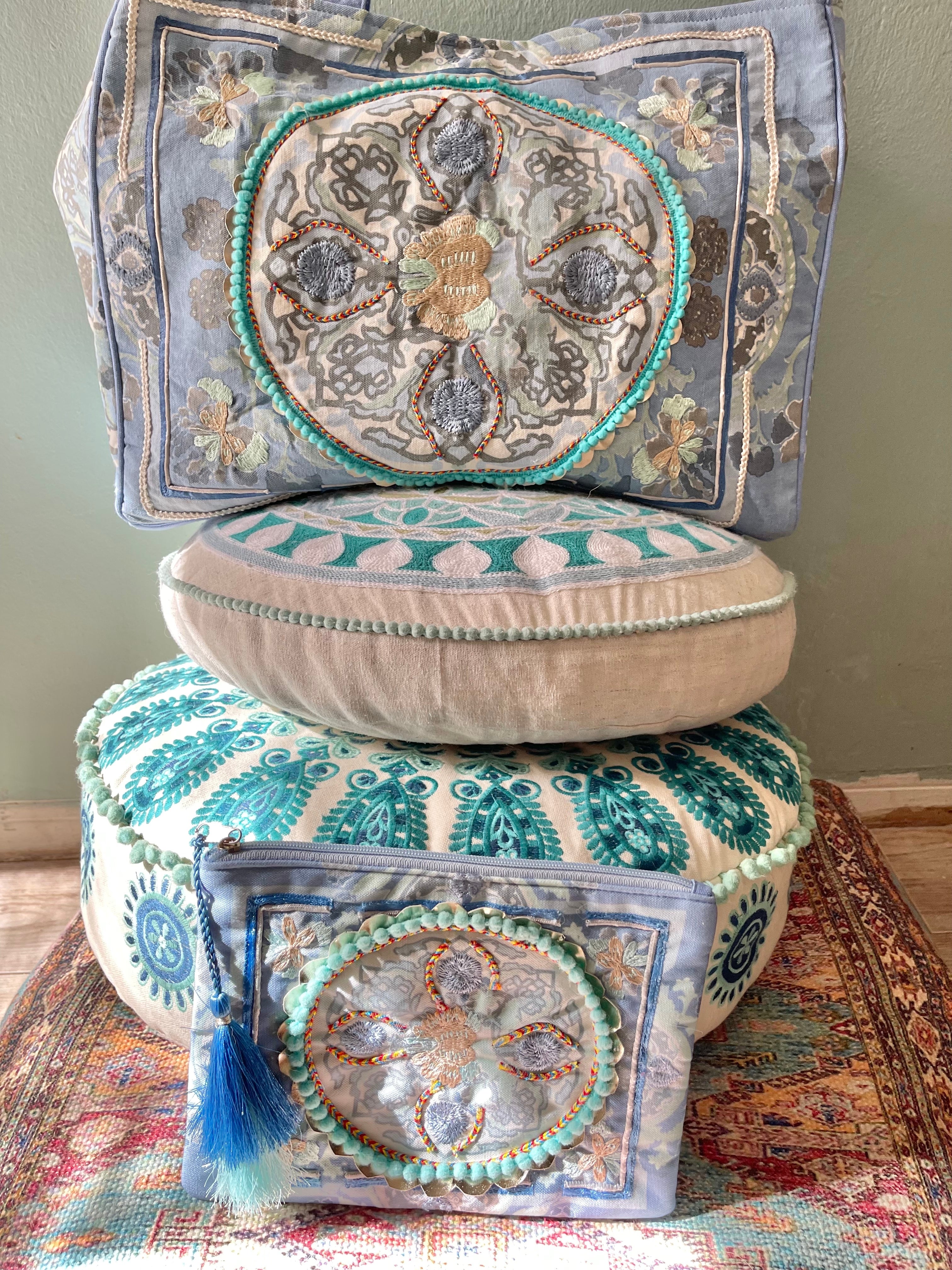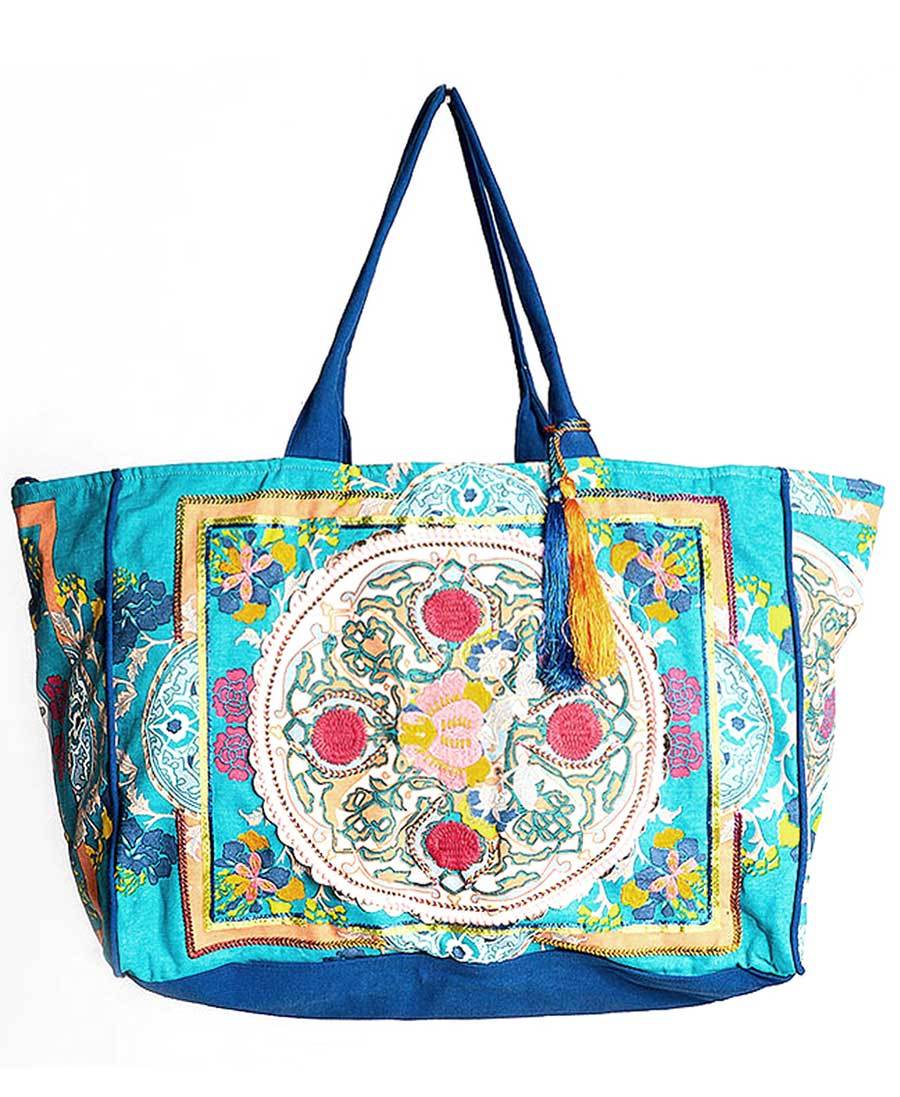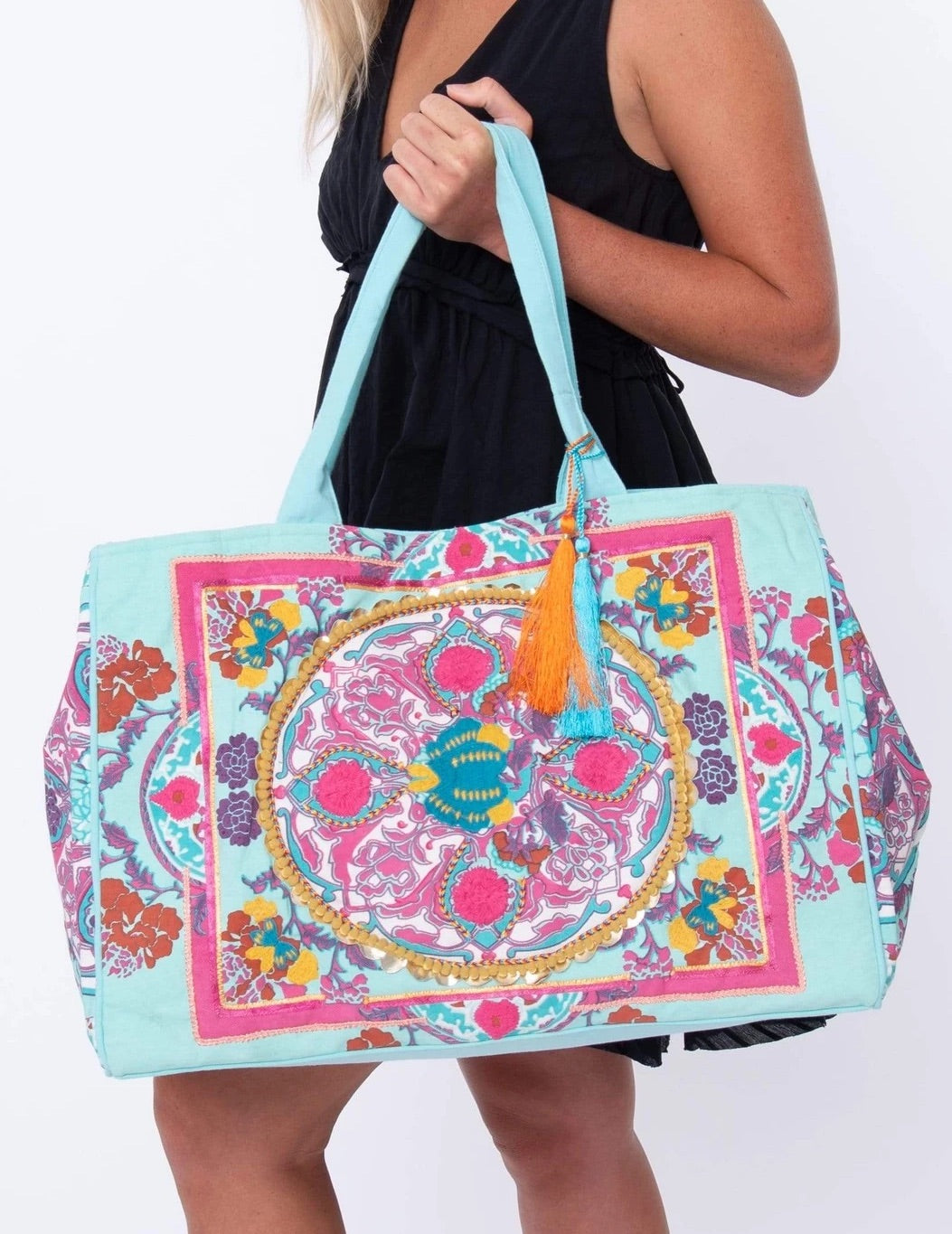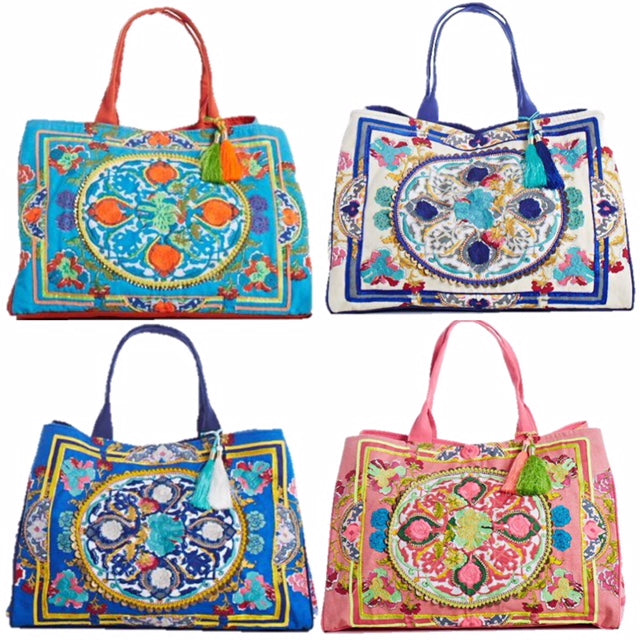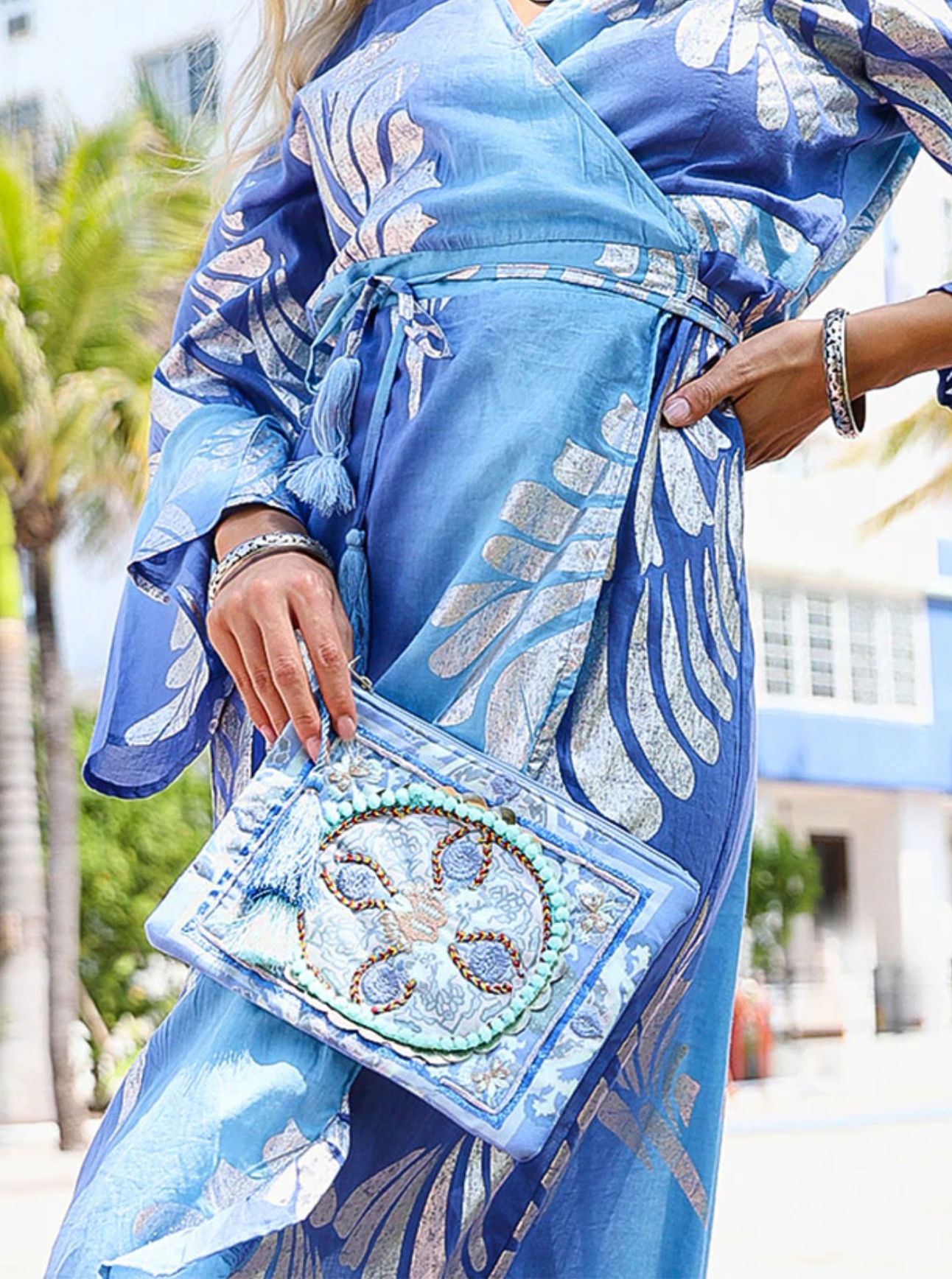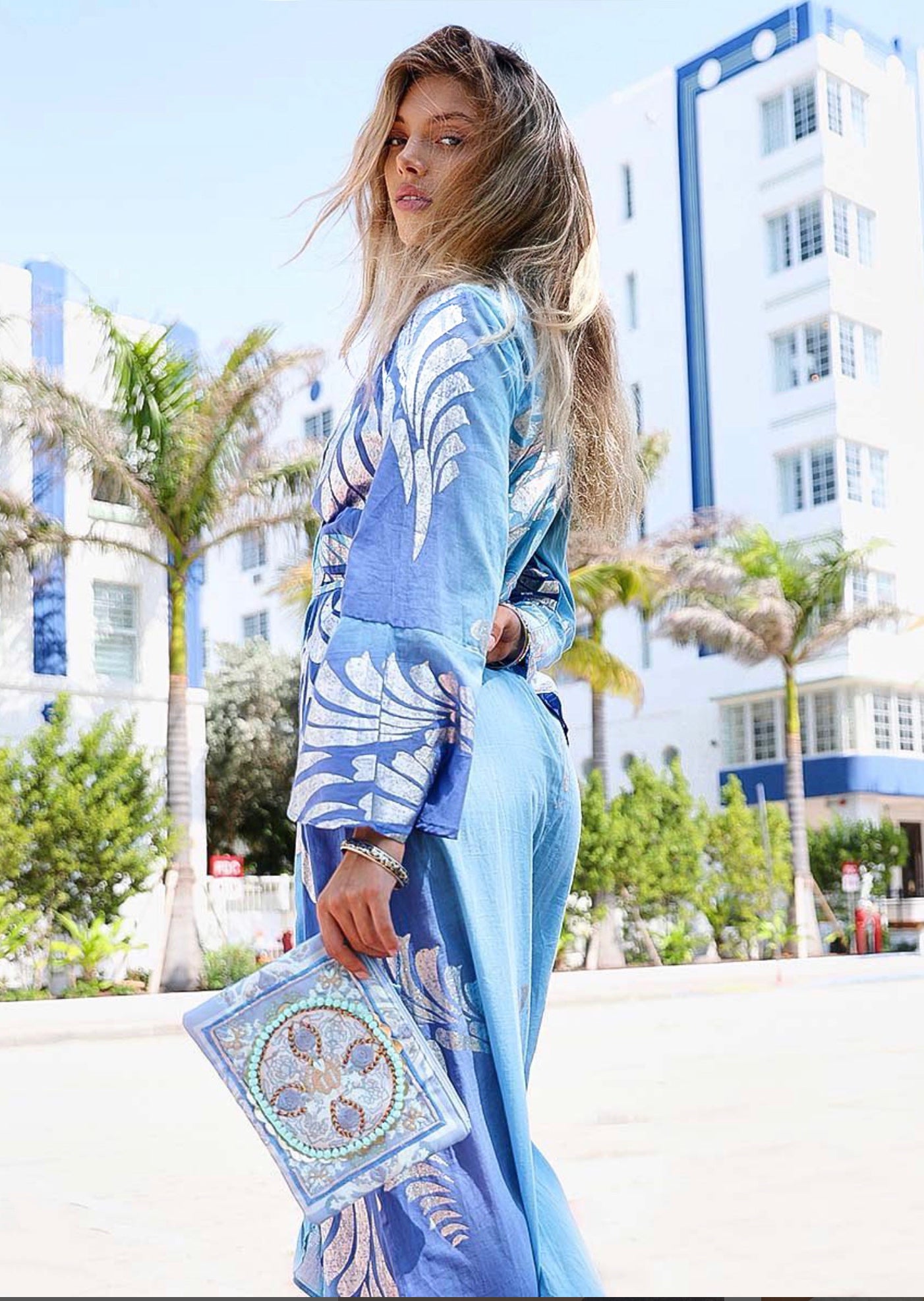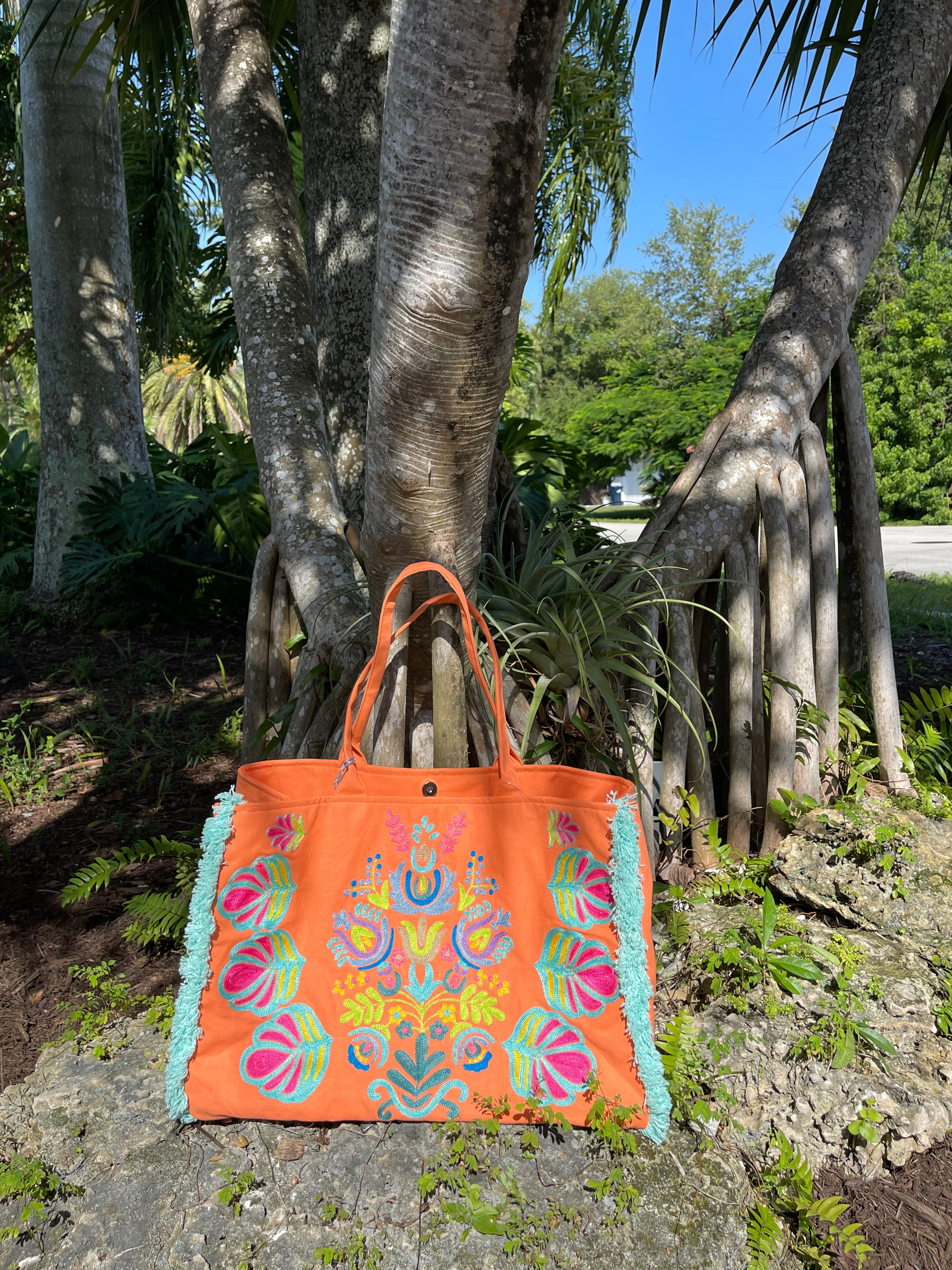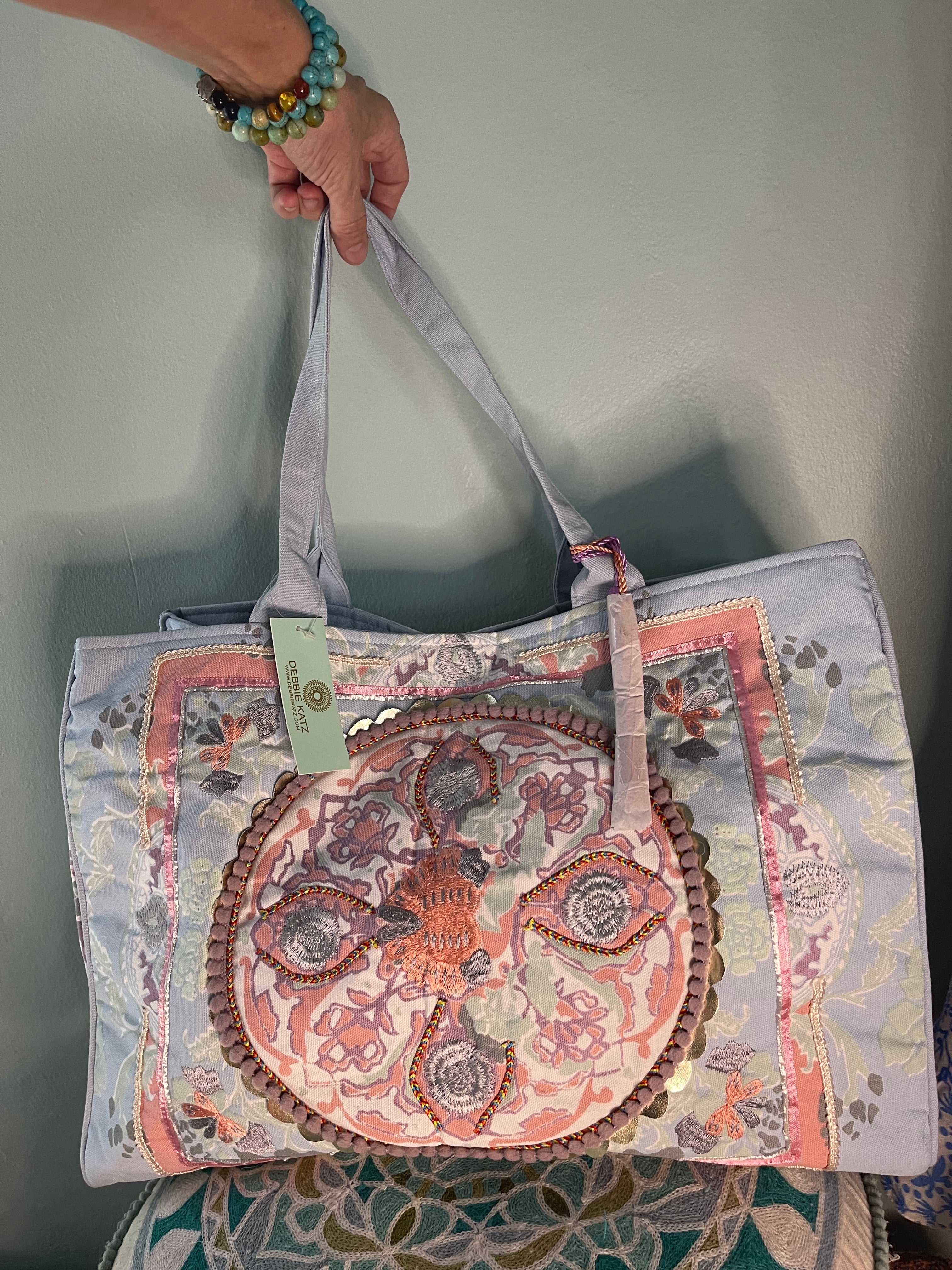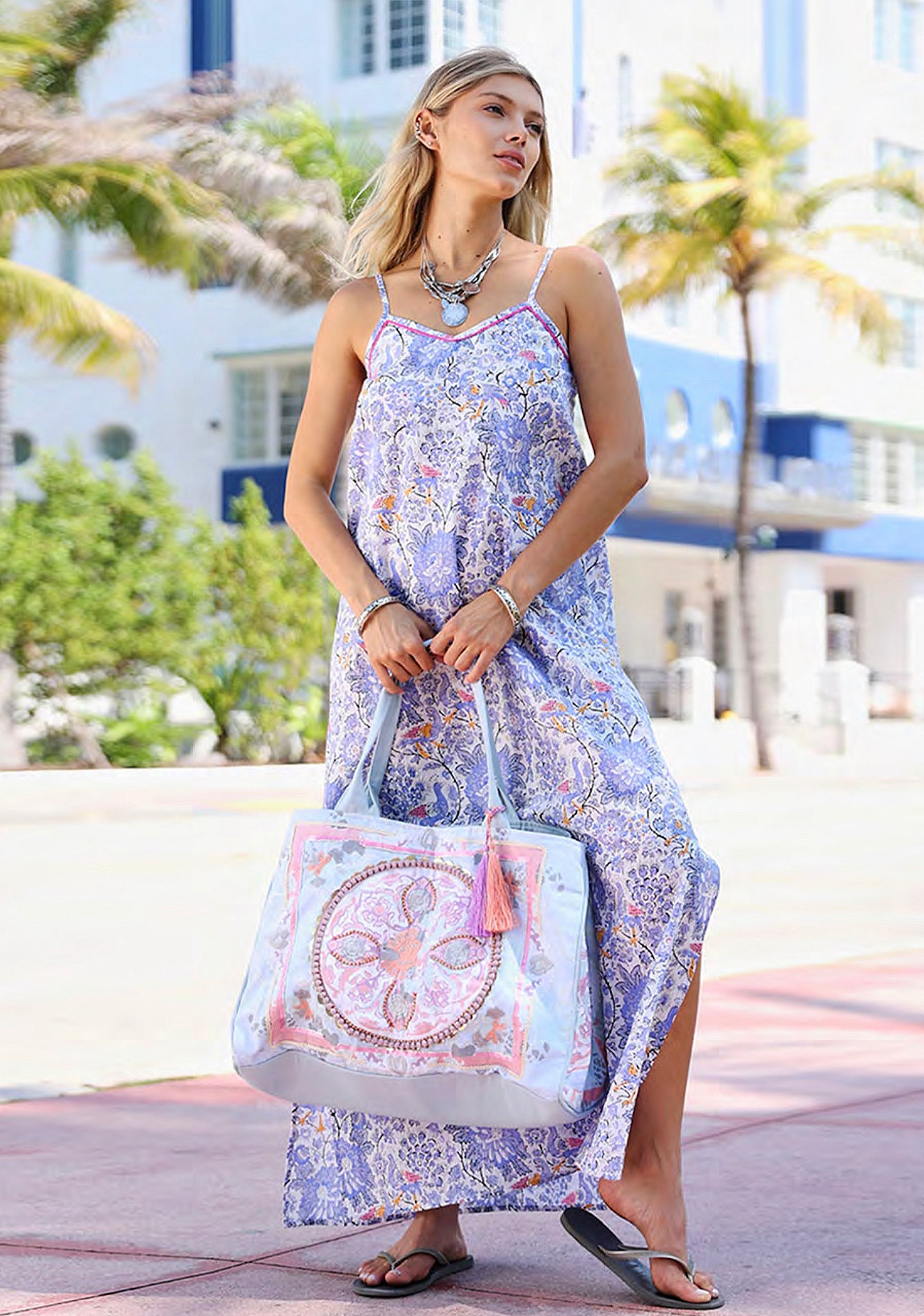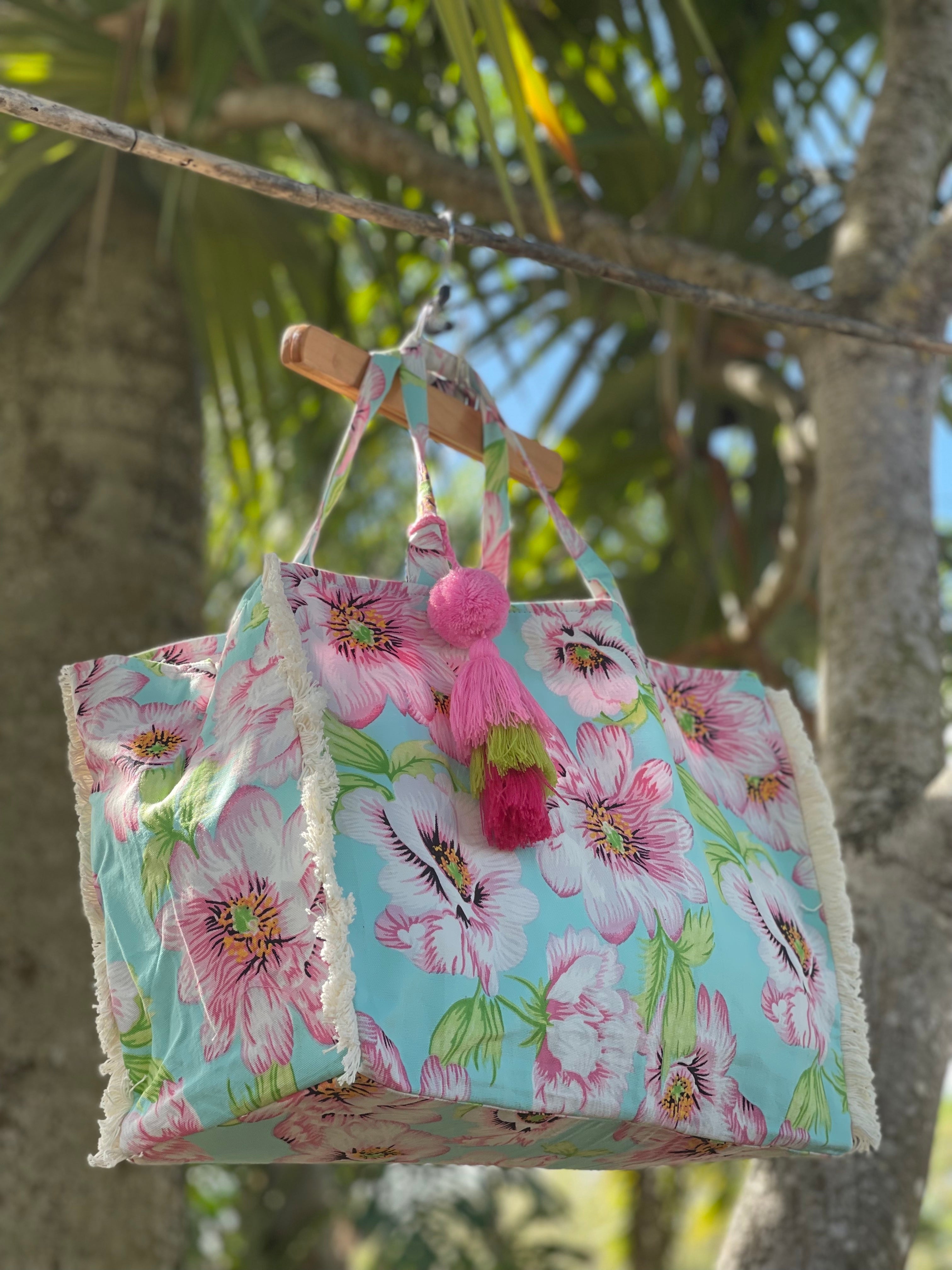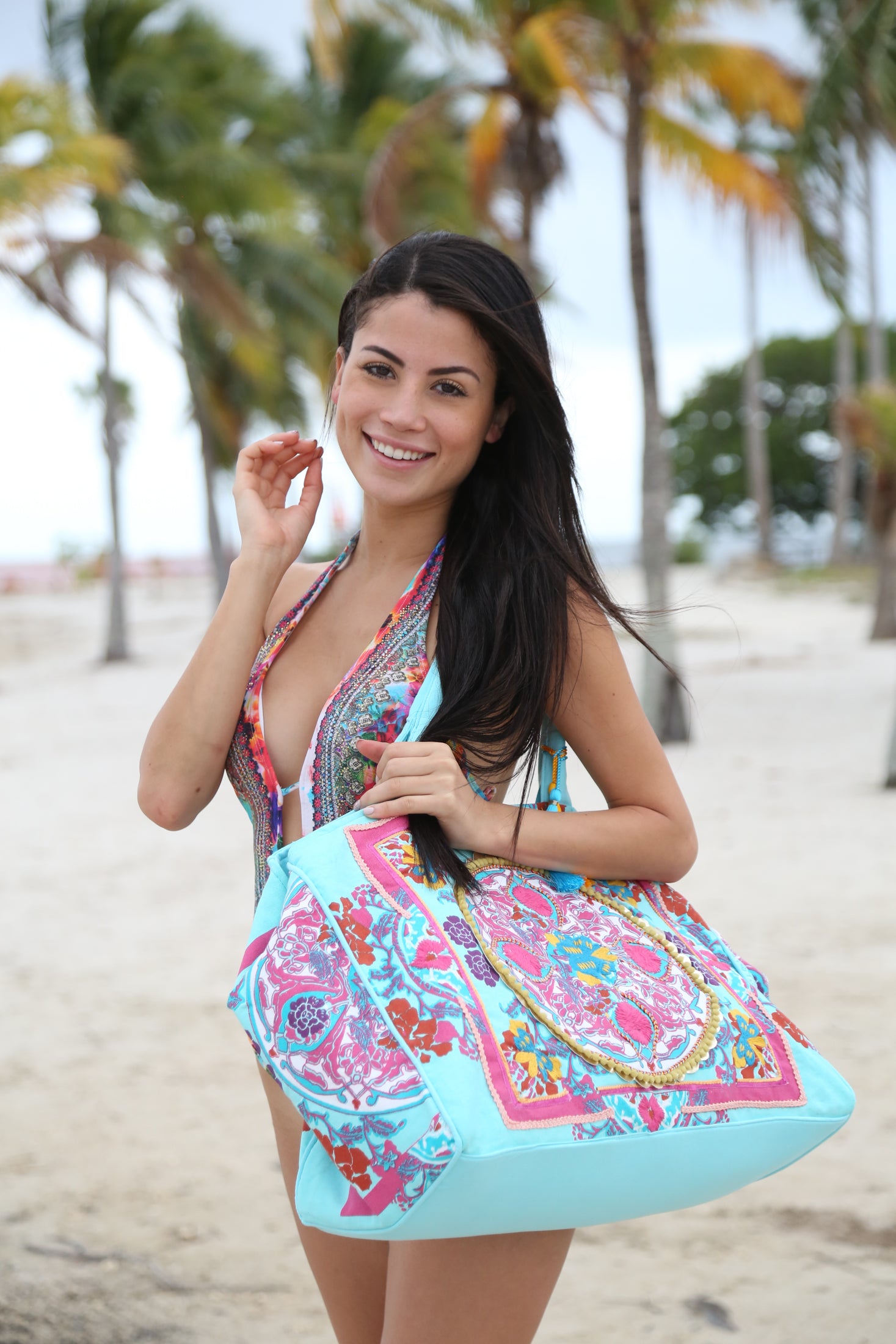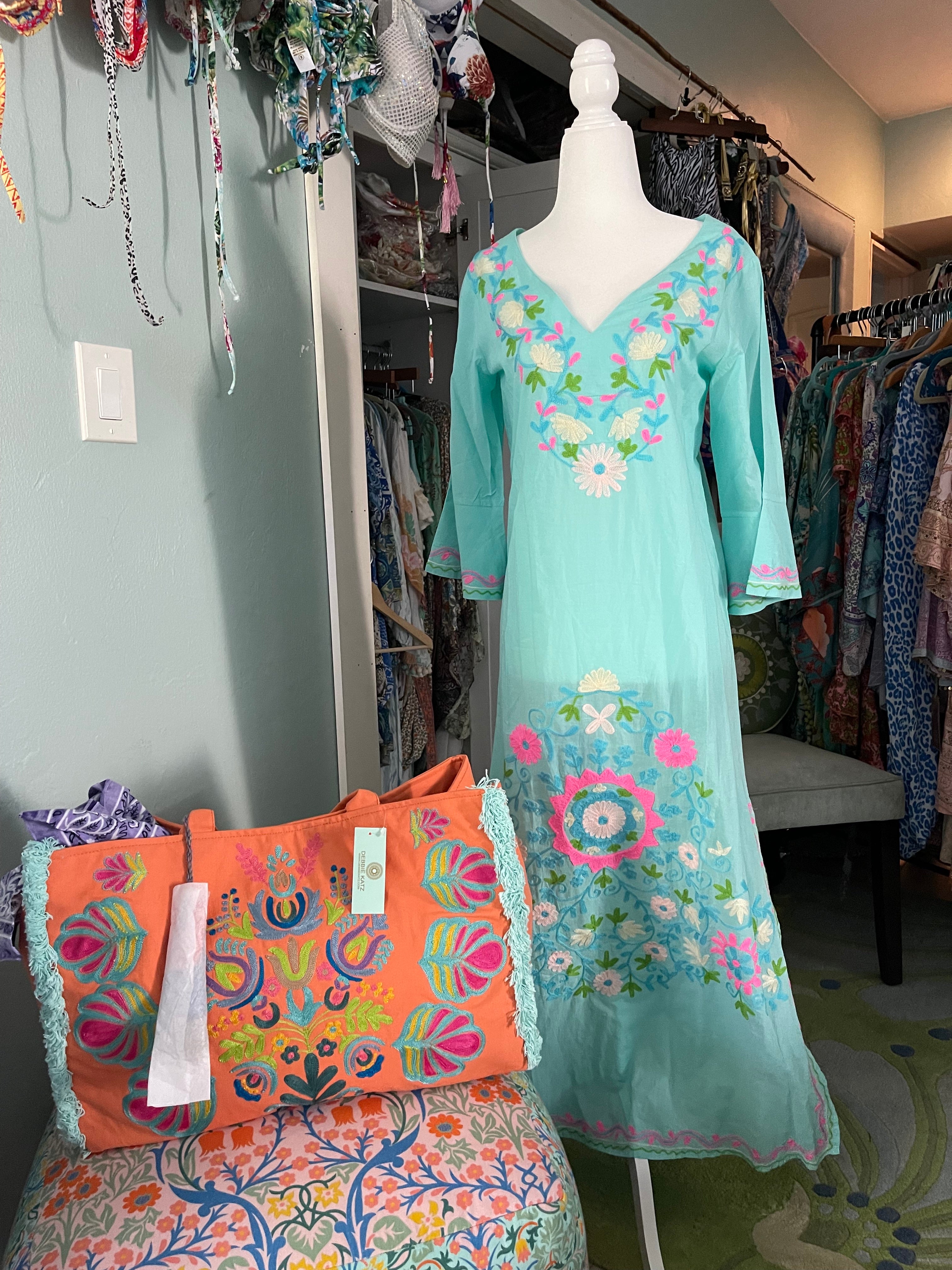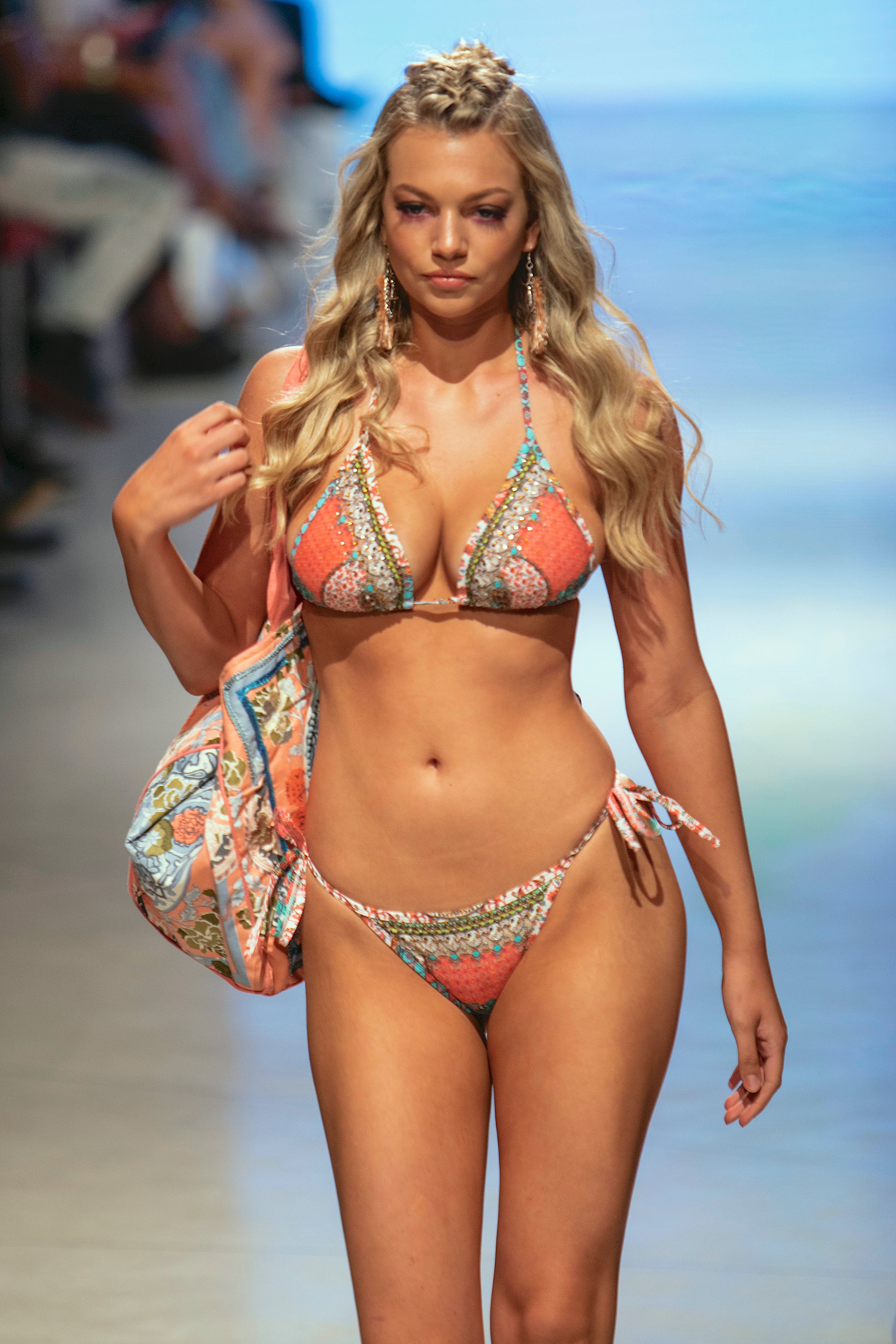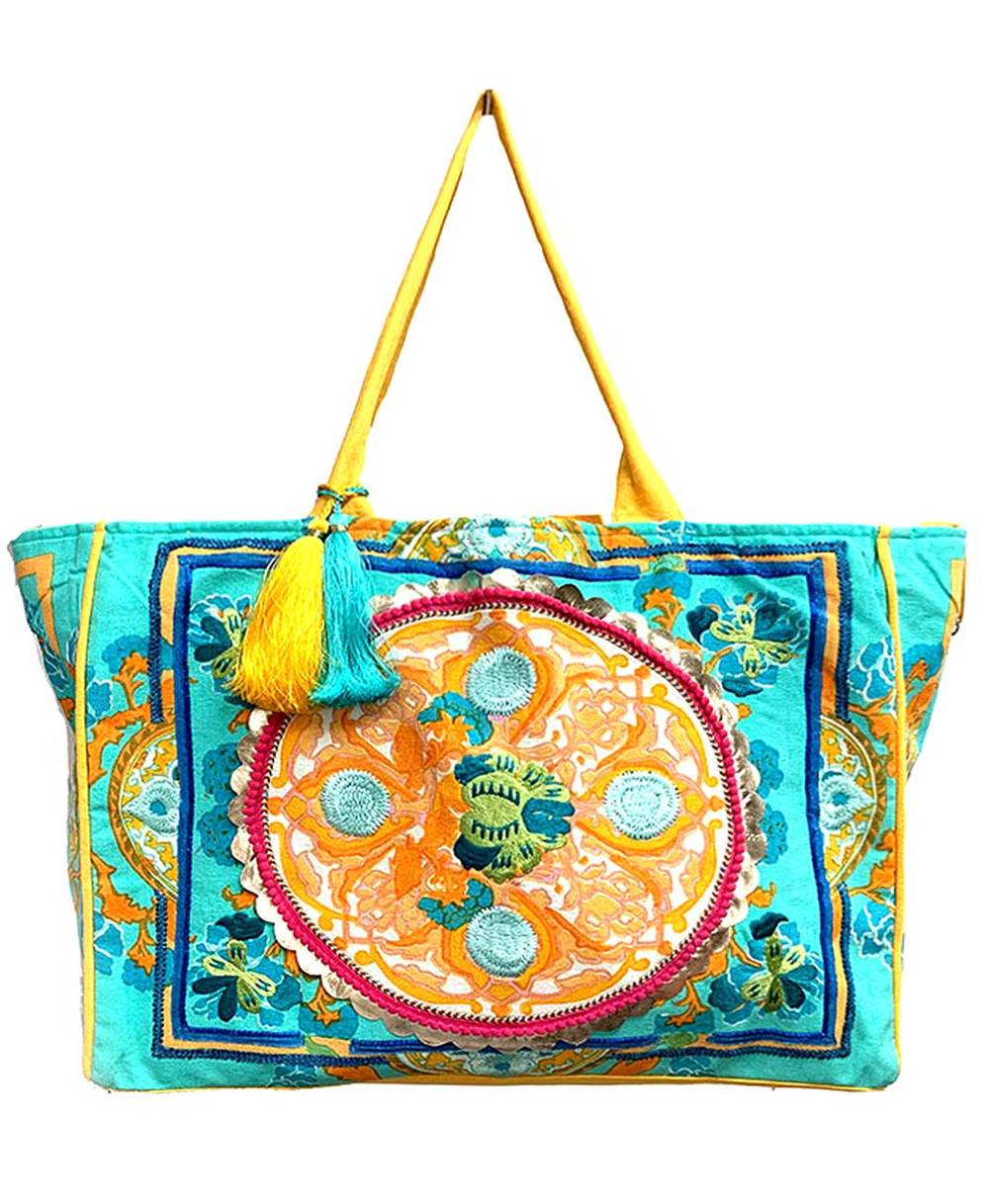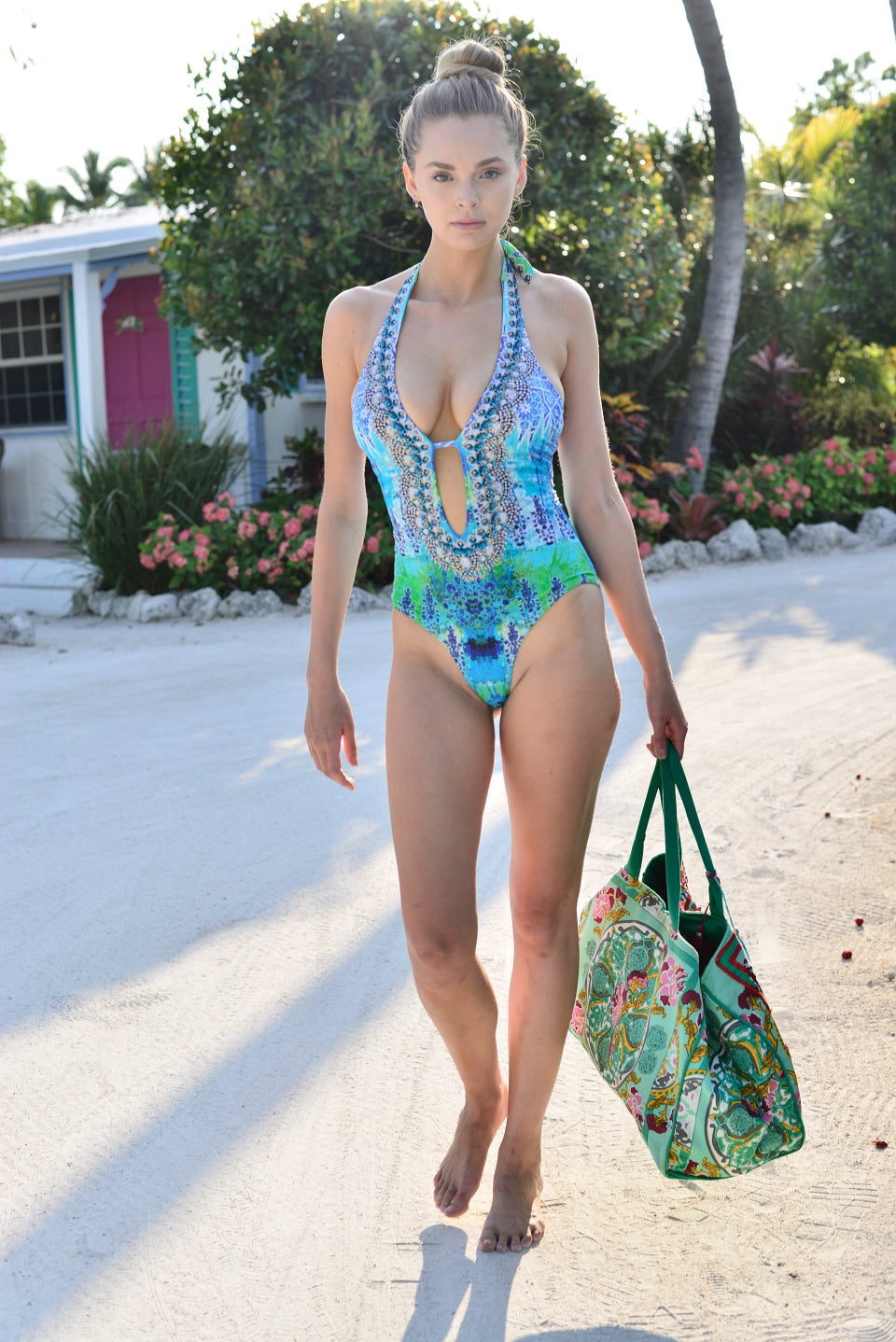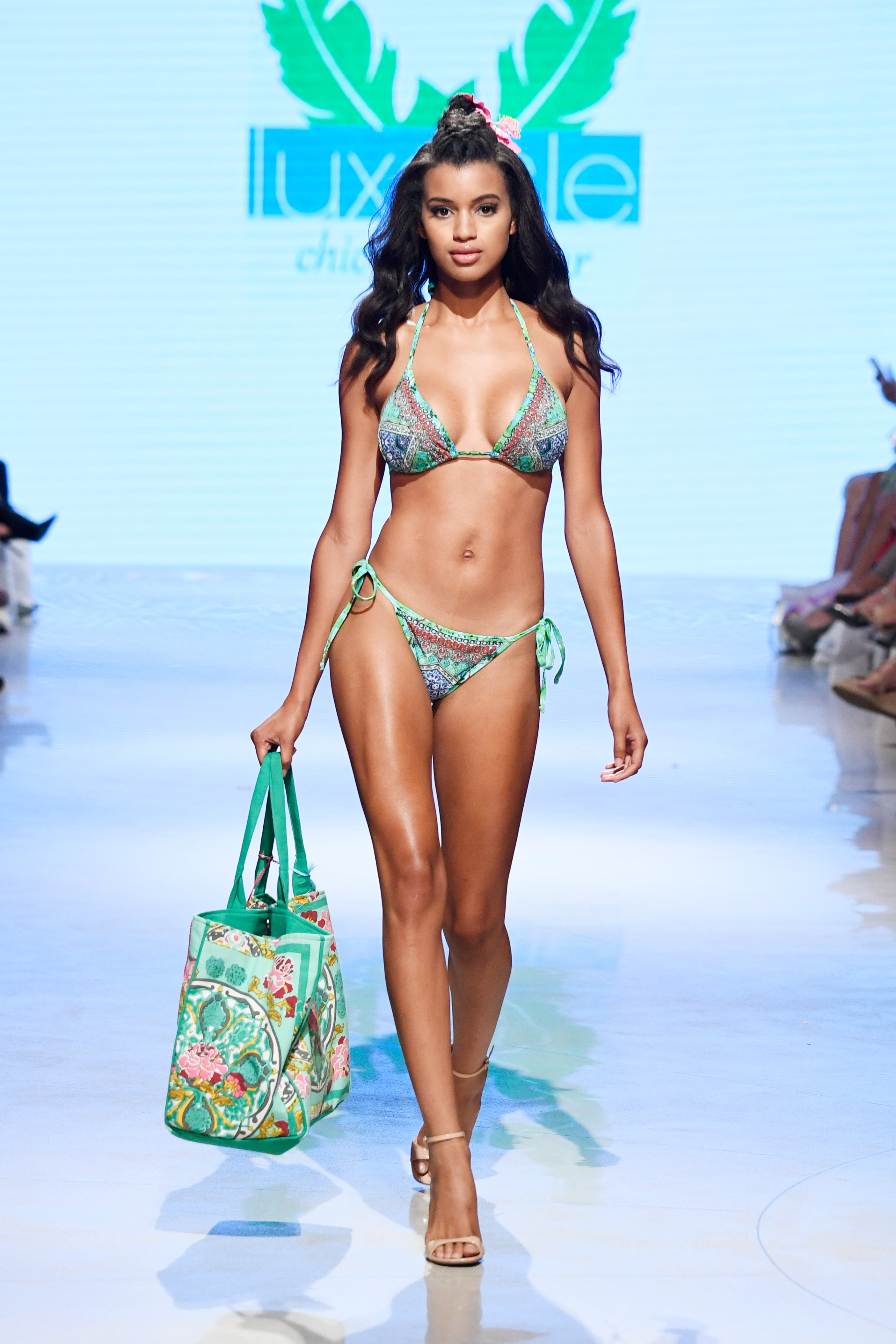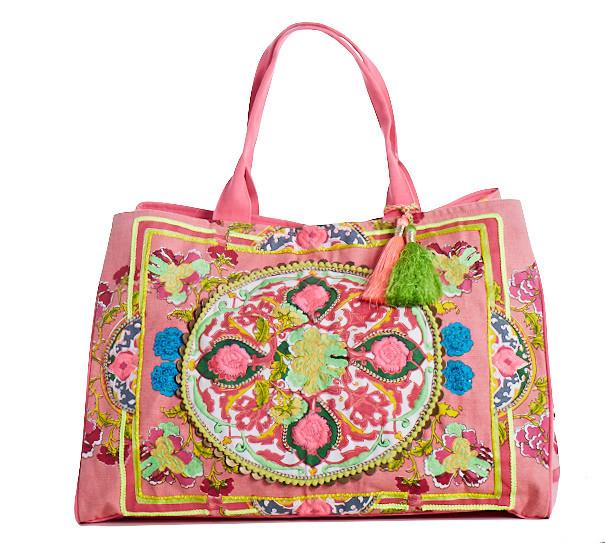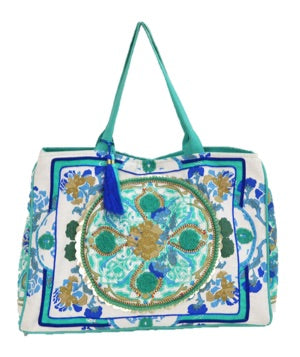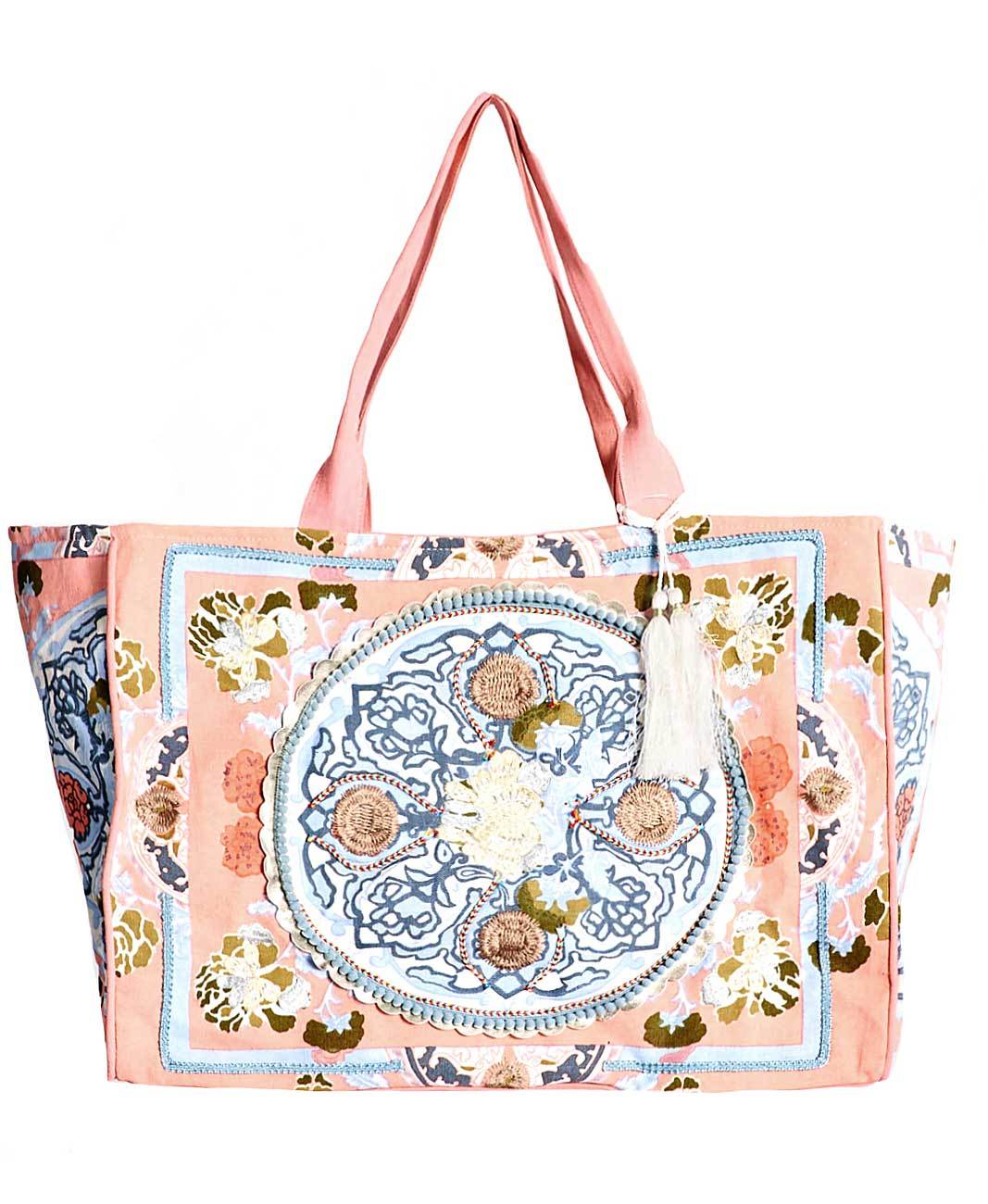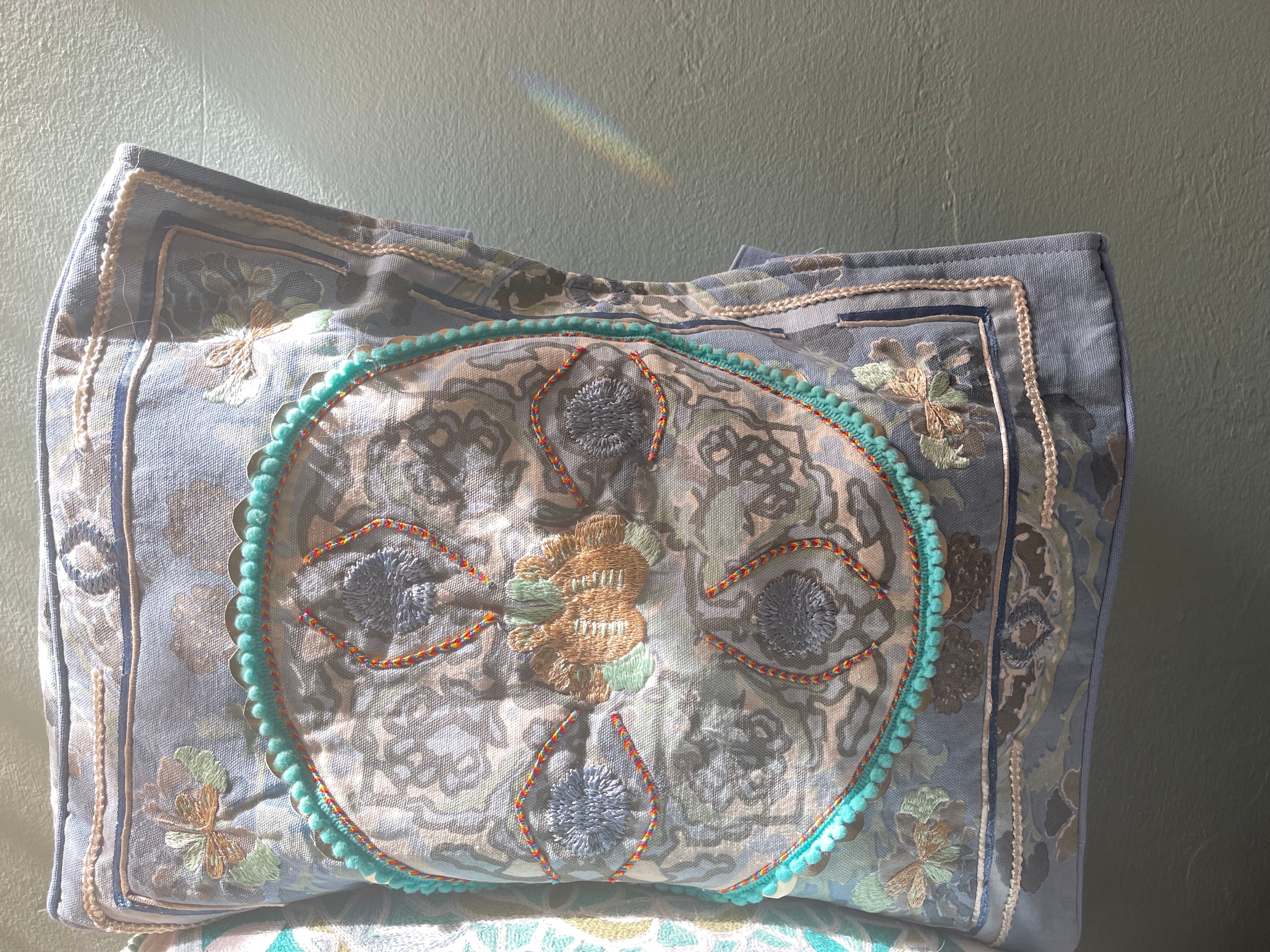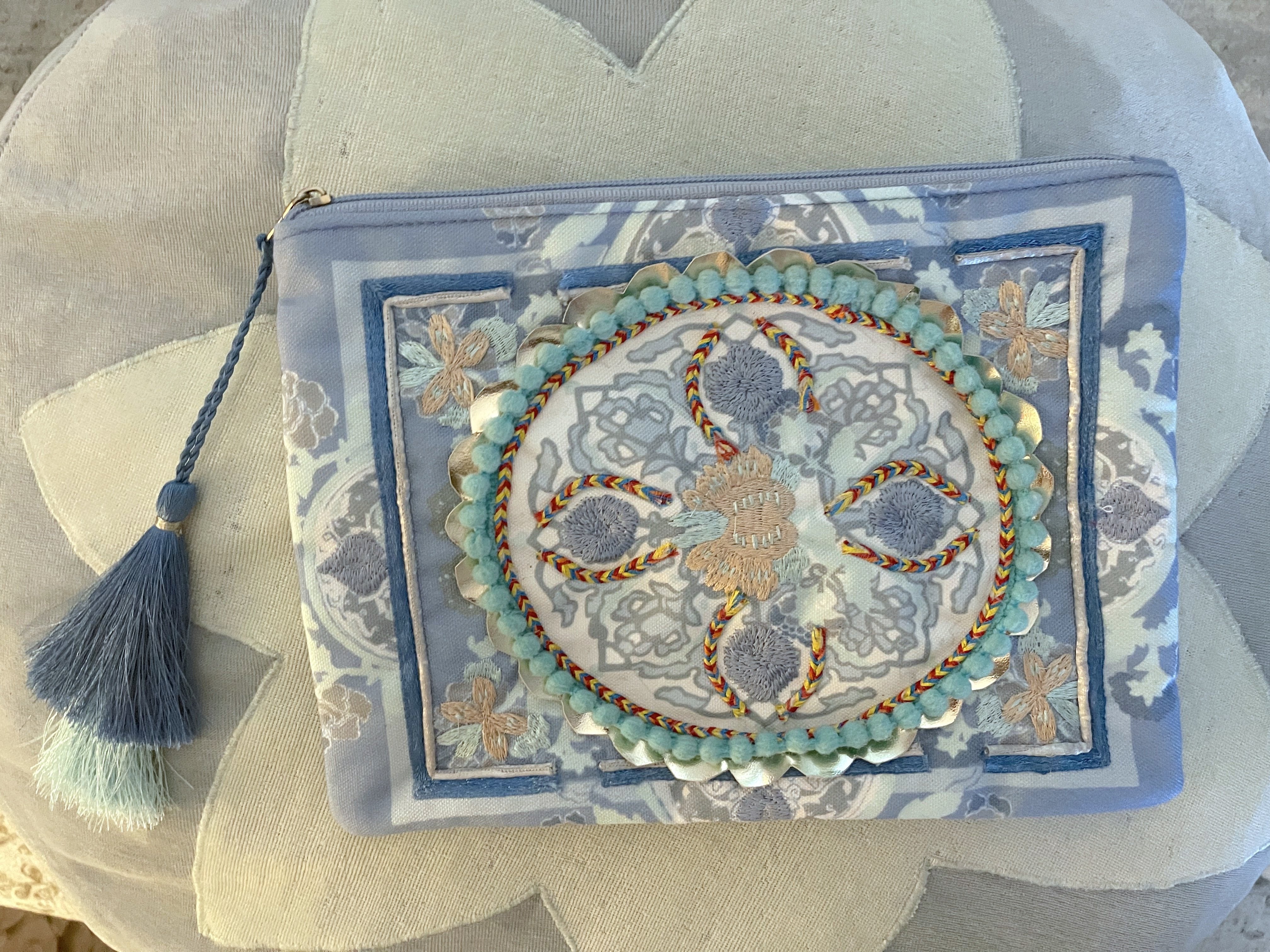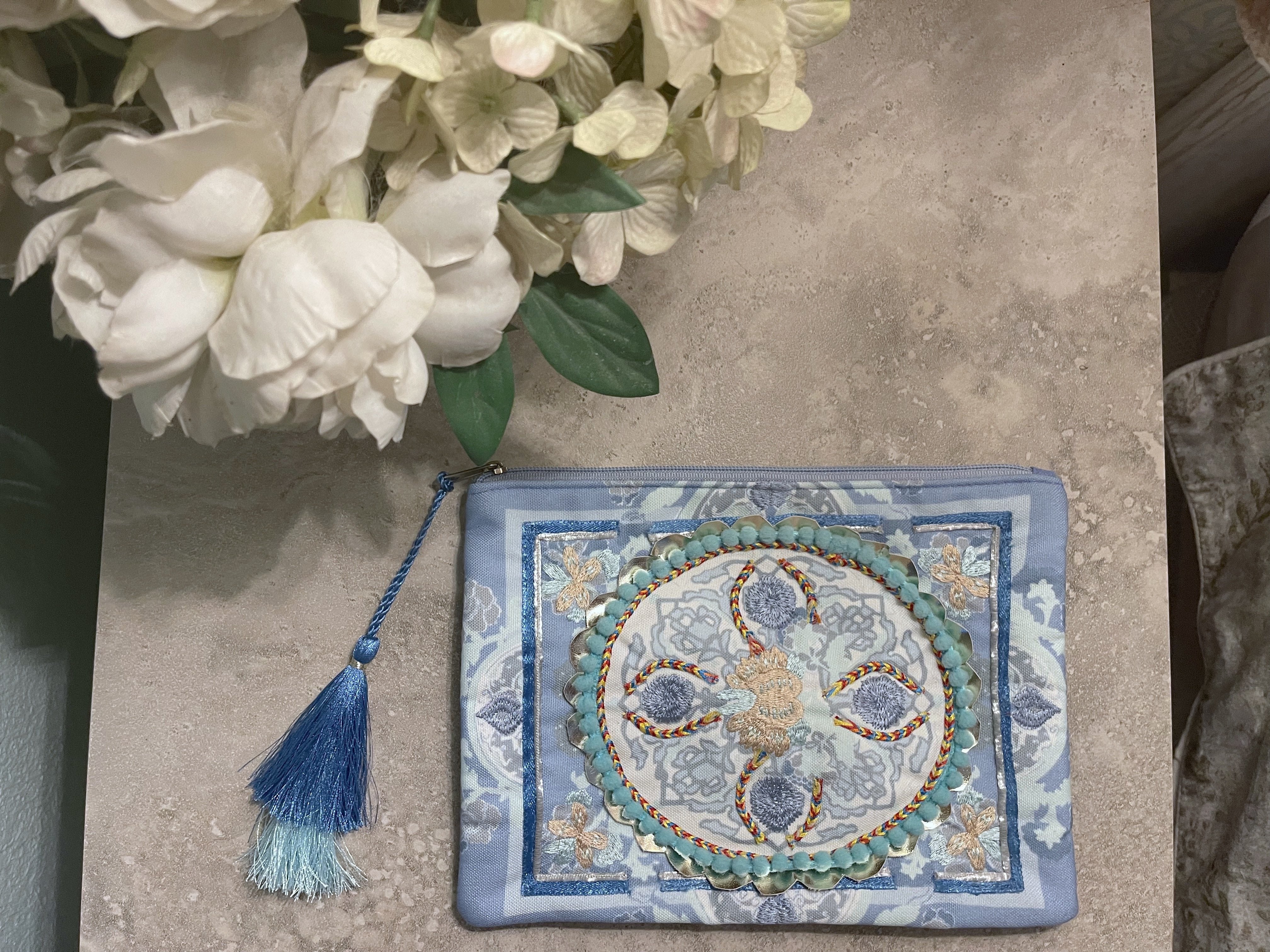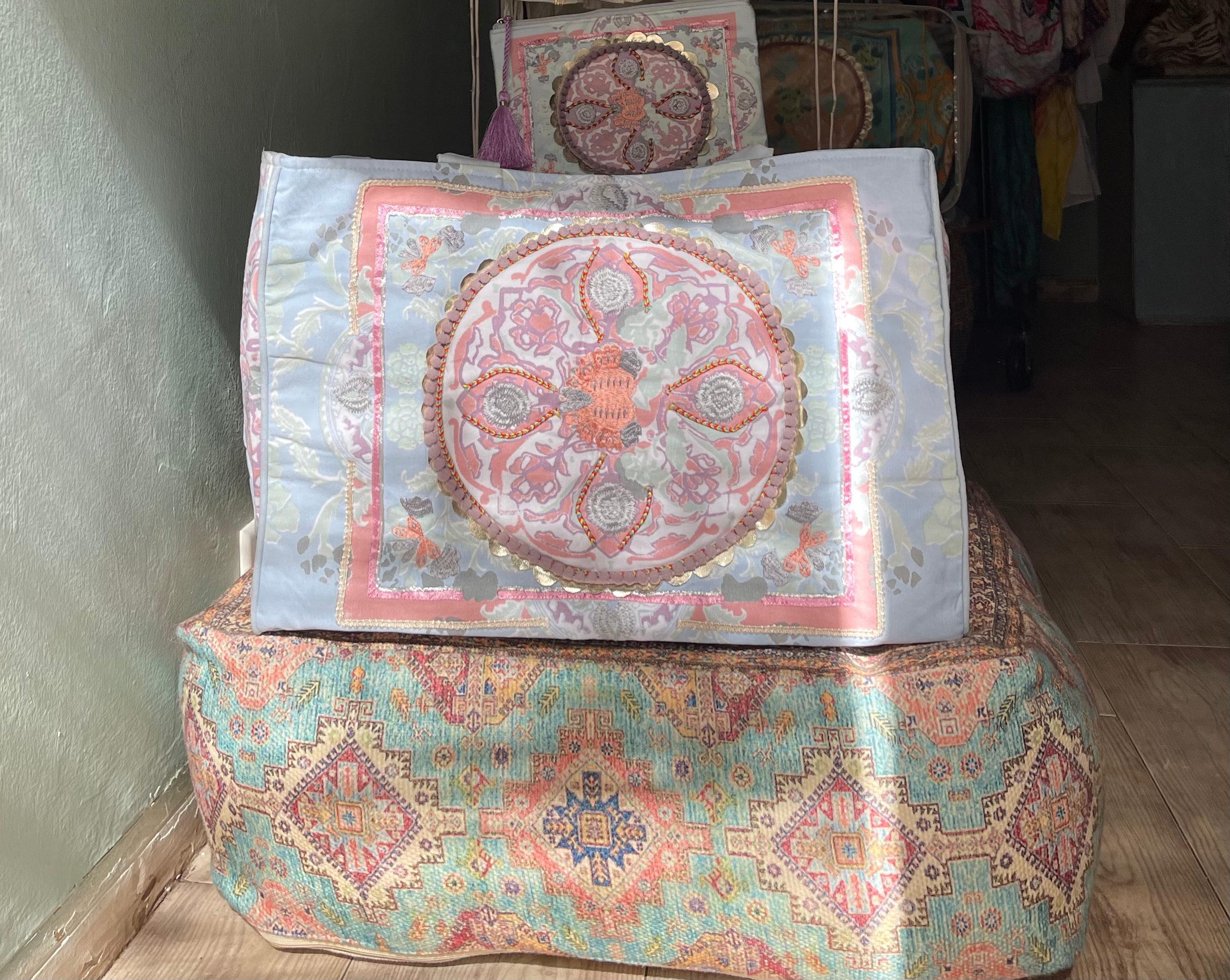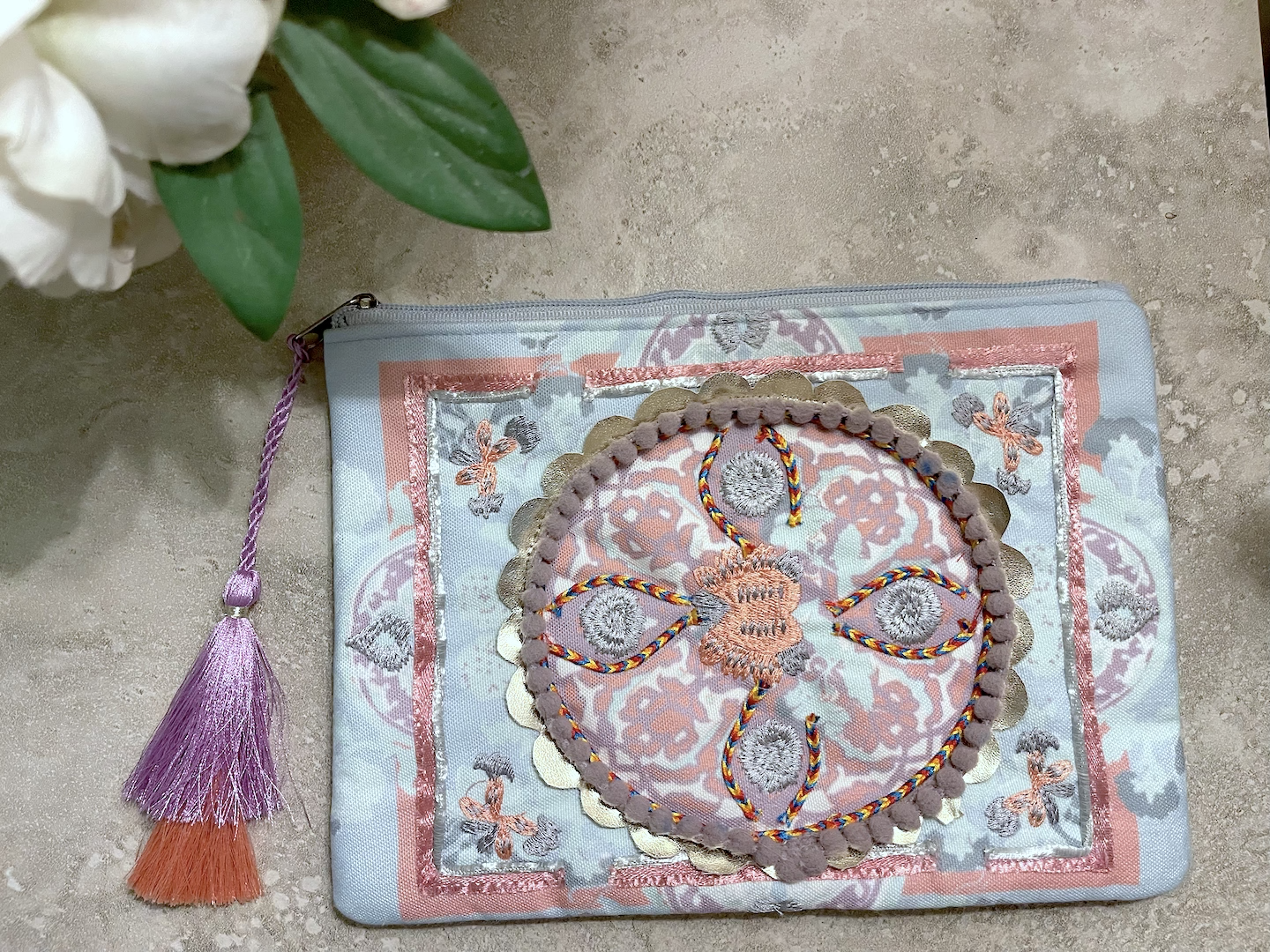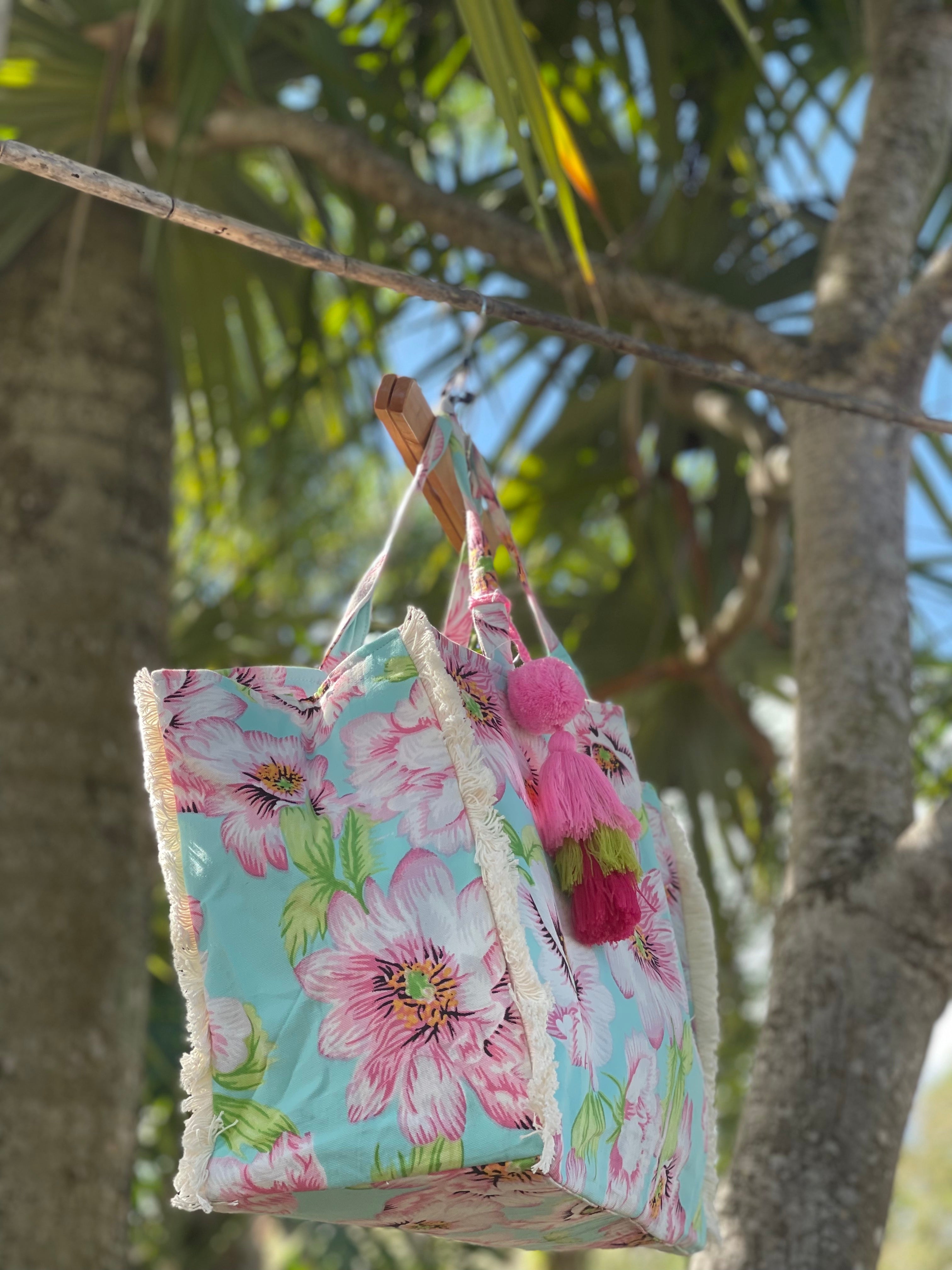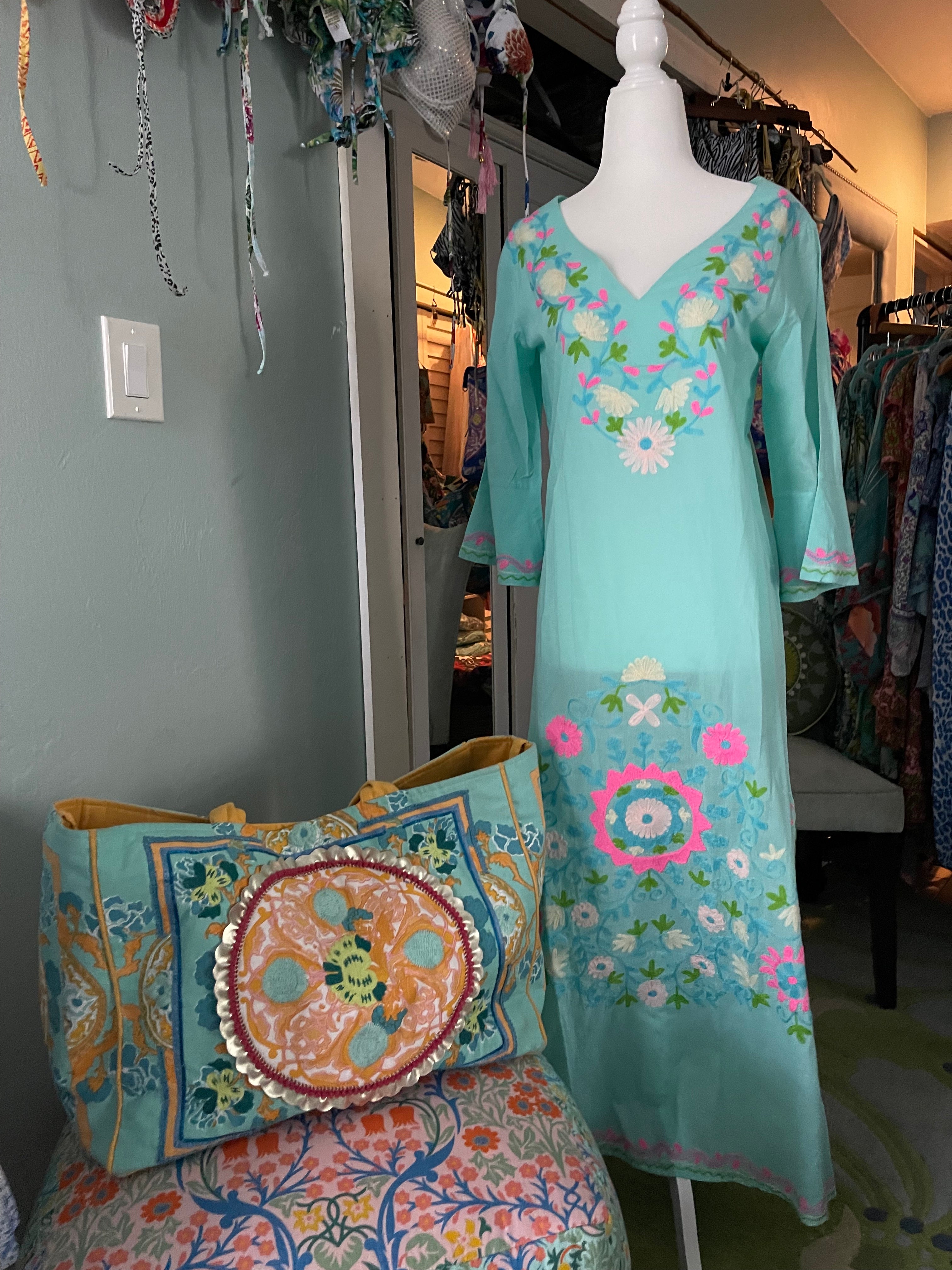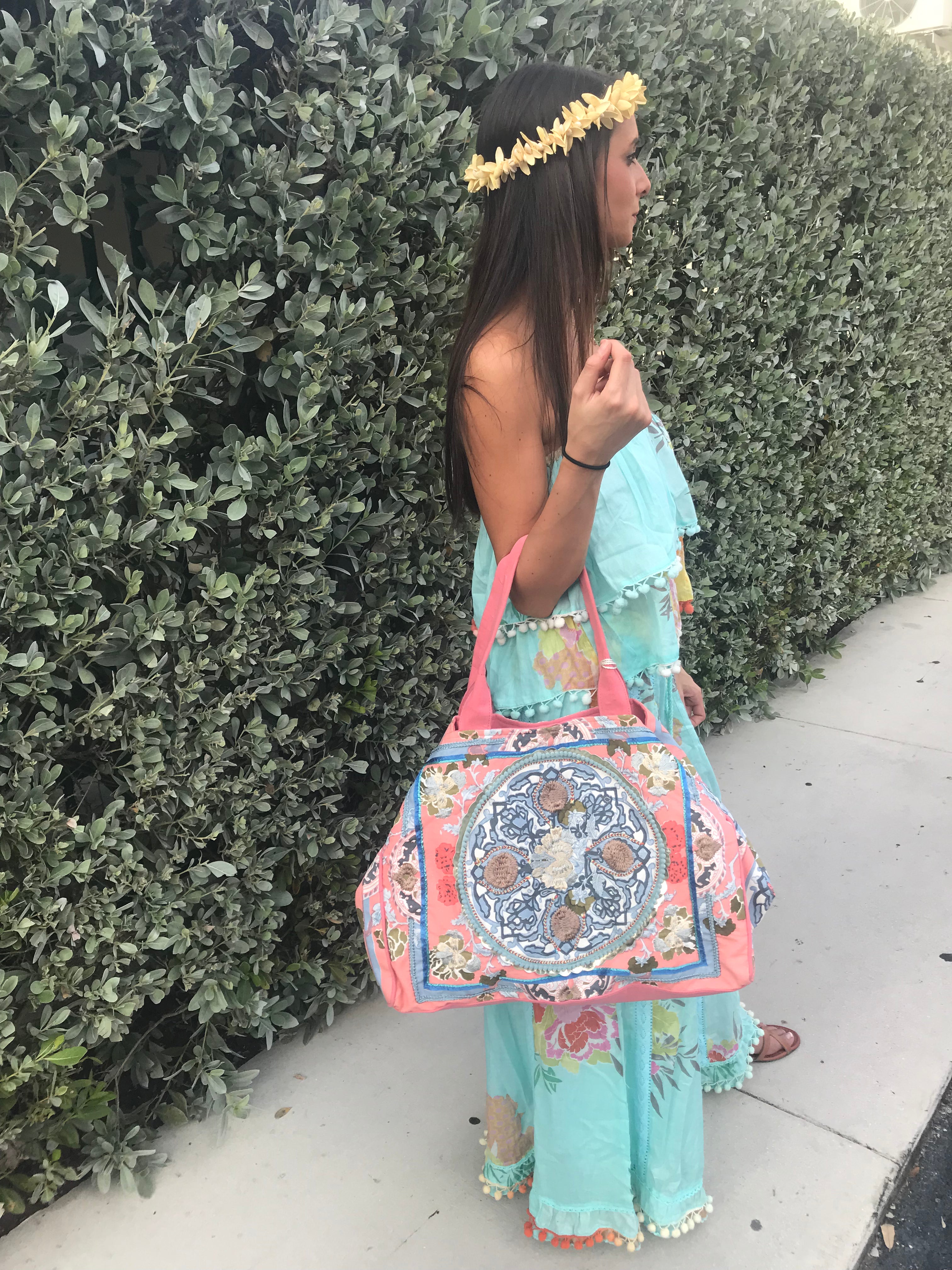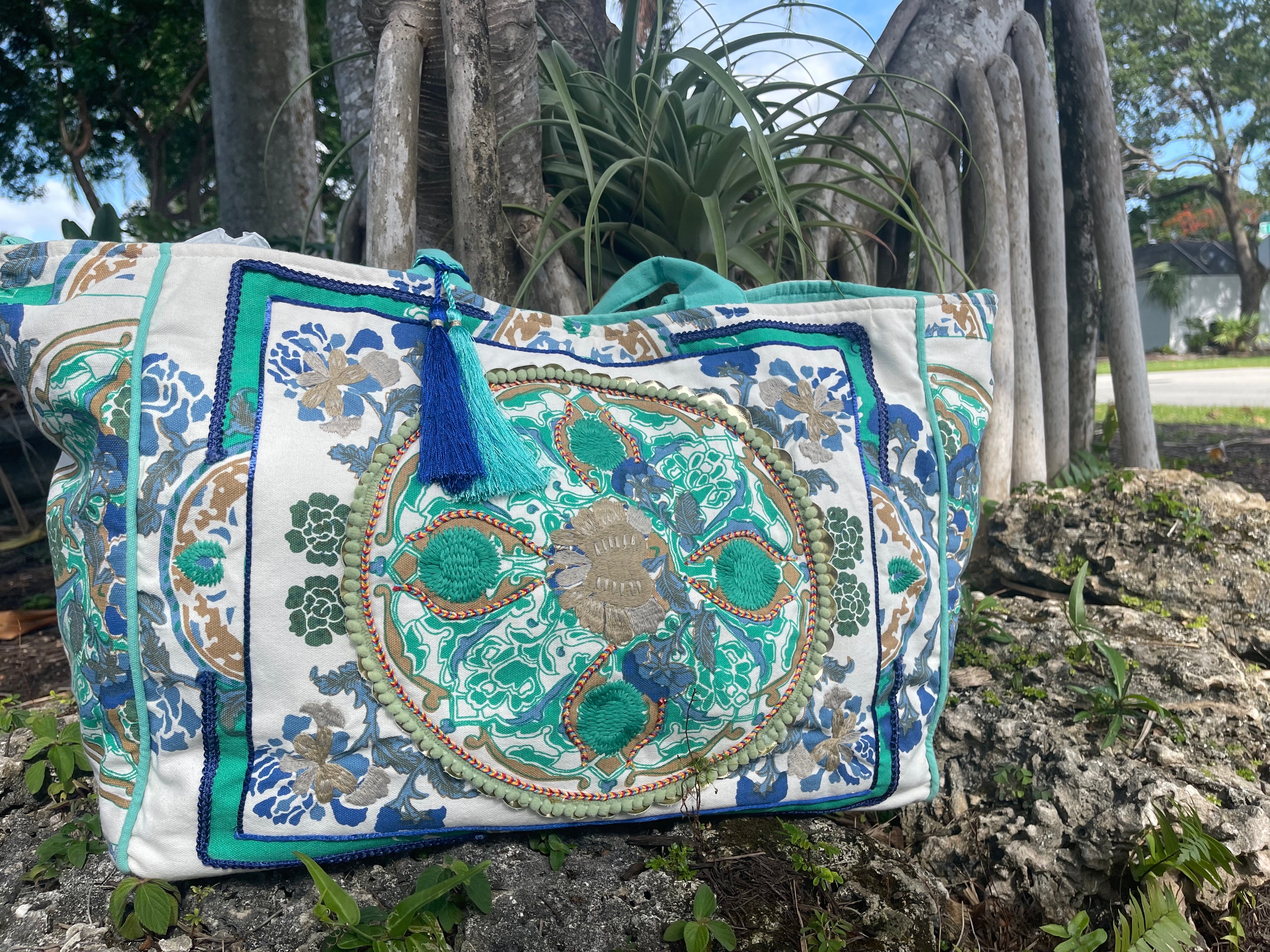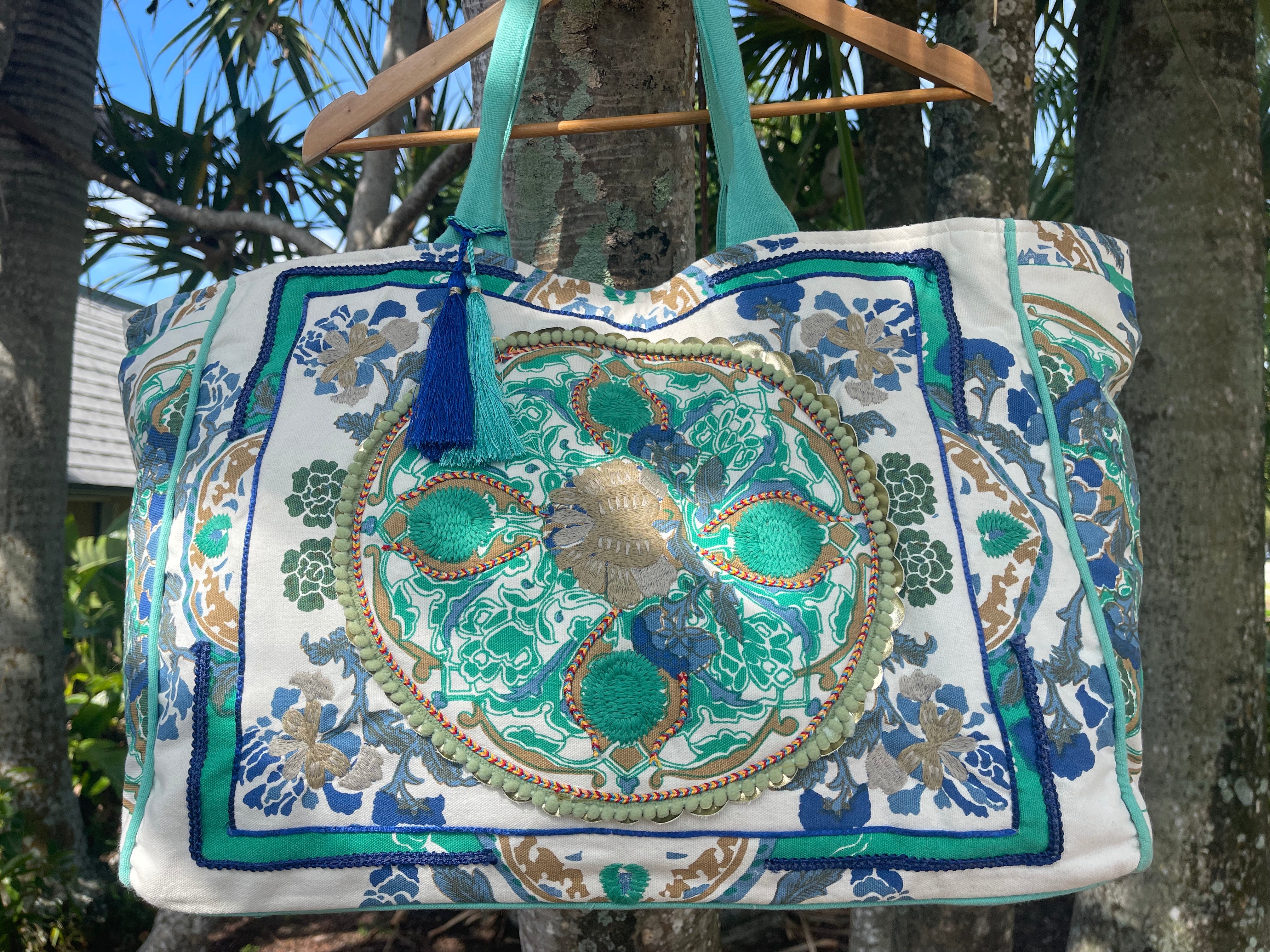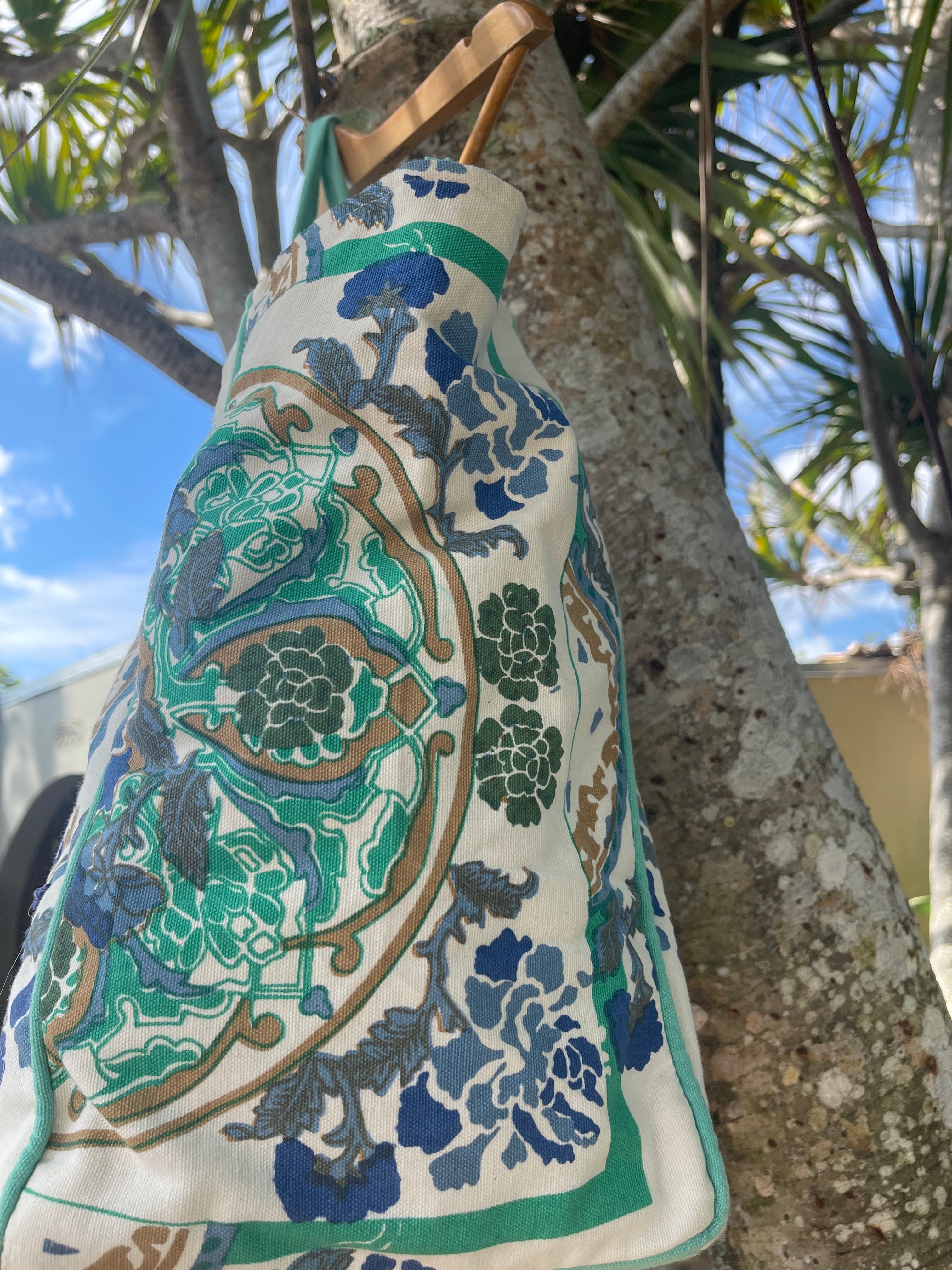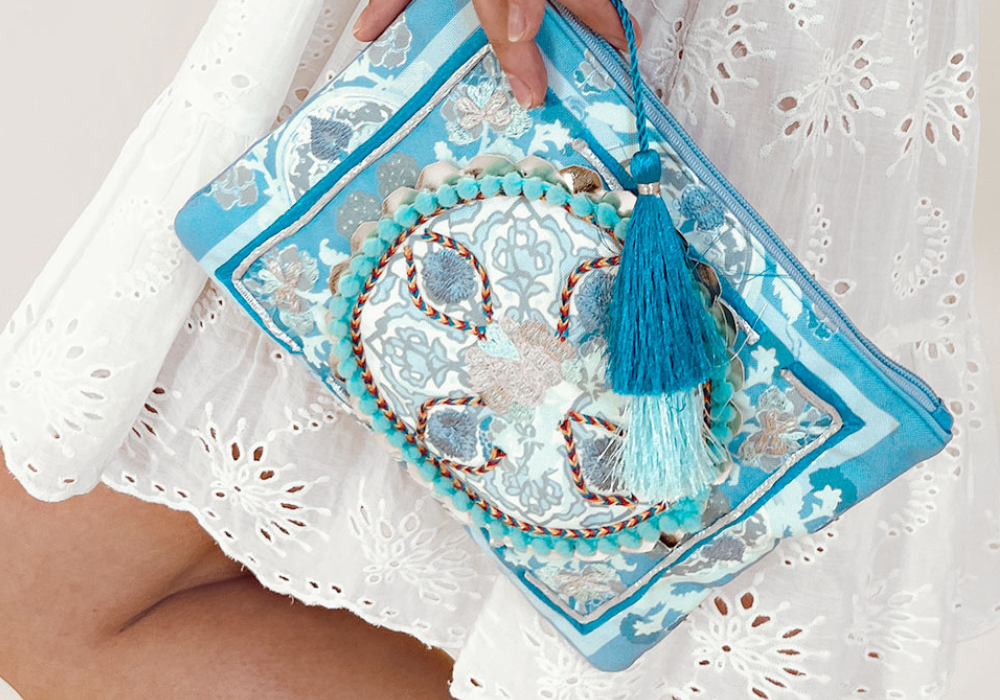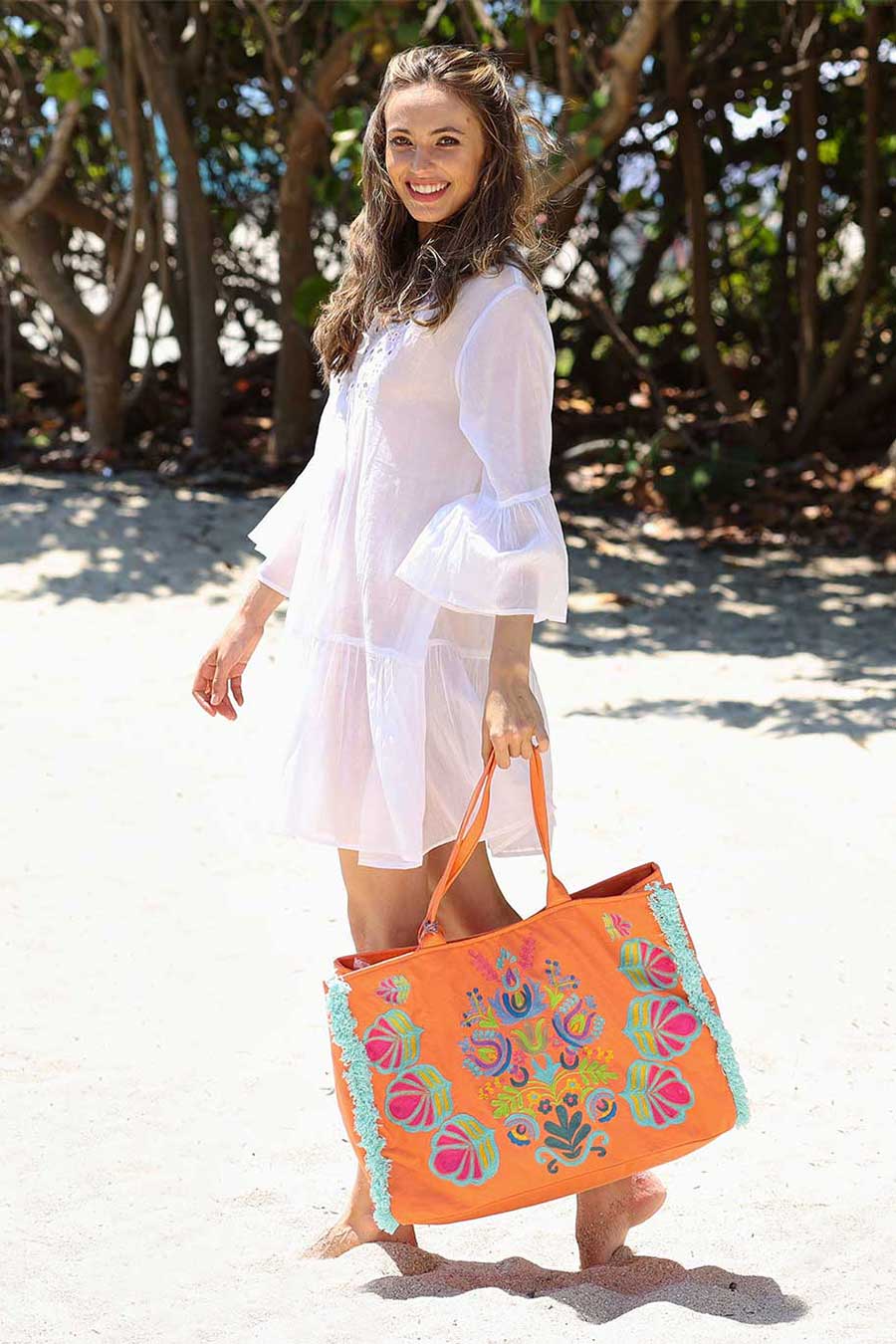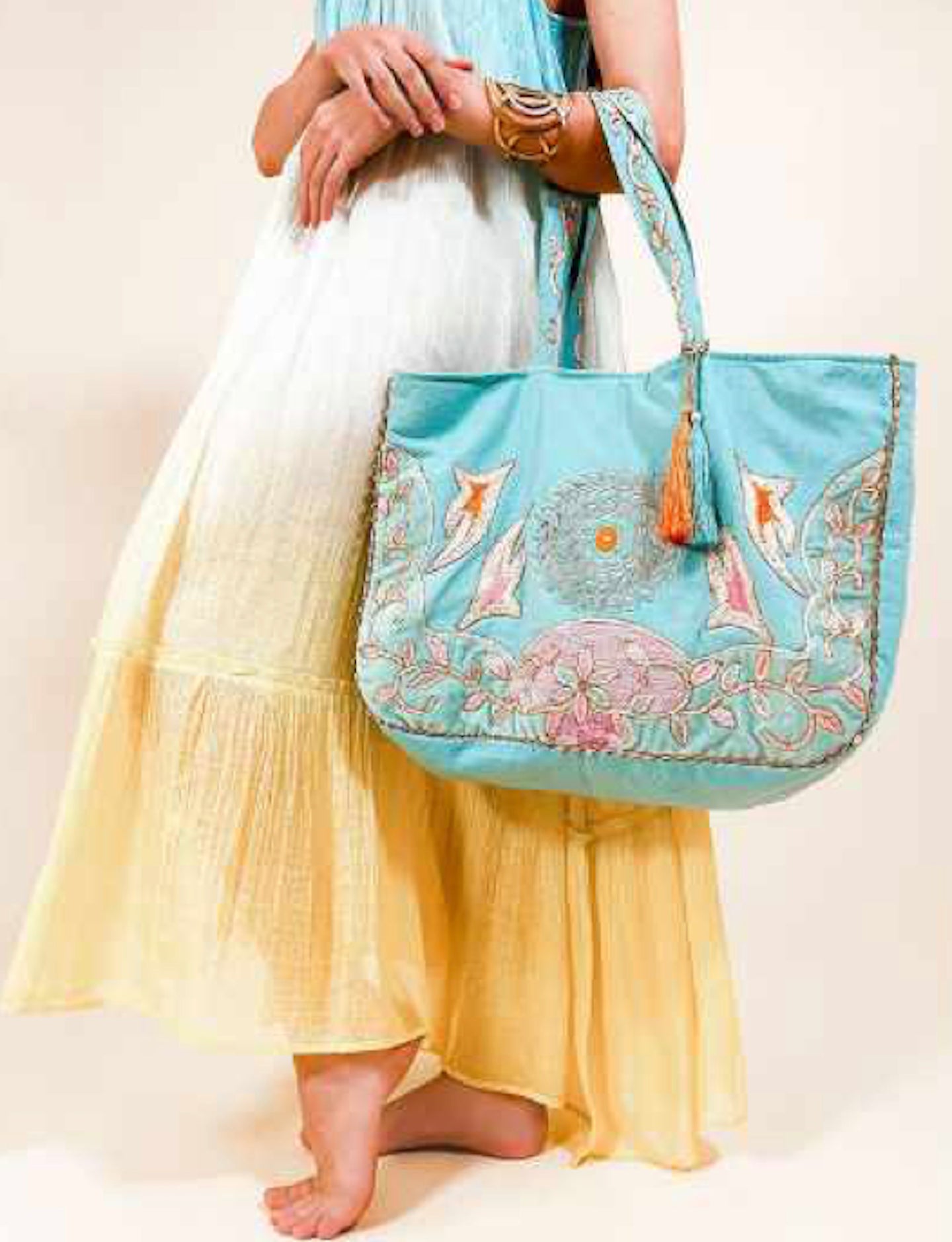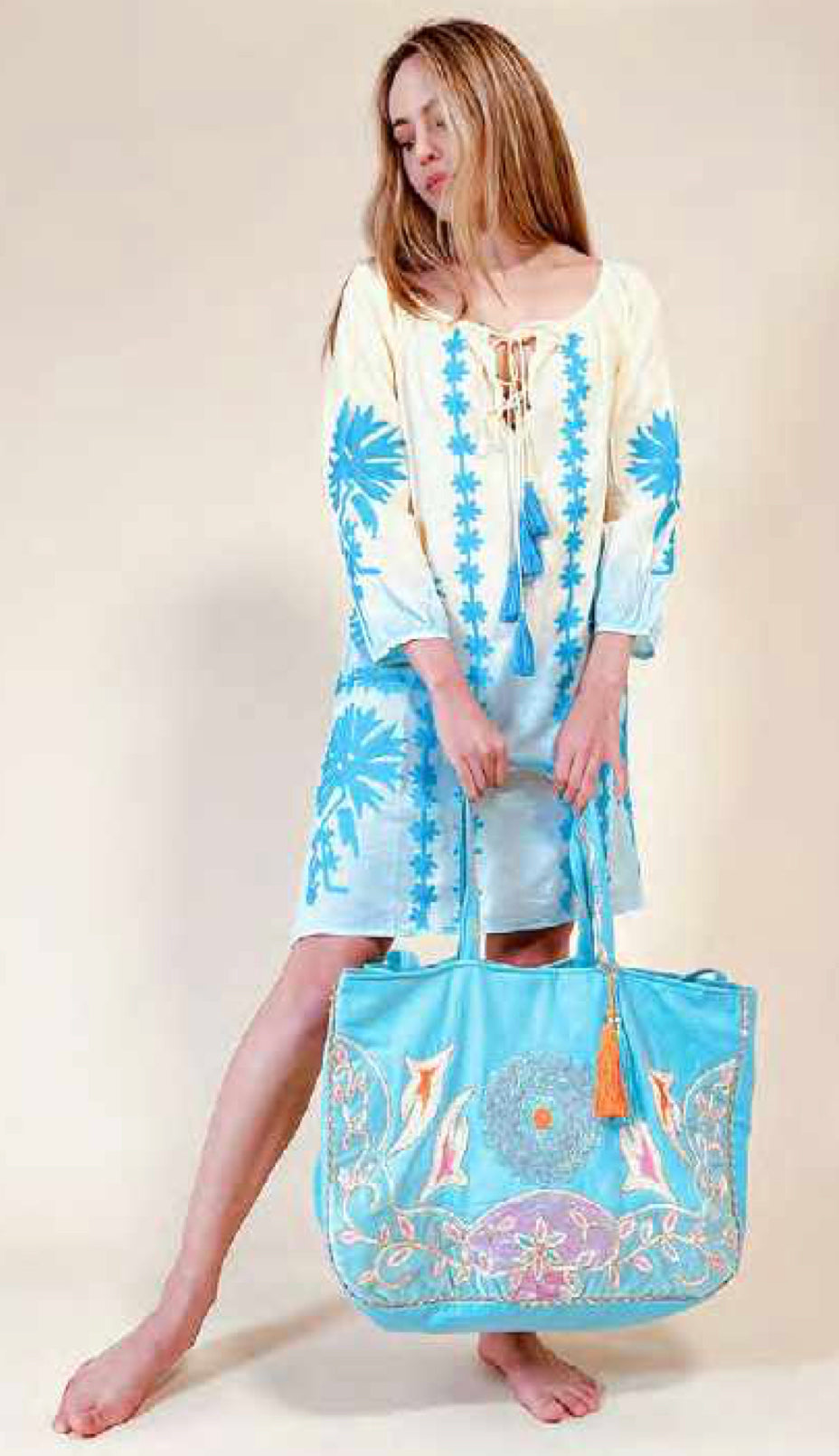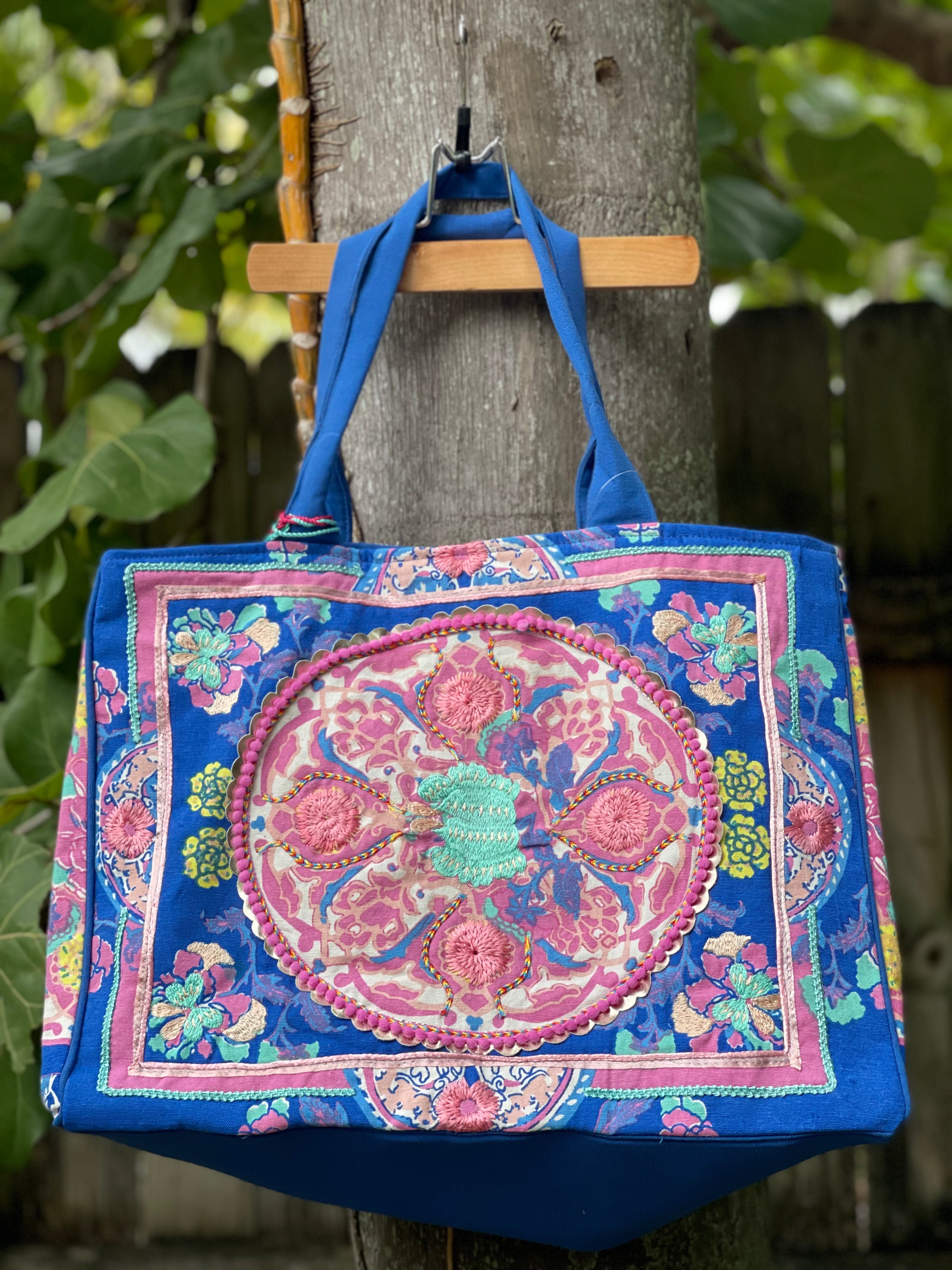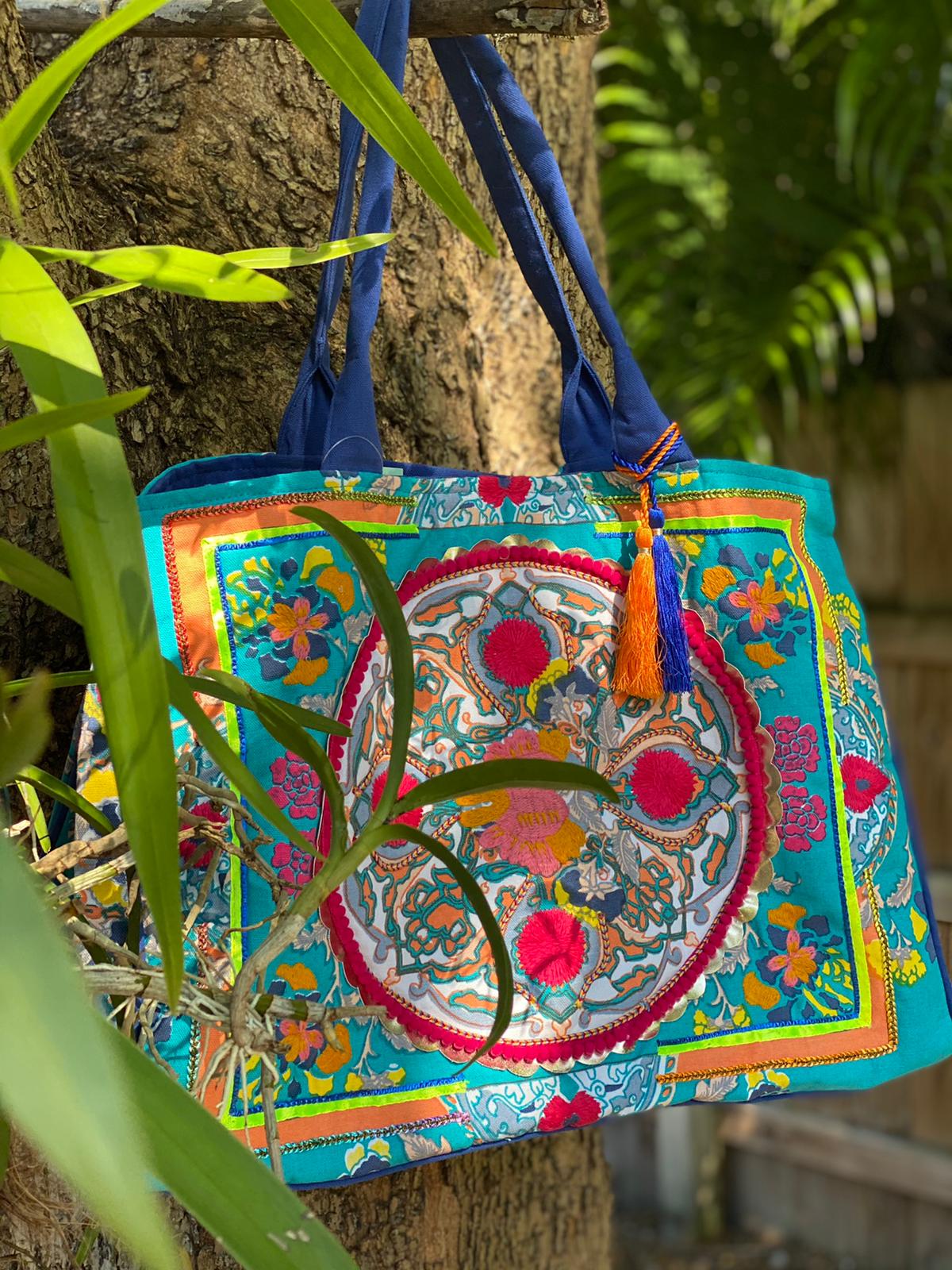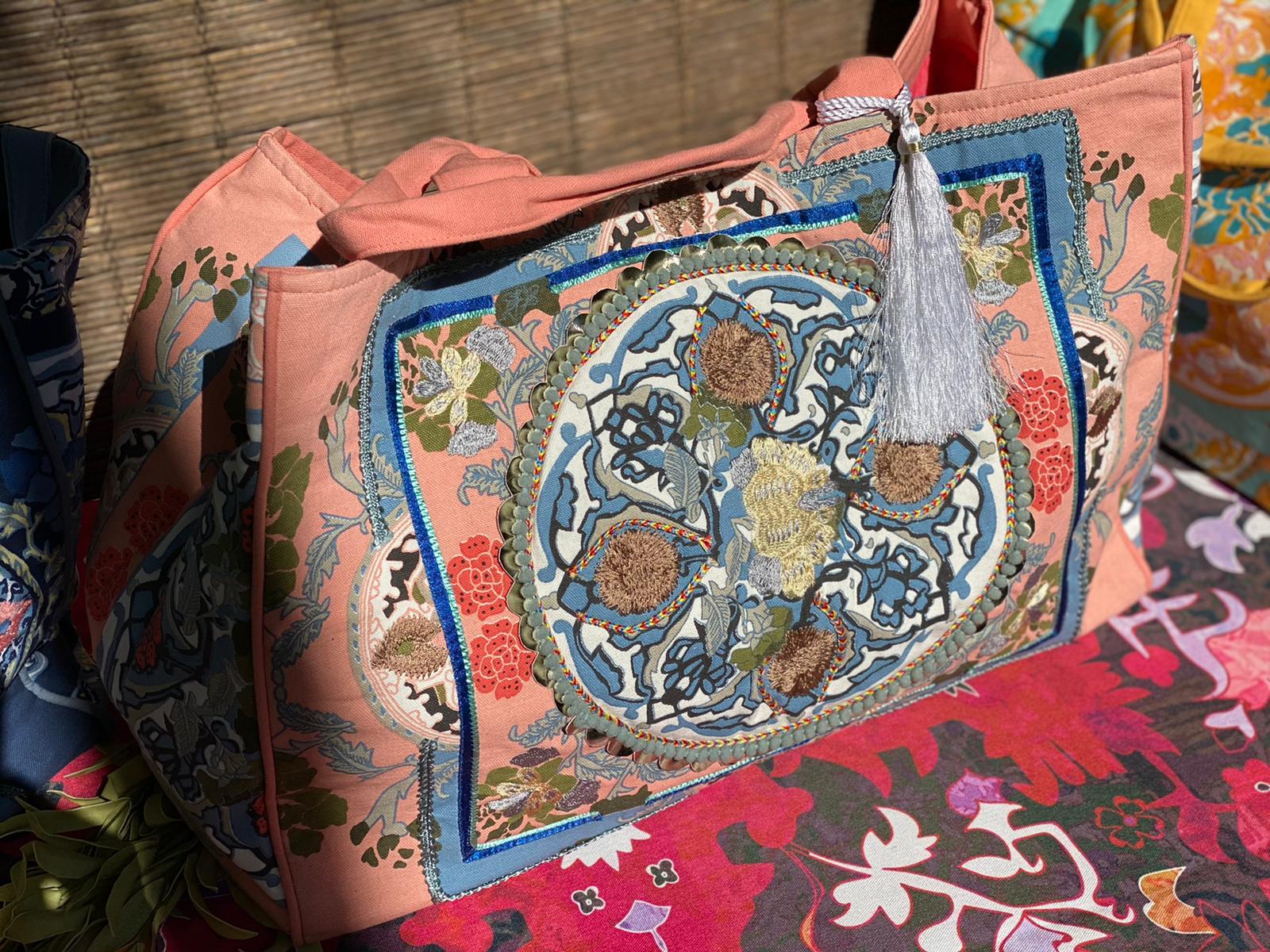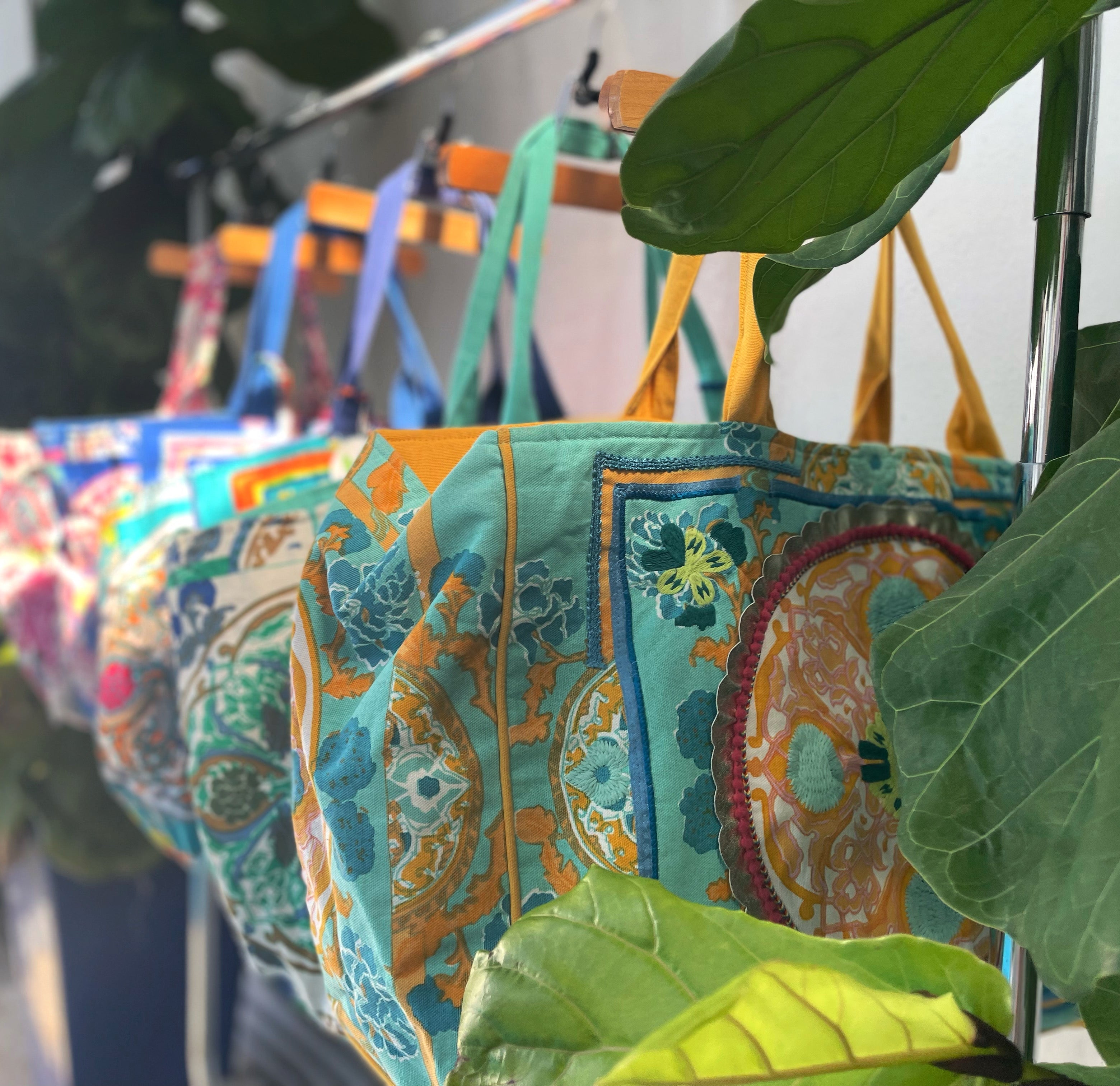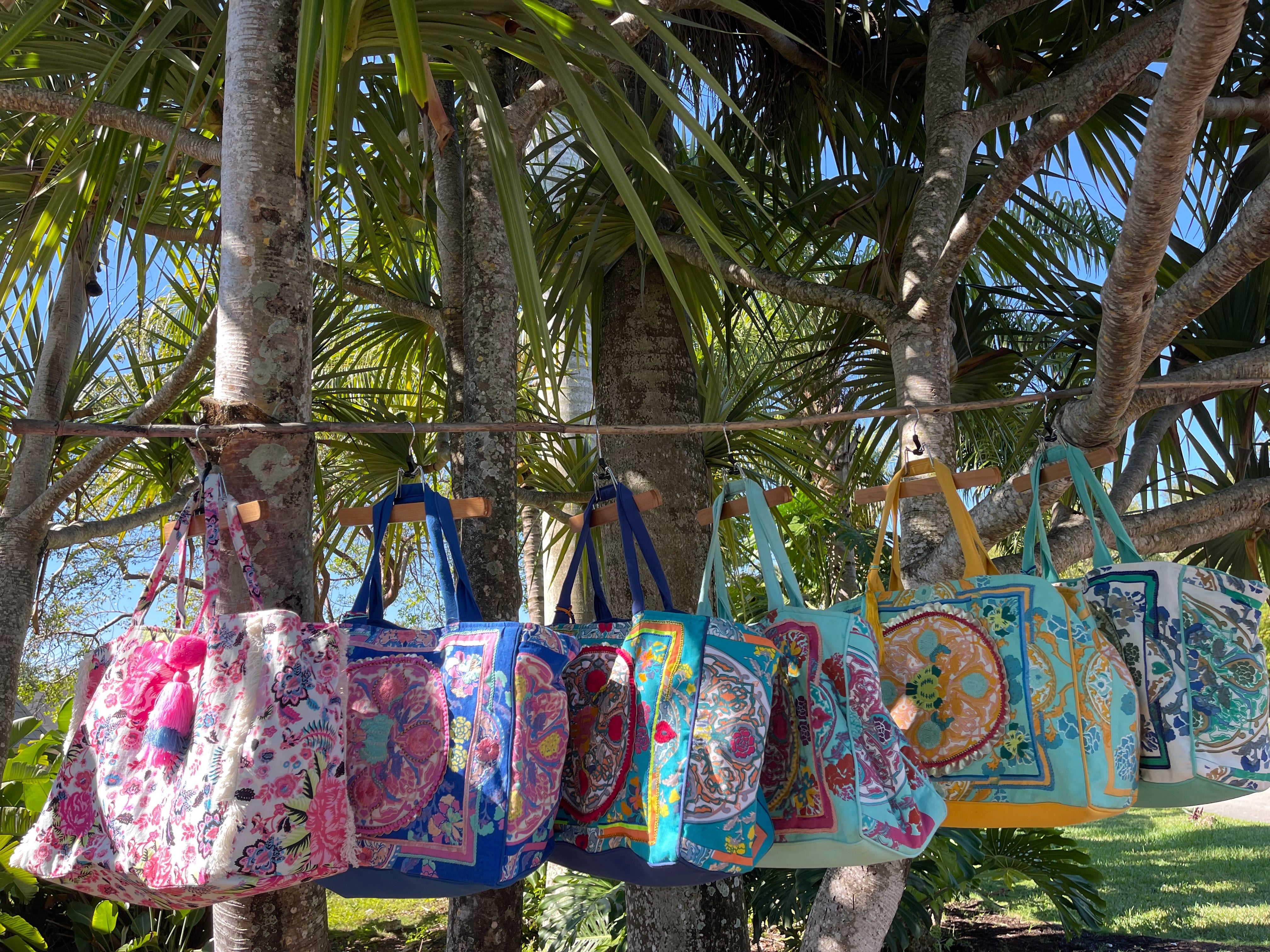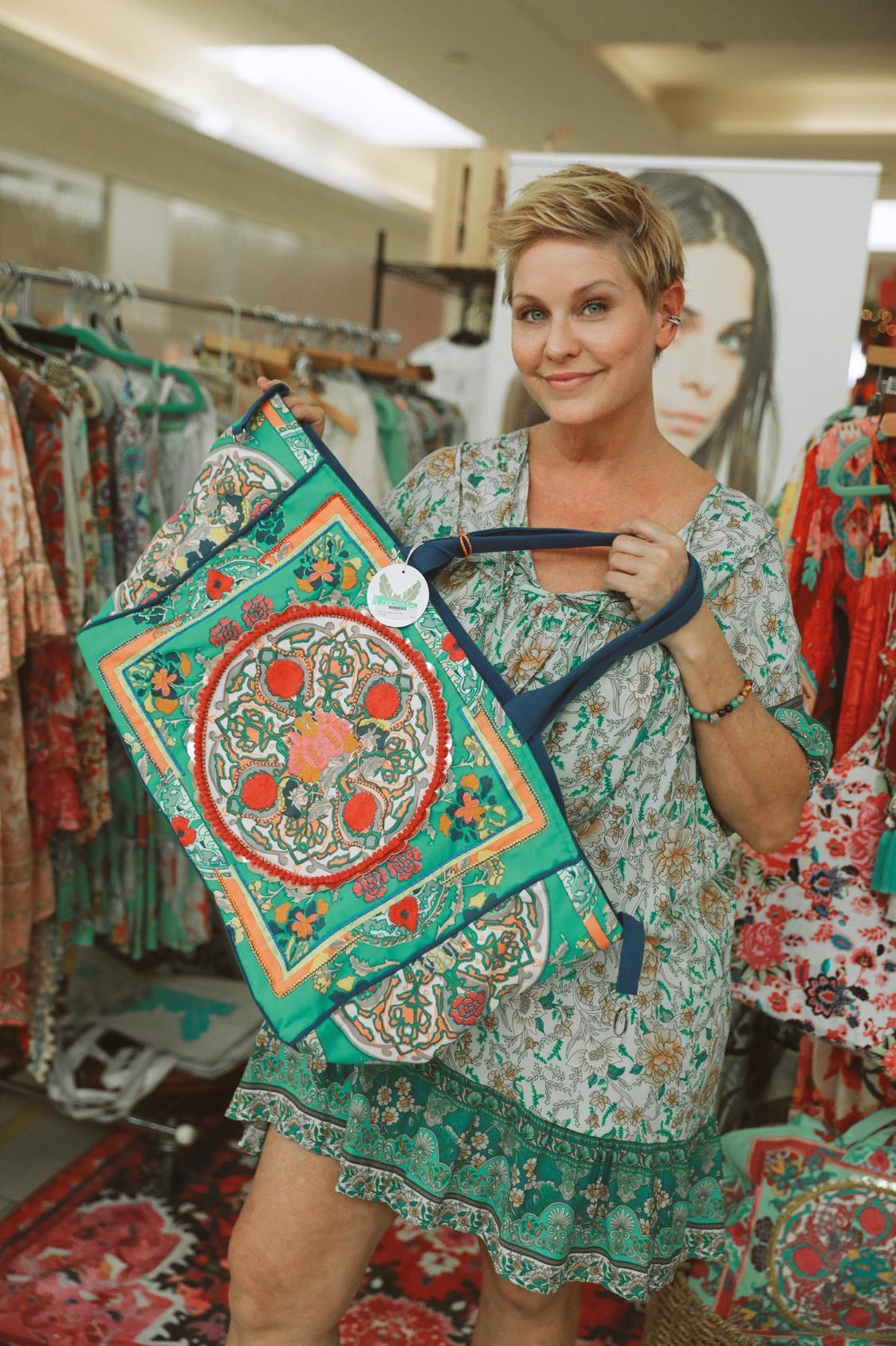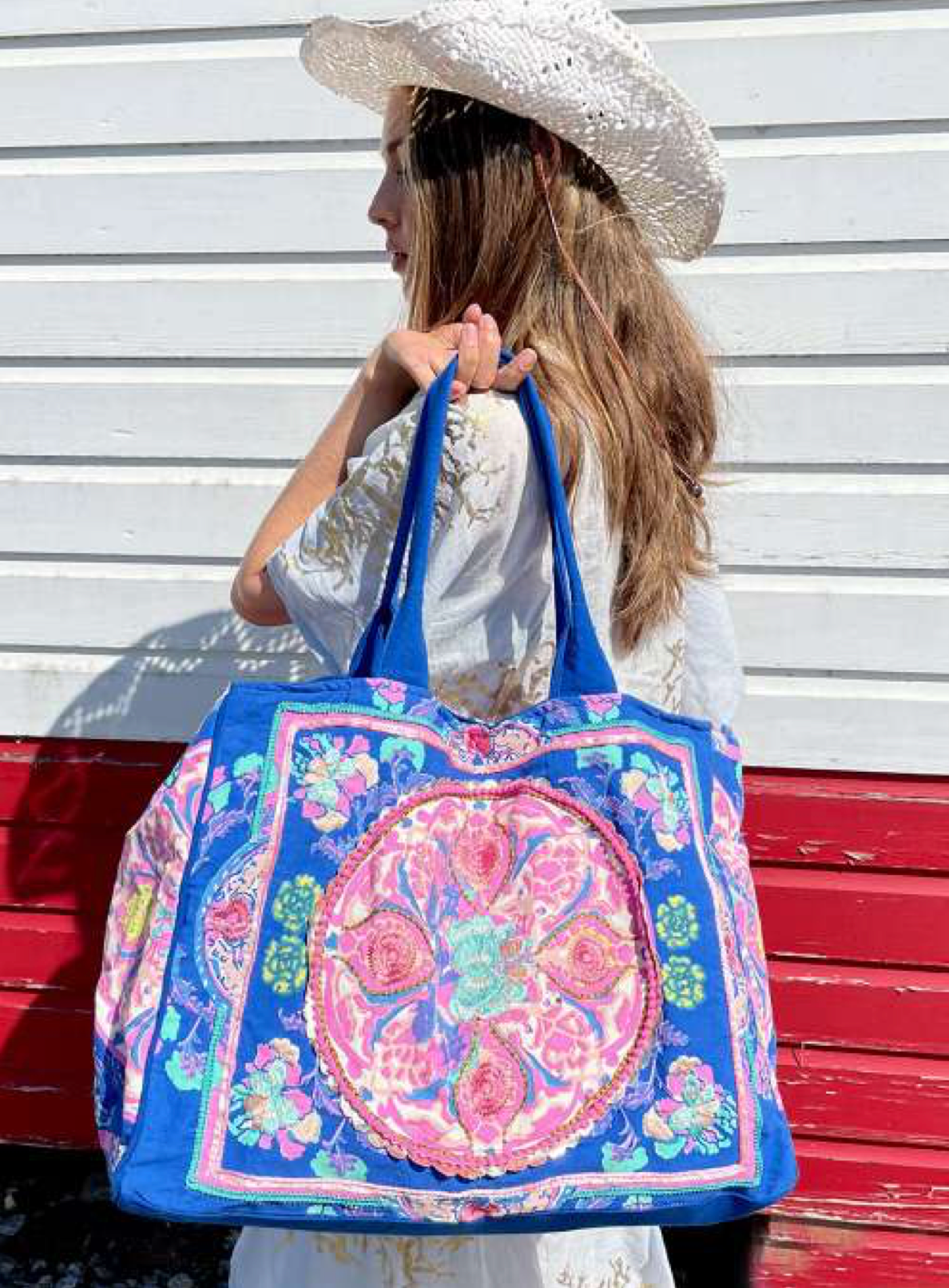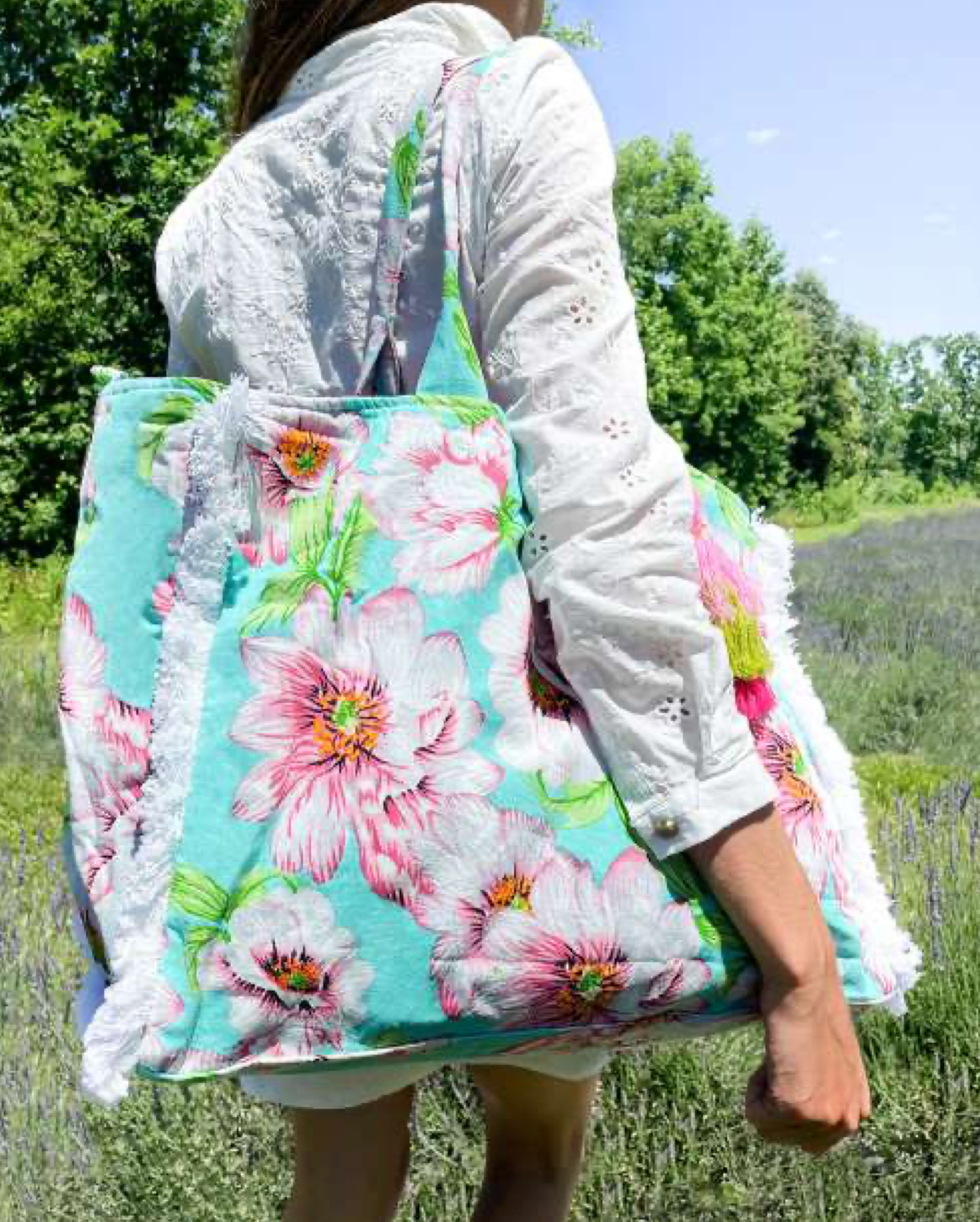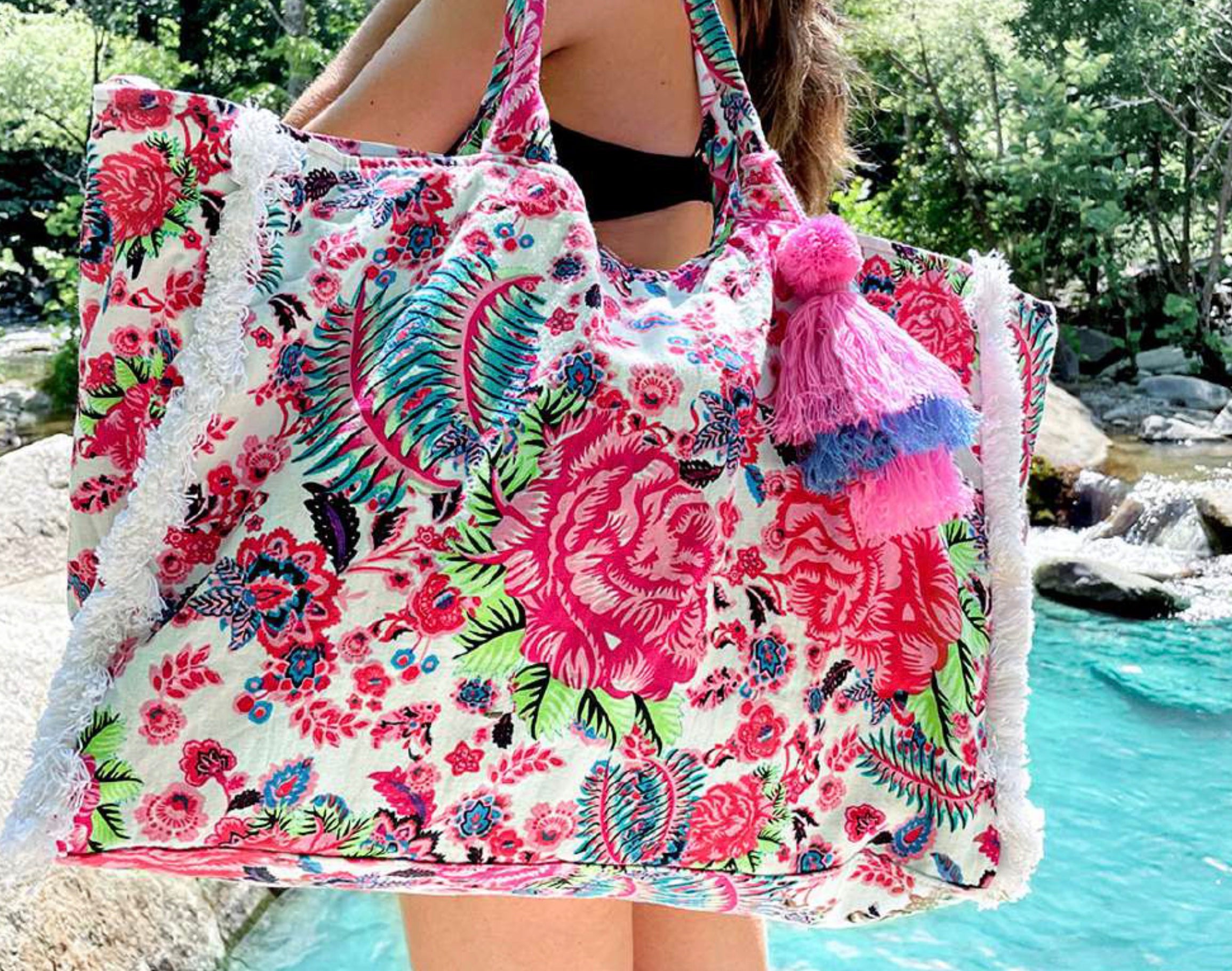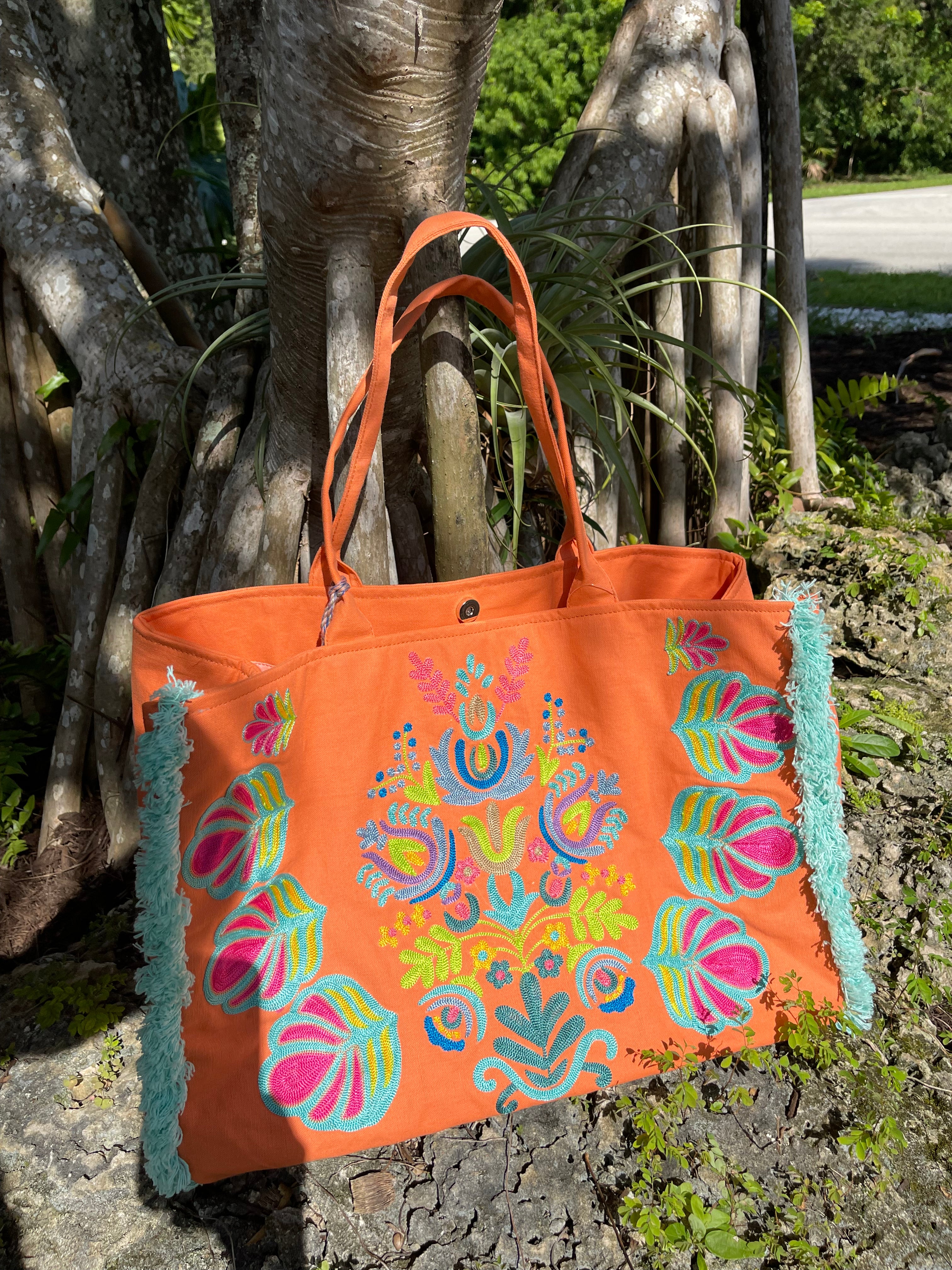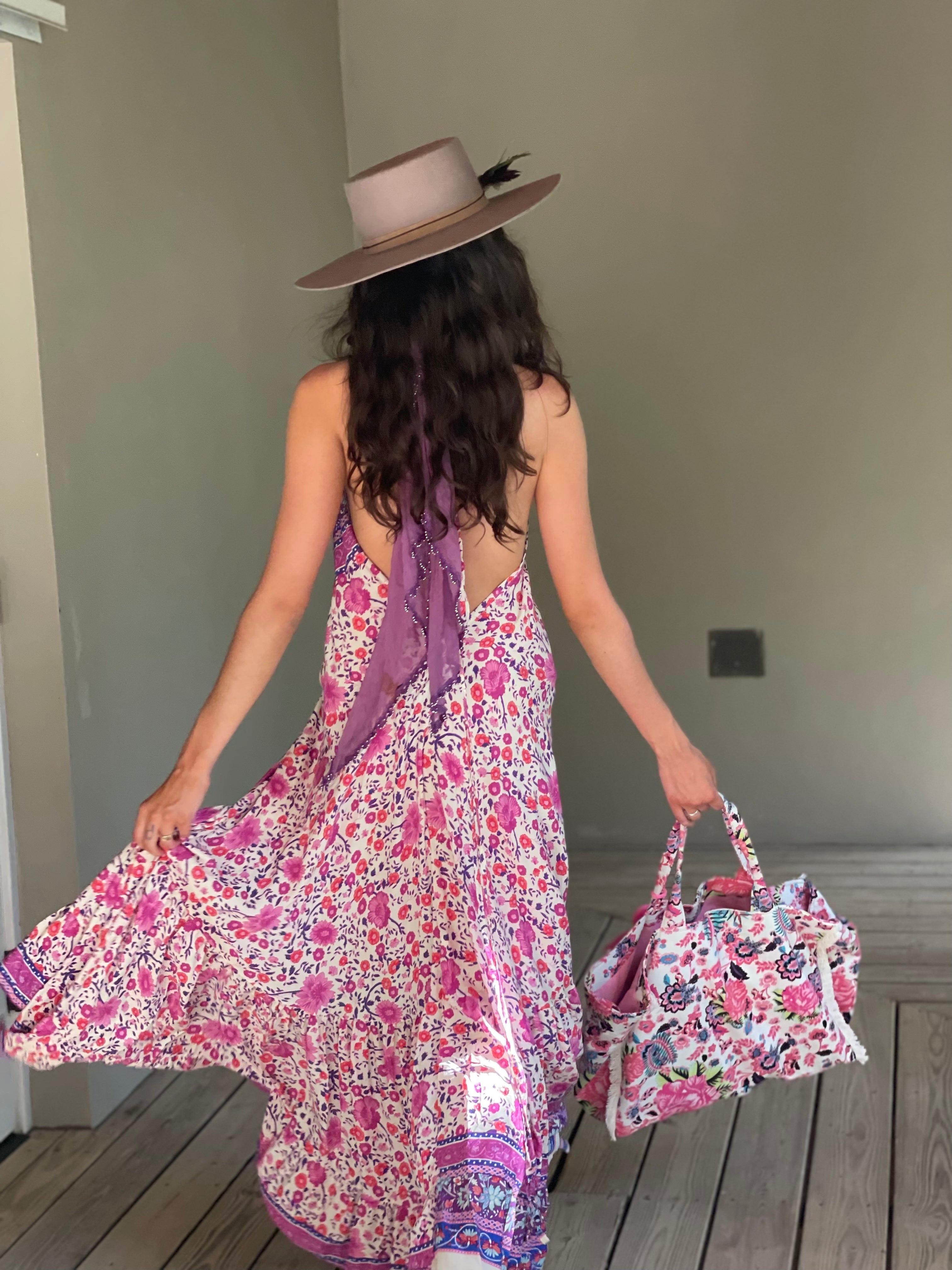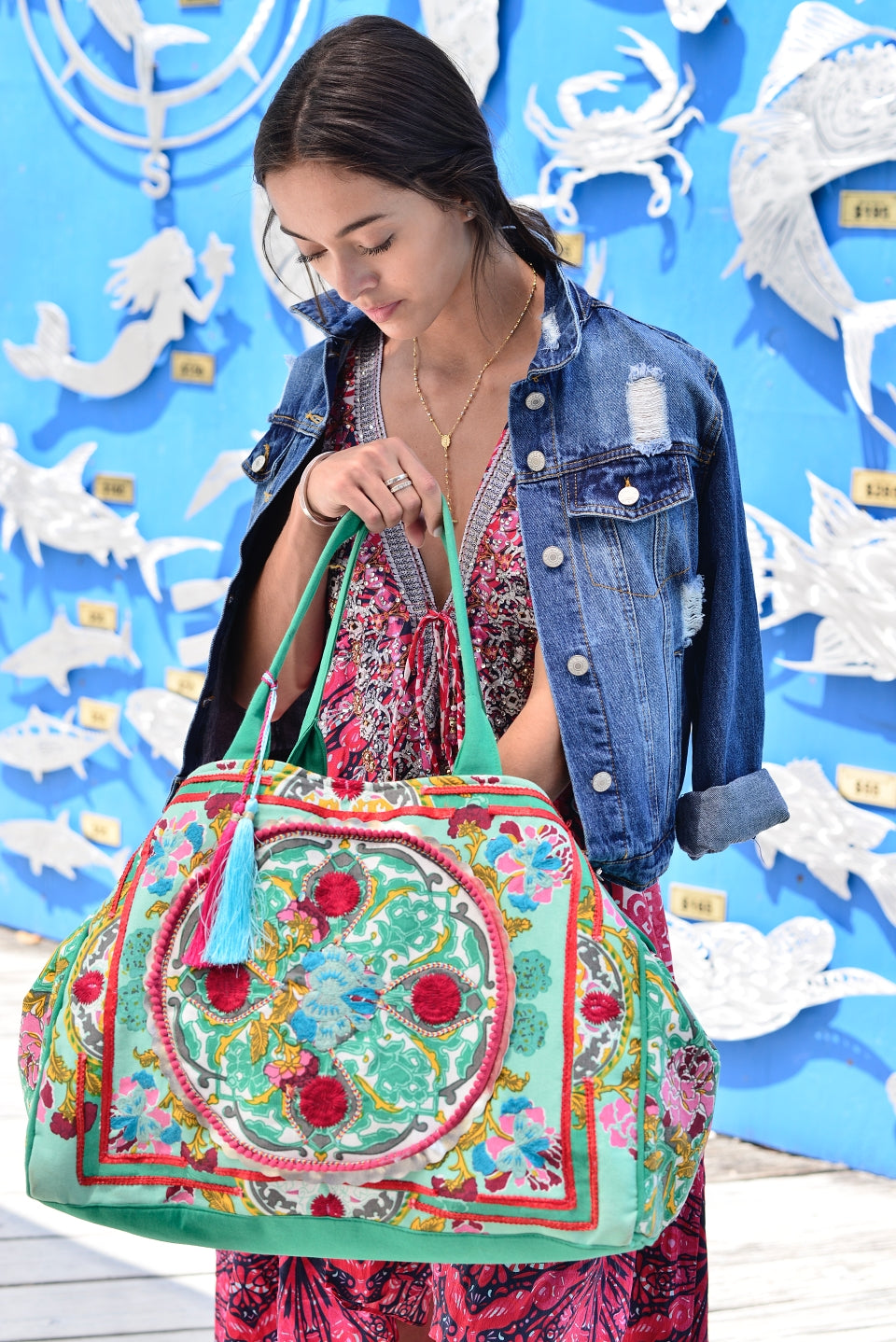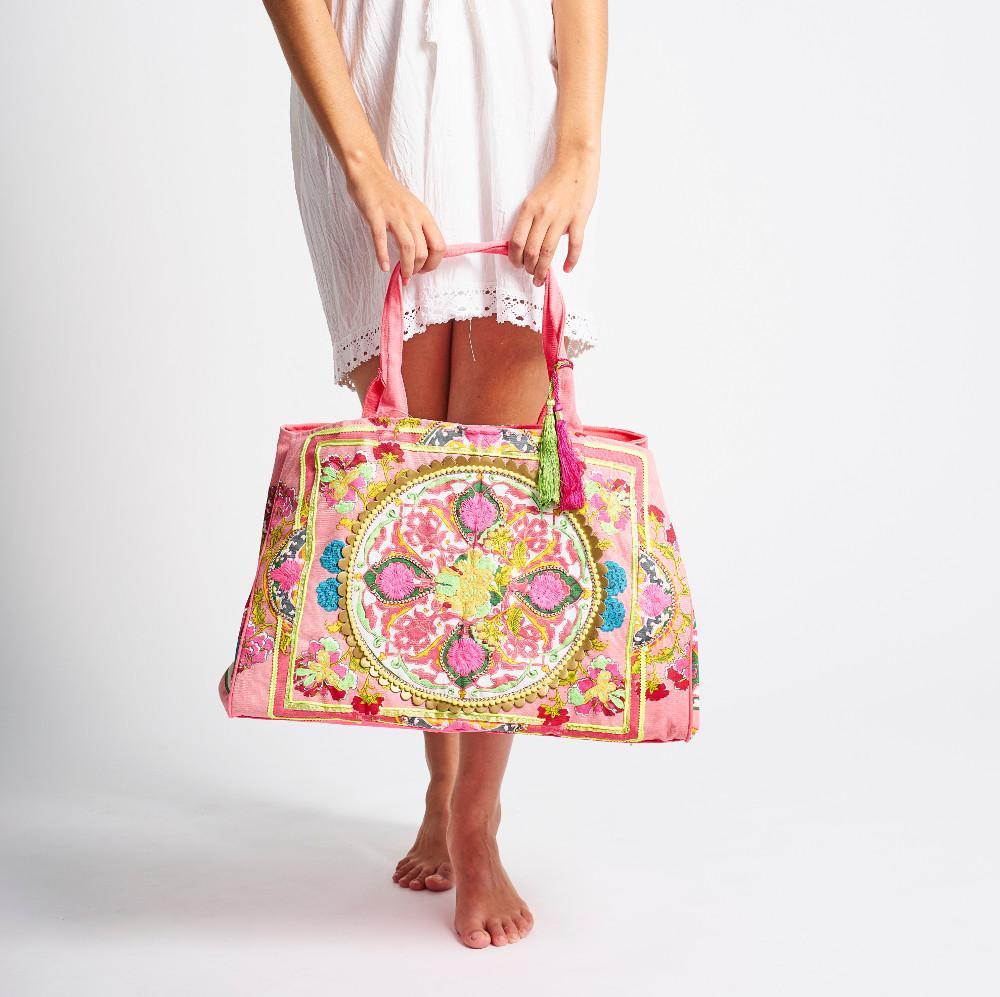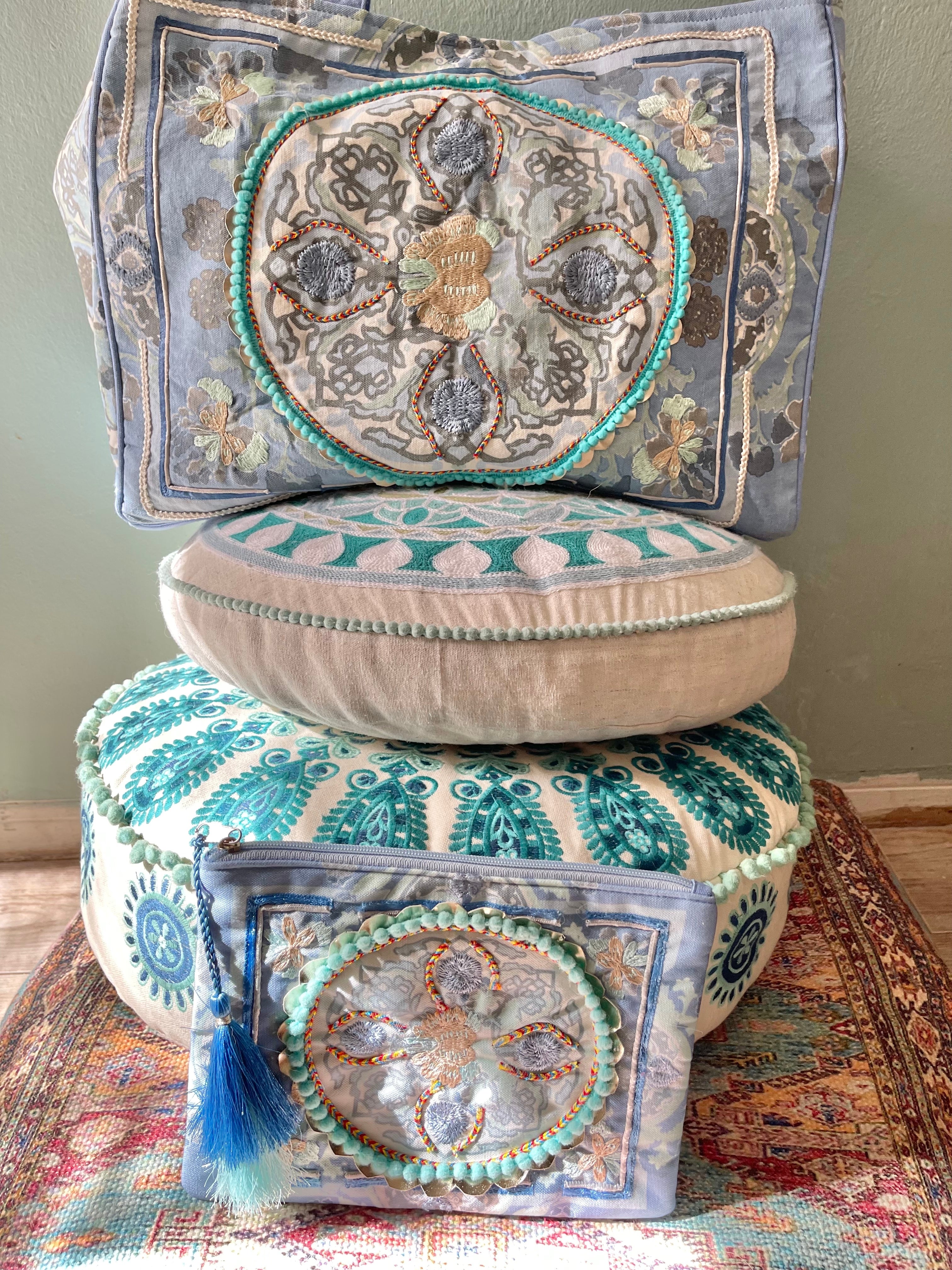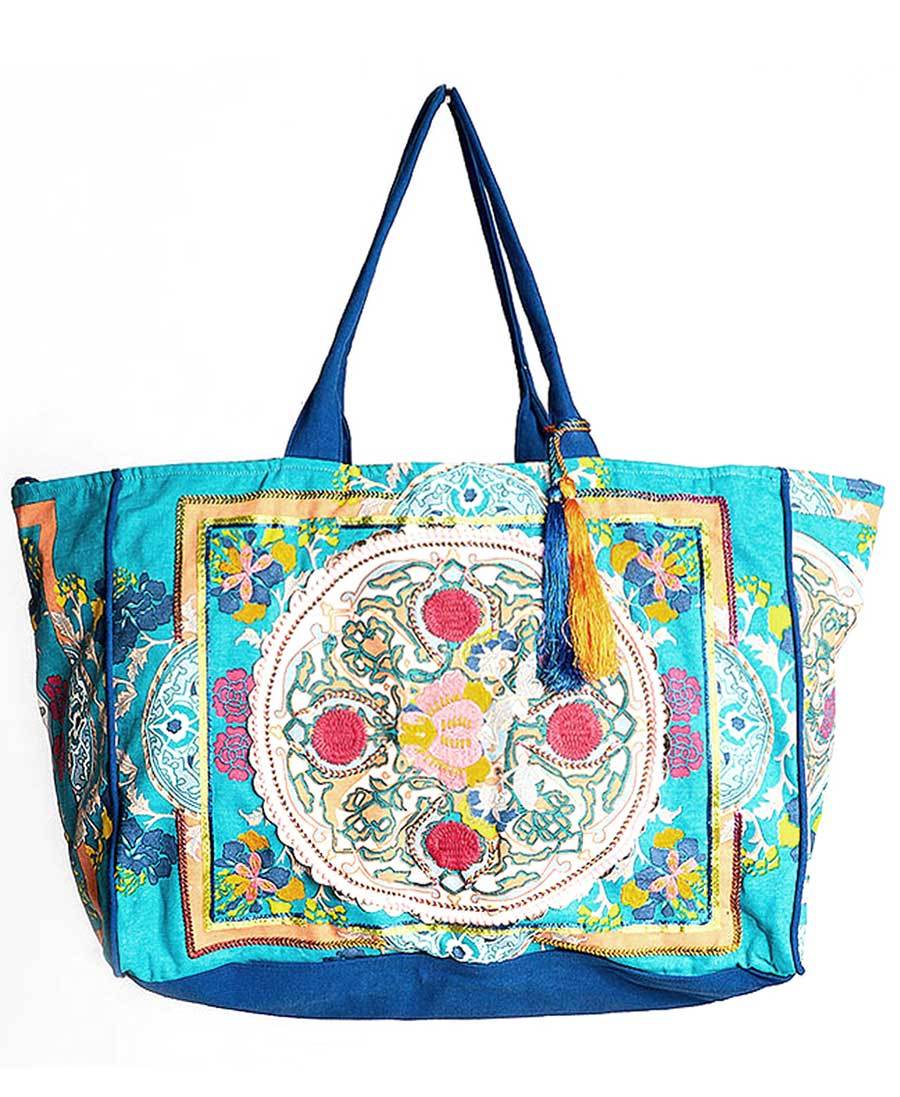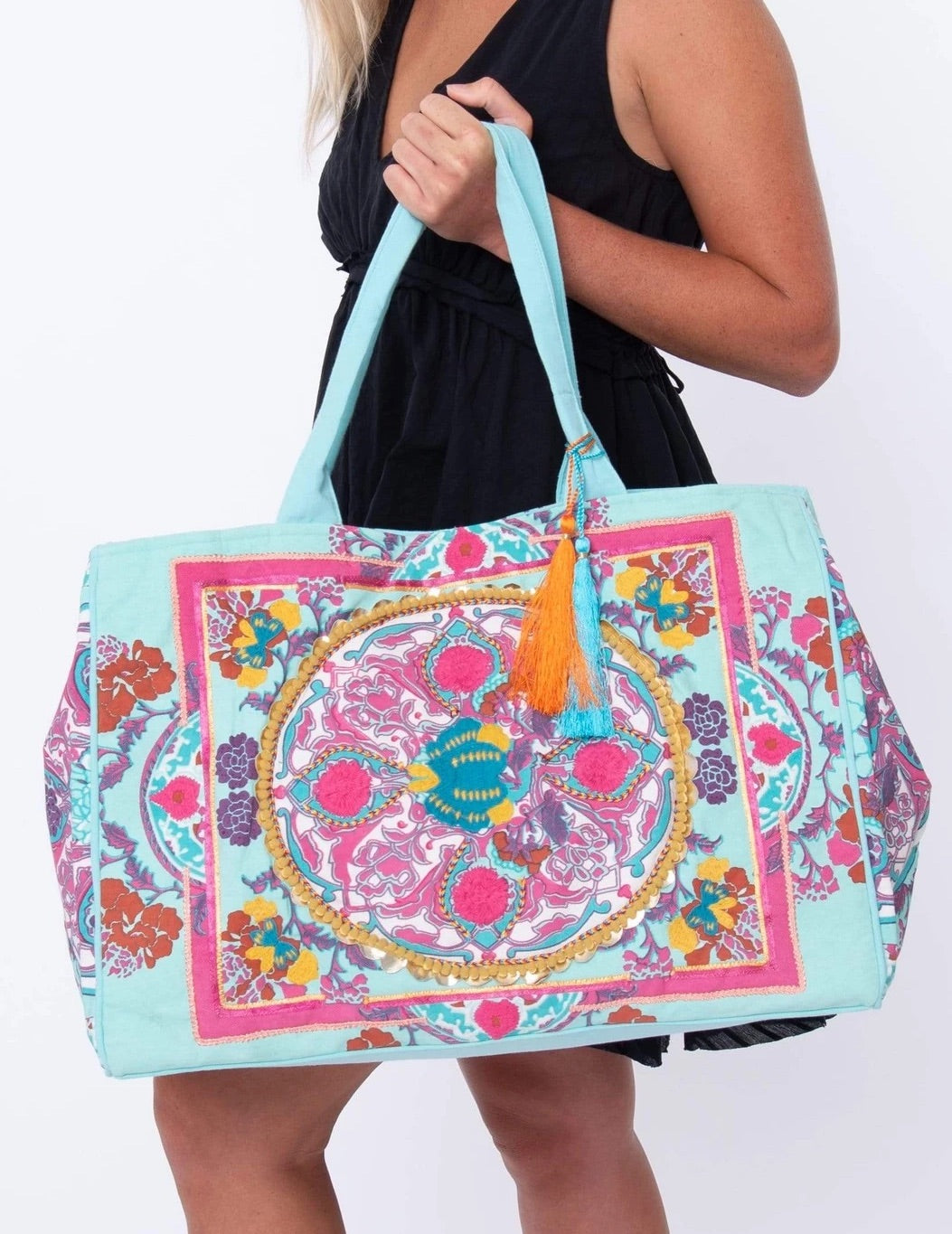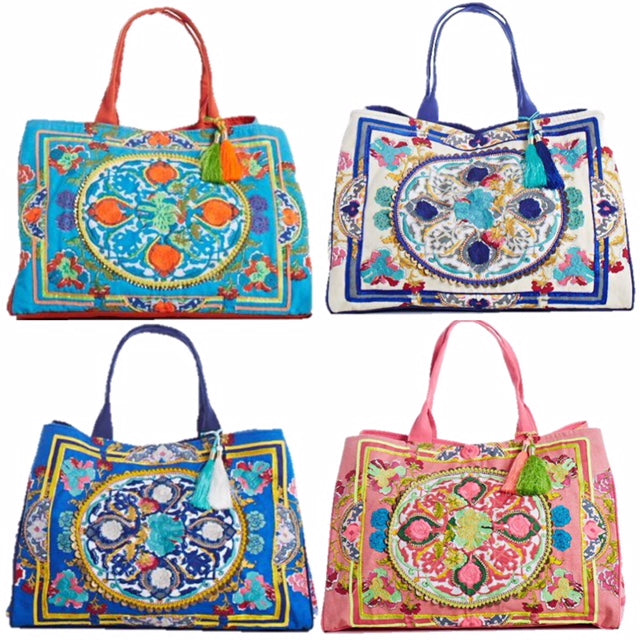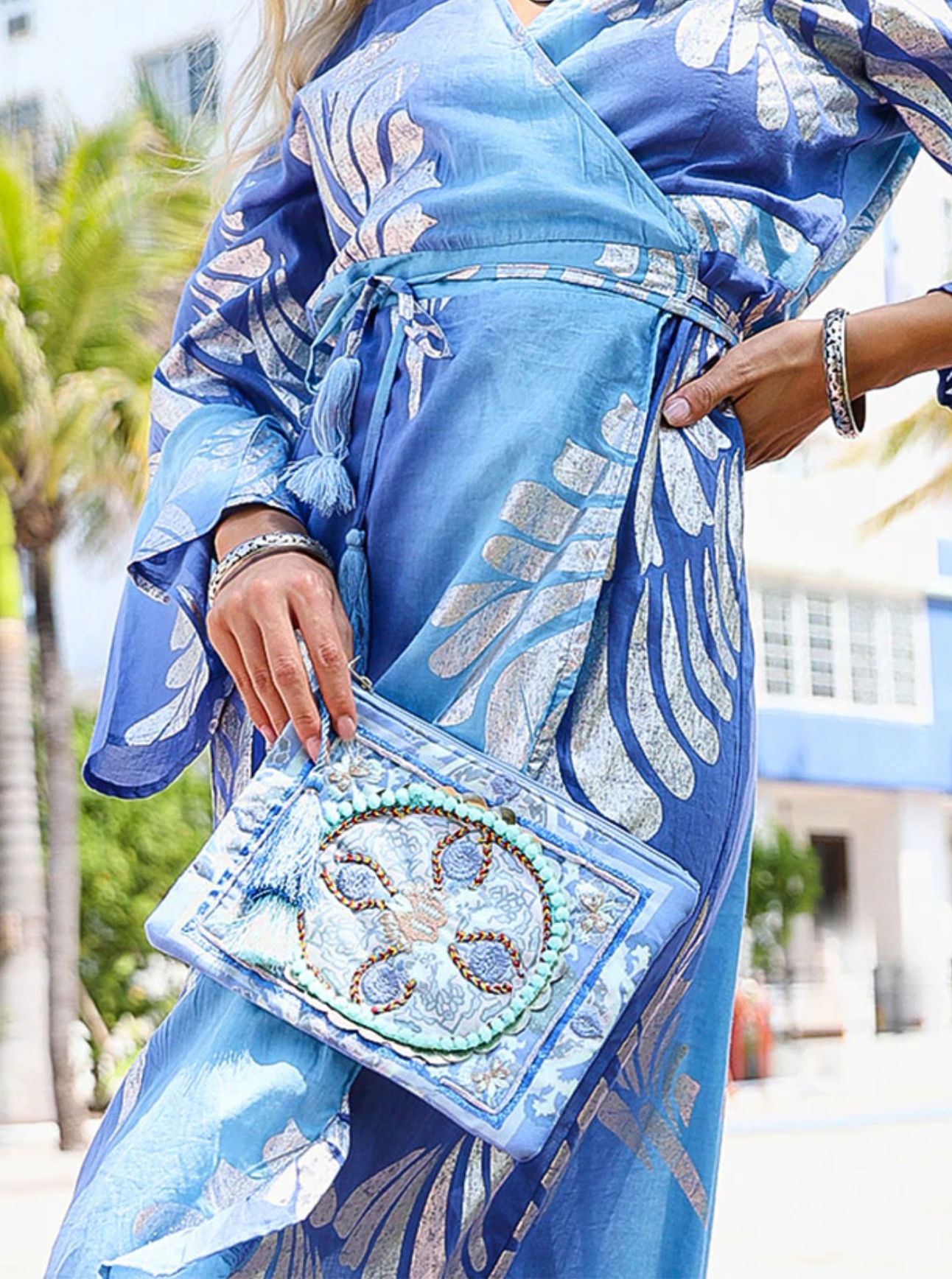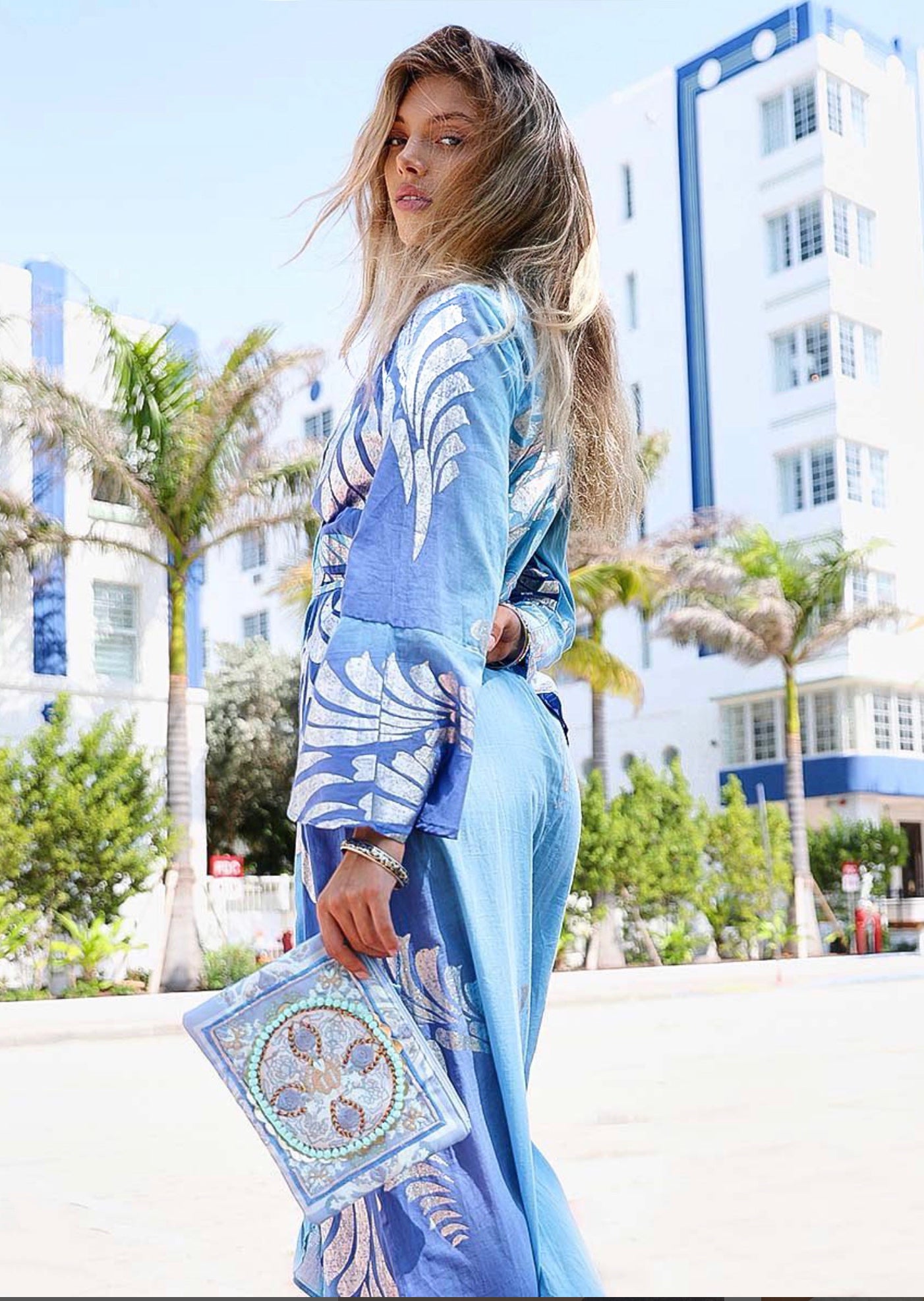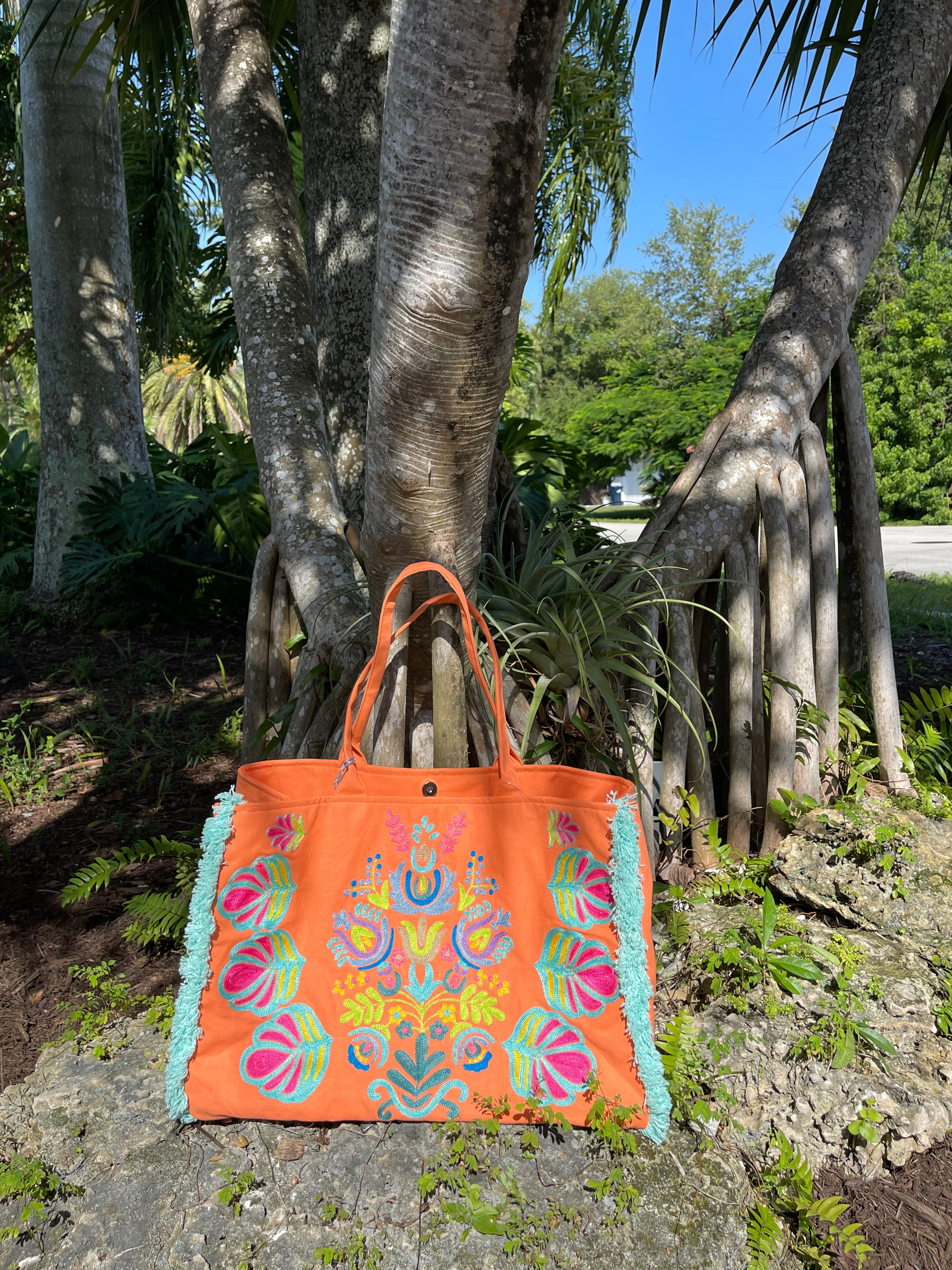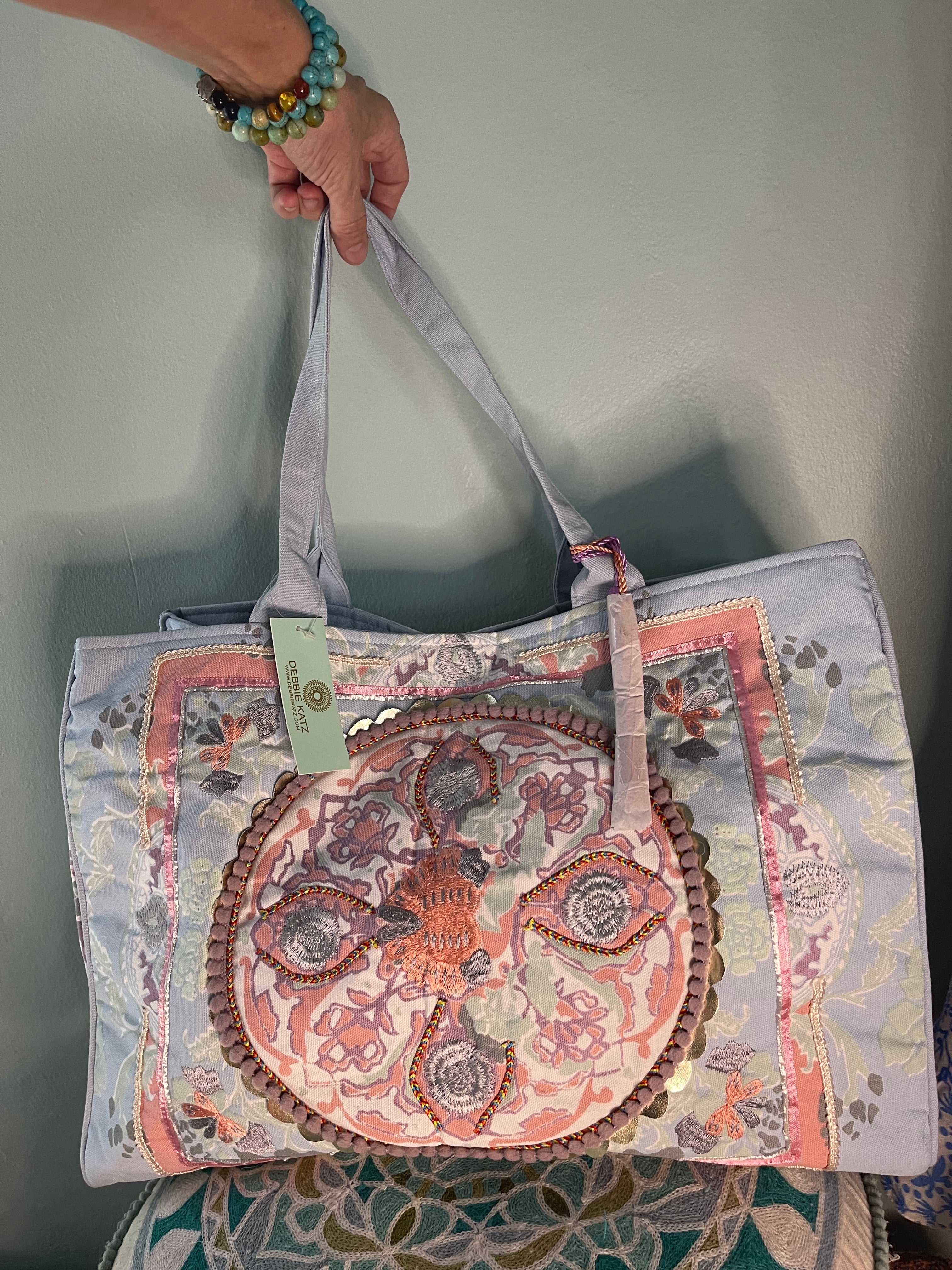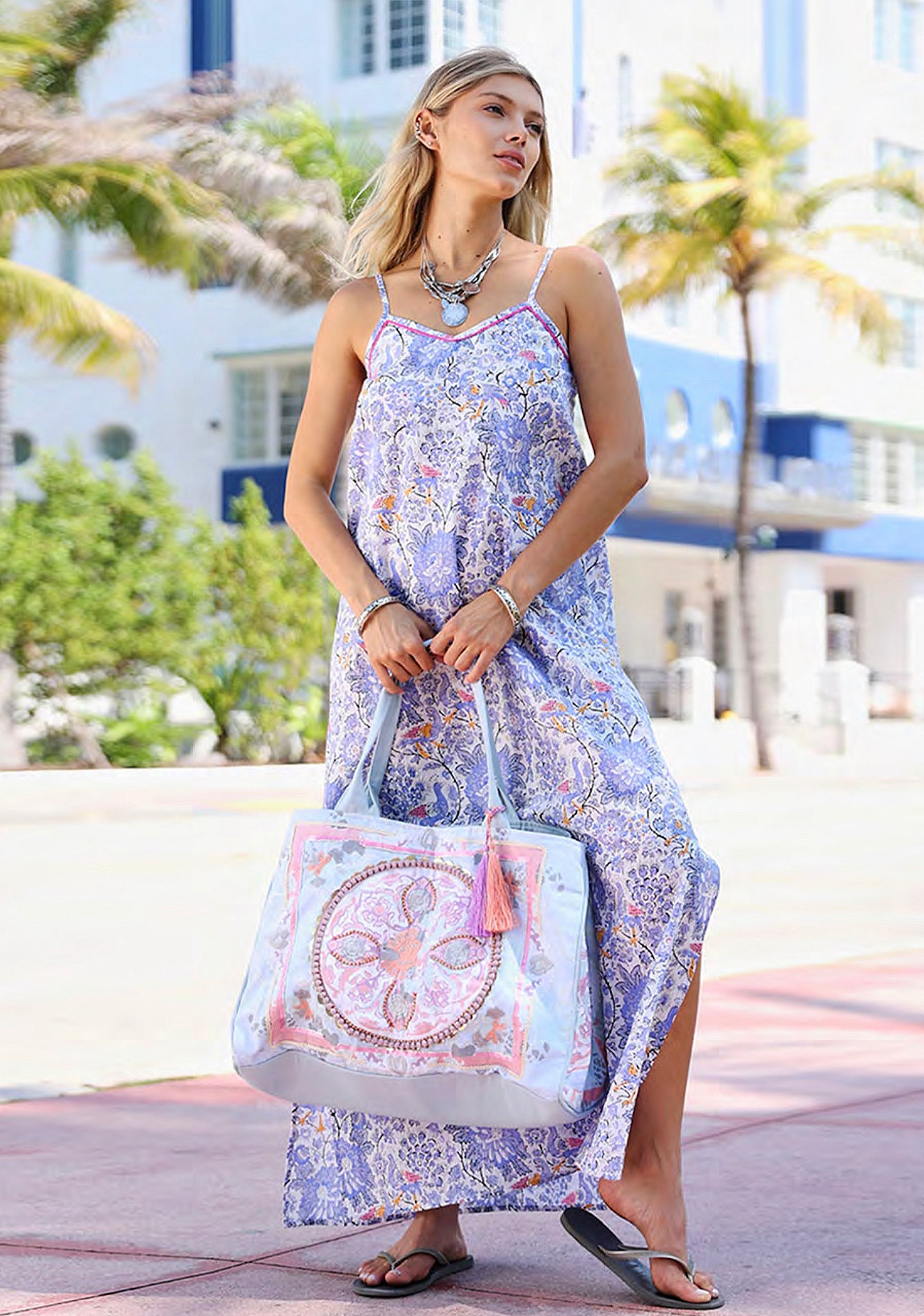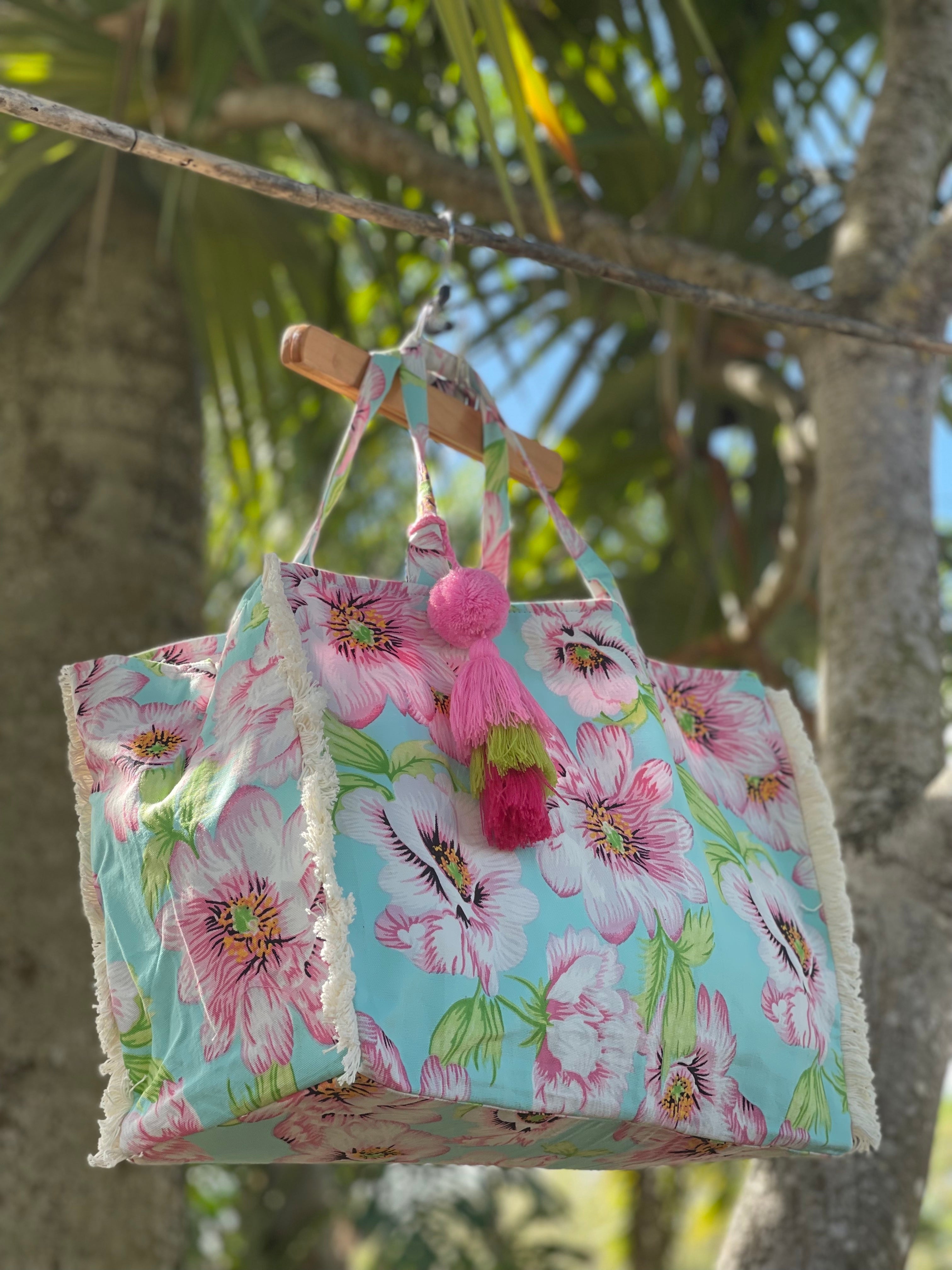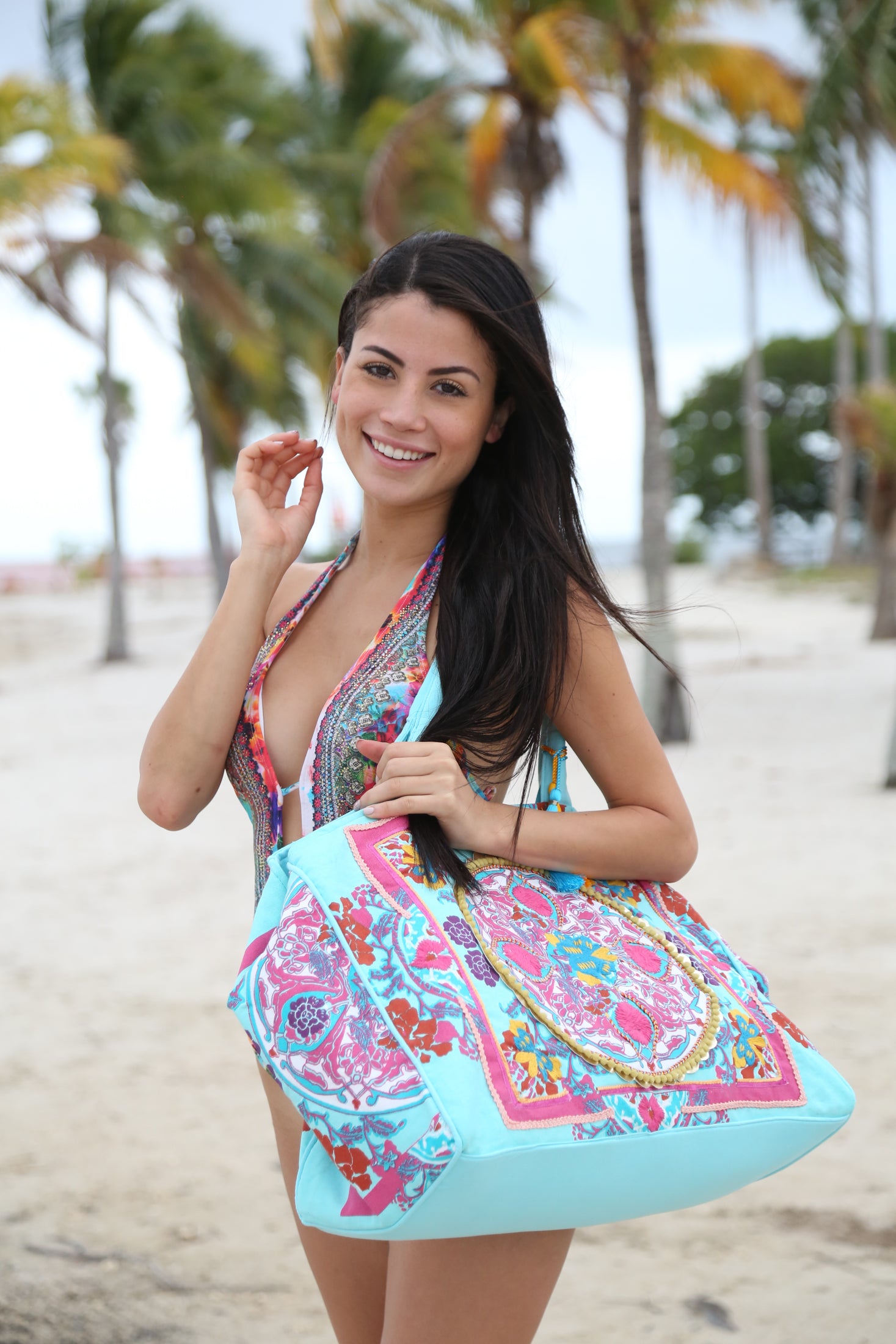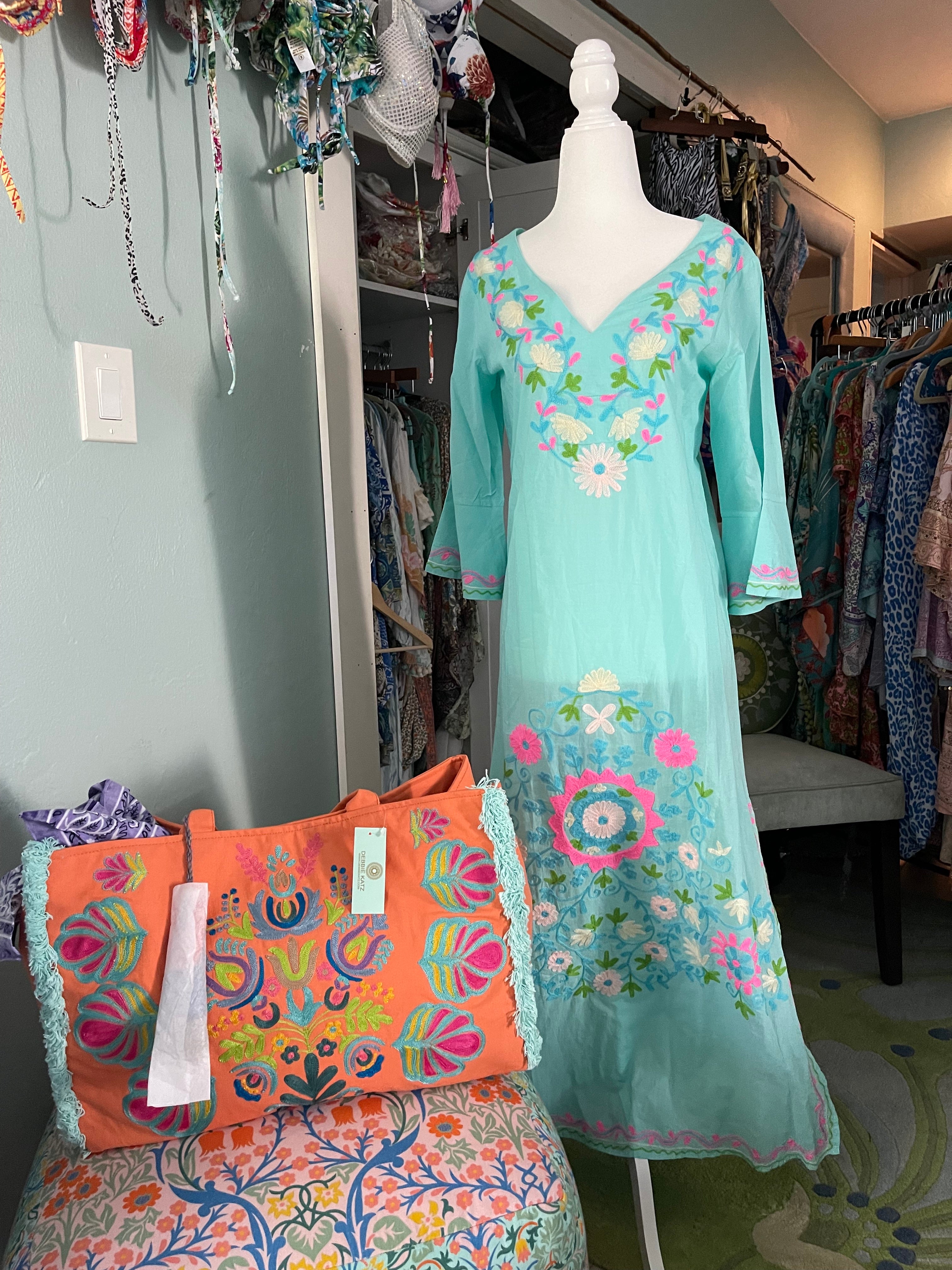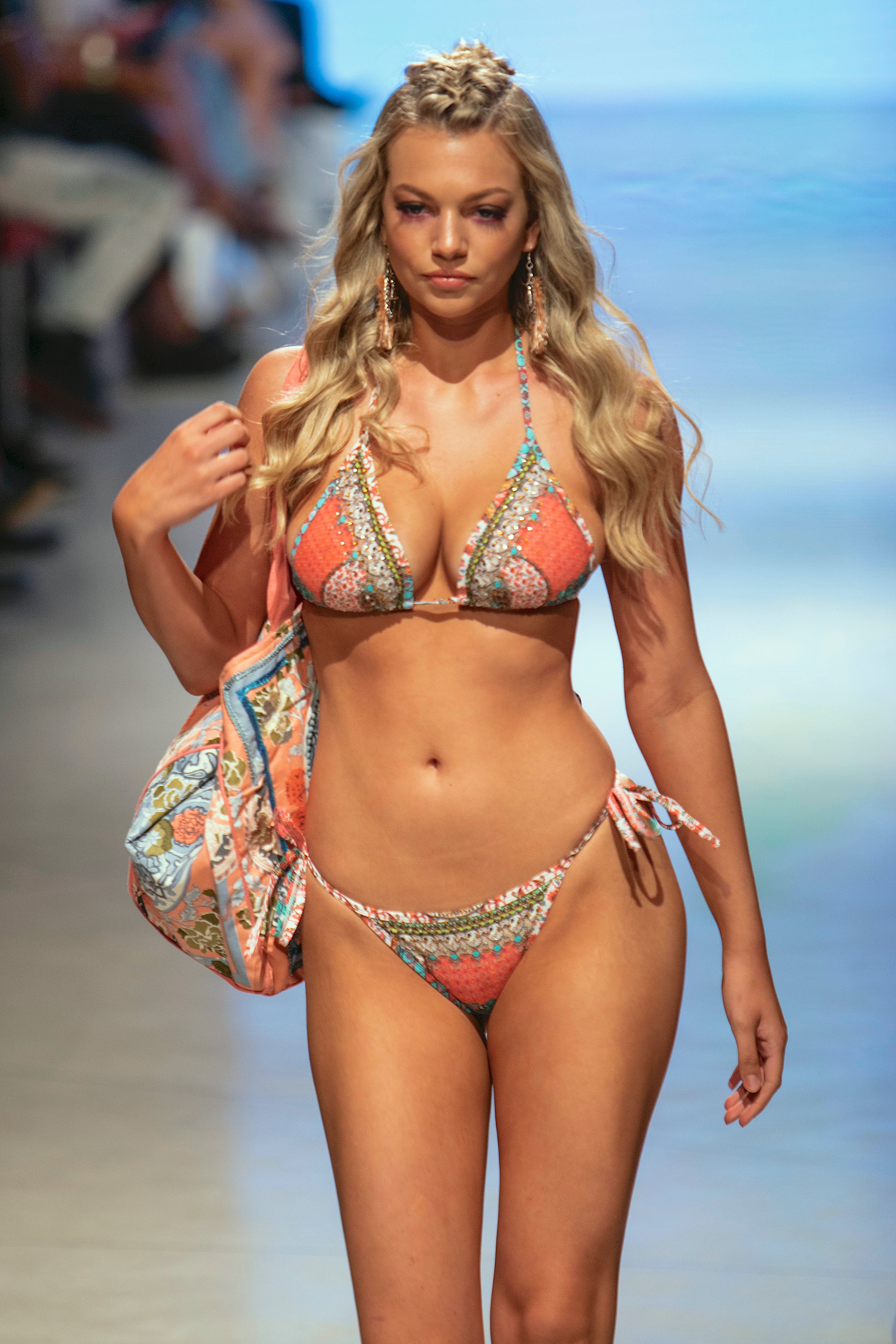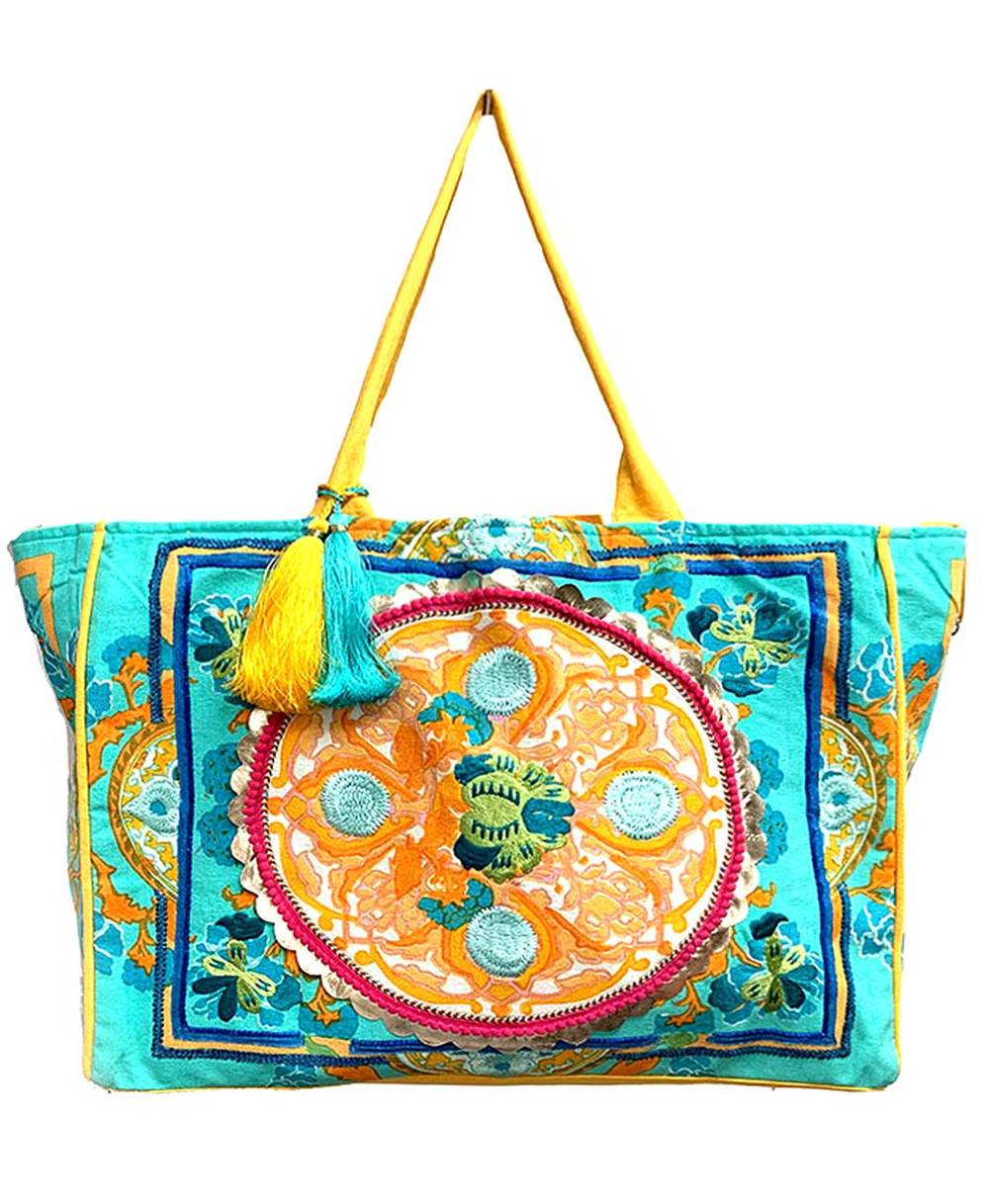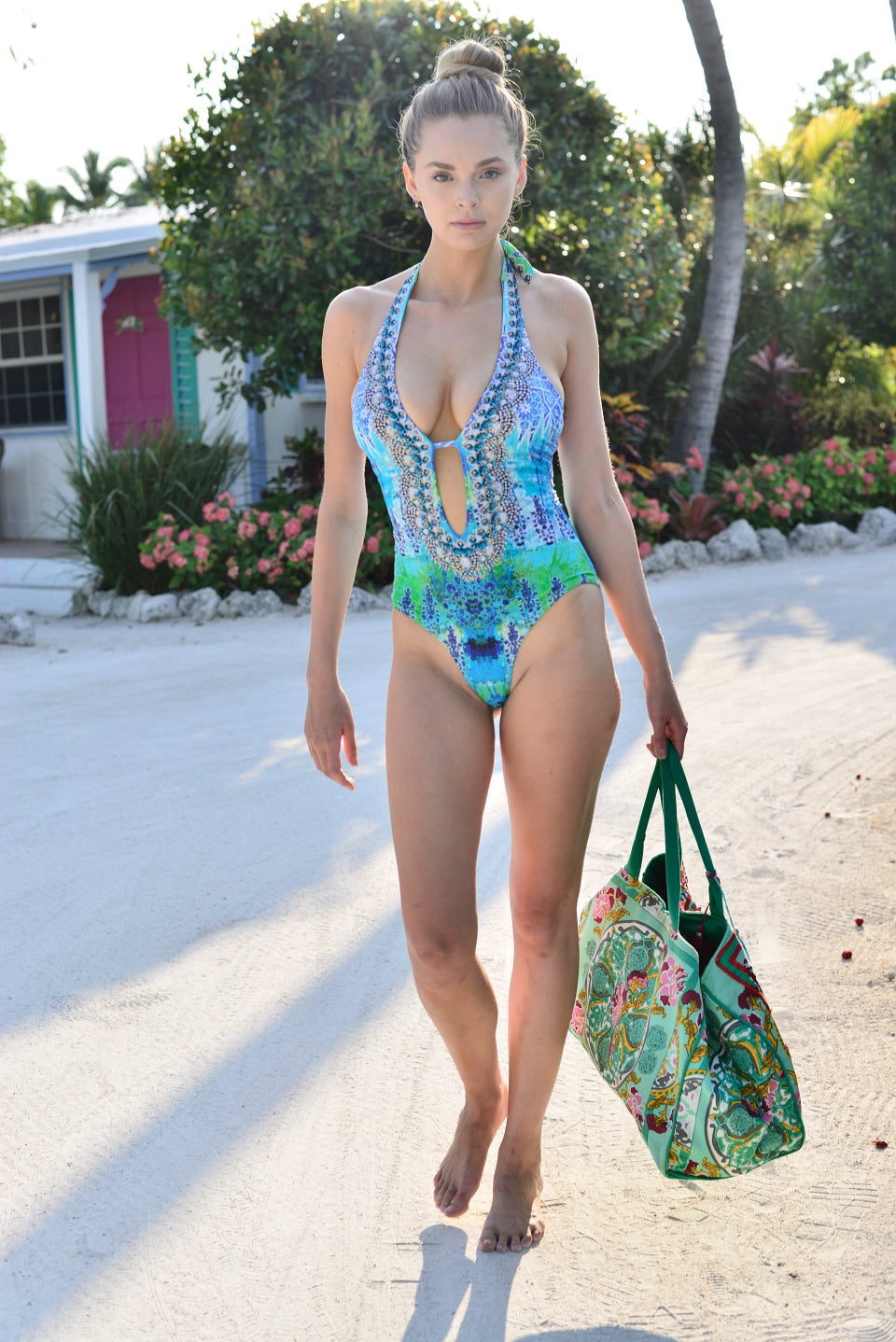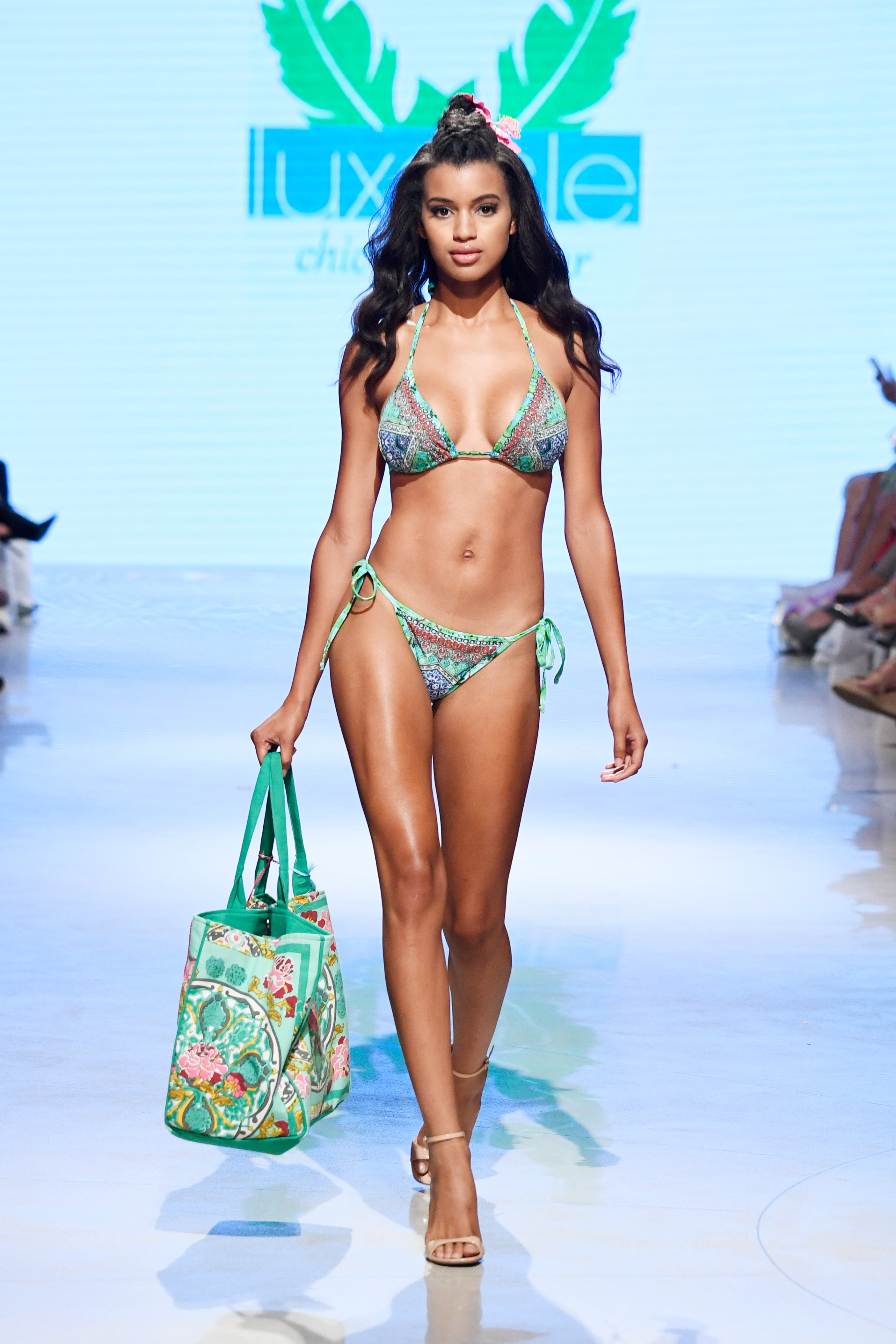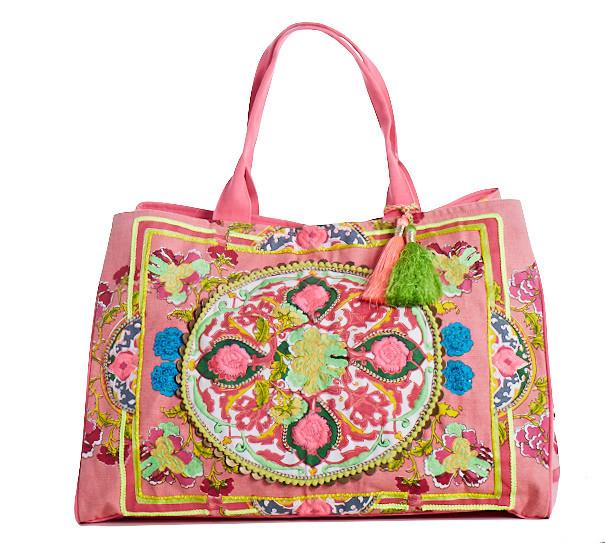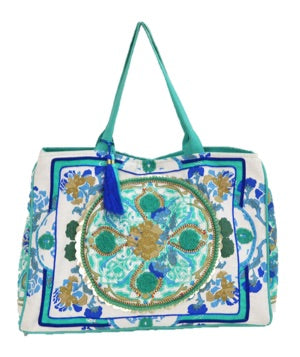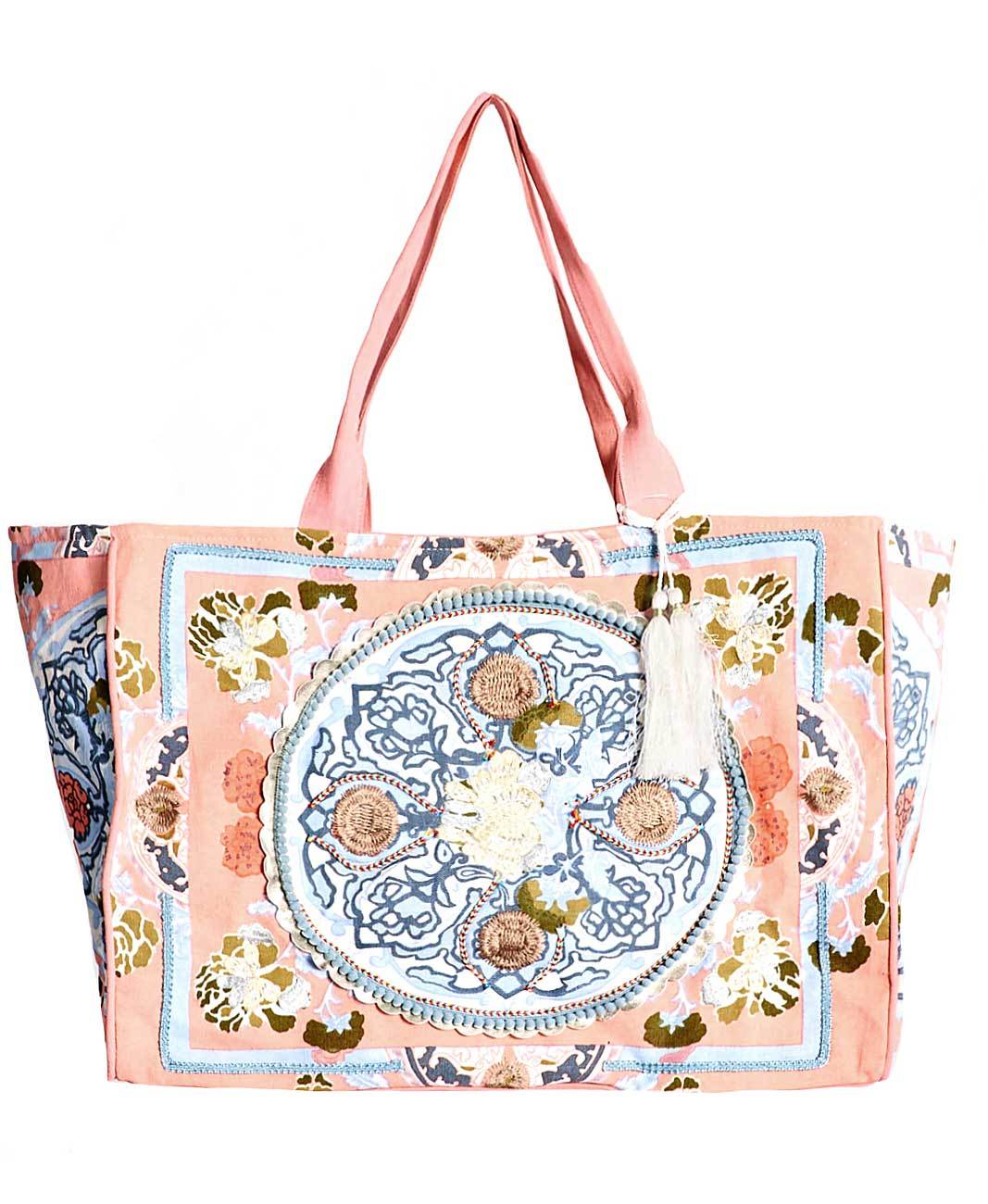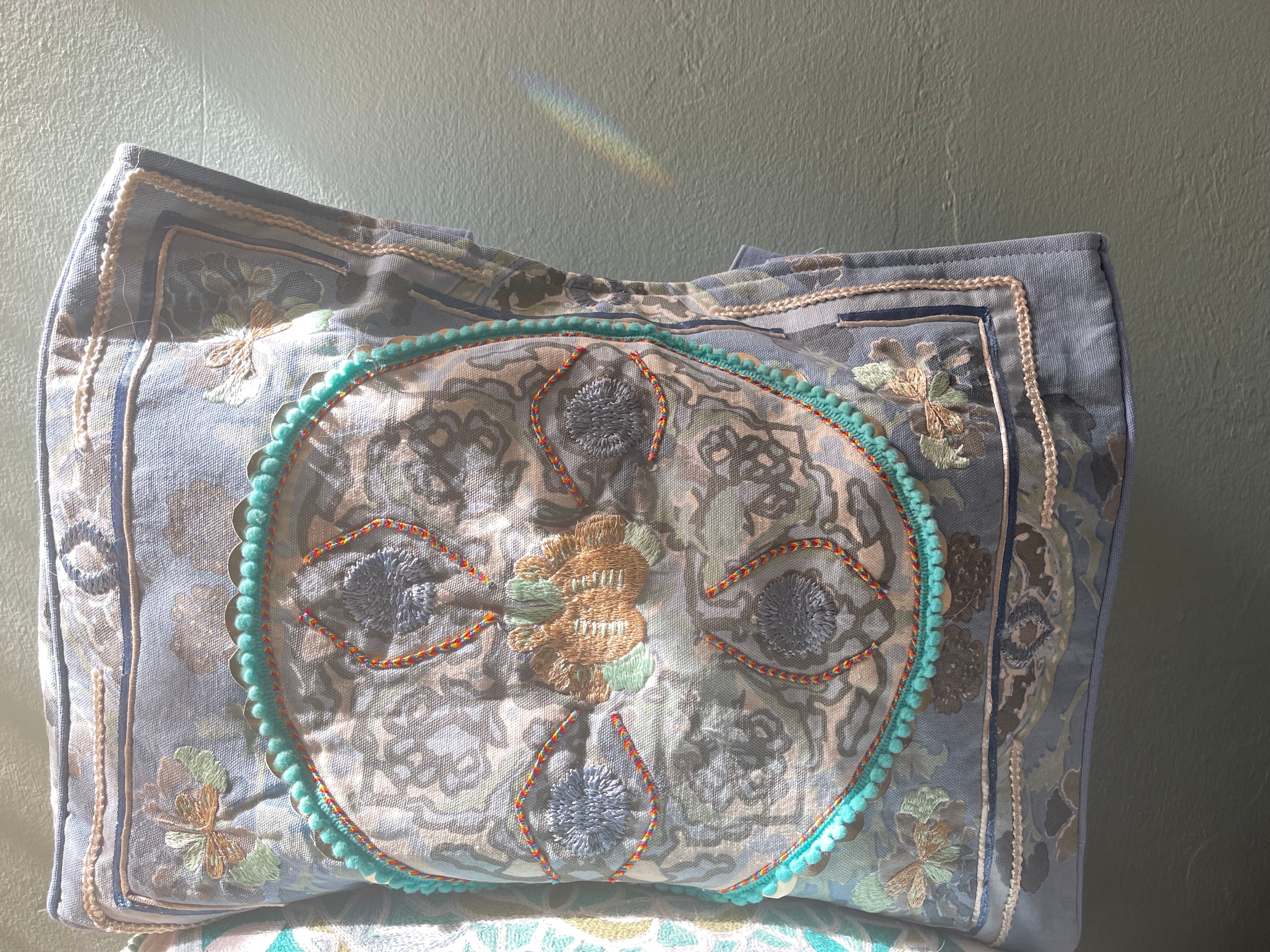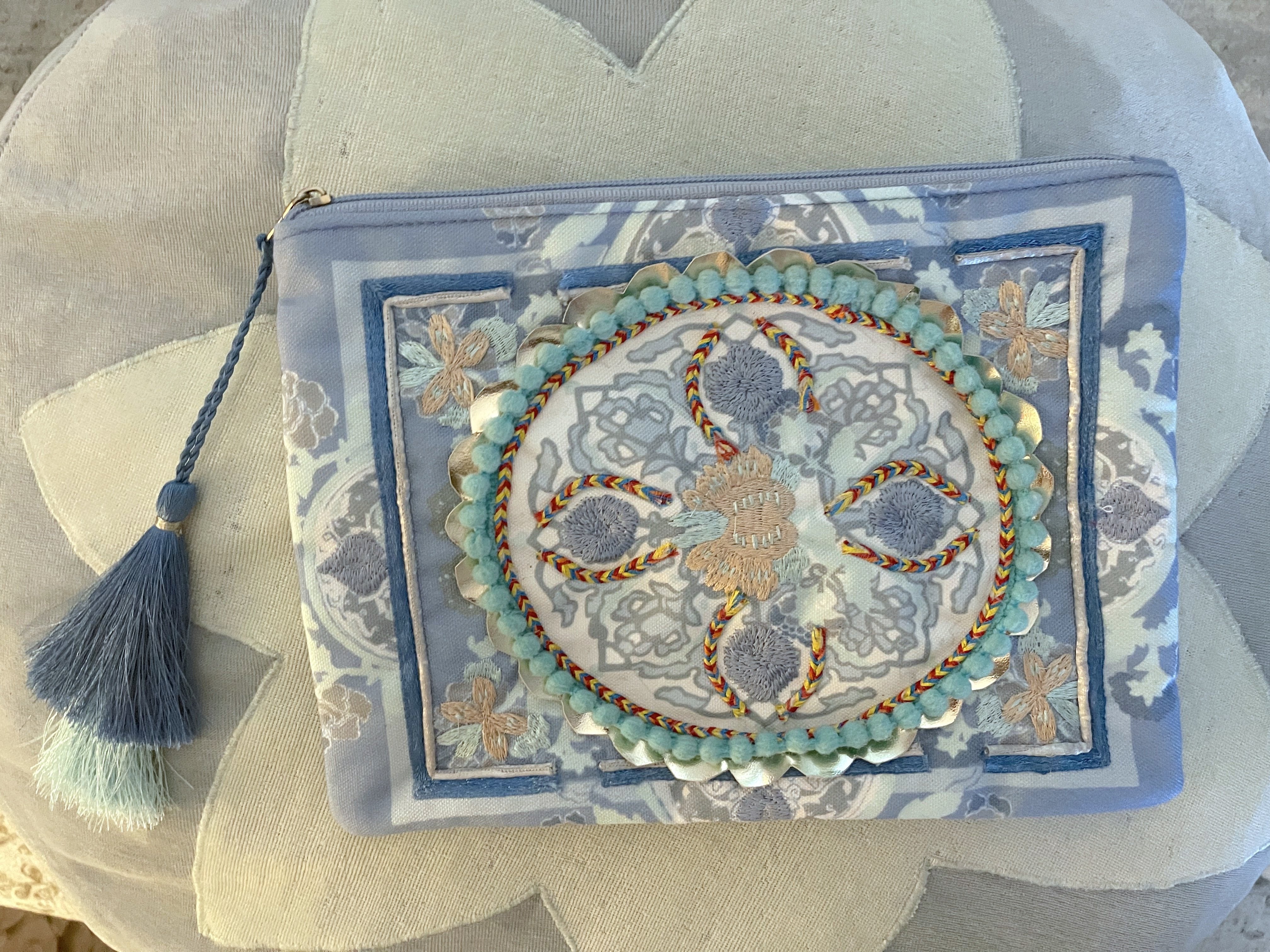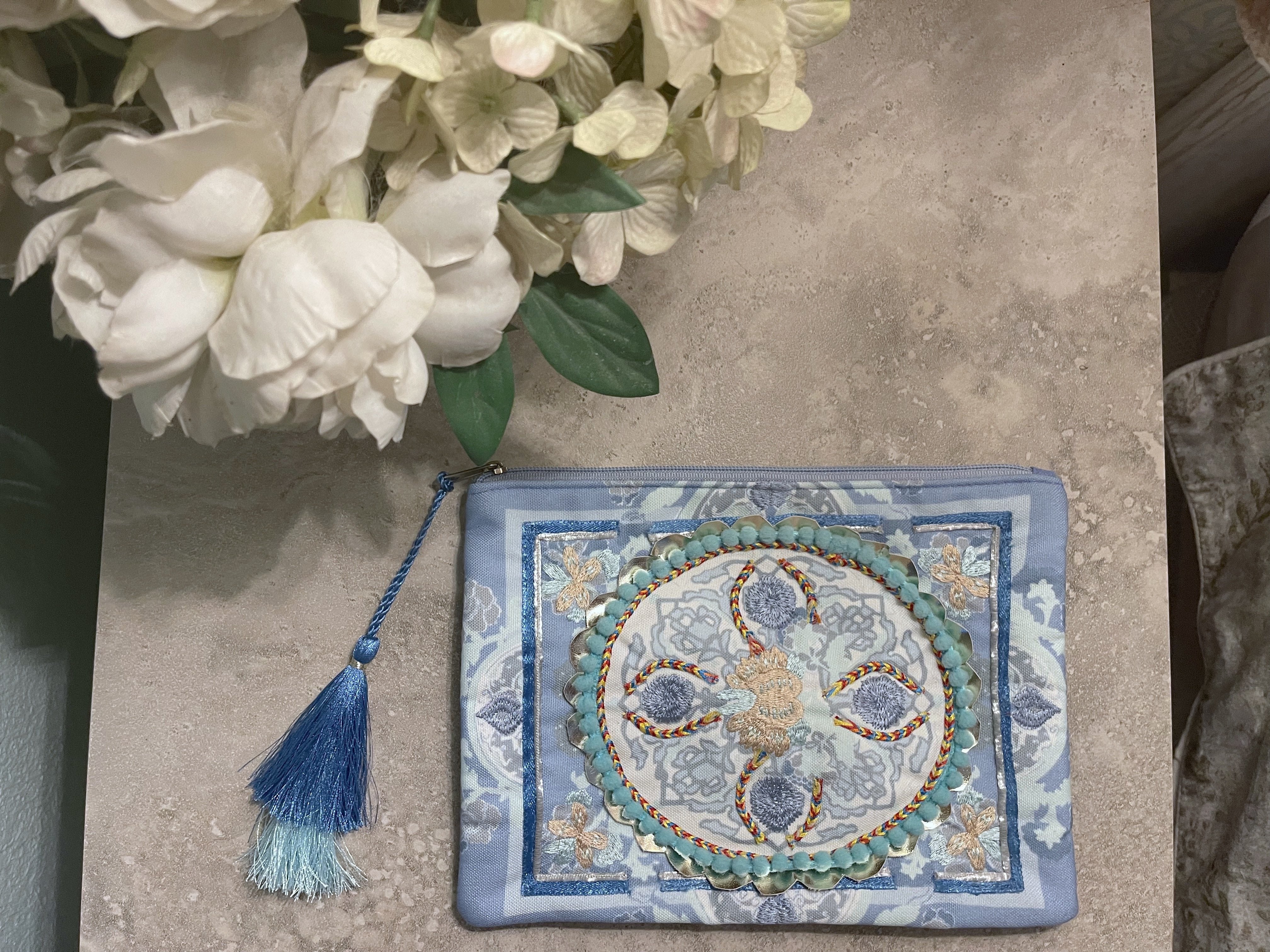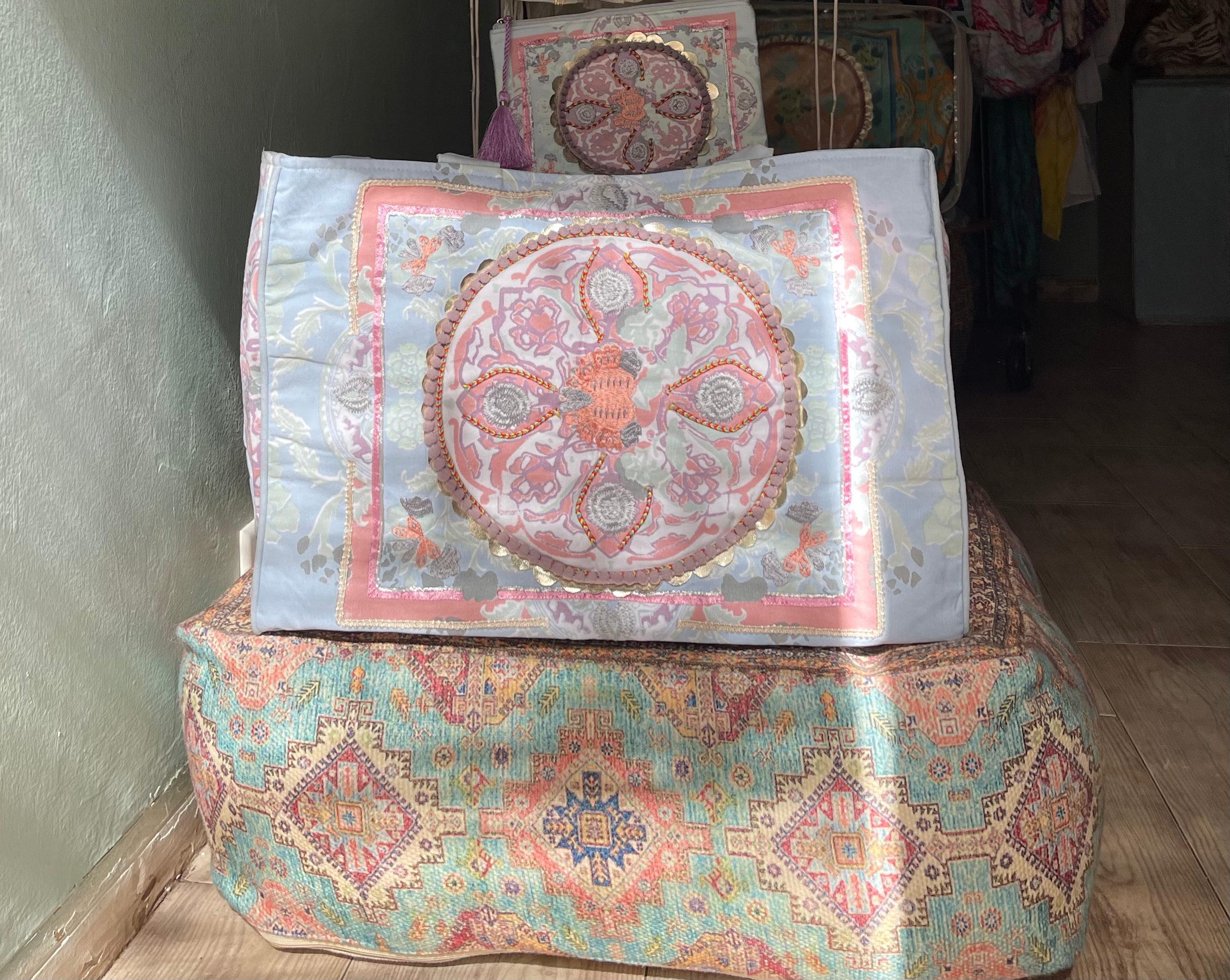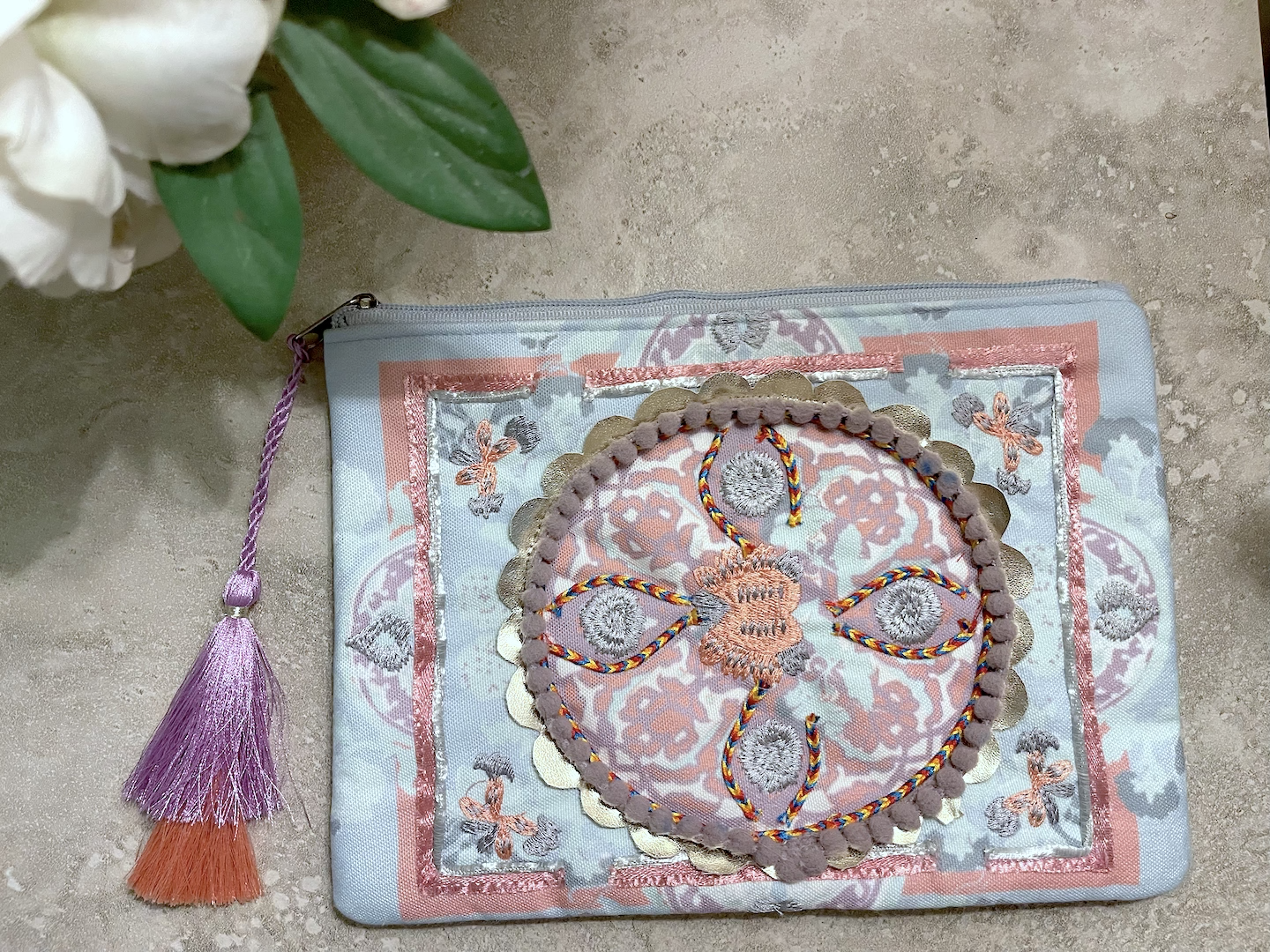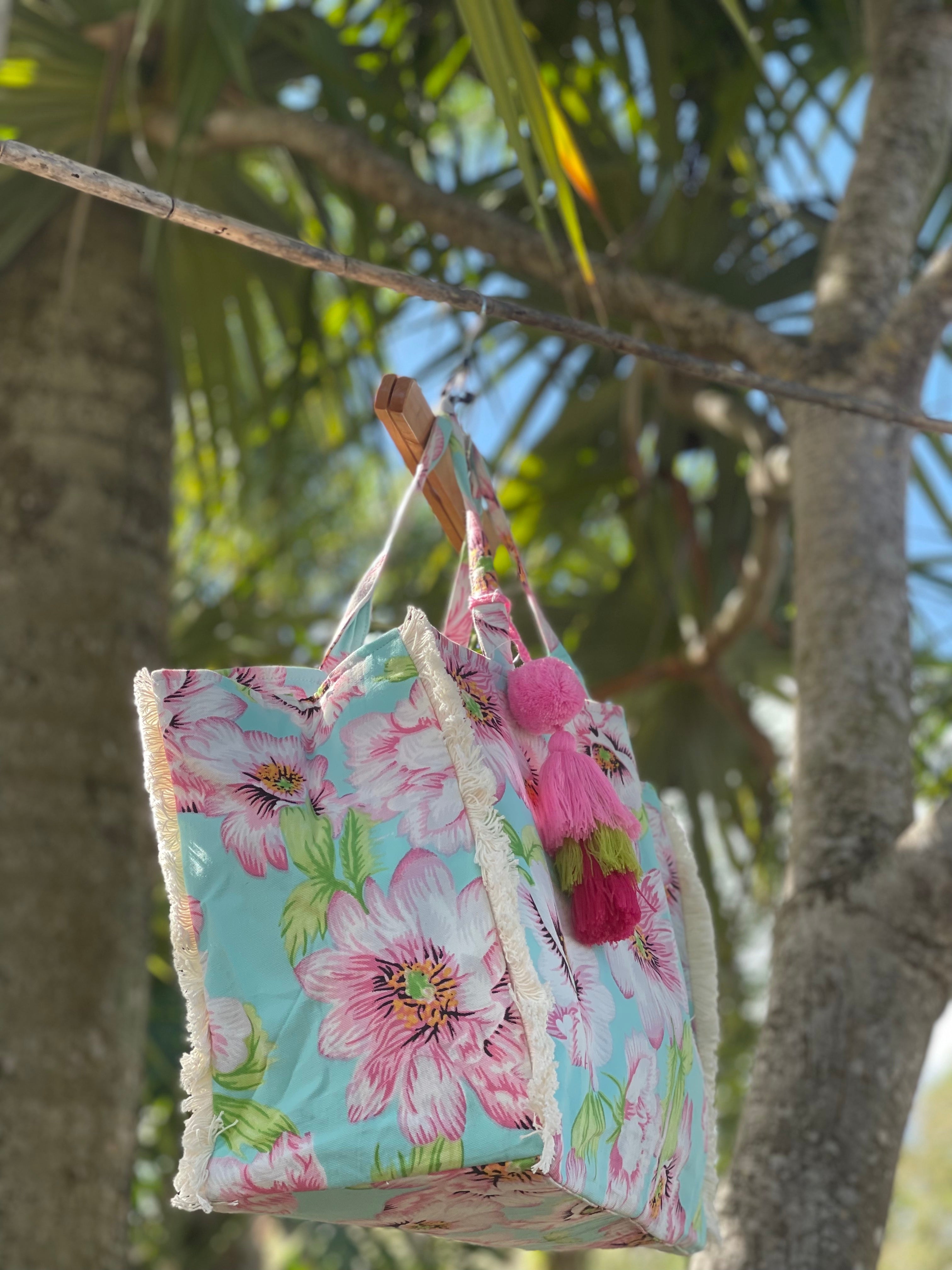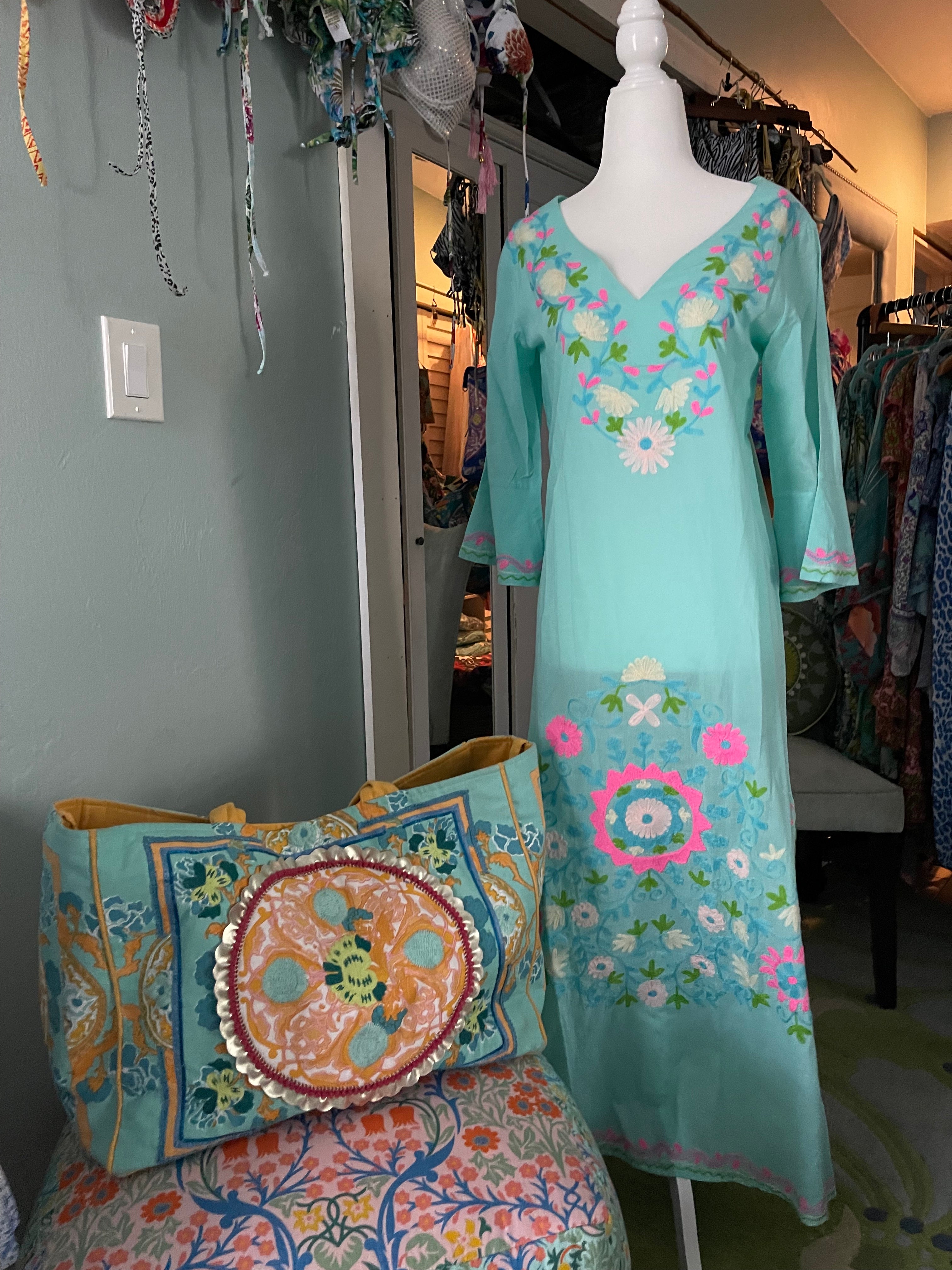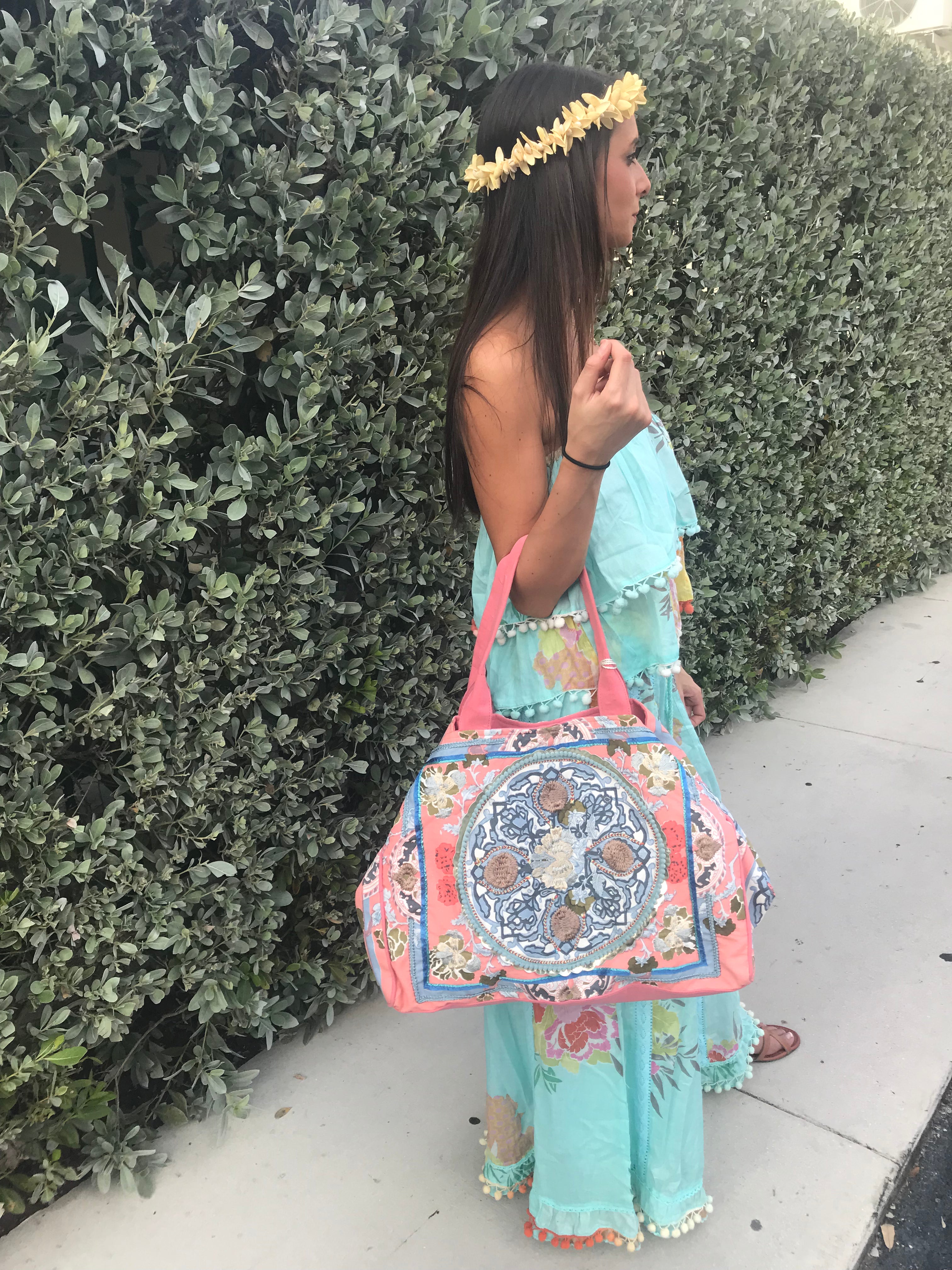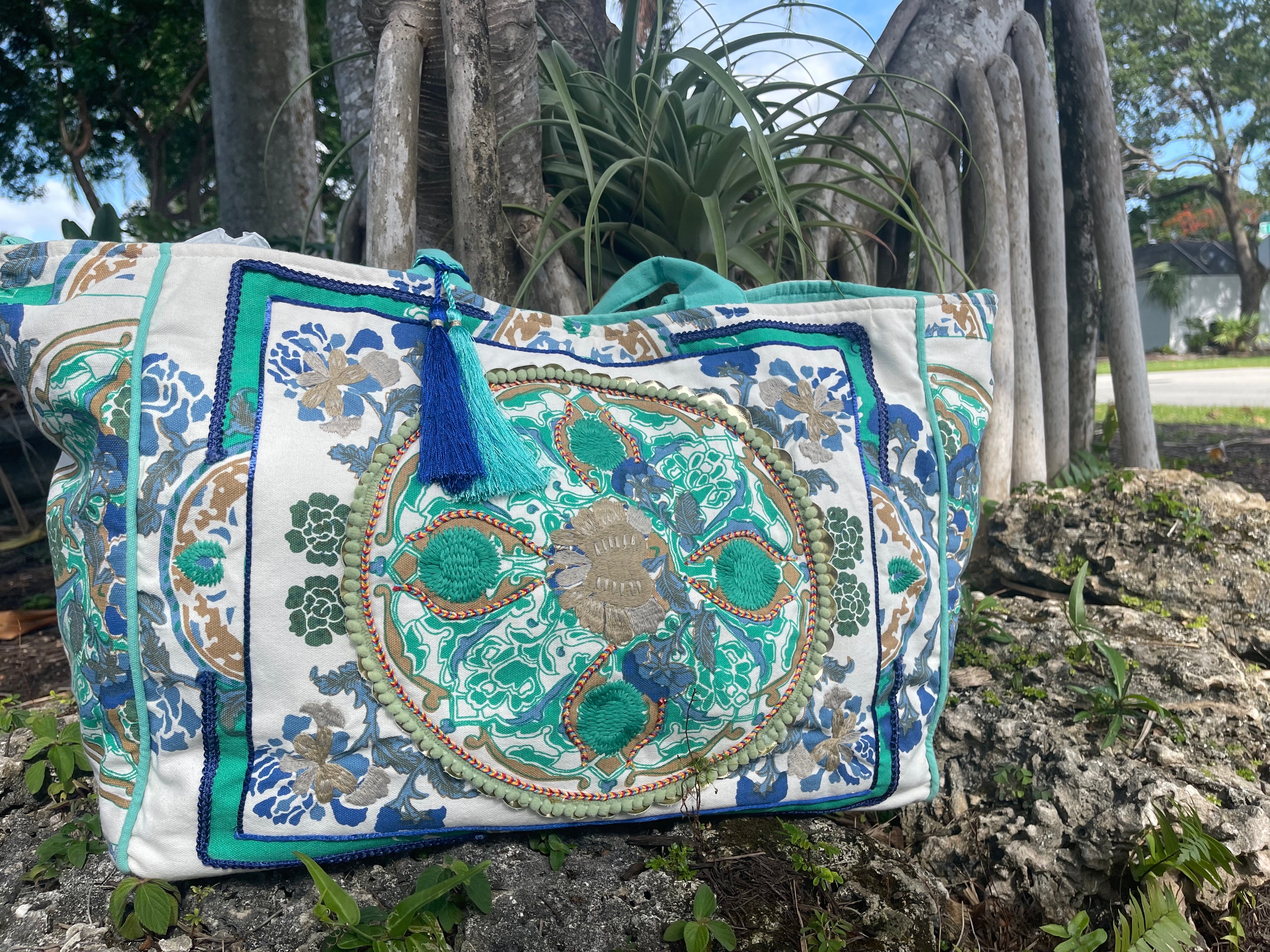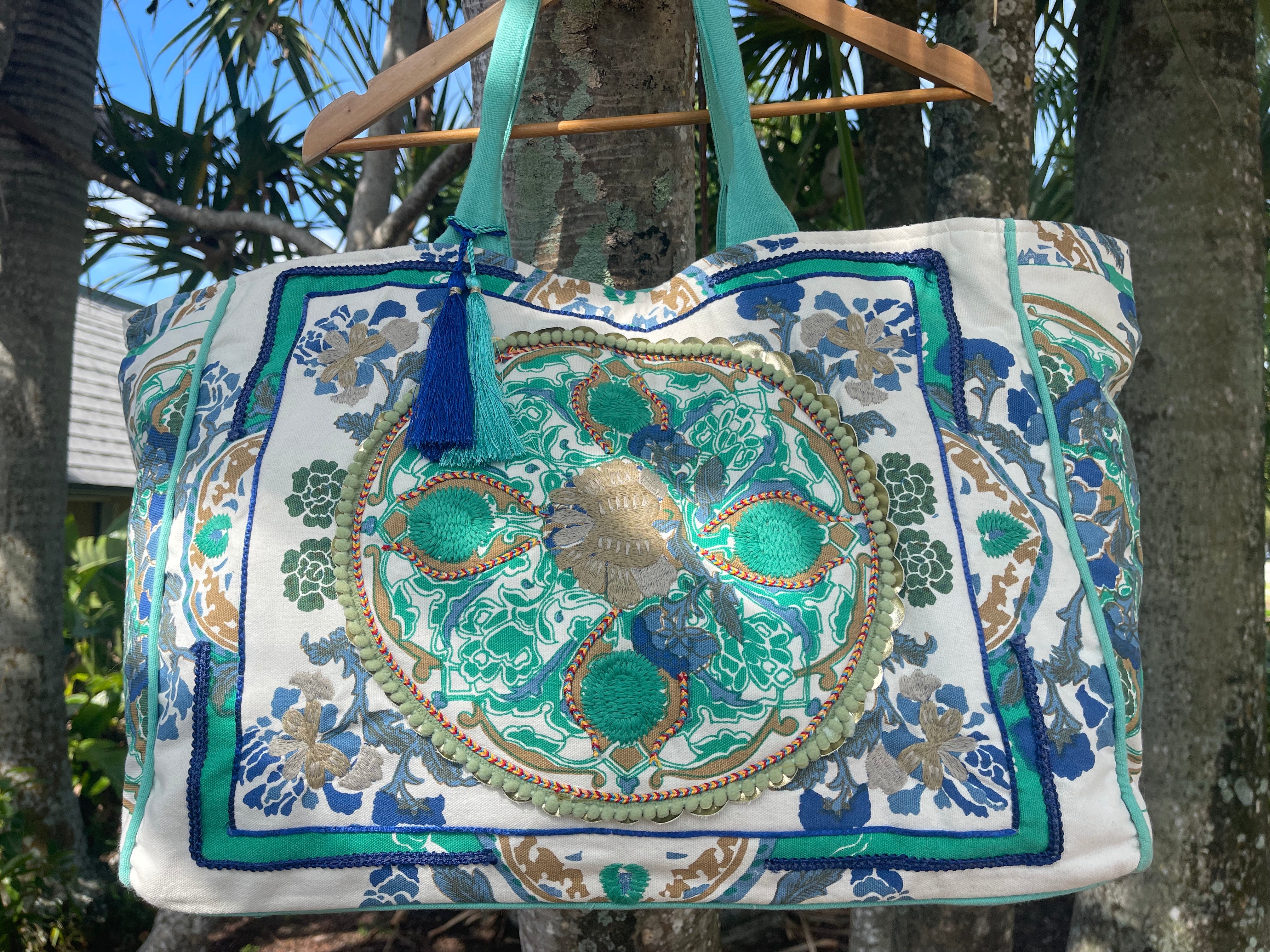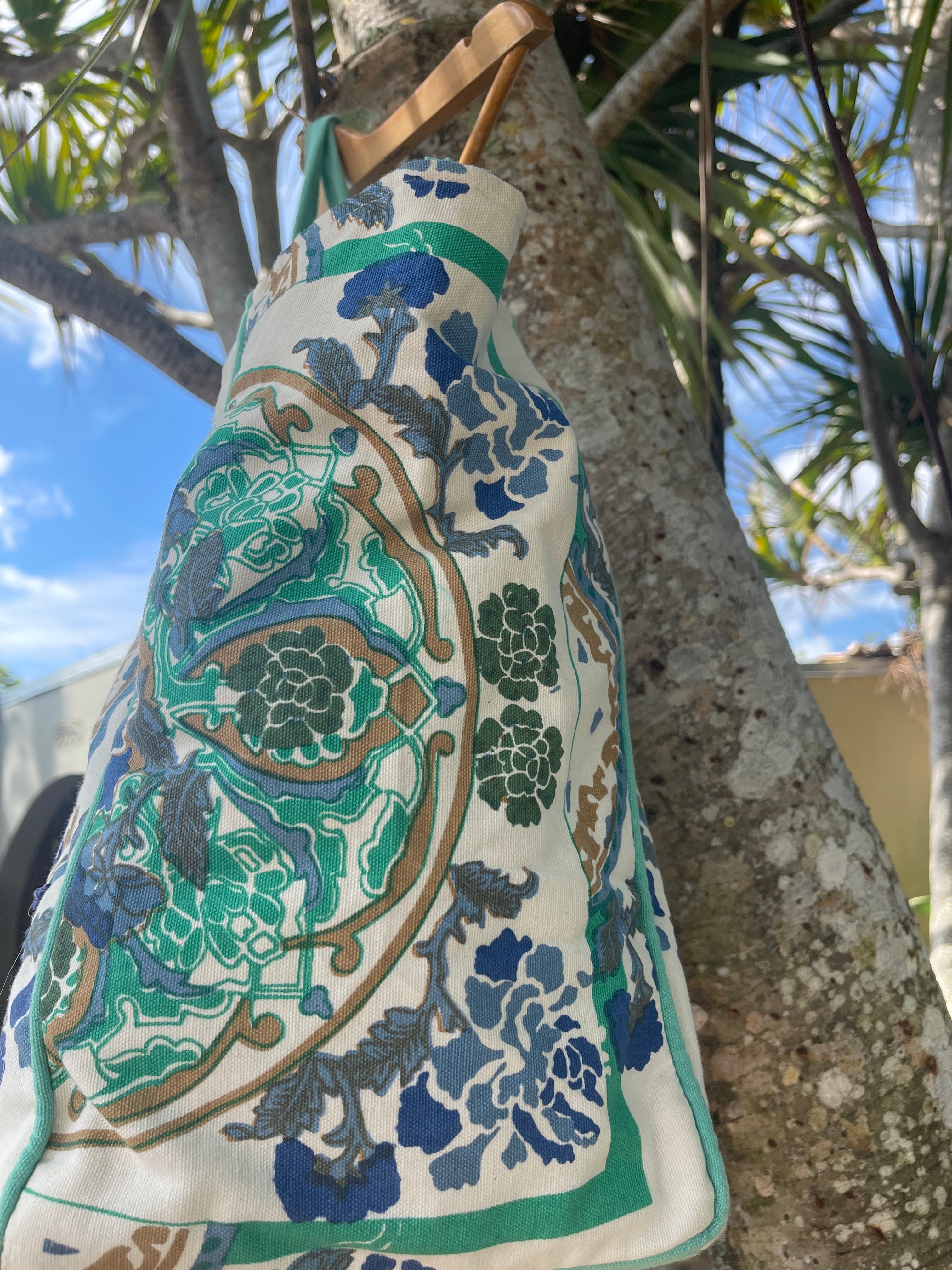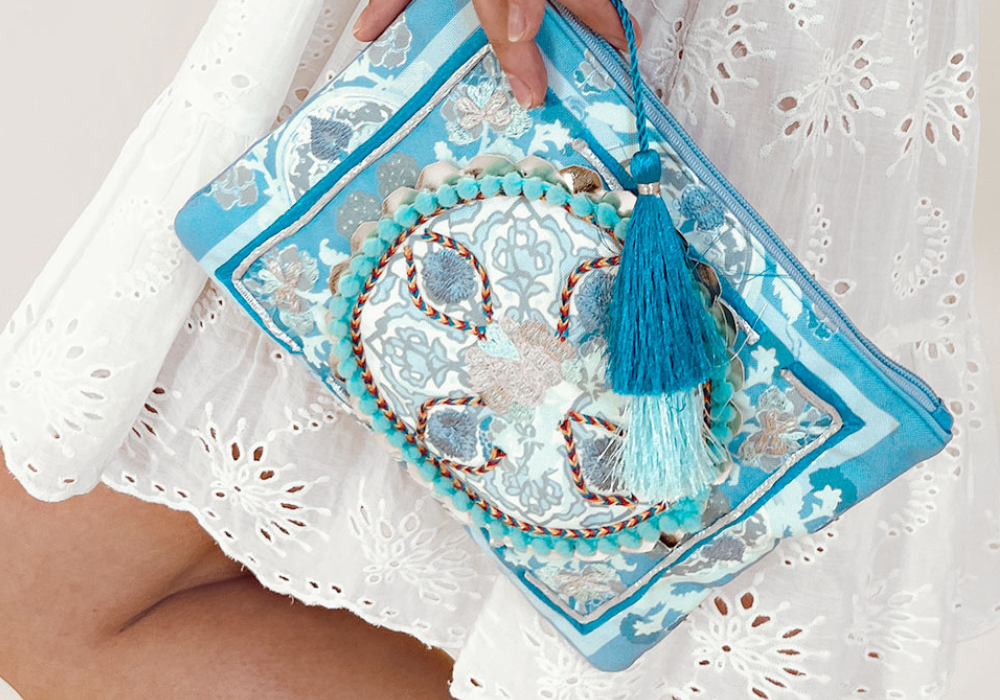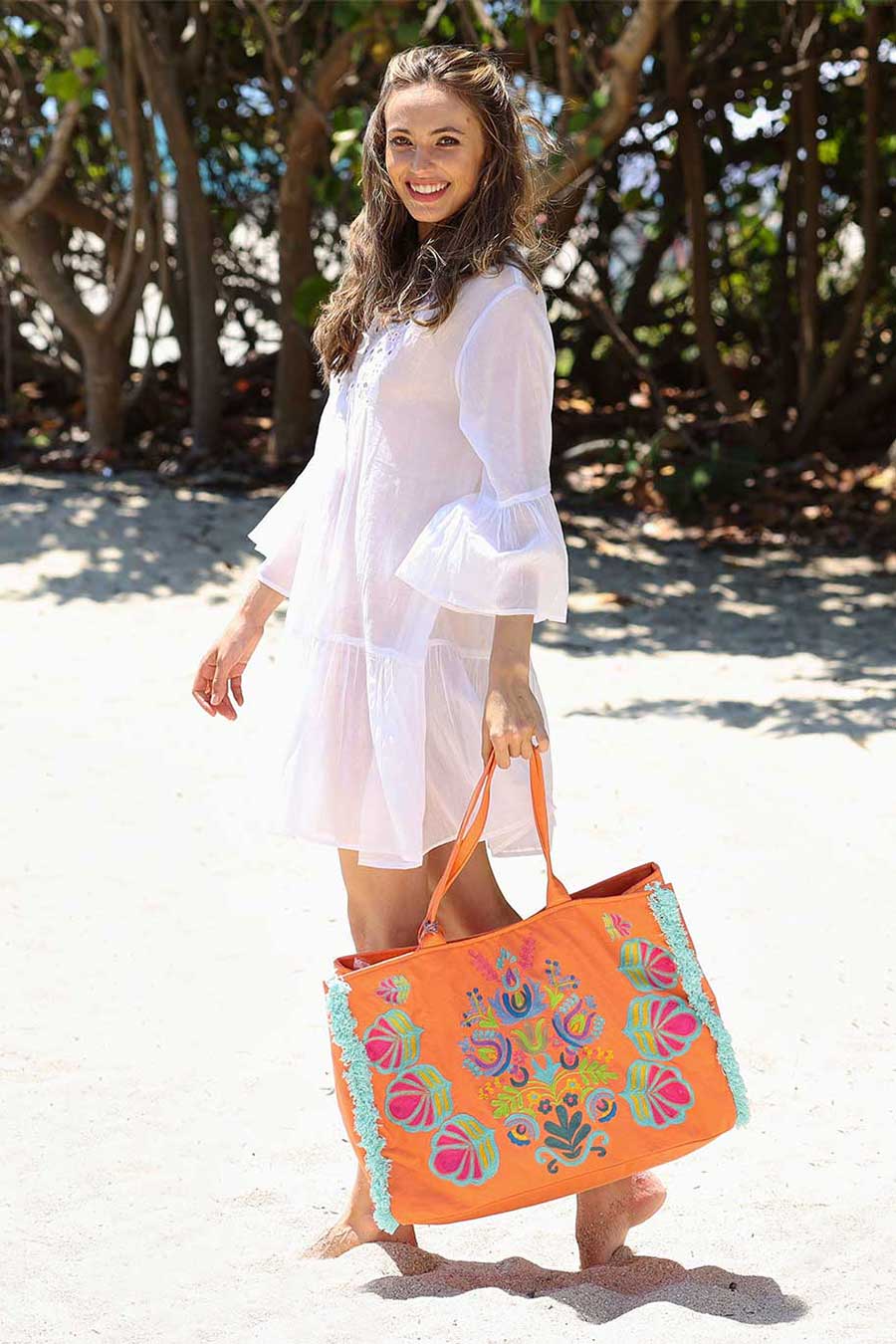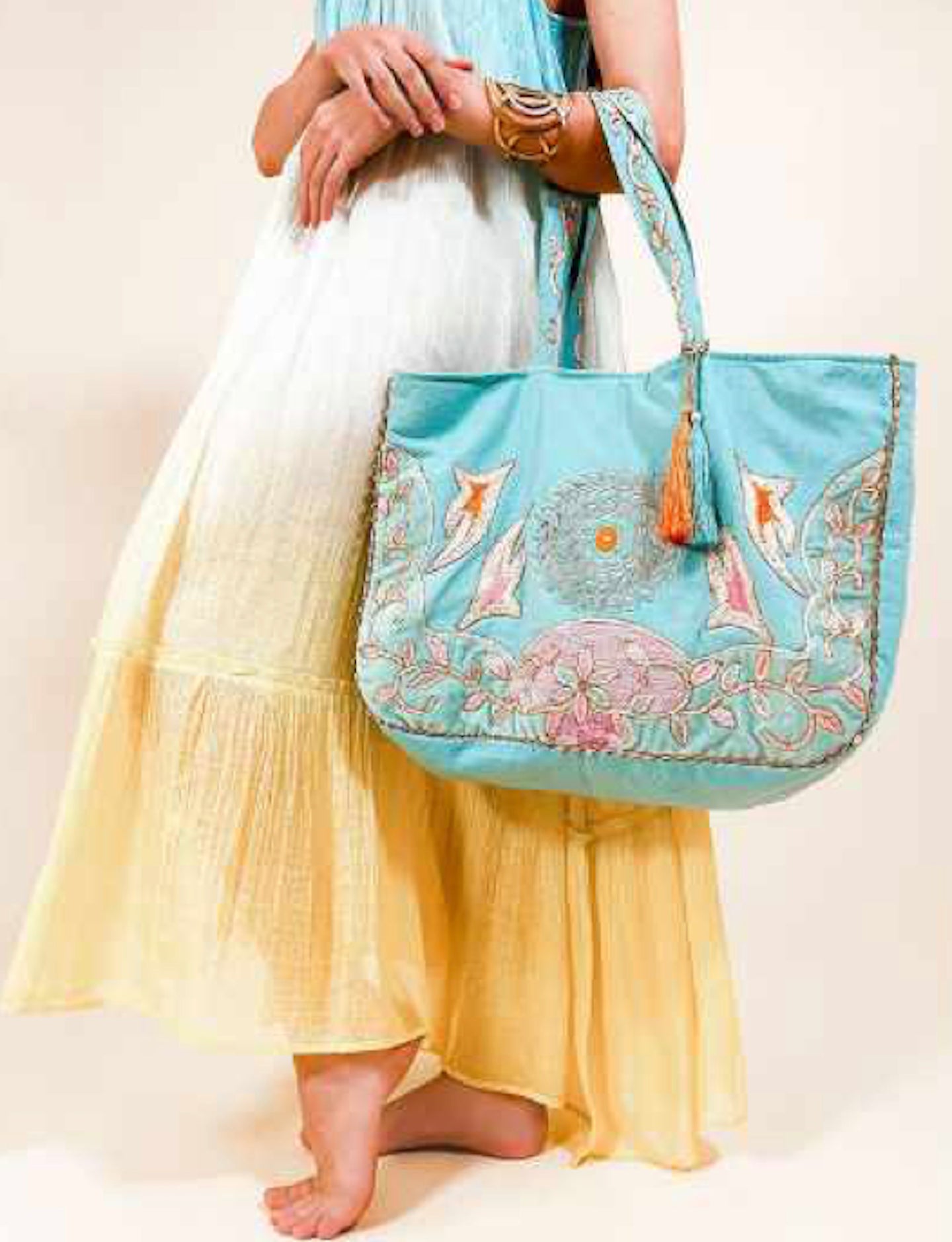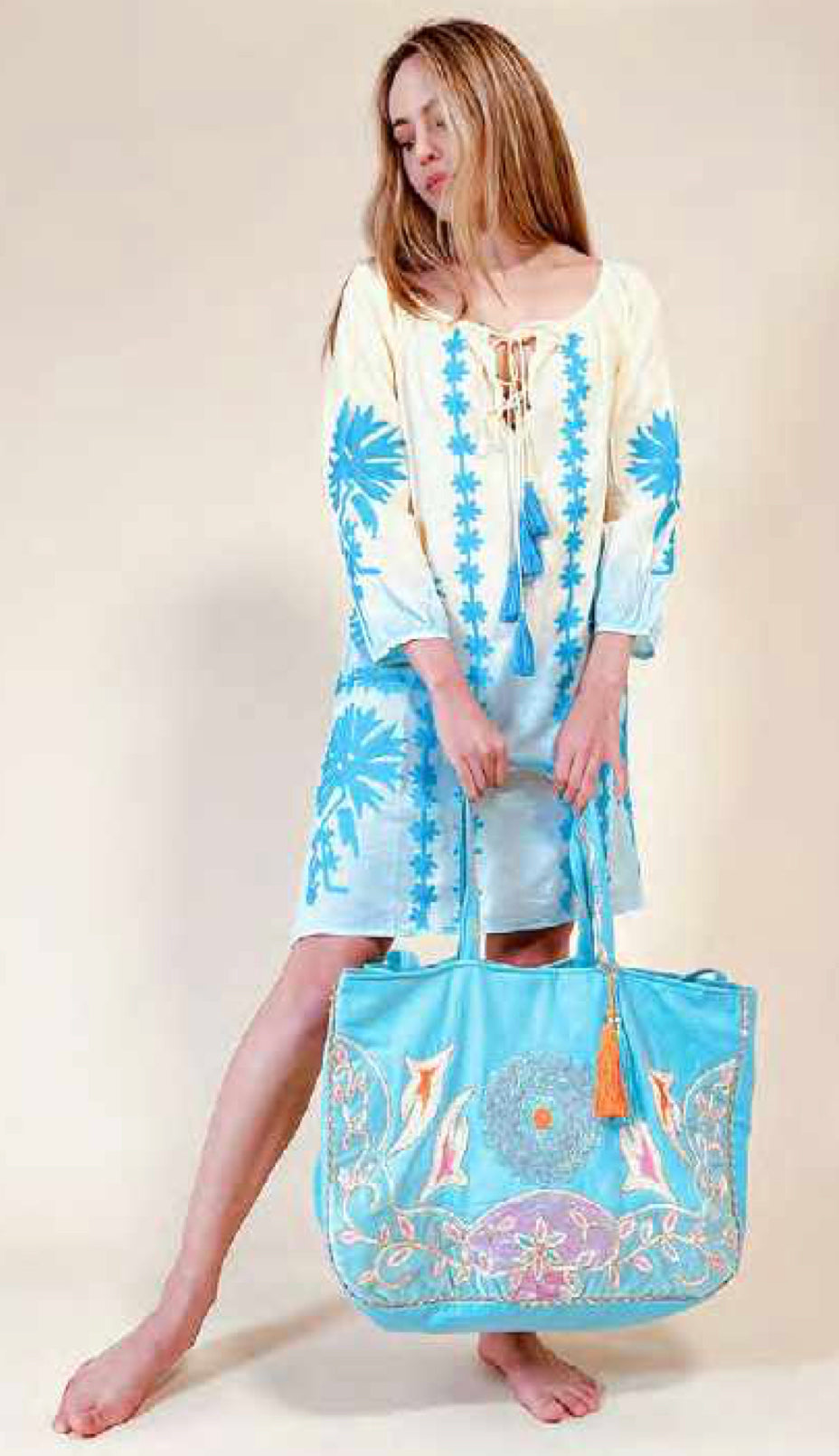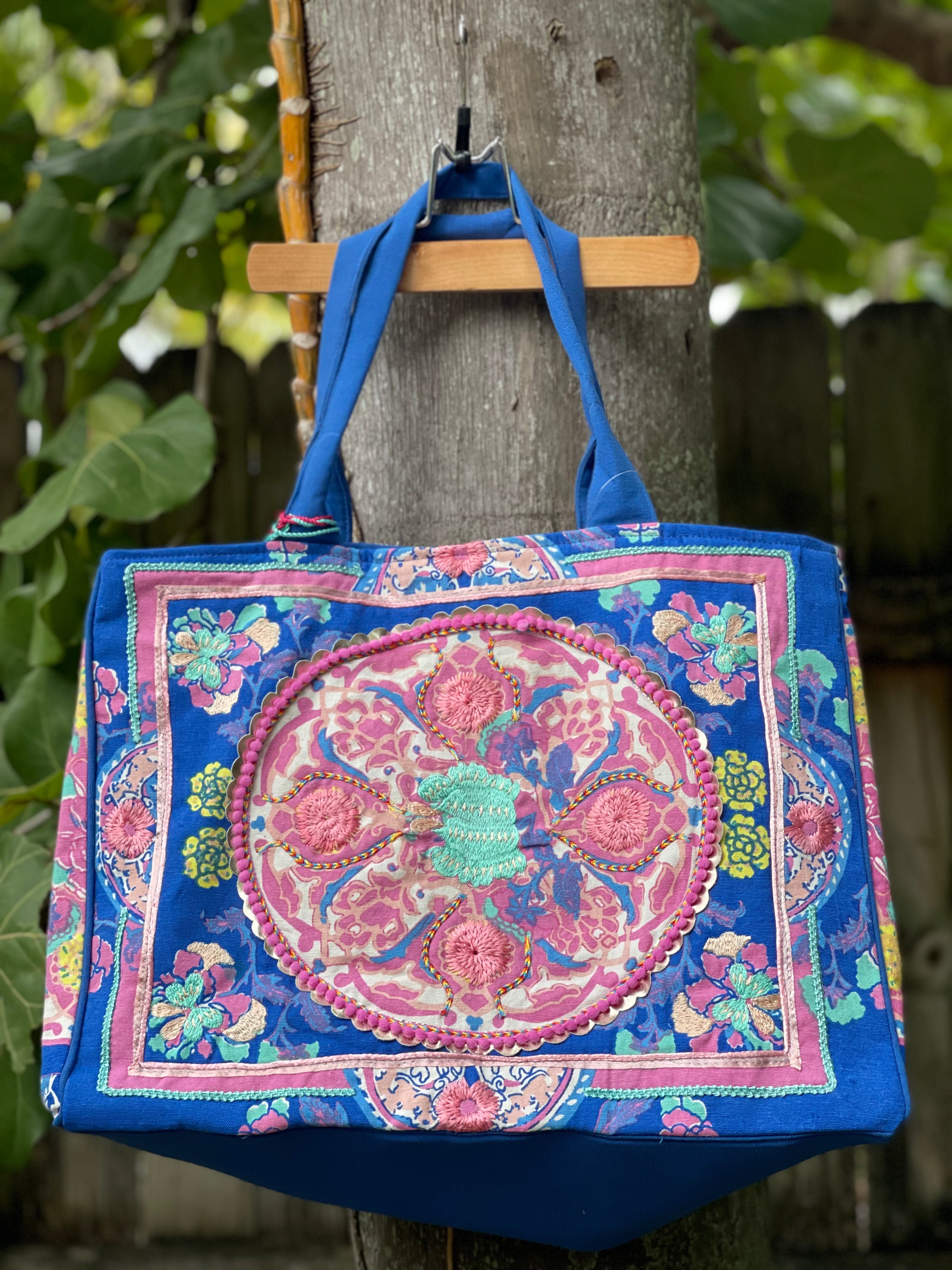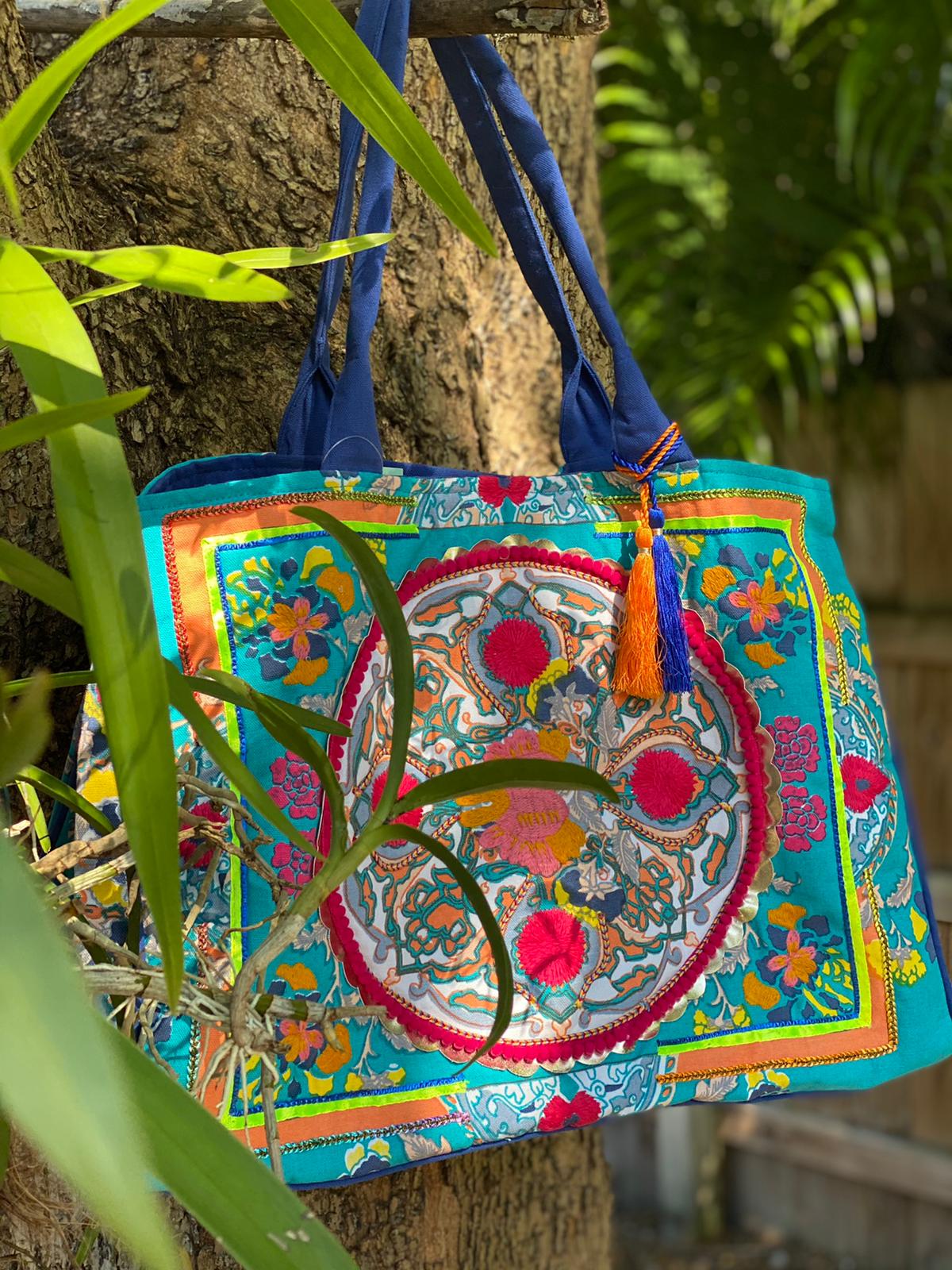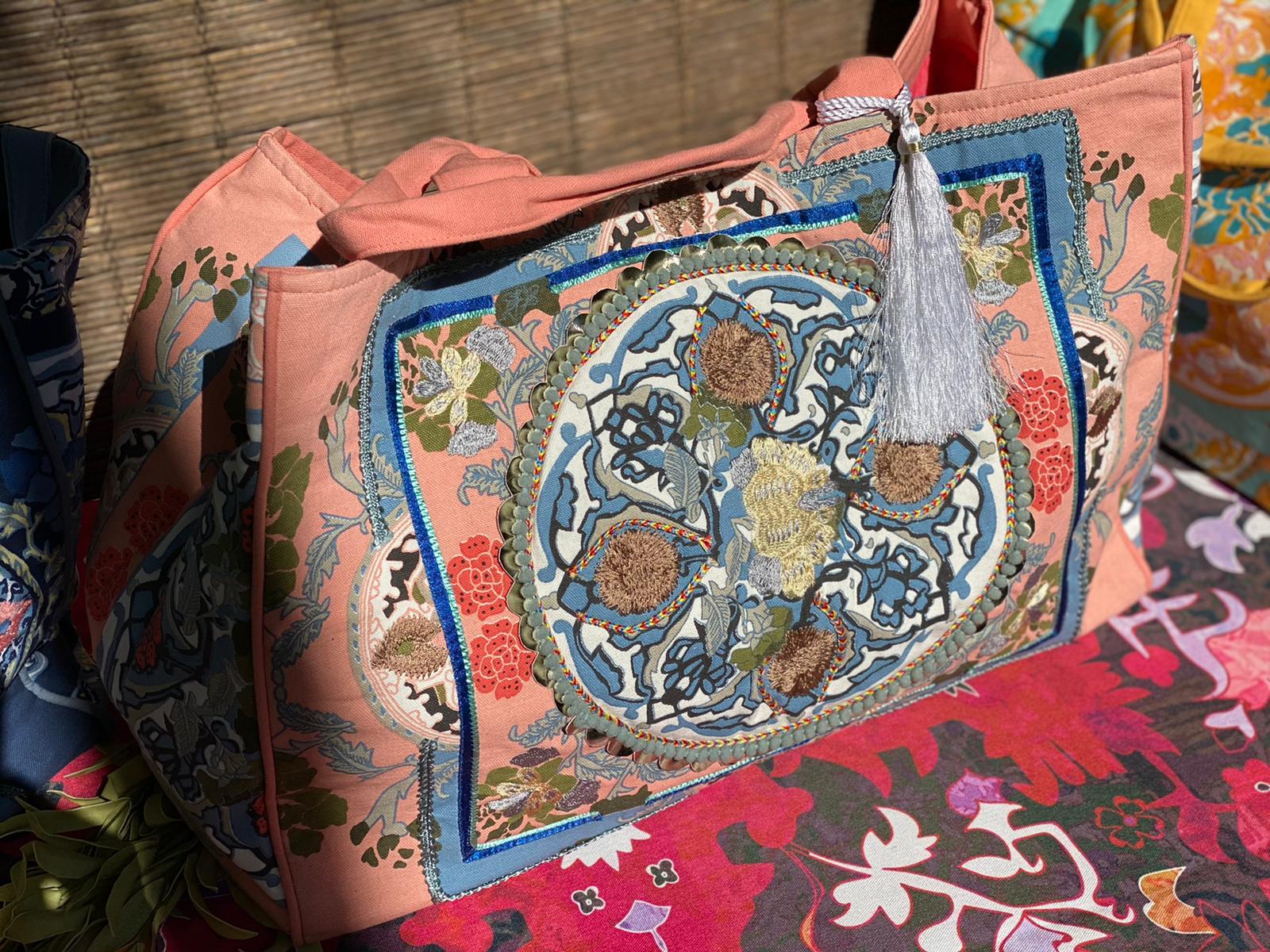 BOHO BEACH BAGS
The perfect accessory to your boho-licous style in shades that match every island girl's wardrobe.  Colorful oversized canvas totes luxe'd up with embroidery, metallic accents and tassels.  Perfect for every day stuff hauling, shopping, beach or pool. Inner closable zip pocket and sunnies holder.
Folds small and doesn't take up much space in your suitcase but roomy enough to hold towels, your kaftan and magazines.  
Large enough to use as a weekender with its ample dimensions.   
100% Cotton canvas
Oversized beach bag XL tote
Tassel bag charm
Shoulder handles

Width: 20" | 51 cm
Depth: 8" | 20 cm
Height: 14" | 35 cm
While traveling in Indonesia, Thailand, and India, Debbie fell in love with the countries' traditional handcrafted beaded embroideries and vintage materials, perfect to create her beach and boho bag line. From that moment on, she spent several weeks every year in Asia to draw inspiration from her cultural journeys and create her new bag line. Because every Asian country she visits has its special touch, each and every one of Debbie's bags are uniquely designed with their own extraordinary characteristics. However, despite the aesthetic differences of these bags, they all share a common manufacturing program. Debbie has always been a strong supporter of workers' rights and does her part by ensuring the vintage embroidery fabric bag lines are all produced through Fair Trade programs.
Fair Trade is a social movement whose stated goal is to help producers in developing countries achieve better trading conditions and to promote sustainable farming. One of the key factors in Debbie's partnership with Fair Trade is that the workers producing Debbie's line are adequately compensated and treated well, conditions often not present when producing goods in Asian countries.

In addition to supporting the Fair Trade movement, Debbie Katz is also an avid supporter of local manufacturing. A large part of Debbie Katz's clothing line has always been and will continue to be made in the USA.
These marvelous bags are also available in Backpack, Pouch and Bum Bag styles.